Vikings Luxury-Buffet Restaurant: A Feast from the Sea
March 30, 2013
Vikings, dubbed for having the "The Best Buffet In Manila", is a luxury-buffet restaurant which caters to a more stylish crowd yet offers a relaxed and fun atmosphere.
 I have been wanting to try out Vikings just to compare it against Buffet 101, which Rhalph and I visited back in June 2012. Thankfully, an opportunity came up. 🙂 For being a helpful friend, I was treated by my beautiful and cheerful friend Yns Pereyra, who just earned her MBA degree at Ateneo de Manila University. Woot!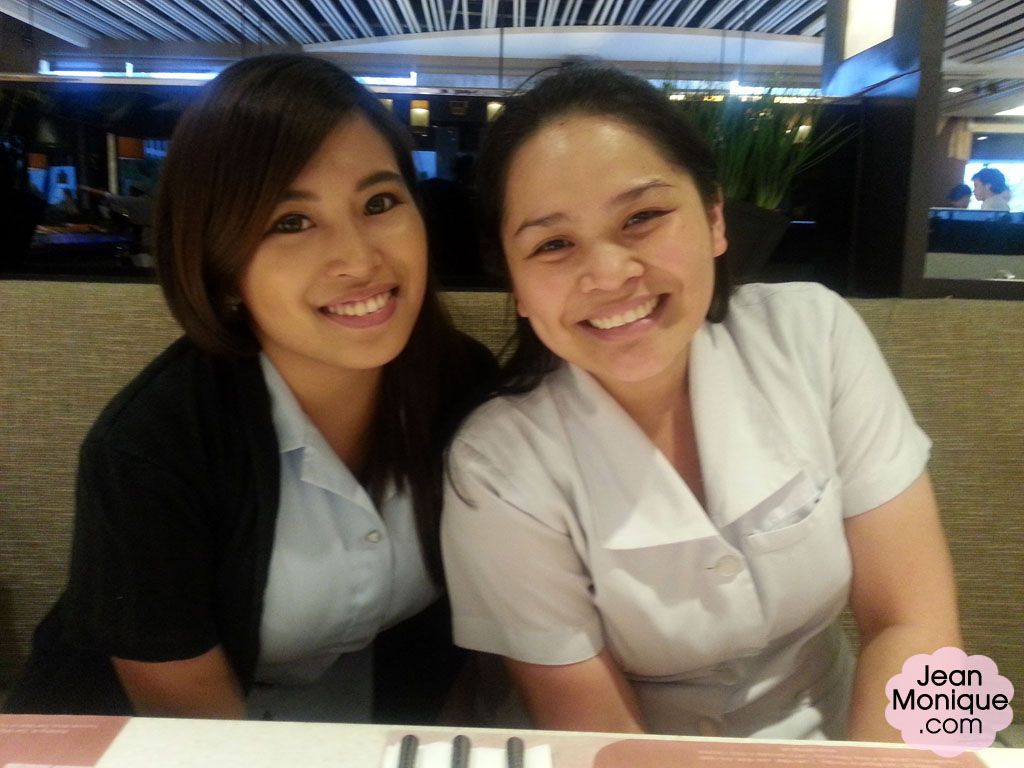 Their dining room can seat around 600 people. And even with that, Vikings is always filled to capacity. That is why if you wish to eat there, you MUST reserve your seats. Thank goodness to their Facebook page, we were able to get a table on our desired date. When we got there, there were already several people who were wait-listed. It's graduation season after all… so it's best to book in advance especially during holidays.
Upon arrival, I just mentioned my name and one of their friendly staff accompanied us to our assigned table.
When going around their buffet stations, one can notice the luxurious interiors combined with comfortable dining booths. There are also what they call as live-action-cooking stations where you get to see their chefs in action. You can be assured that they only serve fresh and high quality ingredients to their guests. They are also very accommodating as they cater to the whims of every customer as to how the meat should be cooked, served, etc.
The menu contains prime seafood to prime ribs. They cater a variety of cuisines comprising of European, American, Japanese, Chinese, and FIlipino dishes. I also love their beverages station! They have brewed coffee, cappuccino, wintermelon tea, frozen Milo, fresh juices, soft drinks, milk, various tea, and even unlimited beer.
Pardon my gluttony but here's a record my plates: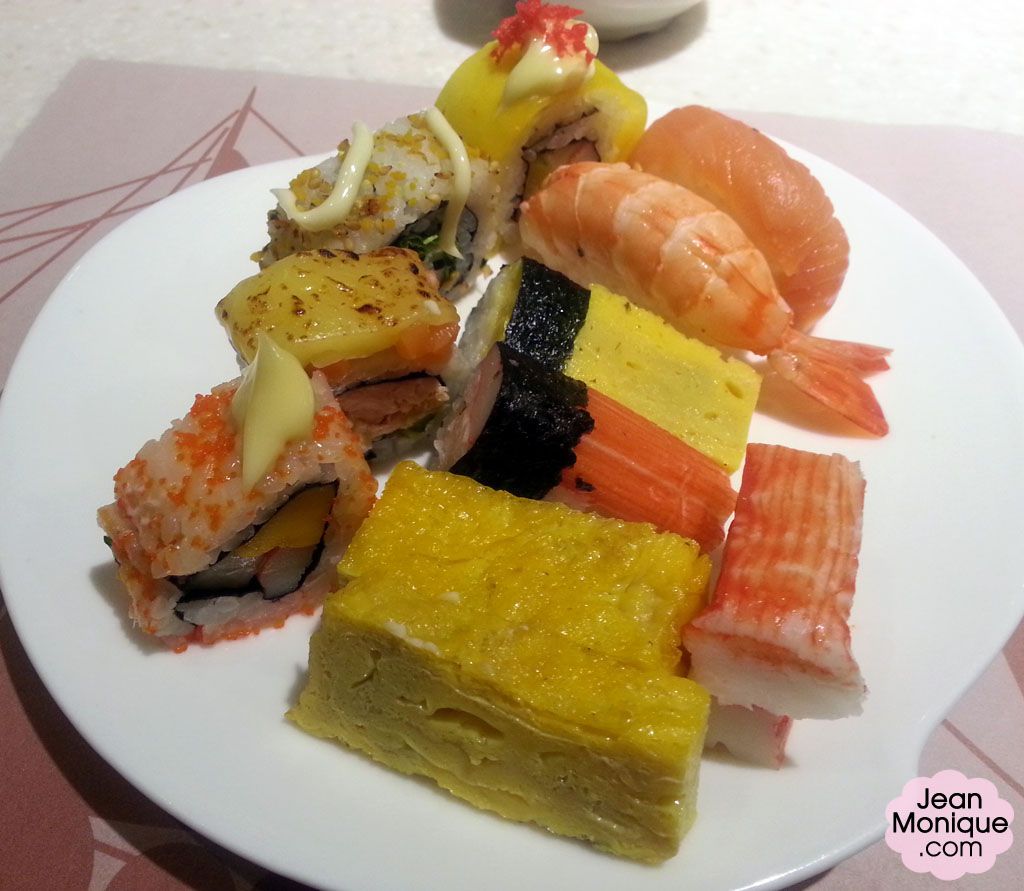 Plate #1 is the Japanese Feast plate. I first "attacked" the Japanese area since it is the one nearest. I had Tamago Sushi, Kani, and a variety of sushi and sashimi. I love the sushi that has cream cheese in it. Their tamago sushi is very sweet, I prefer Buffet 101's version.


My 2nd plate consists of baby back ribs with their barbecue sauce, lamb chop with their mint jelly sauce, crispy pork belly, beef kabab, and some potatoes. I like their unique mint jelly sauce. Goes really well with their lamb chop. Their baby back ribs is typical. I like their crispy pork belly even though it makes me guilty to eat it. Their beef kabab is so so as well.


For my 3rd round, I went to the Chinese station. I had some hakaw, chicken feet, stuffed crab shell, and roast duck. I like their chicken feet and their roast duck. I wasn't able to finish the stuffed crab shell because I didn't like it. :S On this round, Yns and I went to the dessert station where buko shake is being served and got ourselves one glass of it.
For my fourth plate, I went to the salad section and got a plate of peaches and mandarin oranges to somehow cleanse the palate. Hihi!
For my fifth plate, I went to the bread, crackers, cheeses, and dips area. I got a variety of cheese, bread spreads, and even nachos. I enjoyed this part since I got to try a lot of CHEESE! My fave! On this round, I also got a half bowl of brocolli soup, since my meal will never be complete without one. It tastes a bit bland though. I should've gone for the miso soup instead. I got a glass of four seasons juice here. It tastes okay. I still prefer the Del Monte version though.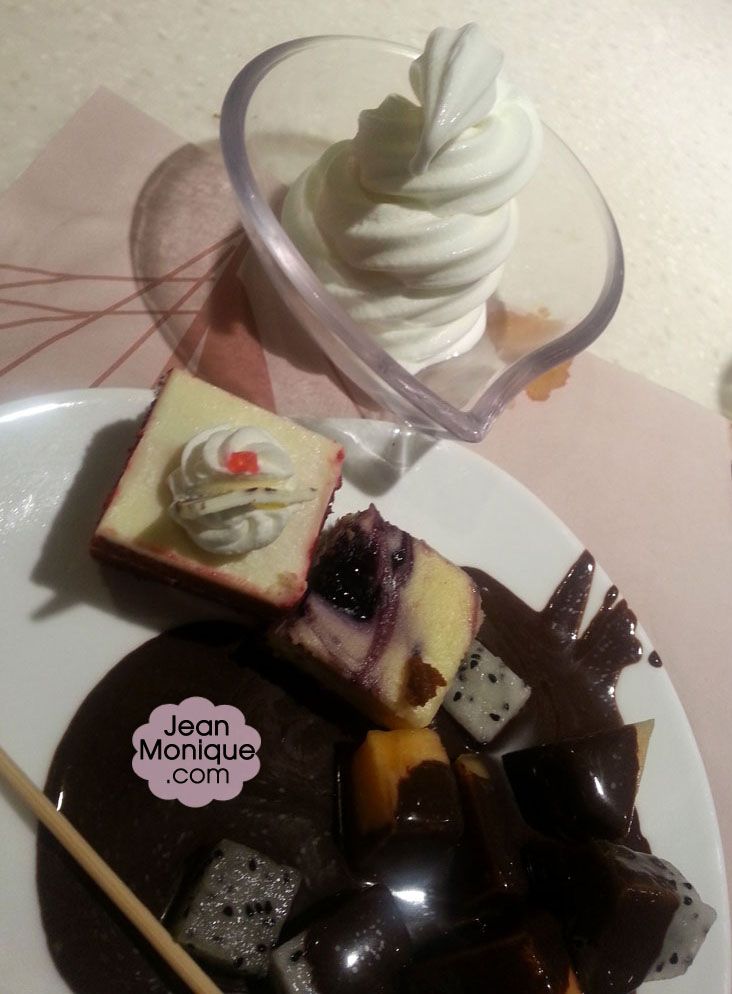 Plate #6 is full of desserts. I got a piece of red velvet cake and blueberry cheesecake. I love them to bits! I also got dragonfruit and melon on chocolate. 😀 Well, I actually just spooned the chocolate from the fountain and used the extra chocolate as toppings for my vanilla frozen yogurt. I also love their froyo! 🙂
After this round, I just got another round of fruits and a cup of coffee to end the night.
All in all, I had 7 servings of food and 3 servings of beverages. I know it's a bit few compared to what others are having but I already got full by that time that I decided to call it quits.
On a side note, we saw former University of the Philippines Manila Chancellor Dr. Ramon L. Arcadio at Vikings!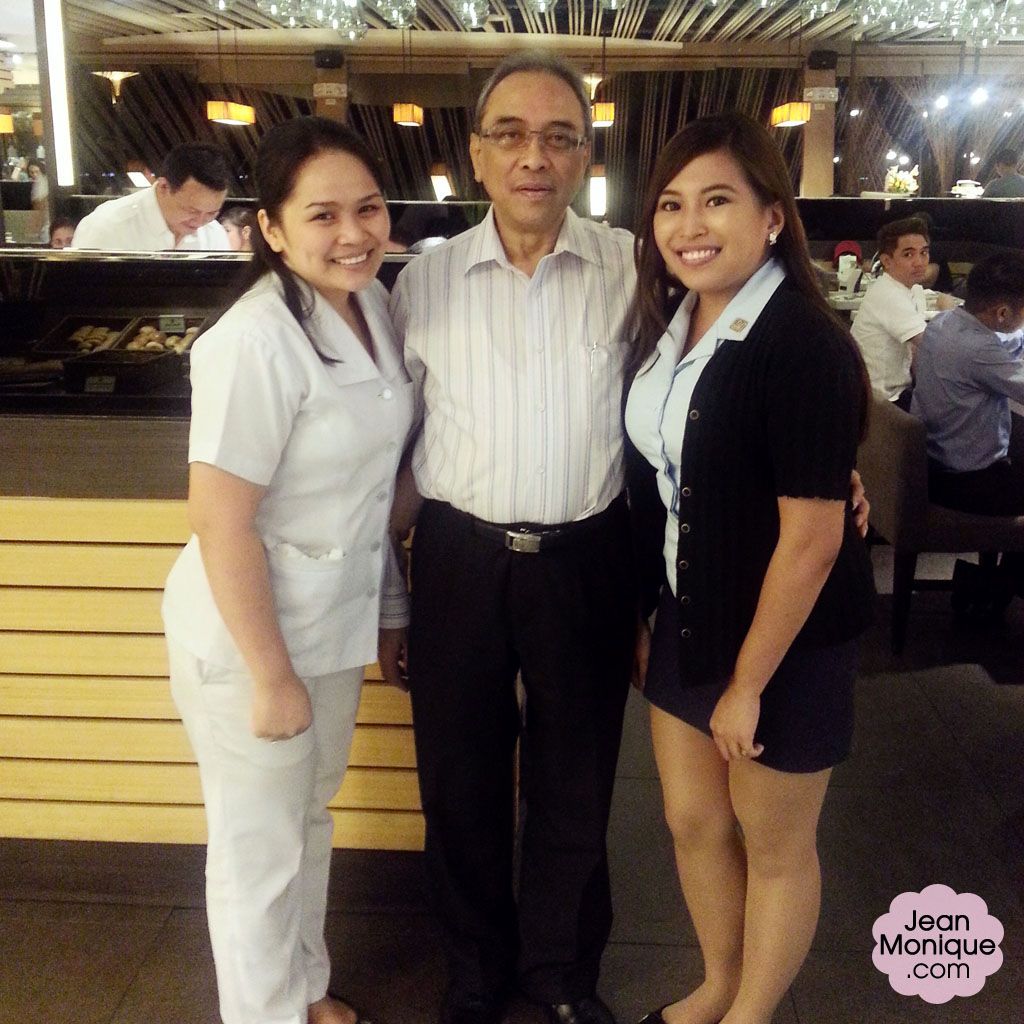 I love the Vikings Buffet experience and I think it is worth another try. Next time, I'll take more decent shots of the food stations and will probably try out their other dishes. I want to try their hot pot and their shrimp tempura and baked mussels. For the price of 888 plus 5% service charge, it is value for money! Thanks to Yns for this lovely treat!
Check out their complete buffet rates below:


 Vikings – A Feast From The Sea – Luxury-Buffet Restaurant
Address
: Building B, By The Bay, Seaside Blvd, SM Mall of Asia, Pasay City, Philippines
Telephone Numbers: 
846-3888, 846-4888, 846-5888
Mobile Numbers: 
0917-5653888 and 0923-7303888
Website
: 
http://www.vikings.ph/
Email:
[email protected]
Facebook
|
Twitter
|
Instagram
You May Also Like