How to Become a Pharmacy Technician in Singapore: A Comprehensive Guide for Filipino Pharmacists
November 24, 2013
I am a Registered Pharmacist in the Philippines who is now working as a Pharmacy Technician (PT) in one of the hospitals in Singapore. I have been working here for almost 2 months now and so far, I'm loving it! 🙂
I made this guide to help other Filipino Pharmacists who want to work in Singapore as a Pharmacy Technician. I tried making this guide as comprehensive as possible… but I know I couldn't cover everything in just one post. So if you have questions, please feel free to ask in the comments section below.
Basically, the hospital pharmacy team is in charge of processing and dispensing of medication orders, including performing drug supplies and billing. As part of our training and development, we get to rotate to various pharmacy sections in the hospital. It's quite fun!
So anyway, y'all might be asking why I am working here as a Pharmacy Technician and not as a Registered Pharmacist. Thus before I start, I want to make it clear that if you did not graduate from an institution approved by the Singapore Pharmacy Council (SPC), you are not eligible to become a registered pharmacist in Singapore unless you enter into the NUSAGE program (click here for more details: http://www.nusage.nus.edu.sg/opap/index.html).

*If you are a foreign-trained Graduate (from an SPC-approved institution) / Pharmacist who wants to become a pharmacist in Singapore, click here for more information: http://www.healthprofessionals.gov.sg/content/hprof/spc/en/leftnav/becoming_a_pharmacist/for_foreign_trained_graduates_pharmacists.html
Unfortunately, University of the Philippines Manila College of Pharmacy (or any other pharmacy school in the Philippines for that matter) is not a recognized institution by the SPC. And since I don't want to enter into the NUSAGE program, I decided to come work as a PT instead.
Now that's all clear, let's start with some FAQs. (Click the link to read more…)

What are the requirements to become a PT?
These are just the basics which you commonly see in the ads:
One must have a Pharmacy Technician Course Certificate or a Diploma in Pharmaceutical Sciences or equivalent

for Filipinos, candidate must possess a Bachelor's / College Degree in Pharmacy / Pharmacology or equivalent

One must have relevant experience in a pharmacy setting

at least 2 years of working experience in the related field required for the position
for hospital PT, they require at least 2 years of work experience in a 100-bed capacity hospital

One must be a team player with good interpersonal and communication skills and a pleasant disposition
One must have the ability to interact well with patients, team members, and other health care professionals
What are the documents needed when applying for a job as a PT?
This is based on the documents they asked me to bring while I was applying for jobs.
Detailed resume with job description
Diploma
Transcript of Records (TOR)
PRC Board Certificate
PRC Board Rating
PRC ID
Employment Certificate
Valid Passport
What are the duties and responsibilities of a Pharmacy Technician in Singapore?
A pharmacy technician has several duties and responsibilities but here are the basic ones:
Process, prepare, and dispense medicines according to prescriptions
Dispense correct medical devices and other items stocked in the pharmacy
Ensure that medications are stored and labeled properly
Participate in inventory control and management
Provide medication counseling to patients to improve drug usage and medication outcome
Handle medication reconciliations
Provide quality customer service
Handle patients' inquiries
What is the salary range?
According to various job ads, the salary range is between $1500 to $2700 per month. So expect a job offer somewhere in between.

What is the normal working hours?
The average working hours is 5.5 days per week. (In our hospital, we work 42 hours a week.)

How can I apply for a job?
There are several ways to apply for a job.
JOB PORTAL
A job portal is where you can deposit your resume and then apply for job listings available there. Examples are:
Most of the time, agencies are the ones posting there and they are simply for manpower pooling.
COMPANY WEBSITES
Most employers encourage submitting your resumes through their own website. Just visit their website, look for the OPPORTUNITIES or CAREERS section and submit your resume there. Most websites require you to register and then, once you have an account with them, simply follow their instructions.
AGENCY
There are also a handful of agencies in charge of manpower pooling for Singapore companies. They usually post ads in Philippine job portals and they also give instructions on how to apply. This is how most of my colleagues got hired.
WALK-IN
This is where you print a lot of resumes and then submit them personally by visiting various companies. I do not really encourage this step because most companies prefer submitting online. (This method can be really expensive because you need to fly to Singapore and travel around just to submit resumes.)
EMAIL or MAIL
With this method, you need a list of the email addresses (or mailing address) of the pharmacy managers or HR managers. You can get a list of their details by doing a quick search online.
This is the method that I used, after which, I got hired. But then, I was already here in Singapore (as a tourist) when I did these. I emailed them first and then after a week, I sent hard copies of my resume and cover letter by post.

Where can I find a list of all the pharmacies in Singapore?
There is no list that contains everything. You can do a quick search using the following suggested keywords: "Singapore Pharmacies", "Singapore Hospitals", among others. There you will find a comprehensive list that will direct you to the websites of various companies here.

How long does it take for companies to reply and call for an interview?
It really depends. It can take days, weeks, or months. After emailing / mailing my resume, I got calls for an interview after a week or a month, in some cases.
TIP: Make your resume stand out from the rest so that the employer will notice you and call you. Highlight your professional experience and add in a detailed job description. Include in there a list of your achievements as well. Always write a cover letter that is personalized to each position you are applying for. State a short personal and professional background and then tell them why you want to work with them and what you can contribute. Don't forget to leave your mobile number and email address where they can contact you for an interview.

How is the interview like and what should I say? Any tips?
First, congratulations for securing an interview. This step gets you closer to achieving your goal! Remember, no interview, no job offer.
Moving on, I know of two modes of an interview:
Face to Face — This is the regular interview. If you're in the Philippines and submitted through an agency, the company will set an interview date and their representatives (usually the pharmacy manager and an HR representative) will travel to the Philippines to interview you. If you're here in Singapore, they will set a location, date, and time for an interview.
Through internet e.g. Skype — This only occurs when the first option is not possible.
Regardless of the mode of interview, it is important to dress appropriately. I advice you to wear smart business casual (office attire). First impressions last so make a good one.
Be polite, confident, and honest. Answer questions as best as you can. If you do not know the answer, tell them honestly and inform them that you'll get back with them once you know.
When asked to introduce yourself, tell them a bit about yourself emphasizing on your educational and professional background. For example, "I am a Registered Pharmacist in the Philippines and I graduated from (insert name of school here) with a degree in Pharmacy. I worked as a Pharmacist at (insert name of hospital here) for x years. My work involves… (tell them a short version of your duties and responsibilities)."
Aside from that, you can add some interesting things about yourself. For example, "In my spare time, I love reading and writing. I also like swimming and running (or whatever sports you're into)." You can add more here but this is just to keep things interesting. Telling them personal things about you makes them think that you also know how to enjoy life and also gives them a glimpse on how you are effective at time management, among other things.
Most interviews involve exams. Usually, they give you a prescription and then ask you to dispense and counsel. So brush up on your knowledge on medicines and counseling skills. Sometimes, a prescription is not necessary, they will test your knowledge on medicines, their uses, adverse effects, etc. In other exams, they will give you a set of questions which you need to answer within the set time limit. Some have references available, some don't. They have high expectations because we're already licensed pharmacists in the Philippines. They expect that we have a wealth of knowledge in these things. So whatever the scenario, always come prepared.

How long will it take before I get hired?
During the interview they will inform you how long it will take before they can let you know of the results. It usually takes 1 to 2 weeks. If after the said period you haven't heard from them yet, it probably means that the application wasn't a success.
If they called and told you that they are offering you a position, be glad and thankful! After this, they will send you an S Pass application form which you have to fill up and send back as soon as possible. The S Pass is similar to what we call a Work Visa. You can only work here in Singapore if you have an Employment Pass (such as an S Pass or an E Pass).
At this point, they might also send you a copy of the job offer which you have to sign and send back to them. Also, you can't celebrate yet. Because their hiring you is still subject to the approval of the S Pass.
Most of these are done via email. You can fill in the forms by using Adobe Reader or you can print them, fill in manually, then scan and email.

What's next after submitting the S Pass application and the signed job offer?
The next thing to do is WAIT. Your application for S Pass may either be APPROVED or REJECTED. So at this point, you have to be really patient and prepare for the worst.
After application, it usually takes about 7 days for results to be out. If successful, you will be given an IN PRINCIPLE APPROVAL (IPA). If not, your status will say REJECTED.
If you're given an IPA, congratulations! You're almost on your way to SG! 🙂
If your application has been rejected, let's hope that the employer will appeal the MOM's decision. Appeals usually take 3-4 weeks to be processed. So you have to be really really patient. If not, I guess the safe thing to say is that you go back to Step 1. Don't lose hope just yet and most importantly, don't take it out on yourself. Securing an employment pass is really tough. They usually don't give reasons why they reject applications. In fact my application has been rejected twice before I was finally given an IPA.

What's next after IPA?
After being given an IPA, you then need to process requirements and prepare for your departure. The IPA usually has an expiry date. I think it's about 2 months from the date of approval. This means that you have at least 6 weeks to process EVERYTHING so you can be here in SG at least 2 weeks before your IPA expires.

What are the things I need to prepare prior to departure?
You need the following:
Overseas Employment Certificate (OEC)
Valid Work Visa / Work Permit or equivalent document
Proof of Employment (e.g. Employment Contract)
Medical Clearance from a DOH-accredited clinic or hospital
Pre-Departure Orientation Seminar (PDOS) Certificate
2×2 pictures
What is an OEC and how to get it?
Before anyone can leave the Philippines and start working in Singapore, you need to have an Overseas Employment Certificate (OEC) which is issued by the Philippine Overseas Employment Administration (POEA).
The OEC is a form of an exit clearance "certifying to the regularity of a worker's recruitment and documentation and ensures exemption from travel tax and airport terminal fee. This is presented at the POEA Labor Assistance Center (LAC) and the Bureau of Immigration (BI) counter at the airports prior to departure. It serves as the worker's guarantee that he/she is covered by government protection and benefits." Another form of exit clearance is an E-Receipt (electronic receipt).

What is the process for direct hires?
If you are a direct hire (name-hire), you need to process everything by yourself. Direct or Name hires are Filipino workers who are able to secure an overseas employment opportunity with an employer without the assistance or participation of any agency. They may have been directly contacted by a foreign employer by referral or have directly applied to their company.
The requirements for an OEC are as follows: passport, work visa or work permit (in the form of an IPA), employment contract, and a 2×2 ID picture. You are also required to undergo a medical examination by a DOH-accredited clinic or hospital and a pre-departure orientation seminar (PDOS).
Fees and Costs
POEA Processing Fee – US$100 or its peso equivalent
OWWA membership fee – US$25 or its peso equivalent
OWWA Medicare – Php900.00
Click here for the detailed procedure for name hires: http://www.poea.gov.ph/ofw/nameHire.pdf

What is the process for those hired through an agency or those hired directly yet referred to an agency for documentation processing?
For those hired through an agency or for those who have been hired directly and yet are still referred to an agency for documentation processing (like in my case), you just need to visit the agency and they will process the documents for you.
Agency fees are not shouldered by the employer so you need to pay for these yourself. Before you go there, make sure you have all your documents with you (if you haven't submitted them yet). On my first visit at the agency (FSL International Manpower and Promotion Services, Inc. http://www.fslinternational.com/), I gave them copies of all my relevant documents and then filled up several forms for the processing of OEC. Then, I paid for the pre-departure medical exam. After which, they gave me a referral letter to go to one of the DOH-accredited clinics. The agency also oriented me on the fees for their service. Agency fees are usually equivalent to one to two month's salary. In our case, we had to pay ours before we were deployed abroad. Some agencies do offer salary deductions
Honestly, I didn't want to enlist any of their service since I was actually a direct hire. But my employer insisted that I go through the agency so that there would be no delays nor problems with the processing of the documents to ensure that I will be able to leave the country on time.
The medical exam has a dental component. Thus, to ensure that I would be marked as DENTALLY FIT, the next thing I did was visit my dentist. Make sure there are no cavities and that your teeth are clean before you go for the medical exam. Aside from shortening the processing time (and the stay in the clinic during the medical exam), it will also save you a lot of money because dental fees there are much more expensive.
Then, I prepared myself for the medical exam. I ate a lot of healthy and nutritious foods and slept adequately. A few days after, I went to Philippine Medical Tests System located at Quezon Ave., Quezon City for my medical exam. I just brought my referral letter and 1 specimen bottle. Don't forget to bring 2×2 ID pics as well. The medical exam is quite thorough: it consists of physical exam, dental exam, CBC, urinalysis, fecalysis, X-ray, HIV and hepatitis test, and psychological test.
TIP: Rest well the night before. Go there very early and allot the whole day for the exam.
The results will be out in 2-3 working days and it will be forwarded to your agency. I was then given a referral letter containing the date and location for the PDOS, which was at Kabalikat ng Migranteng Pilipino, Inc. (KAMPI). PDOS is just a half-day seminar, which is quite useful in a way, especially for those who are going abroad for the first time. Anyway, they will try to sell some stuff there like OFW sim cards. You will also be given a free Bank of Commerce OFW SAVINGS account.
After attending the seminar, you will be given a certificate which you need to submit to your agency. Then, you'd just have to wait for your OEC to be released. Once released, I was then told to book a one-way flight to Singapore ASAP.
After paying the agency, they released all my documents. Don't forget to ask for a receipt!
Then, I just packed all my things, said goodbye to my friends and family, and then was on my way to Singapore.

What are the expenses I need to prepare for?
Here's a summary of possible expenses prior to departure:
Medical exam – 3,700 pesos
PDOS – around 200 pesos
Agency fees – equivalent to 1-2 months salary
Airfare to Singapore – price depends on the airlines
The medical exam is around 2k to 3k pesos, depending on the agency. I forgot the actual cost of the PDOS, which is to be paid on site. If you know, please share in the comments section below. The agency fees covered the OEC-associated fees. Everything else, you need to pay. Airfare arrangements depend on your employer. It may or may not be reimbursed. Also, some agencies will book them for you. Since I was not actually hired through an agency, I had the freedom to choose where I want to book my flight. I chose PAL Express simply because I already have a Mabuhay Miles card and I find their service very good at a very affordable cost. My fare was around 6,000 pesos only and that even includes a 60 kg baggage allowance. I was actually able to bring a lot of things with me including pasalubong for my friends here in SG. 🙂
In cases where the agency booked the flight for you and were only given 20kg baggage allowance plus 7 kilos hand-carry, bring only the essentials.
Here's a suggestion for things to bring that will surely fit your baggage allowance:
1 pair rubber shoes
1 pair work shoes (black flat closed shoes)
1 pair slippers
few house clothes
2-3 pairs of dark colored slacks or trousers
at least 5 tops / dresses that can be used for work
personal items (e.g. underwear, towels)
umbrella
toiletries e.g. shampoo, soap, toothpaste (amount to last for at least 2 weeks)
and other things you think you can't live without such as your gadgets (phone, tablet, computer, camera, etc.)
Just bring the basics and you're good to go.

How is life in Singapore?
Singapore is one of the safest countries in the world. For example, you can leave your iPhone on your table then queue up to buy some food. When you get back to your table, it will still be there. You don't need to fear having your things stolen, bags slashed, etc. You also don't need to worry about being kidnapped, raped, or killed. Singaporeans are also very honest. When you ride a cab, you only need to pay the exact amount as stated in the meter. They will give your change even if it's just 10 cents.
Most of them are polite and courteous and will probably talk to you if you ask for directions. Others won't respond probably because they don't understand you. Yes, you have to live with the language barrier unless you learn Mandarin. Most locals here speak Mandarin, Cantonese, and Malay. However, most of the younger ones speak and understand English quite well.
Cost of living in Singapore is very high. So you need to budget your money properly. You need to prepare a pocket money that is enough for living expenses for at least 6 weeks.
Everything is expensive as compared to the Philippines. For example, food here costs an average of $3 (equivalent to about 100 pesos) per meal. For toiletries, there's a place here in Chinatown where you can buy cheap ones (yes, cheaper than in the Philippines).
Transportation can be a bit expensive but when you get used to it, you will really appreciate their first class transportation system. Avoid take the cabs since they're pricey. Just take the public transport such as buses and trains. Upon arrival here, get an EZ-Link card (available at the airport). It's a card that you tap on a machine before entering and when exiting buses or trains. Your fare will be deducted there automatically. You don't have to worry about getting lost because there are several navigation apps available on the Appstore or Google Play Store. Good ones are: Google Maps, gothere.sg, SBS Transit, SG Buses.
As for housing, it's good if you can arrange for a place to stay prior to leaving the Philippines. If you don't make arrangements prior to leaving, you probably need more money so you can stay in a hotel for at least 2 weeks while you scout for a place to stay.
To look for a place to stay, you can visit the following sites:
Rooms here are very expensive. Places within the city are more expensive so if you want cheaper accommodation, try looking for those near Hougang, Sengkang, etc. If you can find one near your workplace, good for you then! If you want to have a room by yourself, rent will be about $650 to $1000 or even more. If you don't mind sharing, it can be around $300 to $400 per month. Inquire whether the rental rates include PUB (utilities such as water, electricity, etc.). If not, ask about the rates so you'll get a rough estimate of your monthly accommodation expenses.
By the way, before you start working, your employer will ask you to open a bank account because that is where they will deposit your salary. Most banks require the following: IPA, Passport, and at least $1,000 initial deposit. You'll get your ATM card and account details just within an hour. So fast, right?
For your mobile phone, you can get a prepaid SIM first. Then just apply for a postpaid line after getting your S Pass (because that is their main requirement for foreigners).

How can I save money if the cost of living is very high?
It really depends if you are a saver or a spender. Look at your priorities in life. No matter how high or low your salary is, at the end of the day, it is how much you save that matters. If you really want to save, there are many ways to do so. If you want to buy all your WANTS after every payday, then you won't be able to save anything at all. Wherever you go, it will be the same. So you need to check your spending habits.
Honestly, you can save up to 50-70% of your income. And that is living modestly already and still having everything you need. 🙂 Trust me, it's possible.
That's all for now. Thank you for reading this! I know this is a lot to take in but I wanted this guide to be a really comprehensive one. I just want to help others make their dreams come true. Before I started working here, I read a lot of websites and blogs. And honestly, there weren't a lot of information about all these things. So I hope this guide will be of great help to all of you. If you have questions, just ask in the comments section below and I'll try to answer to the best of my abilities. 🙂
Let's all dream big and aim high!
xoxo,
♥ Monique ♥

Related Links:
You May Also Like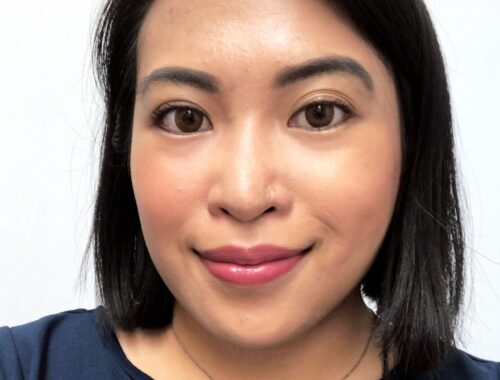 April 18, 2022