Review: Zark's Burgers
March 4, 2013
I recently had the opportunity to try Zark's Burgers, since it was just beside Mani|Pedi Nail Spa at BF Homes, Parañaque City. Honestly, it's my first time there and knowing that this place is usually jampacked, I was quite surprised that only 2 people were there when I visited. It's a rare moment to have Zark's Burgers all to myself. Haha!
The place is so neat. I'm really thankful for the chance to have some peace and quiet here. 🙂 So if you want the place to yourself, visit them on Sundays, around 3 to 4pm.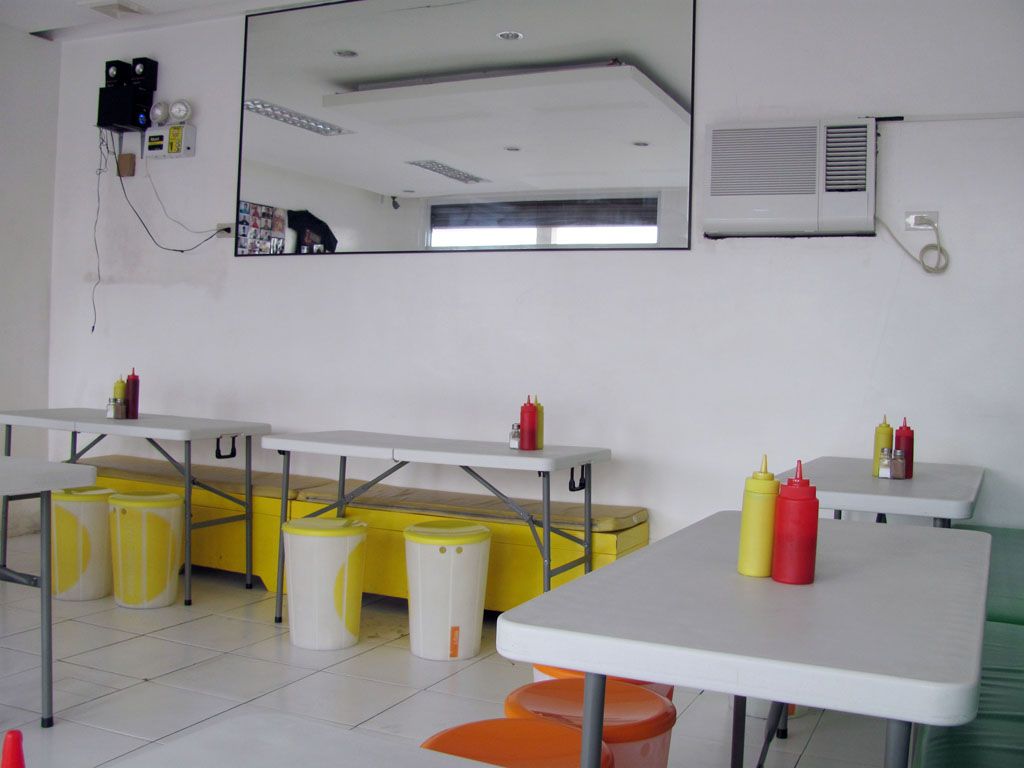 Their chairs are so cute right? But I doubt the sturdiness of those bin chairs. I saw a kid fall out of one. Yikes. So better get seated on the long chairs for your safety.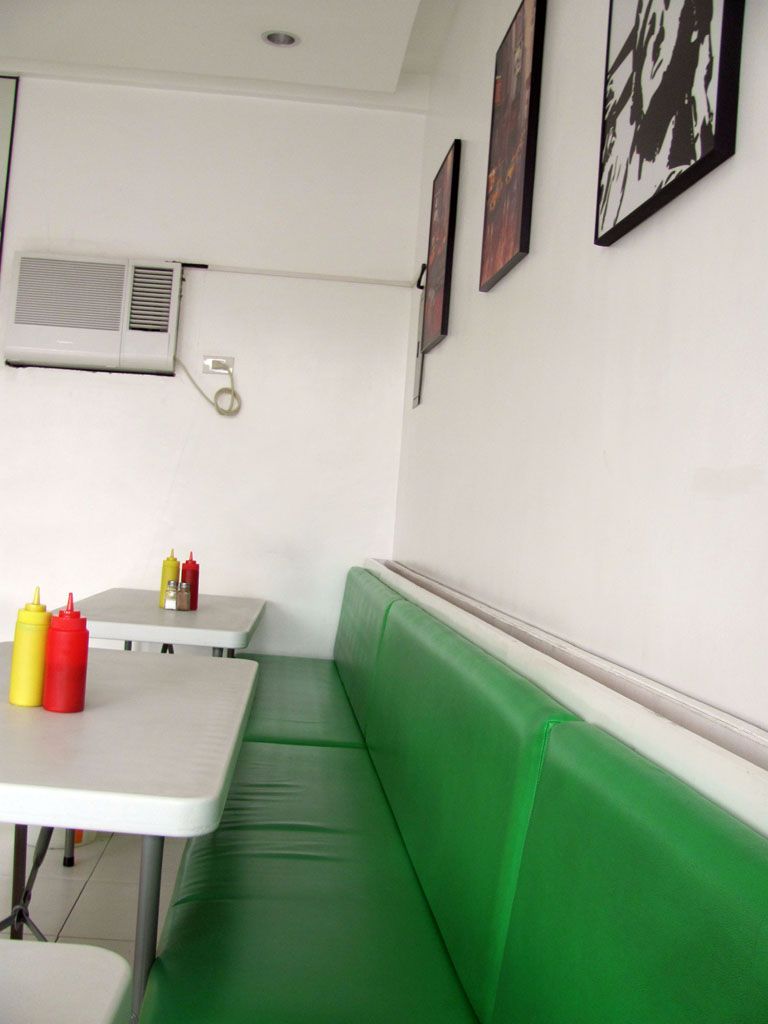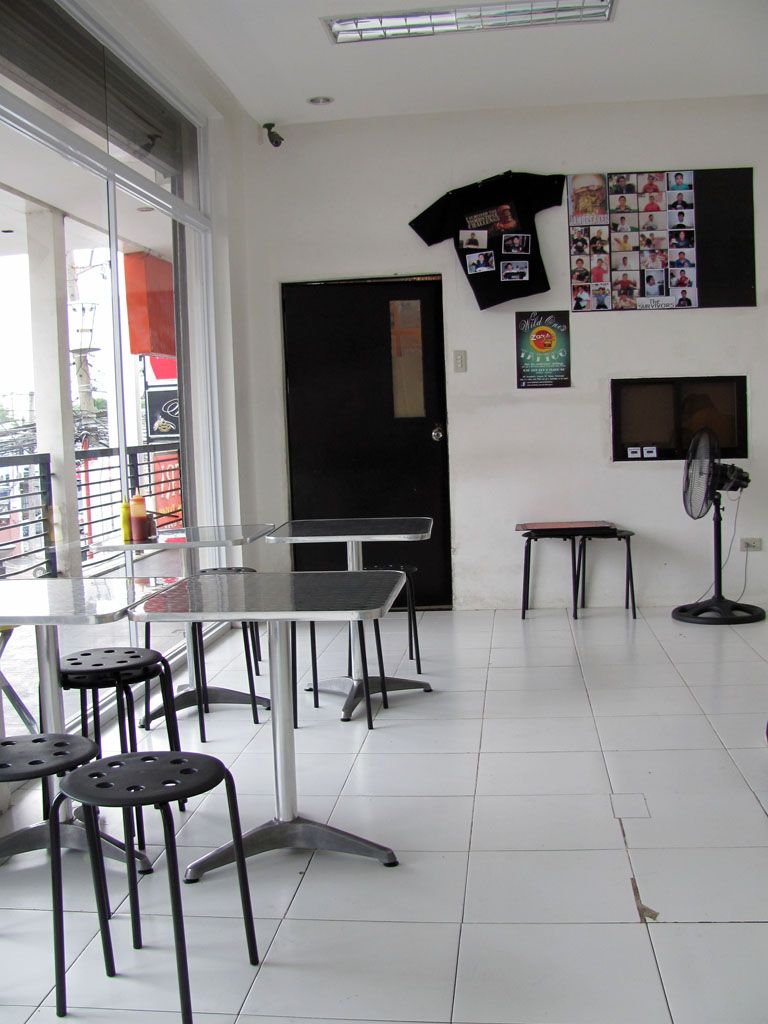 While you're there, don't forget to check out their bulletin board which features the winners of their challenges. 🙂
Anyway, every table is set with bottles of ketchup and mustard as well as salt and pepper. A fork and knife were also laid out on the table for the burgers.


Zark's Burgers has an impressive menu of zesty, succulent dishes. Their menu consists of rice meals, hotdogs and sandwiches, desserts, and of course, their famous burgers.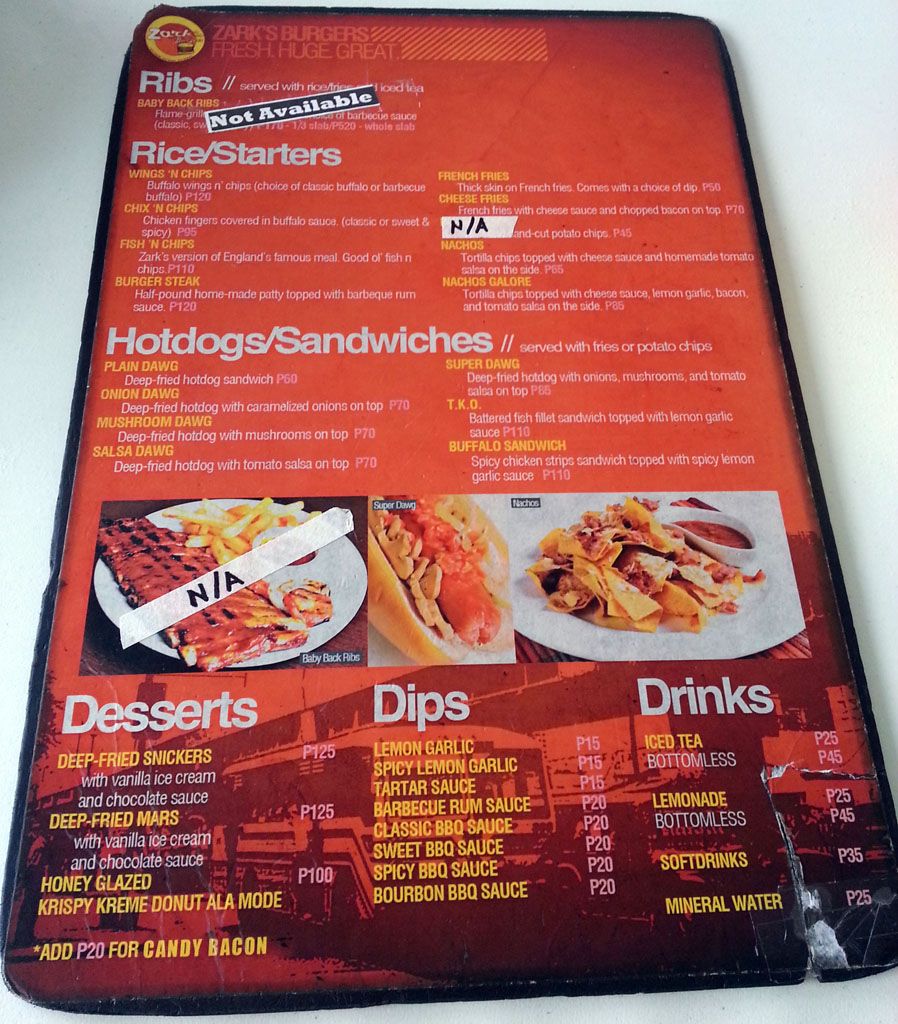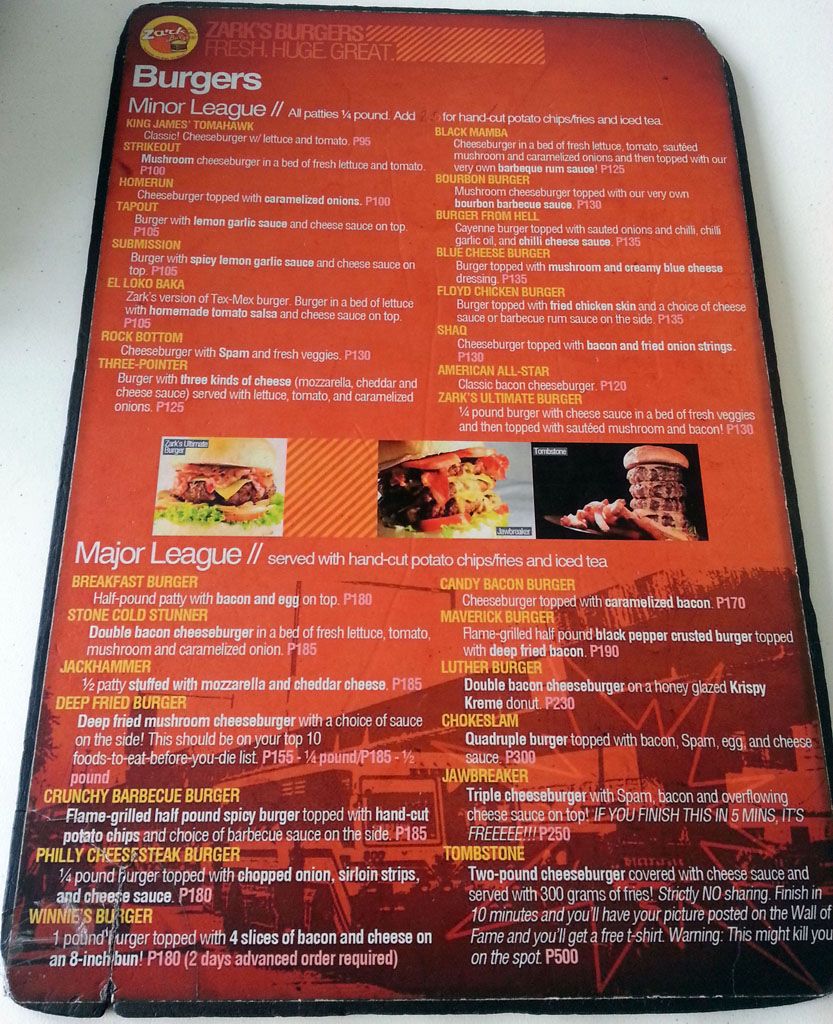 They have a wide array of burgers to choose from. In fact, I had a hard time choosing which one to try. I ended up ordering Zark's Ultimate Burger and a Jawbreaker for pasalubong.
Zark's Ultimate Burger is a quarter pounder burger with cheese sauce in a bed of fresh veggies and then topped with sauteed mushroom and bacon. Bacon! Bacon! Bacon! Yum! This burger costs only P130. Quite affordable right?


Unfortunately, I was only able to finish a third of the burger because I felt full already. I love how it tasted though. Grilled burgers are definitely the best!
What makes Zark's Burgers stand out is their generous servings. Their burgers are so ginormous (that's gigantic and enormous combined)! Plus, another thing that makes them so interesting and worth the try is their challenges: Jawbreaker and Tombstone. Check out their Facebook for more info on these.
I know I mentioned that I ordered a Jawbreaker… but my sibs were so excited to try it so I wasn't able to take pictures of it.
Don't fret though. I will definitely be going back to Zark's Burgers someday with my boyfriend. I'm sure he'll love all the bacon in this one.
Sooo… Have you ever tried Zark's Burgers? 🙂
Zark's Burgers
Address: 2nd Floor J32S Bldg, 35 President's Ave. BF Homes, Paranaque
Contact Number: 09237372515
xoxo,
♥ Monique ♥
You May Also Like