Jollibee's Hash Brown Burger
September 22, 2011
Though I love McDonald's more than Jollibee, I sometimes go to the latter just for variety. Today, I got curious enough to try Jollibee's latest addition to their menu: Hash Brown Burger.
I think this is their simpler, cheaper, and healthier version of KFC's Double Down.


According to Jollibee, it has the trademark goodness of 100% pure beef Yumburger patty combined with a slice of cheese and sandwiched between two golden, crispy baked hash browns. A mouthful of this new burger will unfold many delights as the juiciness of the Yumburger patty complements the crispiness of the perfectly-baked hash browns.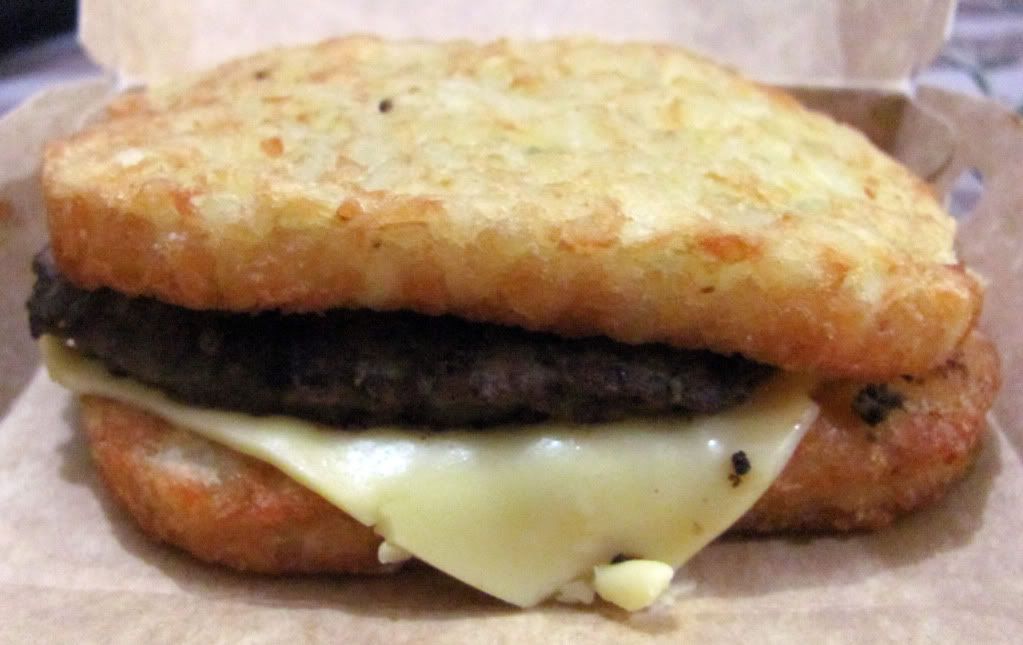 For those who love hash browns, burgers, and cheese, this is the PERFECT burger for you! It's all three good things in one. The hash browns are crispy on the outside and soft on the inside. And they're bigger than the regular hash browns at McDonald's. To get the right flavor, you have to add a dash of salt and some more catsup. Also unlike other Jollibee burgers, this one has no mayo in it. This burger is also easier to eat by hand because it comes with a paper wrapper so your fingers won't get greasy.
Comparing to KFC's Double Down, the Hash Brown Burger has fewer calories because the hash browns are baked NOT fried. So if you feel like freaking out at first glance, reconsider.
Now, the size of the burger is just right FOR ME. But maybe when you are really hungry, you should order two pieces. Or if you are eating with a friend, order three pieces and you eat one and a half of hash brown burgers to fully satisfy your hunger.
When I finished the burger, I did not feel really satisfied with the taste. The hash browns are kind of bland for my taste. I honestly feel that Yum with TLC is better than this. But if you want to try something different than the usual burger and fries combo, go ahead and try this one.
A solo burger costs P64 only and if you get it with a drink it costs P80.
You May Also Like