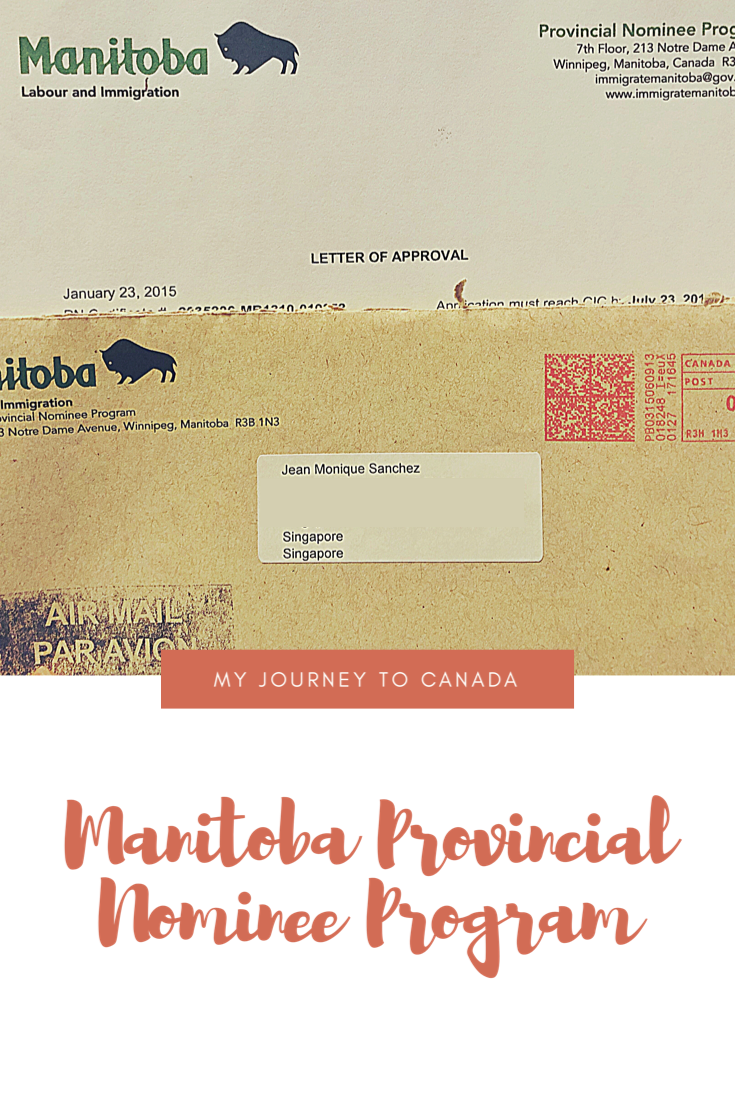 My Journey to Canada (Part 3): Manitoba Provincial Nominee Program (MPNP)
April 19, 2020
Bonjour Bella!
This is part of a series I'm writing to answer some of the questions that I frequently get from other Filipinos who are also interested in immigrating to Canada.
My MPNP Application Experience
There are several ways to immigrate to Canada. Back then, there was no Express Entry option yet. After so much research, I decided that the best route for me is via the Manitoba Provincial Nominee Program (MPNP) for Skilled Workers.
According to the ImmigrateManitoba.com:
To qualify to apply to the MPNP you must be a skilled worker who can make an immediate economic contribution to the Province of Manitoba. A skilled worker has specialized education and training and work experience in their occupation. Examples include professions – nurse, dentist, accountant, teacher – and trades such as plumber and electrician.
I decided to create an account and start my application around March 2013 but I didn't have all the necessary requirements and after 3 months of inactivity, they deleted my application.
Then in October 20, 2013, when I was already in Singapore, I finally submitted my application including all necessary documents:
Personal Information: birth certificate and passport
Education: certificate and transcripts from high school and diploma and transcripts from university (including certified translations into English)
Employment (includes work history for the past 5 years and only for jobs held for more than 6 months): signed reference letters from each employer
Language ability: IELTS test results
Settlement Funds: 3 months bank statements / certificates of deposits
Adaptability – Settlement Plan
The application required a Settlement Plan wherein you need to do your research about how you are planning to settle and find work in Manitoba, including the city, town, or region where you intend to live. You also need to demonstrate that you have adequate financial resources to support your settlement in Manitoba.
My intended occupation that I wrote there was Pharmacy Technician, which was not yet regulated in Manitoba at the time of my application.  It was also my occupation when I was in Singapore so it was the right choice for me. My plan then was to work as a Pharmacy Assistant / Pharmacy Technician first while studying for the PEBC exams in order to get my license to be a pharmacist in Canada.
If your intended occupation is regulated in Manitoba, you would need to outline the steps you will take to meet the requirements for working in that occupation.
I knew that the application process would take a long time. Based on friends who have also gone through the process, they said that the average wait time is about a year. That was good for me as I was in not much of a hurry to go to Canada back then.
I just recently moved to Singapore and I started a new job on September 23, 2013 as a Hospital Pharmacy Technician. I was enjoying exploring my new environment, meeting new friends, and adjusting to the the workplace.
[My National Occupational Classification Group then is 341. Now, it's listed as 3414 Other assisting occupations in support of health services with a Skill Level C. If you're planning to indicate Pharmacist as your intended occupation, the NOC is 3131 Pharmacists (Skill Level A).]
Then on January 15, 2015, 1 year and 3 months from when I submitted my application, I got an email from MPNP that they are currently reviewing my immigration application. They emailed me a list of documents and other information needed to complete their assessment. They gave me 1 week to complete and email back the necessary requirements.
On February 8, 2015, I've received the Letter of Approval in the mail dated January 23, 2015 from the Manitoba Provincial Nominee Program stating that my application has been approved and that I have been nominated by the Province of Manitoba for Permanent Resident status in Canada. My next step was to apply to Citizenship and Immigration Canada (CIC) for a Permanent Resident visa as a Manitoba Provincial Nominee.
In that letter, they also stated that I have until July 23, 2015 to submit my application to CIC, which is 6 months from the date on the Letter of Approval.
This is it! I'm now just a few steps away from getting my Permanent Resident visa in Canada.
Current Process of Immigrating to Manitoba through the Provincial Nominee Program
Currently, if you are planning to immigrate to Canada through the Manitoba Provincial Nominee Program, you need to submit an Expression of Interest (EOI). It is not an application but just an online profile that is entered into a pool of all eligible candidates and is valid for 1 year. You are not required to submit any documents yet at this point. Click here for more information regarding submitting an EOI.
Based on your answers on your profile, you will get your EOI Ranking Points. The EOI ranking system is based on the following:
Language Proficiency
Age
Work Experience
Education
Adaptability
Risk Assessment
On a regular basis, they send Letters of Advice to Apply (LAA) to the highest-scoring candidates in the pool to submit a full application. If you would like to check how your EOI score compares to those who recently got invited to apply, you can check out the EOI Draw page on ImmigrateManitoba.com. Once you receive an LAA, you need to submit your complete applications to MPNP, and that includes all required supporting documents, within 60 days. After that, you'll just have to wait for their reply regarding their assessment of your application.
Here are some tips that I can offer to ensure that your application goes as smooth as possible:
Read and research carefully to check which stream / program you can apply for as different streams / programs have different criteria
You are responsible for providing full and accurate information and documentation in all applications.

If you provide false or misleading information in your EOI, it may be considered misrepresentation and you may be subject to a ban which would prevent you from submitting another EOI for a period of two years. – ImmigrateManitoba.com

If you have changes in your circumstances such as getting married, having a baby, new job or new address, make sure you log back into MPNP online and update your information.
You do not need to apply through an agency and applying through one does not guarantee approval of application. I didn't enlist the help of an agency, I just did a lot of research and read the MPNP and CIC websites thoroughly.
Make sure all necessary documents are readily available so that when you receive your LAA, you can submit then as soon as possible. Click here to view a full list of documents that they will require.
And these are answers to some of the most frequently asked questions as well:
As of writing, the current amount required as settlement funds for an individual is CAD $ 12,960 if you're applying for Permanent Resident visa. Click here for more details. But for the purposes of MPNP, all applicants should have CAD $10,000 plus CAD $2,000 for spouse and each accompanying dependant.
Your family is included in your application and that means you would need to prepare their supporting documents as well. For purposes of application, family means spouse (by marriage or by common-law partnership of at least one year) and dependent children (has to be single and below 22 years old).

Unfortunately, relatives such as parents or siblings cannot be included in your MPNP application even if they live with you.

The MPNP-approved English language proficiency tests are IELTS – General Training and CELPIP-General.
Important Links:
That's it for now. My next post will be about the Permanent Resident visa application to CIC. Hope you all are staying safe. <3
xoxo,
Jean Monique
You May Also Like