Saizeriya Singapore Ristorante E Caffe
May 29, 2013
Saizeriya is a Japanese chain of casual, low-priced Italian Restaurants founded in 1967. Their concept of affordable and very decent quality Italian dishes has proven to be a success. They now have over 800 restaurant branches in different parts of Japan, China, and Southeast Asia.
Saizeriya always adheres to its innovative idea by selecting ingredients meticulously in accordance with its principle of reasonable consumption price, so that diners could eat safe, delicious, and healthy dishes.
In Saizeriya, there is NO SERVICE CHARGE at all. All prices stated in the menu are nett and inclusive of GST. Even with that, they can still offer low prices. Amazing.
Here's the reason why Saizeriya is so much more affordable compared to other Italian restaurants: the current president of the company Yasuhiko Shogaki, wanted to sell Italian cuisine in Japan but did not get many customers. After he cut prices by 70%, the restaurant gained instant popularity and prices remained low ever since.
Rhalph and I decided to have dinner at their City Square Mall branch last Saturday and since it was a weekend, the place was really packed. There was a long queue and it took about 15 minutes before we were ushered into a booth.


There's a call button at the side of every table which you press to call the attention of the servers. Upon pressing, your table number will be reflected on an LED display at the wall which will alert their service crew to make their way to your table to take your orders. Since the restaurant was really full, it took several minutes before a waiter arrived at our table to take our orders. Our orders were served about 15 to 20 minutes later. The whole process of getting a seat, ordering, and being served the orders probably took 45 minutes to an hour. It probably took that long because the restaurant was really full… and I think they can probably seat 100 people in there.


Their menu contains a variety of salad, soup, appetizer, pizza, doria & gratin, baked rice, pasta, steak & hamburger, and dessert.


The menu looks quite appetizing, right? 🙂
I ordered their Mushroom Soup ($2.90) and Chicken Bolognese Gratin ($4.90) while Rhalph ordered Cheese Hamburger Steak ($6.90) with rice (topped up for $1). Total of $15.70 for two. 🙂 I'd say that is quite affordable for an Italian Restaurant here in Singapore where usually a single dish can cost at least $15.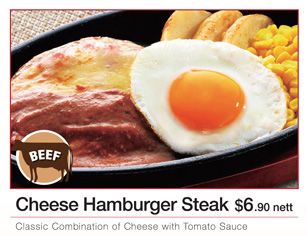 And here are the actual photos of our orders.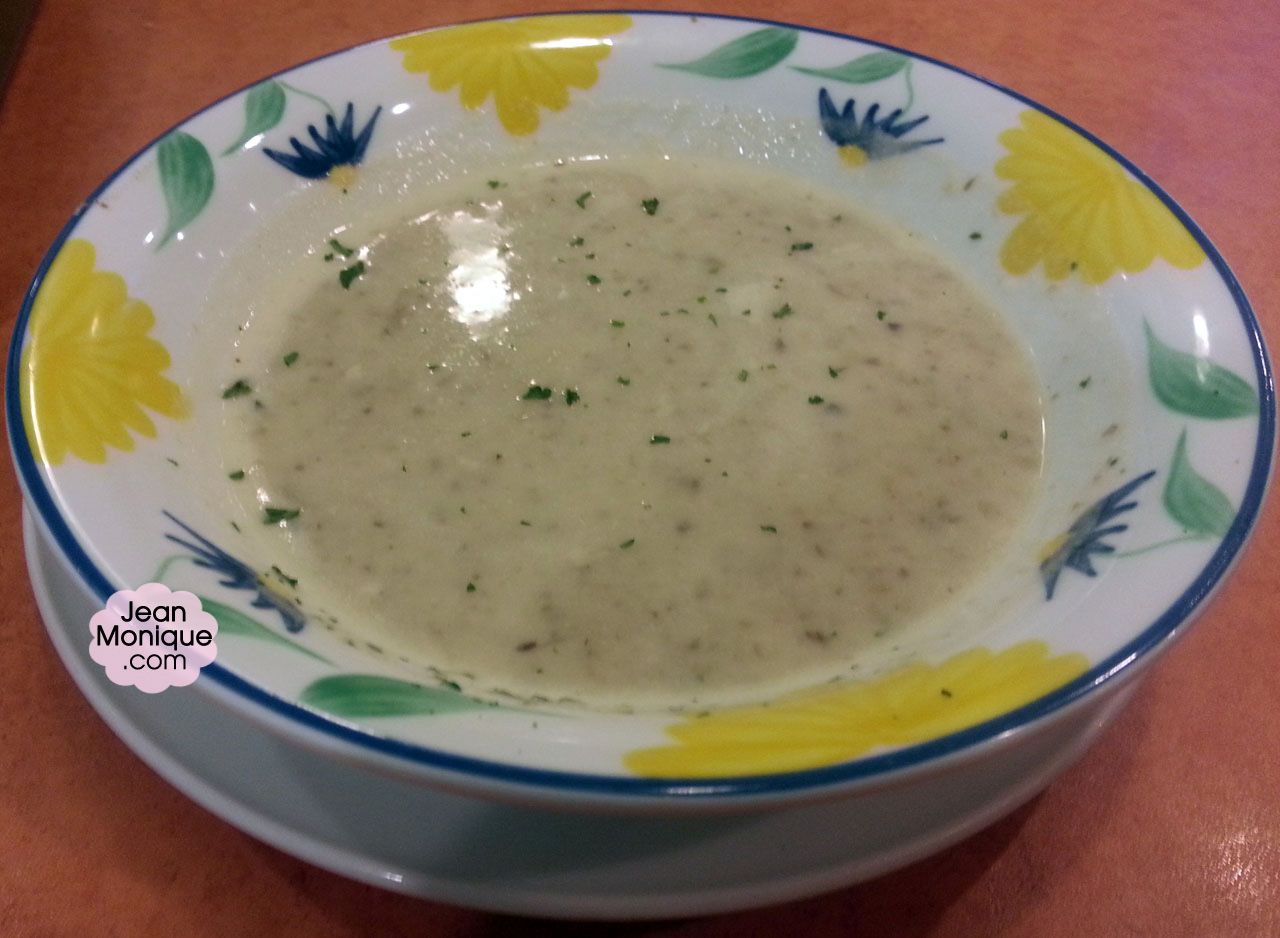 The mushroom soup lived up to its description, which is "finely ground fresh mushroom with fresh milk and chicken stock." It tastes really good and it reminds me of a slightly diluted version of Shakey's creamy mushroom soup.


Chicken Bolognese Gratin is made of penne with special chicken meat sauce and white sauce. I actually expected a larger serving size though I like that it is served while still really HOT. The melted sauce was heaven… and there were a lot of carrot bits all over. I don't usually eat carrots but with this, it was a pleasure doing so. As for the taste, it was nice. Certainly not the best but no complaints here because it is really low cost Italian dish after all.
I wasn't able to take a picture of the Cheese Hamburger Steak but I was able to try a few bites. The hamburger steak was really meaty and packed. I'd love for it to have more melted cheese on top though. Still, at $6.90, it is definitely value for money.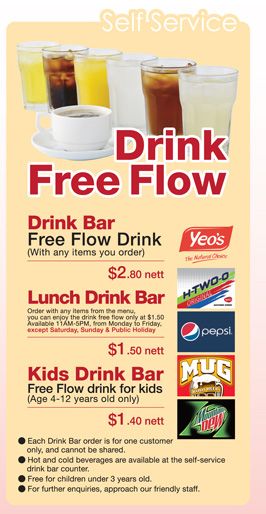 Drinks are self-service and they are free flow. You get yours from the Drink Bar and then you can choose from there which one you want. There drinks bar is amazingly well stocked with a variety of drinks. There is a wide selection of both hot and cold drinks. Hot drinks include: Earl Grey, Green Tea, Peppermint, Camomile, Mocha, Cappuccino, Latte, and etc. Cold drinks choices include: Lemon Barley, Orange Juice, Pepsi, Ice Lemon Tea, Mug Root Beer, Mountain Dew, Pepsi Light, and H-TWO-O.
Overall, it was a delightful experience and the food was definitely value for money. No wonder there is always a long queue at Saizeriya. 🙂
Here's a list of their branch locations and contact numbers:
SAIZERIYA SINGAPORE RISTORANTE E CAFFE
Website | Facebook
City Square Mall
Location : #B2-55/56
Contact No. : 6834 4877
Bukit Timah Plaza
Location : #02-24C
Contact No. : 6467 5992
Liang Court
Location : #02-22
Contact No. : 6337 9001
Toa Payoh Central
Location : Blk 190 #02-514
Contact No. : 6253 8001
Hougang 1
Location : #01-38
Contact No. : 6312 8644
The Cathay
Location : #B1-25/26/27
Contact No. : 6235 5197
Opening Hours (all branches): Daily, 11am – 10pm
Have you ever been to Saizeriya? How was your experience?
xoxo,
♥ Monique ♥
You May Also Like