PPhA 2012 National Convention – Day 1 – Registration Proper
May 2, 2012
The Philippine Pharmacists Association Inc. hosted the 2012 National Convention on April 26-28, 2012 at the Quadricentennial Pavilion, University of Sto. Tomas, Manila with the theme "Best Pharmacy Practices for Quality and Safety."
I was one of the privileged representatives from the Training Department of Generika Drugstore in the said convention. There were other delegates from the Operations Department and from other stores. 🙂
I was quite excited about this convention since this is my first time to attend a PPhA Convention. Aside from learning new things, I was thrilled at the prospect of seeing my college professors, friends, colleagues, and review mates.
This is what I wore on this day: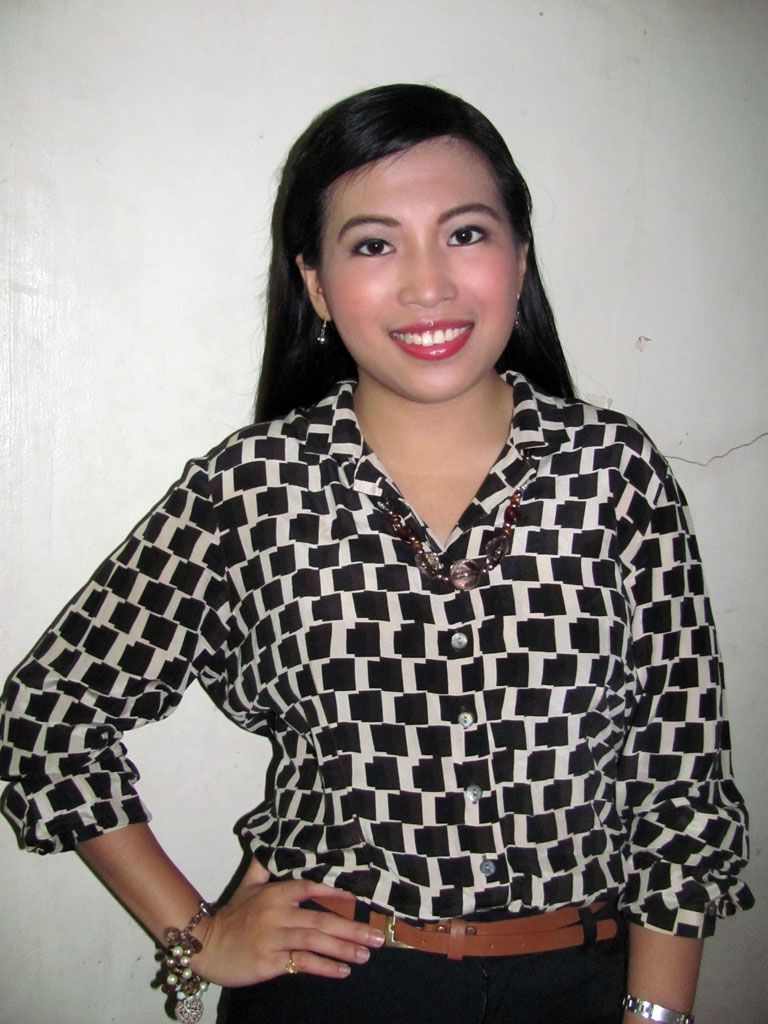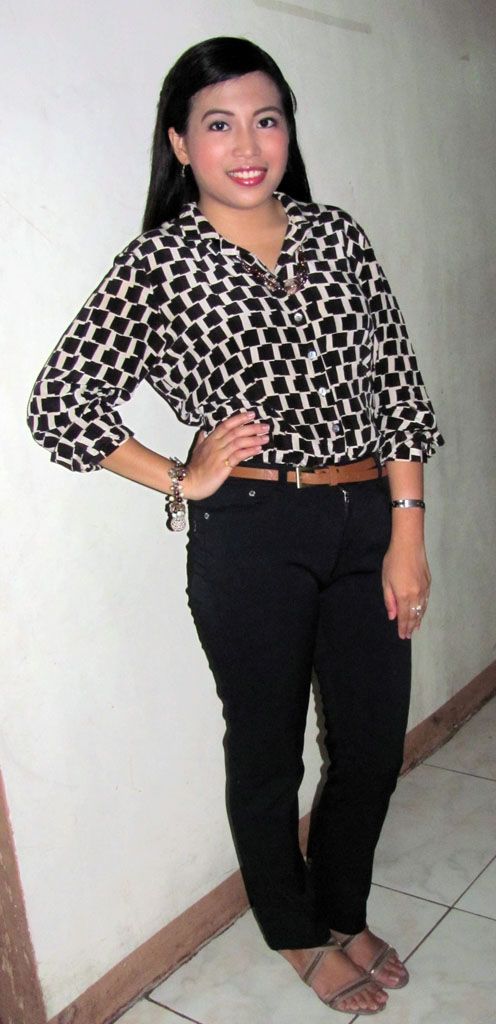 Registration period was scheduled at 8am to 4pm. When I got there before 8am, I was amazed when I saw that there were so many pharmacists present already. Some of them evidently came all the way from various provinces. When the gates opened, all the delegates were rushing to the registration area. There was a huge influx of people. It kind of looked like a stampede was about to happen. Definitely worse than your usual LRT or MRT experience. People were so close to you. And the warm humid weather made it worse. We all got so sweaty and most are at their wits' end already. There was no clear direction on where to go. Thus, people were just lining up aimlessly. There were booths for on-site registrants and for pre-registered delegates. The line was actually very long at the pre-registered area. There were only initially 2 long lines since the other gate was not open yet. (There were 6 lines when it finally opened.) The security guards did not even know what to do. 🙁 It was really a chaos! And to think that we were all professionals! It is very disheartening to witness and be part of that scenario. In addition, the registration area was not airconditioned. All of us were sweating profusely. We were asked to wear formal professional attire… thus, within a few minutes we were all sweating a lot. Actually, if all of us just lined up properly, there probably wouldn't be any problem at all. Sadly, some people still lack that kind of discipline. 🙁
This picture was taken at 9:40am. You can see that there were just too many people.
With regards to the registration process, I was able to process mine in a faster way. I actually just followed what the others were doing. Initially, I was falling in line at the pre-registered delegates area. But after 30 minutes of no progress, I followed the others who were lining at the On-Site Registration area specifically at the Pregnant / PWD section. I just presented my PPhA Membership Application form and my official receipt and I was instantly given my ID and Exhibit Passport. They weren't issuing the kits so I still had to line up at the Pre-registered Delegates area. And then I saw that on the other side, there was a Kit Booth area for On-Site registrants. I went there and just presented my ID. I was handed with my kit afterwards. Yey!
I was waiting for Ms. Jini and Ms. Mau, my officemates from the Training Department since I was holding their official receipts. Anyway, there was still time because the program proper won't start until 2pm.
So while waiting, I just accompanied and assisted the other pharmacists from Generika Drugstore.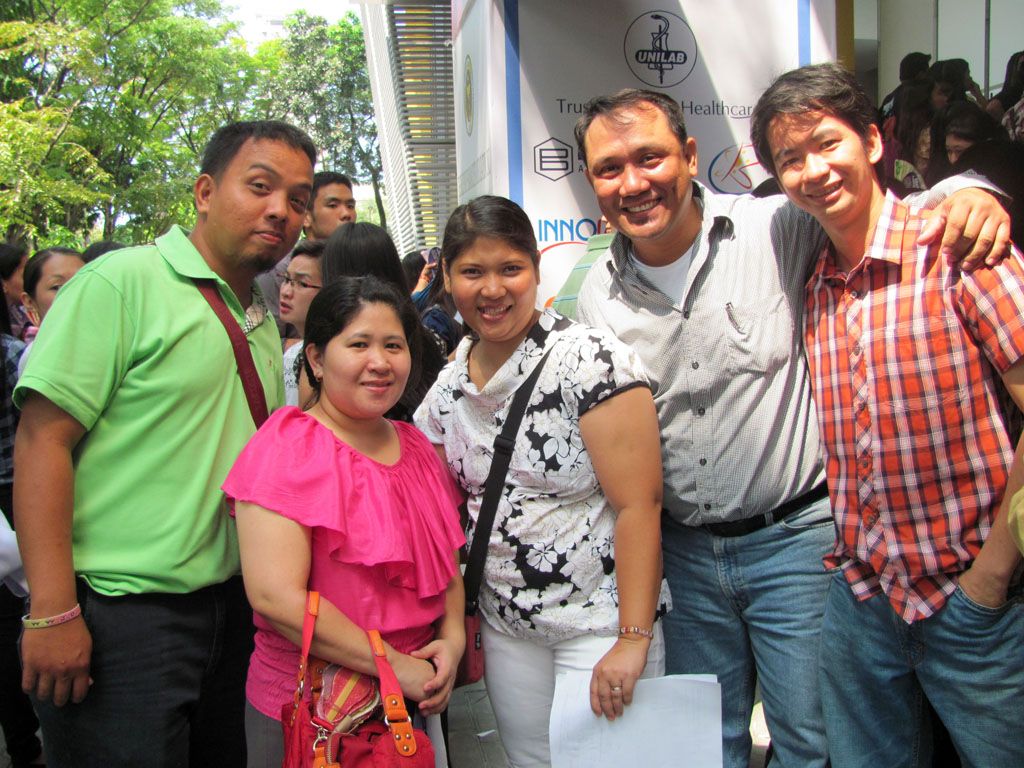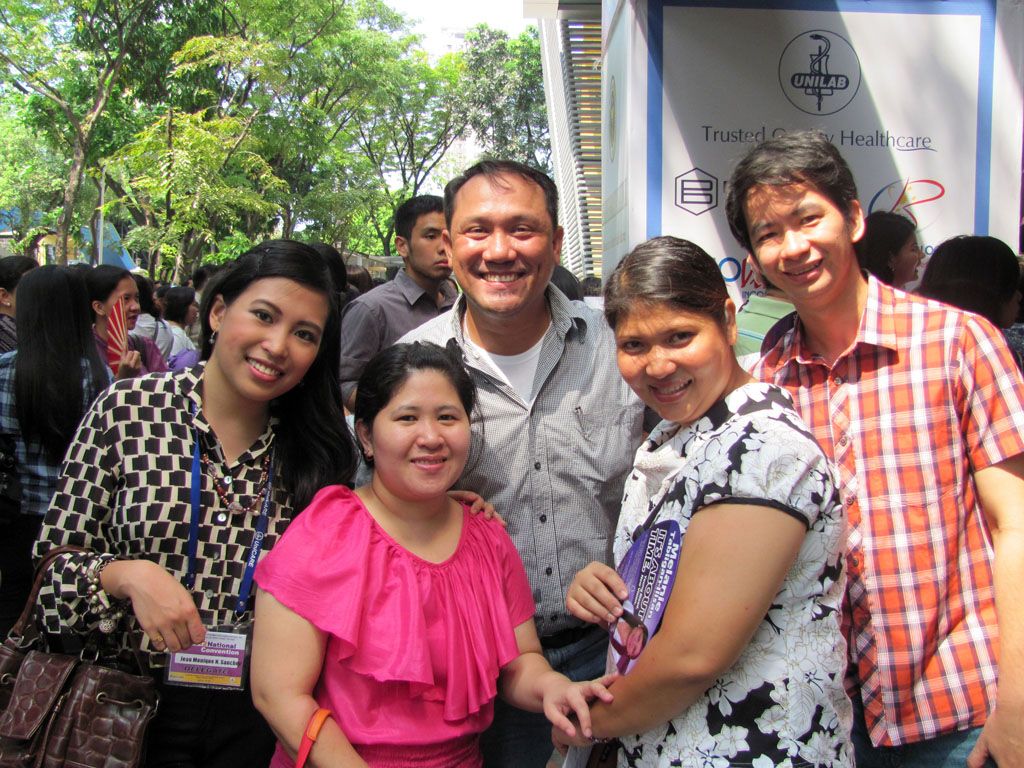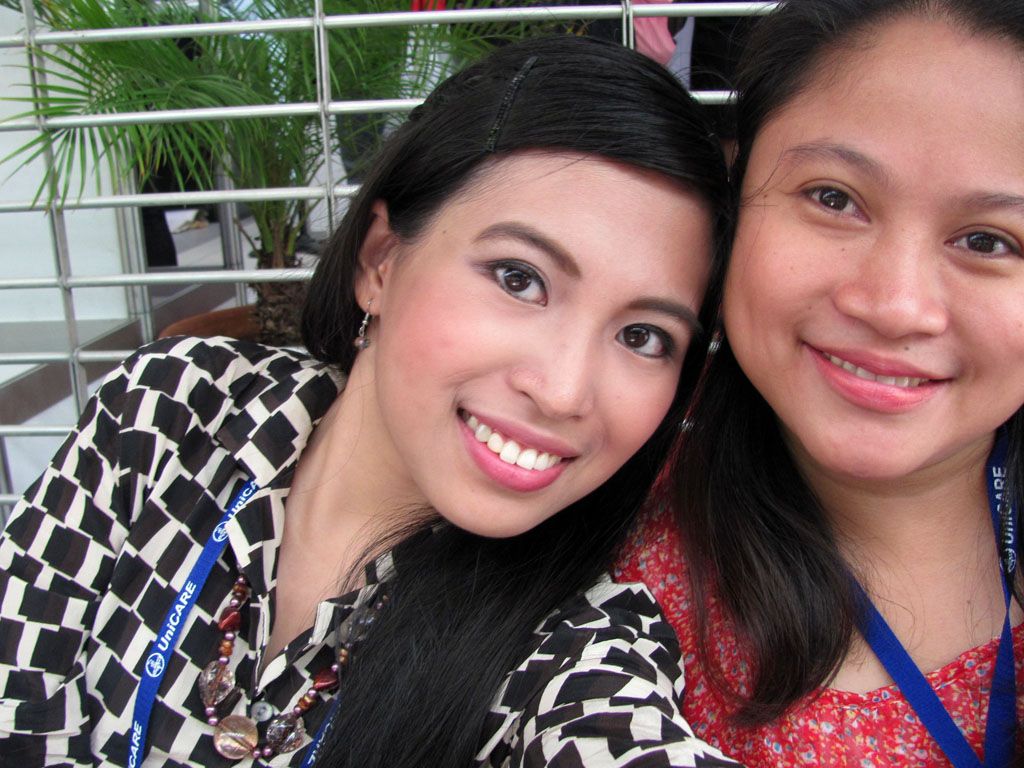 While still waiting, an interesting thing happened. The guest speakers arrived! 🙂 Since I was in the line of sight, Mr. John Chang, President of Federation of Asian Pharmaceutical Associations (FAPA), asked me to take his picture during the ribbon-cutting ceremonies. When he handed his digital camera to me, the other speakers also handed theirs.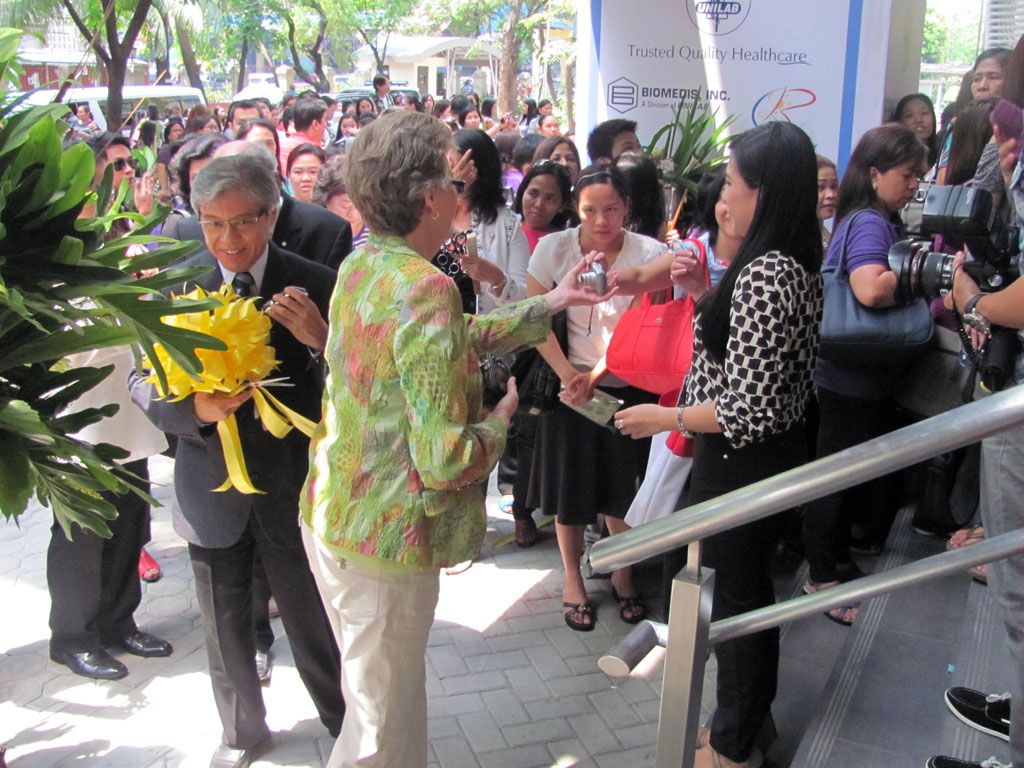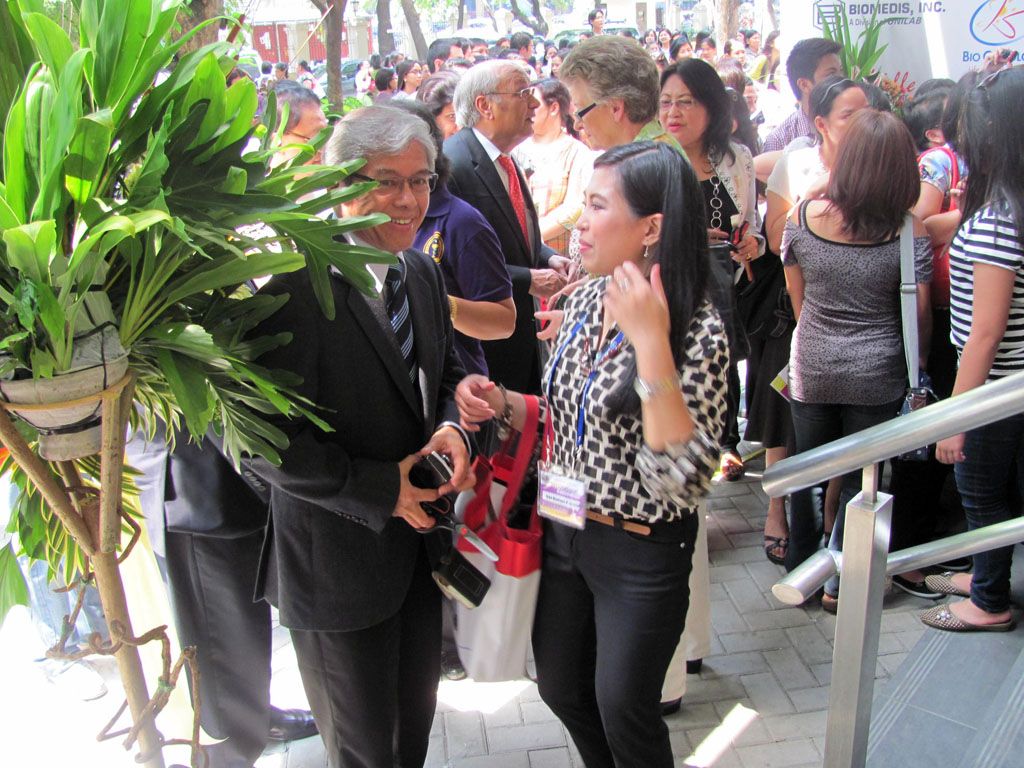 And to return the favor, Mr. John Chang agreed to have his picture taken with us. 🙂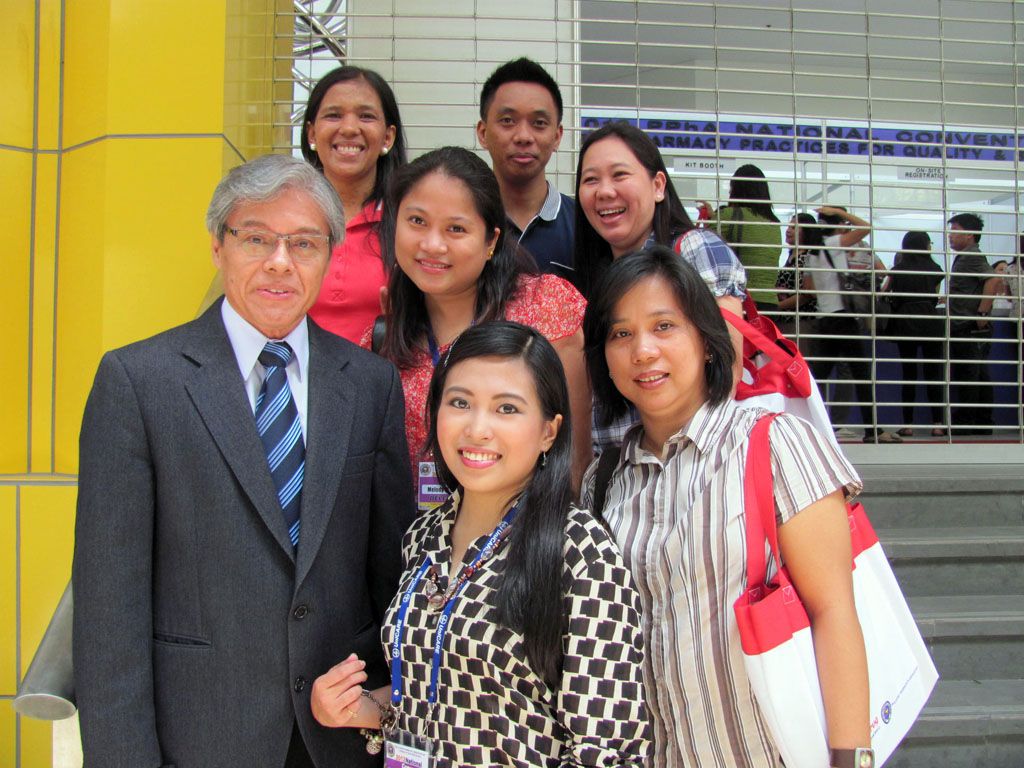 Ms. Jini and Ms. Mau finally arrived at around 11:30am. 🙂 I believe they didn't have any problem lining up because the lines were shorter by that time. But they weren't given Exhibit Passports because the organizers ran out of them due to the large number of unexpected delegates. While Ms. Jini and Ms. Mau were registering, Ms. Mude and I went to KFC to have our lunch. UST has this parking lot with various restaurants inside the campus! This is so convenient for all the students because they already have a sort of food court in their campus. 🙂 I wish we have something like this in UP as well, but then, we have Robinsons Place Ermita just beside us. 🙂
After lunch, we went back to the Quadricentennial Pavilion and I visited the exhibit areas. I saw my classmates from UPM there! 🙂 Kristel came all the way from Davao and Kim was managing the booth of Terumo. Sadly, I was not able to take a picture with them. On the other hand, I was able to take a pic of the Generika Booth and the long line of people at our booth. We were giving out notebooks, ballpens, and brochures to the delegates.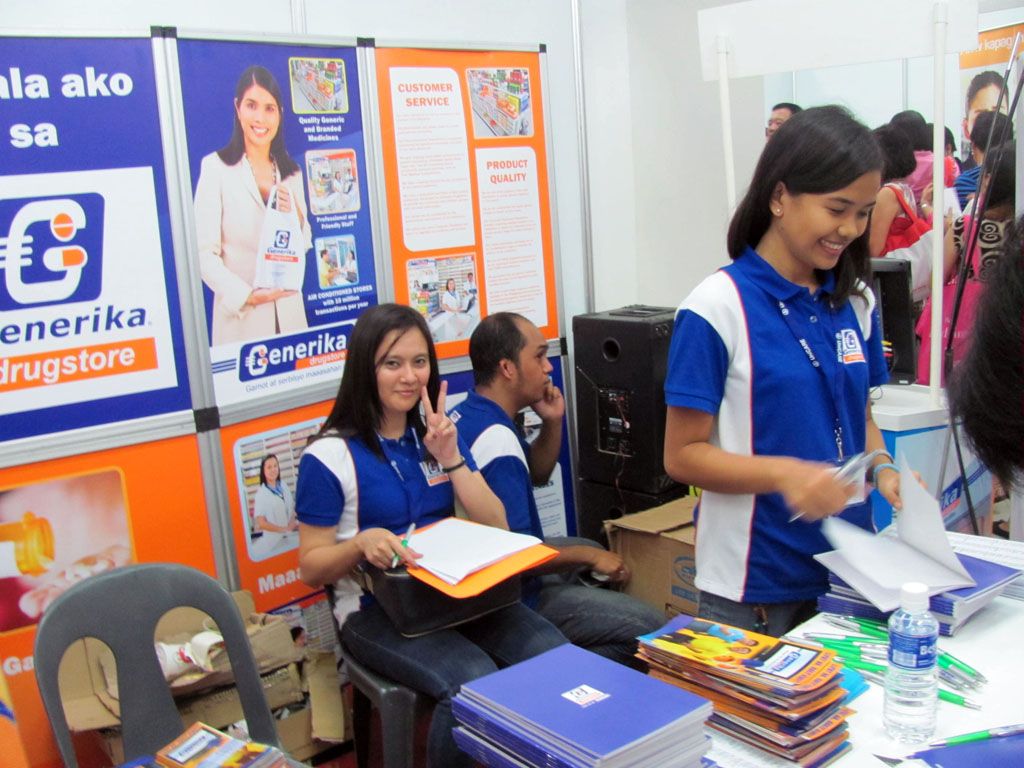 I actually like the exhibit area. There were so many booths and you get to see various companies and the products that they are offering. Of course there were booths that give really good freebies and there are those that just simply feature their products. Nevertheless, it was great to see what other companies are up to.
I finally met up with Ms. Jini and Ms. Mau at the exhibit area. Afterwhich, we went to the PPhA ID Processing Area to submit our applications and have our IDs processed. I saw a lot of my friends from UPM there. Most of them are student volunteers under Young Pharmacists Group (YPG). So nice to see all of them again! 🙂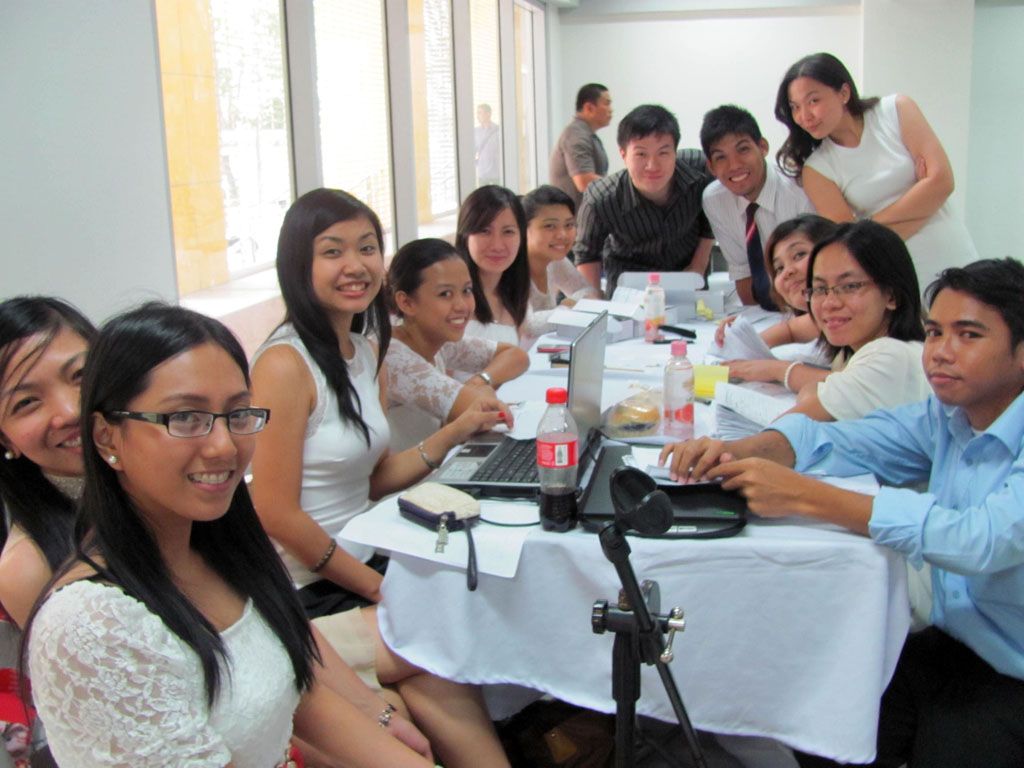 In the ID area, they are pretty much organized there. The lines were just long. This area is quite cooler compared to the others. Nevertheless, I believe the volunteers were able to handle most of the processes well. There were of course some concerns such as missing ID, etc.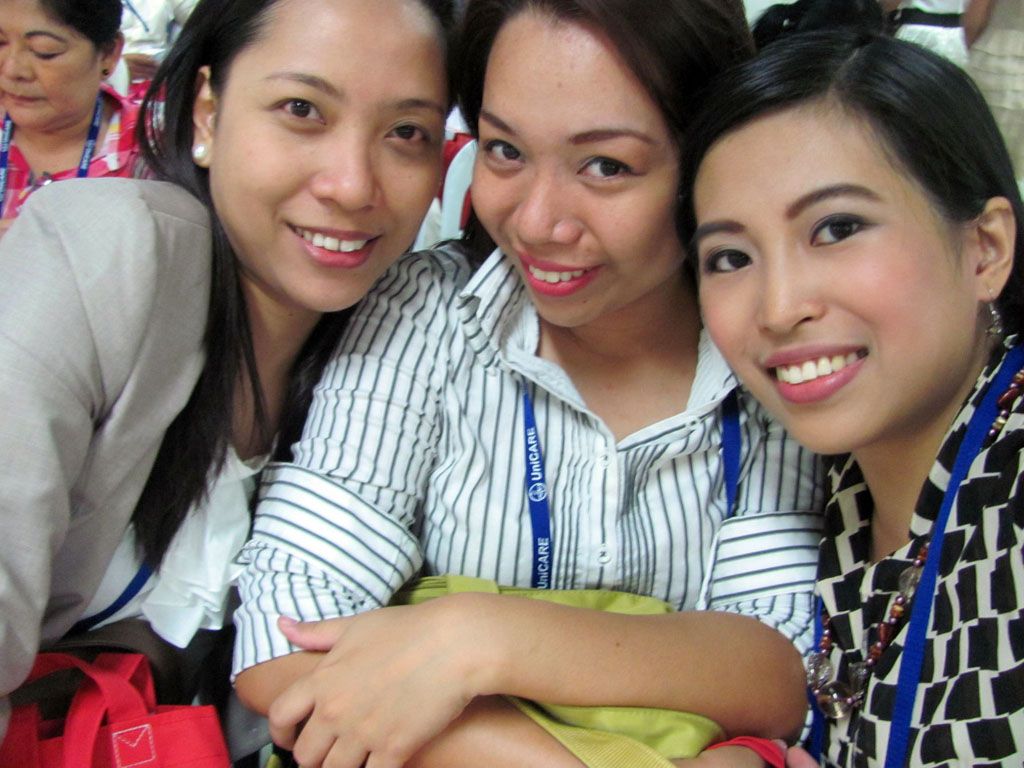 Problems Encountered and Recommendations:
The main gate of the building never opened on time. The gates should be opened on time to allow the delegates to enter the building and prevent sudden influx of people.
When the gate finally opened, there was no clear direction on where to go. Thus, people were just lining up aimlessly. The ushers and security guards should have been briefed beforehand on the process of registration. Like where to line up and that they should be more authoritative to be able to control the huge crowd.
The registration area was not airconditioned. We were all sweating profusely. Wearing a formal business attire in a hot summer day is no joke. 🙁 I hope that in the next convention, the registration booth will be placed in an airconditioned area as well.
The exhibit area was too small to accommodate the delegates. There was a time when I was actually elbow to elbow with other pharmacists. I hope that in the next convention, it will be placed in a bigger area. Plus, I hope the airconditioning would improve us well. Tight space and very warm temperature is not very inviting.
To be continued on my next post about the Opening Ceremonies. 🙂
You May Also Like