Review: Celeteque Dermoscience Restorative Ultra-Lifting Concentrated Serum
March 17, 2013
Part of the first wave of products that I got from Sample Room was this Celeteque DermoScience™ Restorative Ultra-Lifting Concentrated Serum.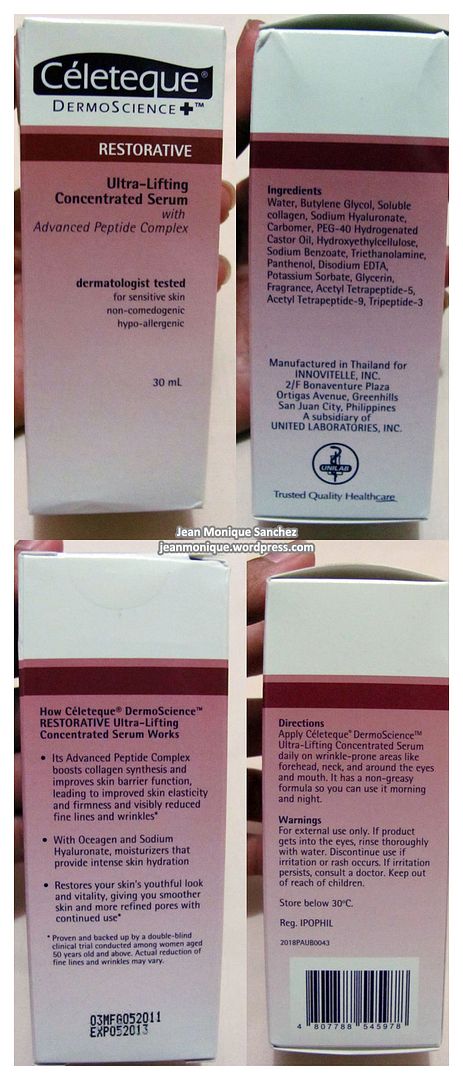 This is not the first Celeteque product that I have tried. When I was still in college, I use their facial wash regularly. Thus, when I heard of their new line of products, which is DermoScience™, I got so ecstatic to find out that it was available at Sample Room! You can imagine my excitement when I was finally able to get hold of my own sample!
Here are 3 facts about CELETEQUE DermoScience™ according to their website:
CELETEQUE DermoScience™ merged Unilab's medical expertise and dermatological advances to develop products that are clinically tested to deliver results.  With 6 skincare lines co-developed with dermatologists for different skin conditions:  Hydration, Acne Solutions, Sun Care, Brightening, Advanced Anti-Aging and Restorative.
Beautiful skin starts with healthy skin. The DermoScience technology makes use of derma-grade ingredients necessary to promote overall skinhealth.
With CELETEQUE DermoScience™, there are no empty promises, no superficial claims, just effective results that are based on lab tests, clinical facts and studies.
As we grow older, our skin starts to sag and lose its firmness. This is evidenced by dry and sagging skin with visible fine lines. Without proper care, these fine lines may then become deep wrinkles. Their Restorative line of products claims to "lift and firm sagging skin and reduce visible fine lines and wrinkles." They even go so far as to claim "2mm lifting of sagging skin in just 2 weeks." With that kind of promise, I'm sold. Thus, among the many samples available at Sample Room, I chose this product to see if it would reduce the appearance of fine lines on my forehead and under the eyes. 
CELETEQUE DermoScience™ Restorative Ultra-Lifting Concentrated Serum has Advanced Peptide Complex that boosts collagen synthesis and improves skin barrier function. The Oceagen and Sodium Hyaluronate Moisturizers effectively improve skin elasticity and firmness while reducing fine lines. – from Celeteque website
The 30mL full size product costs P899… and I got it free from Sample Room! 🙂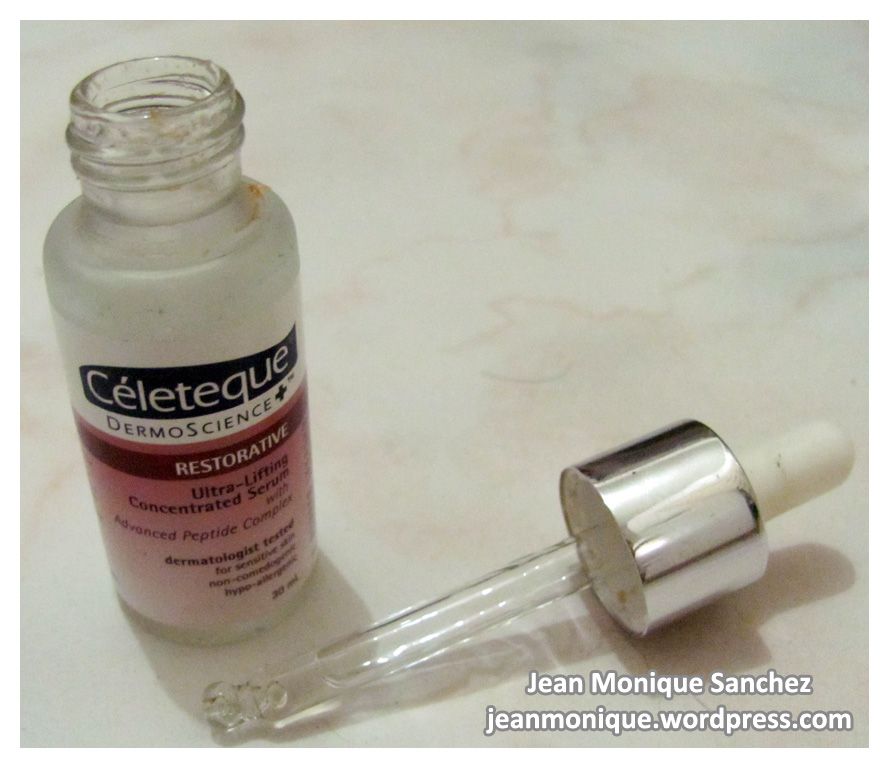 The product comes in a frosted glass and a glass applicator that looks like a medicine dropper. And the serum is a clear viscous liquid that has almost a gel-like consistency. It also does not have a strong smell. In fact, I can barely notice any scent.
What I like about the dropper is that it allows you to get only the amount that you need. You can actually control just how much you can get. For me, I usually just use a pea-sized amount for my entire face and neck. Also, it is very hygienic to use since there is less chance of contaminating the whole product with airborne particles like dust or microorganisms.

I normally use this twice a day. In the morning, I spread a pea-sized amount on my face and neck after using a cleanser and a toner and before using a moisturizer and sunblock. And then at night before I go to sleep, I apply it after a cleanser and toner and before a moisturizer. It is a bit sticky when you apply it at first but it leaves a slightly shiny finish on my skin. I also make sure that the serum has been completely absorbed by the skin before I apply the moisturizer. The waiting time is minimal since it becomes fully absorbed almost immediately. The product also feels light on the skin thus it is okay to use even when you are planning to put makeup on afterwards.
It is my first time to use a serum and with this, I have just realized how important it is to include it in my daily skincare regimen. The product leaves my skin very soft and supple. Every time I apply the product, I notice that my fine lines on my forehead become less visible. But then the tightening effect wears off after a while. Maybe if I use this product regularly for a longer period of time, it would have a more permanent effect. Even so, prevention is better than cure. That is why as early as now, I use anti-aging products to maintain my skin's firmness and to prevent the appearance of sunspots and wrinkles all over my skin.
I used this product everyday starting December 11 and it has just run out this second week of March. This little bottle really goes a long way! Since I used it for around 90 days, it's safe to say that it costs less than 10 pesos per day. Not bad for a product that really works great (and which I got for FREE)!  🙂 One more good thing, this product can be used by those with sensitive skin because it is hypoallergenic and non-comedogenic.
So am I repurchasing? Yes, definitely! 🙂
Celeteque DermoScience products are available in Watsons and SM Department Stores nationwide.
Like Celeteque on Facebook!
For more free samples, visit Sample Room!
xoxo,
♥ Monique ♥
You May Also Like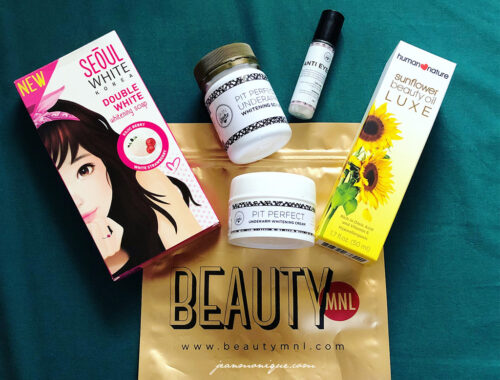 June 15, 2018