As the Philippines celebrates its Independence Day…
June 12, 2013
At home, we are mourning.
Mourning the loss of two of our best friends. Two of our guardians. Two of our companions.
"A dog is the only thing on earth that loves you more than he loves himself." – Josh Billings
I went home yesterday and saw her frail and weak… Today, the Lord decided to end her sufferings. She probably just waited for me to get home so I can bid her adieu.
I will miss you Tikiwiki. You came into my life on March 2010 and I was very happy then. You were always such a happy and adorable dog. Whenever you see me sad, you always lie down near my bed and try to give me comfort. You always absorb my pains and sorrow. You always waited by the door til I get home from work. You looked so cute whenever you try to jump with your cute short pudgy legs. You always loved it when I rub your belly with my foot. You have given us so much joy… and I'm sorry for all the pains we have caused you.
We love you… we always will.


And just this afternoon, Rocky died as well. He was hit by a fast-speeding car when he suddenly ran out the gates.
Rocky has been a very lively, overly zealous dog. He was always so smart and so malambing. We will miss him so much.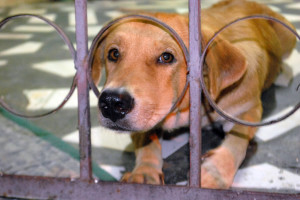 Today is not a happy day… it is a day filled with sadness and regret.
Rest in peace my loves.
xoxo,
♥ Monique ♥