New Year's Eve Makeup Tutorial
January 7, 2013
As I've mentioned in my previous post, I'll be listing the products I used to create my New Year's Eve Look and a simple tutorial. 🙂 Please forgive me for not being able to create my own video tutorials yet. I know these are necessary for techniques… but I still don't have a tripod and proper lighting to record good videos. We'll get there soon. ♥
First, here's the look I've created: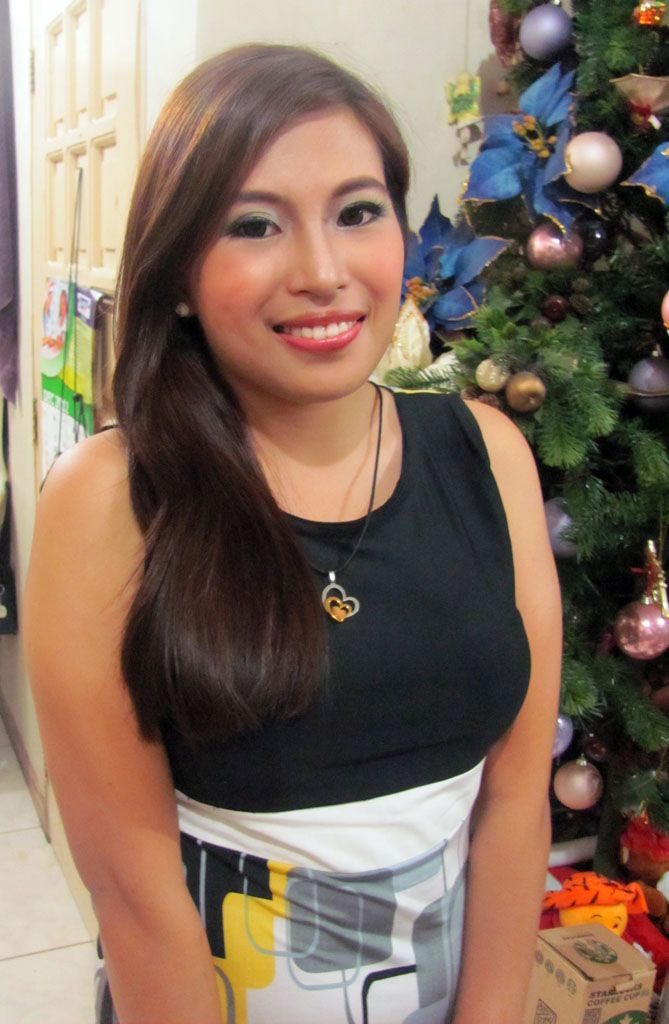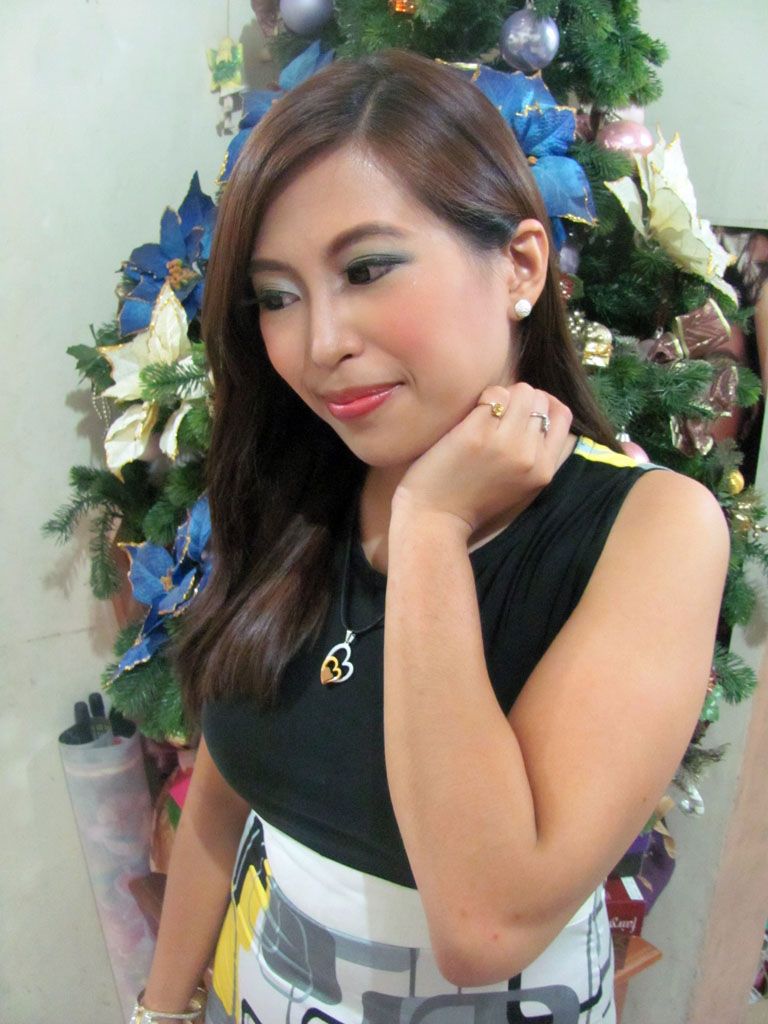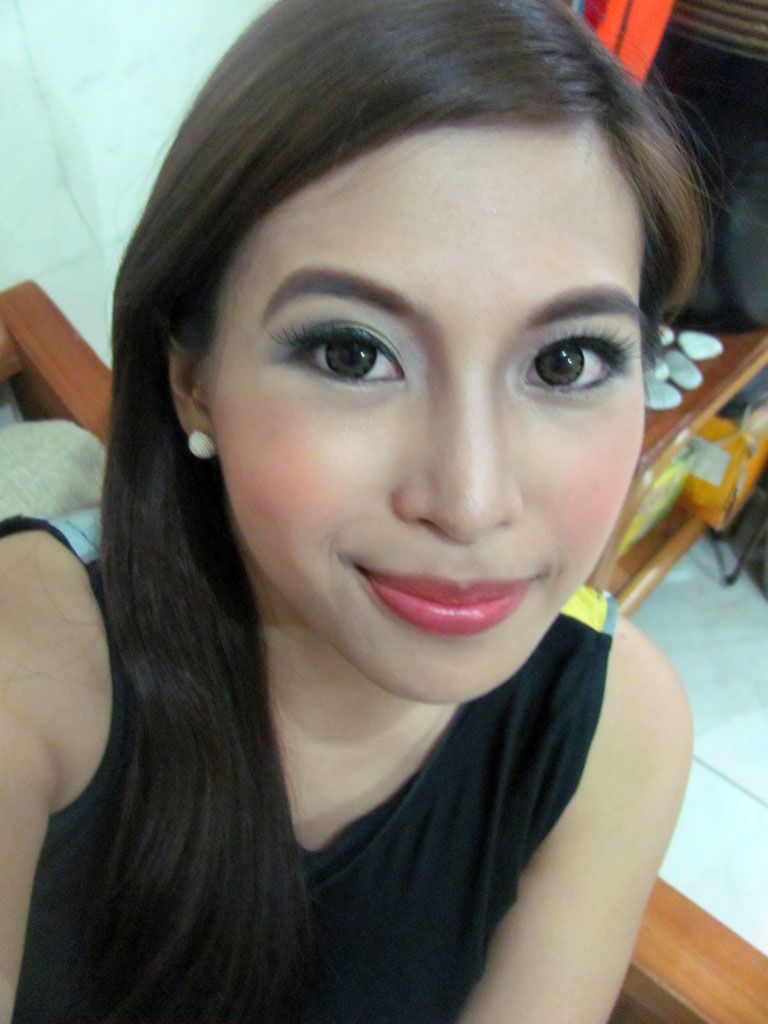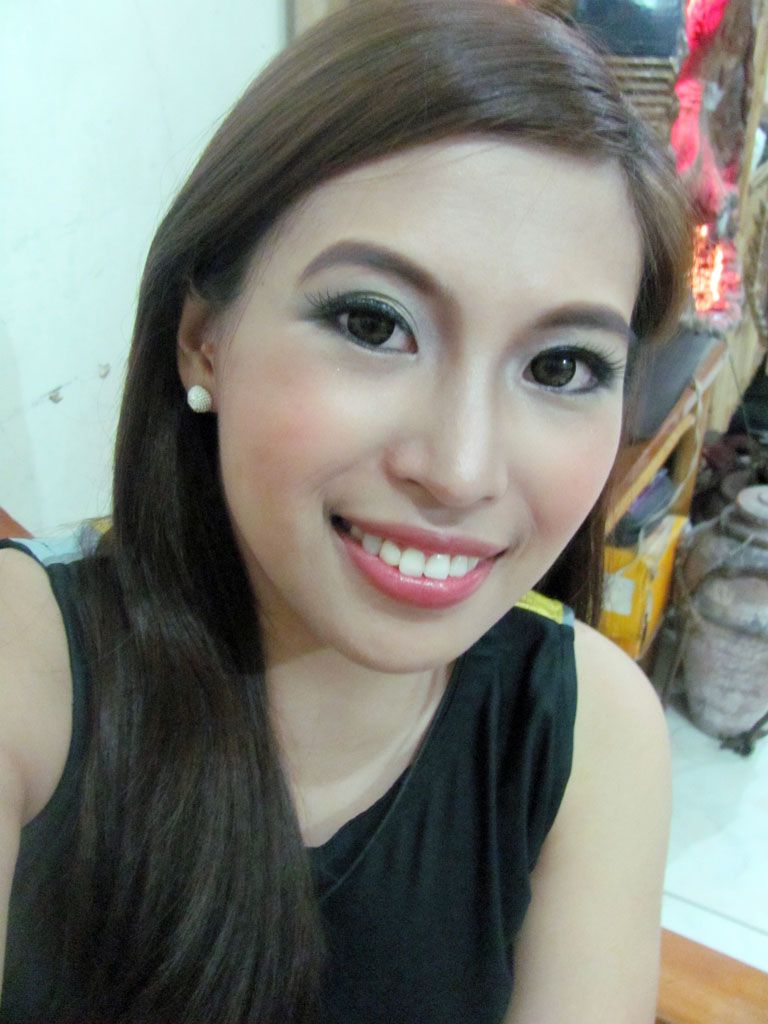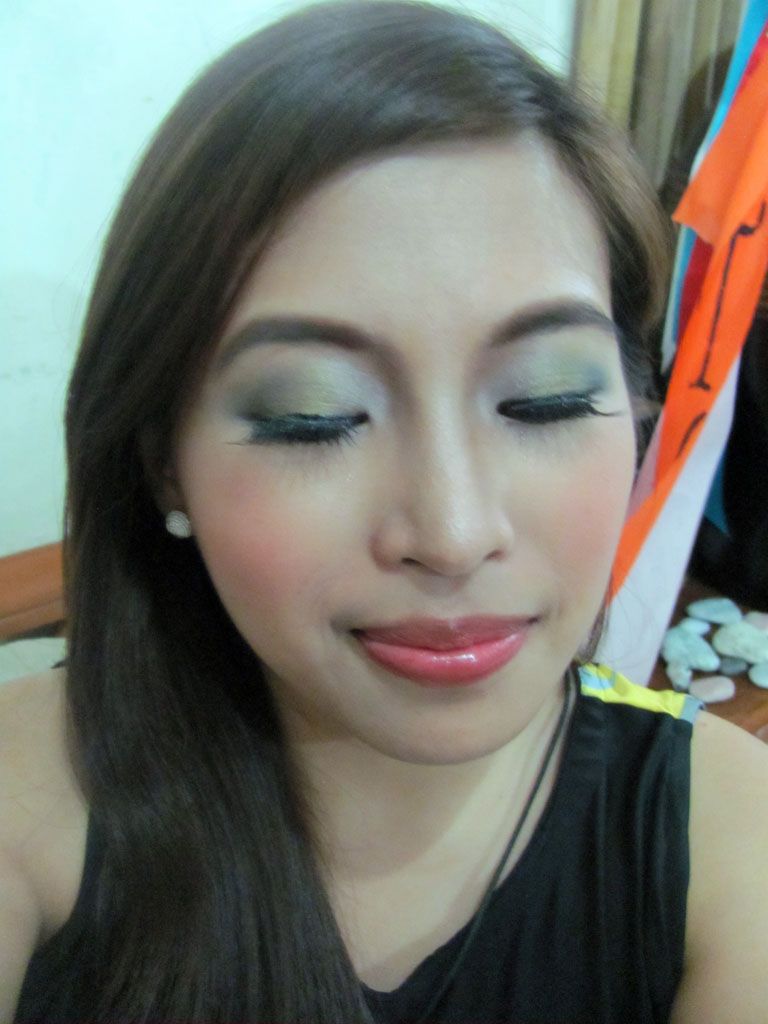 Now, I'll tell you how I did it. 🙂
I'm always asked what's my secret to a seemingly flawless skin. I really don't have any secrets. But I can tell you the products I'm using so that might probably give you a clue. Aside from the fact that I drink more than 8 glasses of water per day, I'm so thankful that I do not have oily skin. That's why, even at the end of the day, my whole look is still put together. 🙂
Moving on… I use a facial wash to cleanse my face. Right now, I'm using Garnier's Pure Active Multi-Action Facial Scrub since I've got that from one of my BDJ Boxes. I love the smell of this product and how it gives a fresh clean face day and night. After patting my face dry, I use Celeteque's Ultra Lifting Concentrated Serum. This product gives something like an instant face lift. Super love this product! 🙂 Read more on how I got this from Sample Room. Next, I use Garnier's Whiten & Even Moisturizing Cream as a moisturizer. Before, I've been using Olay, but since I got this as part of my BDJ Box, I decided to try this out. I really love the scent of Garnier products and it really works as a good moisturizer.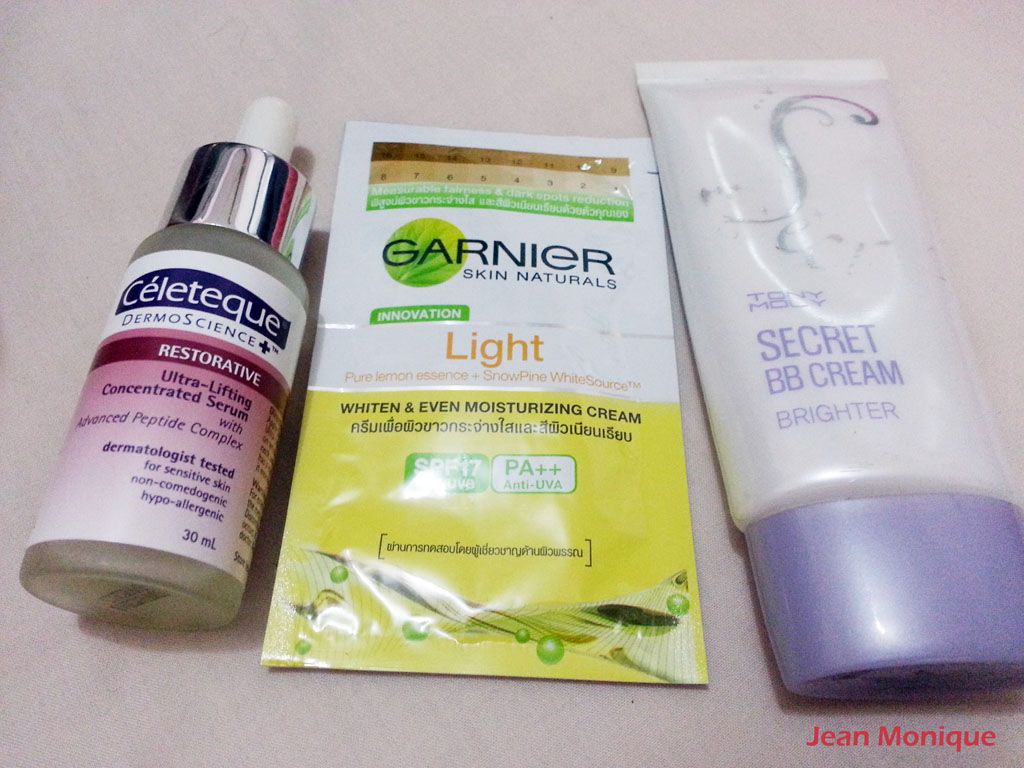 From Left to Right: Celeteque's Ultra Lifting Concentrated Serum, Garnier's Whiten and Even Moisturizing Cream, and Tony Moly Secret BB Cream Brighter.
After prepping up my face, I'm now ready to apply makeup. But before that, I'll show you the brushes that I mostly use on a daily basis.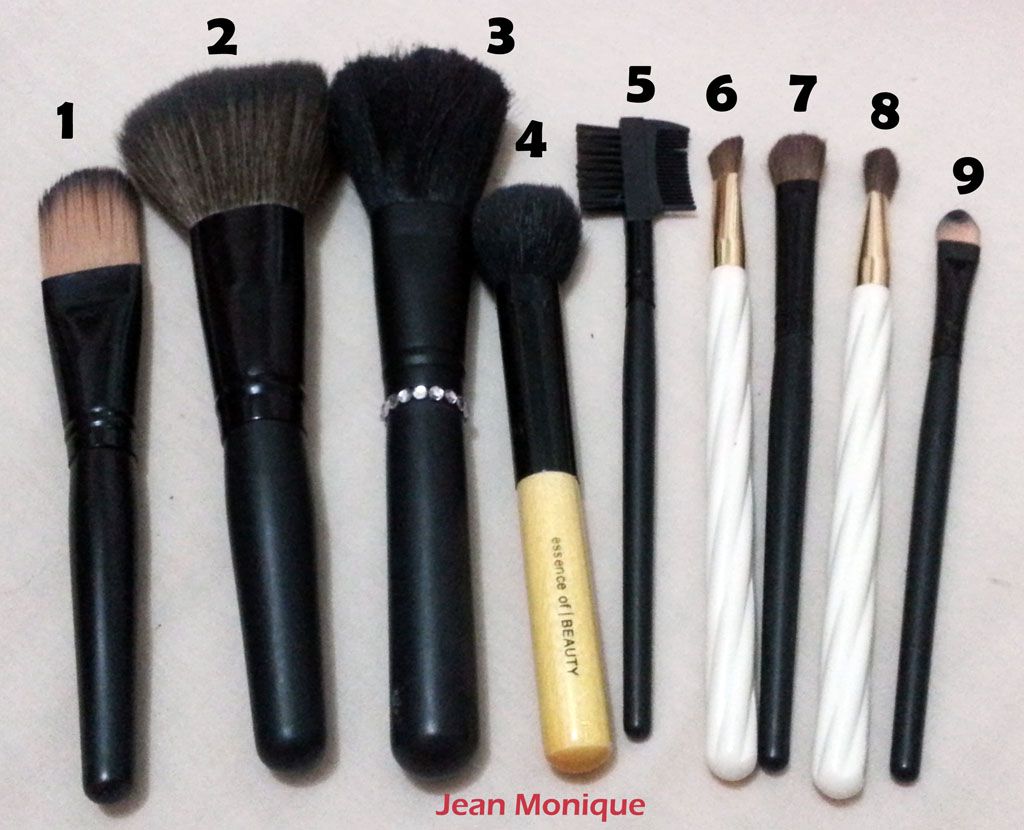 1. Foundation Brush – used for applying liquid foundation. 2. Powder Brush – used for applying face powder. 3. Blush Brush – used for applying blush powder. 4. Highlighter Brush – used for bronzers and highlighters. 5. Eyebrow Blending and Grooming Brush with Comb – use for blending eyebrow powder and grooming eyebrows. 6. Angled Shadow Brush – used for applying eyebrow shadow. 7, 8, 9. Eyeshadow Brushes – used for applying and blending eye colors.
So… since I've discovered the magic of BB cream starting February 2012, I cannot go on a day without it! Before my BB cream days, I just directly put on powder after using a moisturizer. But after using BB cream, my makeup stays longer. Even lasting all throughout the day! Plus, it gives me a nice start because it also works as a foundation. 🙂 The first BB Cream I've tried is the Dear Me Petite Cotton BB Cream of Tony Moly. That small bottle lasted me for 6 months! And it only cost me a little more than 300 pesos. 🙂 Since I ran out of that, I bought another BB Cream from Tony Moly which is called Secret Brighter BB Cream. Compared to the previous BB cream, this gives a slightly brighter glow. 🙂 To apply the BB cream, I just squeeze out a pea size amount on my hand and use a foundation brush to apply it on my face. All you have to do is put little dots of the BB cream all over and then completely blend it in. Don't forget to apply near the hair line, jaw line, and neck. Unless you want to appear like your face is floating separately from your body. 😛
Next, I use a concealer under my eyes to hide the dark circles. 🙂 Just put 3 little dots underneath your eyes and lightly blend it in using your ring finger. I always use my ring finger to blend makeup in. I don't know why but it works pretty well for me. 🙂 I use Careline's Oil Control Liquid Makeup as a concealer mainly because of it's tube packaging which makes it so easy to use. One must apply powder after any liquid type of makeup to set it in. In my case, I use Ever Bilena's Powder Foundation in Light Natural shade. Before this brand, I've been using Pond's and Maybelline for my every day powder needs. But since I've tried this, I discovered that it works similar or even better because 1) the shade suits me perfectly, 2) it doesn't get cakey, 3) the powder doesn't get loose so easily like the previous two, and 4) it's more affordable! For longer wearing powder, I use MAC or Elizabeth Arden. 🙂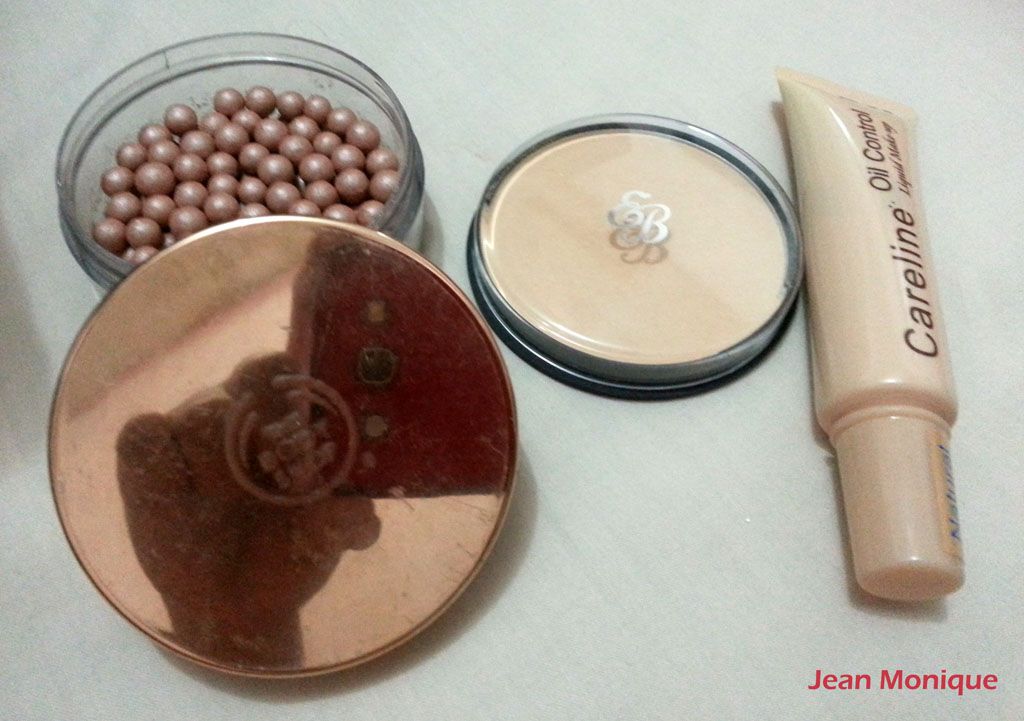 From Left to Right: The Body Shop's bronzing balls, Ever Bilena's Powder Foundation in Light Natural, and Careline's Oil Control Liquid Makeup.
After using the powder, I apply eyebrow powder to my eyebrows. Ever since I started grooming my eyebrows, I cannot go out without filling it in. Perfectly groomed eyebrows makes a lot of difference to one's overall look or aura. Trust me on that! I've been using Nichido's Eyebrow Liner Duo Kit in Coffee since 2010 and I still love it! I just use the angled brush to apply the powder and fill in my eyebrows. Just follow the shape of your eyebrows and blend it completely using the eyebrow blending and grooming brush shown above. There's actually a technique for this but I guess I'll just show it later with step-by-step instructions. 🙂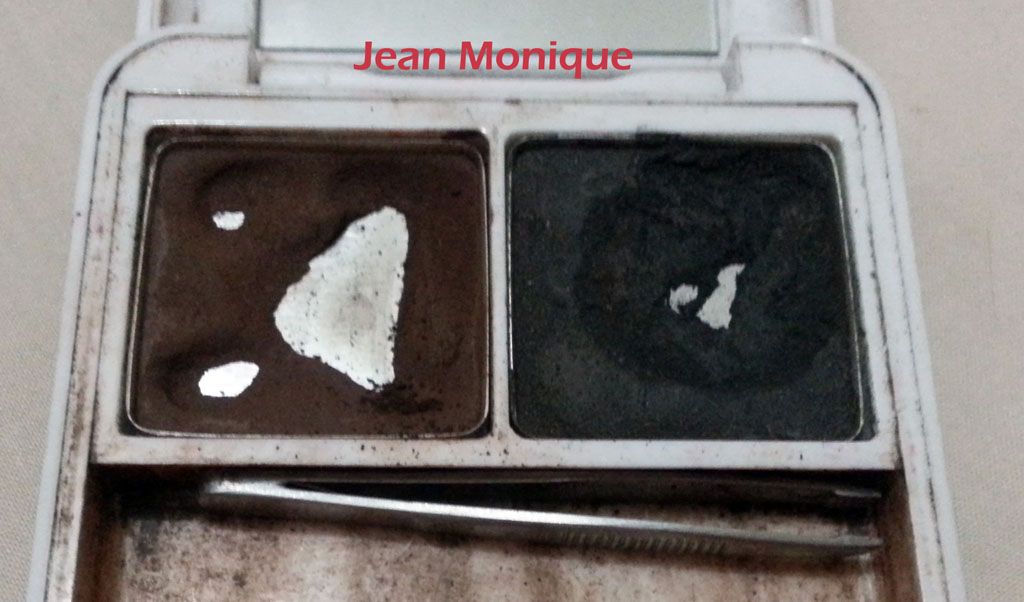 After the eye brows, it's time to apply the eye colors! This is my favorite part because this is where I can unleash my creative side. 🙂 I love how blending various colors can create a wide variety of looks that can go from day to night. I have a lot of eye colors but my favorite palette to use right now is the one I bought from Catwalk Cosmetics by Marj Sia.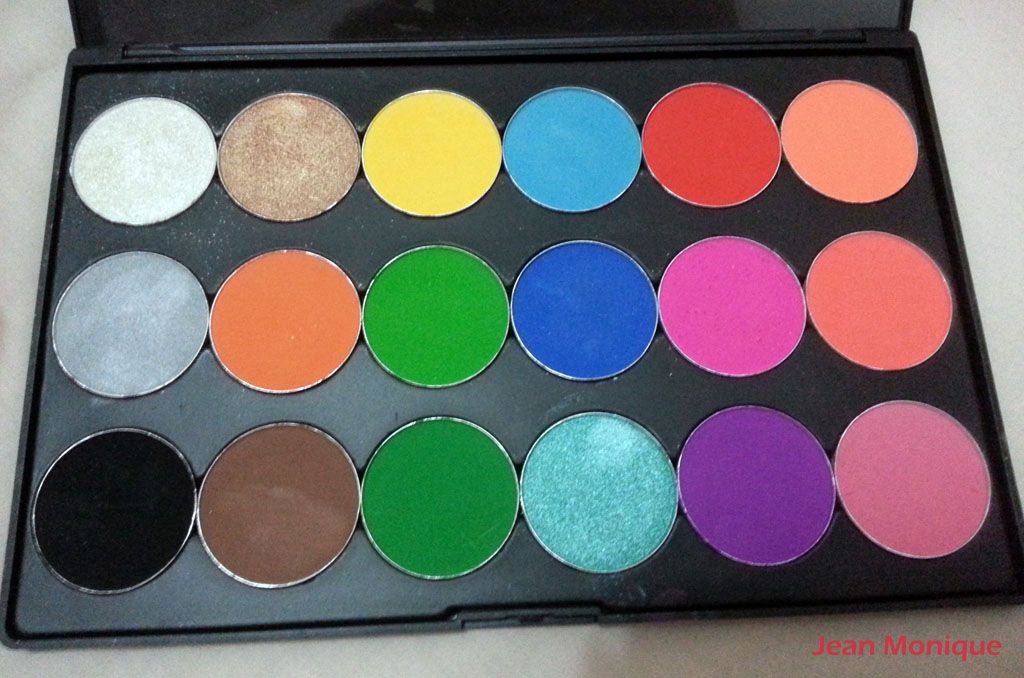 For my New Year's Eve look, I used the colors white, yellow, silver, and black. I first applied WHITE all over my lids. And then I applied the SILVER eye shadow on the inner 1/3 part of my eyelids. When I say inner, it means the one nearest the nose. Outer means the one near the ears. 🙂 Next, I applied the YELLOW eye shadow on the middle part. And then I used Brush No. 9 to apply BLACK eye shadow to the outermost part of my eyelids creating a small line following the crease. And then I blended inwards using the Eye Shadow Brush. I love how it turned out after blending. 🙂 The colors were just actually an experiment since those were the colors on my dress.
Next, it's time to apply eye liner and mascara.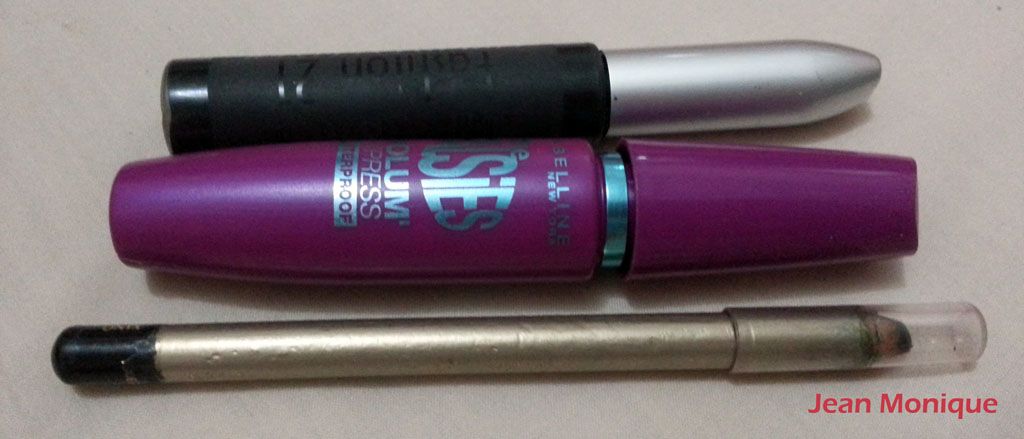 Fashion 21 Black Waterproof Eyeliner, Maybelline Falsies Volume Black Waterproof Mascara, L'Oreal Black Pencil Eyeliner
I use Fashion 21's Black Waterproof Eyeliner for lining my eyes, the one on my eyelids closer to the lash line. Next I use Maybelline's Falsies Volume Black Waterproof Mascara to volumize and somehow lengthen my eyelashes. I have almost nonexistent eyelashes so mascaras are my best friend. 🙂 And lastly, to line the waterline, I use L'Oreal's Black Pencil Eyeliner.
After the eyes, I applied blush powder. I used the peach one located at the right most column, middle row of the palette. To apply powder, just swirl it on the apples of your cheeks and sweep outwards and upwards towards part near your ears. If you think you've applied too much, you can apply a powder to lighten the color.
Next, it's time for the lippies.
Sephora Lip Gloss in Rosy Glow and Revlon Lipstick
I always use lip gloss or lip balm under any lipstick. This is to make sure that the lipstick will glide on smoothly and will create a smooth finish. 🙂
And then, I apply contour and highlighter.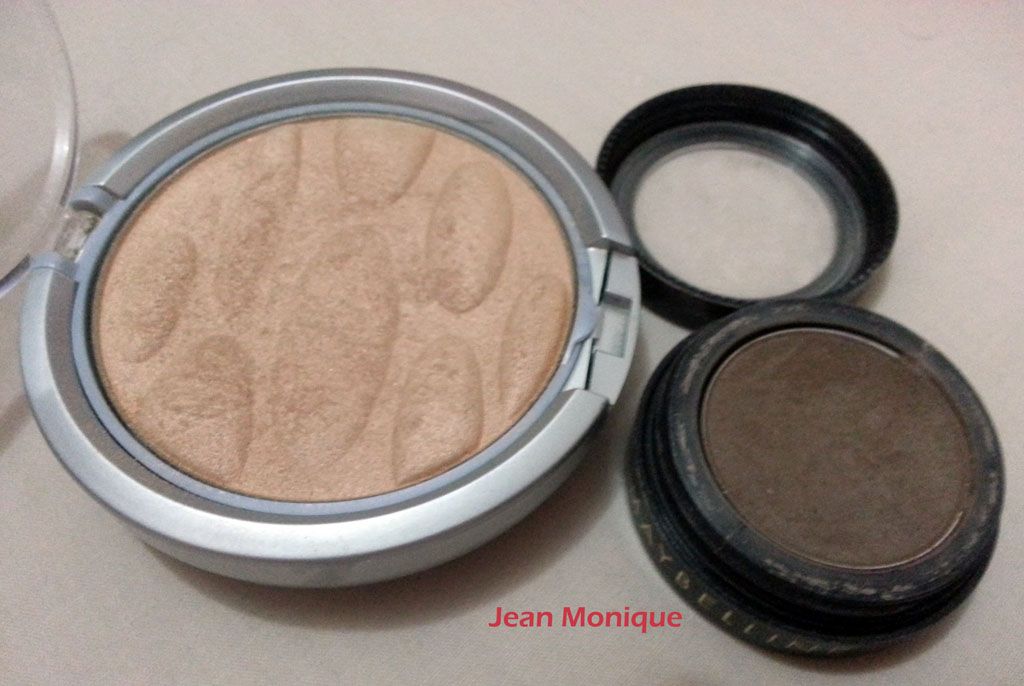 From Left to Right: Physicians Formula Virtual Face Powder and Maybelline's Teddy Bear Matte Eye Shadow
First, take out the eyeshadow brush and sweep it over the brown eyeshadow. In my case, I used Maybelline's Teddy Bear Matte Eye Shadow. From the innermost end of your eyebrows, apply it in a downward motion on the side of your nose bridge to the nostrils to create an illusion of slimmer nose and contoured nose line. 🙂 Don't forget to apply on both left and right sides of your nose bridge. Then, use the highlighter brush and sweep it over the virtual face powder. I'm using Physicians Formula Virtual Face Powder. It's a multi-reflective face powder that I use to add glow or shimmer to my face. For this, sweep it over the middle of your nose bridge. You'll see that you'll get a more matangos nose. Hehe!
And lastly, you can opt to apply falsies. I used the one I bought from Catwalk Cosmetics. 🙂 Just use an eyelash glue and stick it nearest your lash line so it looks natural.

So that's how I did my New Year's Eve look. 🙂 I just did my best in describing the whole process since I am not yet capable of producing videos. I hoped you enjoyed and learned some tips and tricks in applying makeup.
If you have any questions or clarifications, please do not hesitate to ask me. You may comment below or just send me a private message using the Contact Form above. 🙂
xoxo,
♥ Monique ♥