Bonjour Bella!
Chinese New Year is just a few days away and I'm sure a lot of you are busy with all the preparations for the upcoming festivities. Your days are probably filled with shopping for new clothes and preparing to look your best during the CNY. To help you prettify yourself, let me introduce you to Vanitee!
Vanitee is Singapore's largest online beauty and wellness marketplace. If you've heard of or are using Carousell to buy and sell stuff, think of Vanitee as something similar to but tailored for beauty and wellness services.
Vanitee connects over 500 verified and independent beauty artists with potential clients. Services available for booking include mani-pedi, brow grooming, lash extensions, hairstyling and makeup, and even facials and massages. It's so easy to explore, discover, and book numerous beauty services from all over Singapore. <3 With Vanitee, beauty is just a touch away!
When Aidan from Vanitee contacted me to try the app, I immediately downloaded the app and browsed for hours. There were just so many services that I wanted to try! But since I've always wanted to try gelish, I finally decided to focus on the nail artists offering gelish nails near my area. And the next day, I finally decided on booking with The Little Nail Shop by Fangfang. I chose the Classic Gel Manicure ($40 – includes shaping, cuticle care, and choice of nail colour for 45 mins) and the Classic Pedicure ($35 – includes file, cuticle works, scrub, light massage, and choice of nail colour for 60 mins).
Booking with Vanitee is very easy. You just decide on which artist and what type of services you want to book, select the date and time of appointment,  enter your payment options, and confirm the booking. Voila, you're done!
So let me share with you my first ever gelish nail experience. <3
Prior to the appointment, I've received confirmations from Vanitee and even messages from the artist herself. I asked if there would be an earlier slot available for booking and she promptly replied. We finally set the final date and time of appointment (8pm, 24 January 16) and I've received confirmation from herself and from Vanitee as well.
The Little Nail Shop is located at Strathmore Ave. in Queenstown. It was very accessible from my place as I only have to take one bus. It was a good 10 minute walk though from the stop but I didn't mind as the weather was cool and breezy. Clear instructions were given so I didn't have a hard time finding the place, thanks to Google Maps and Citymapper.
Fangfang greeted me warmly and asked me whether I wanted anything to drink. Then she ushered me into a private room that serves as a her nail shop. It was beautifully decorated in a white and teal colour combination.
The place just looks so pretty and it set a very relaxing mood.
Fangfang asked me to sit on the very comfy couch as she prepared my foot soak. Then she proceeded to file and buff my nails. Then she gave my legs a good scrub. So many dead skin sloughed off! 😛 Then she asked me whether I want oil or lotion to moisturize my skin. Chose a lotion… and then she gave my legs and feet a light massage. The massage was really good and it helped me relax.
There are several colour options to choose from. In the end, I chose Orly's Big Apple Red for my toenails. 😀
After pedicure comes the manicure. 🙂 We got ourselves seated in the manicure station then she proceeded to shape and buff my nails. I chose a glittery champagne colour for my nails. As I work in healthcare, we cannot have bright-coloured nails. Fangfang nicely suggested another kind of glitter to add on top.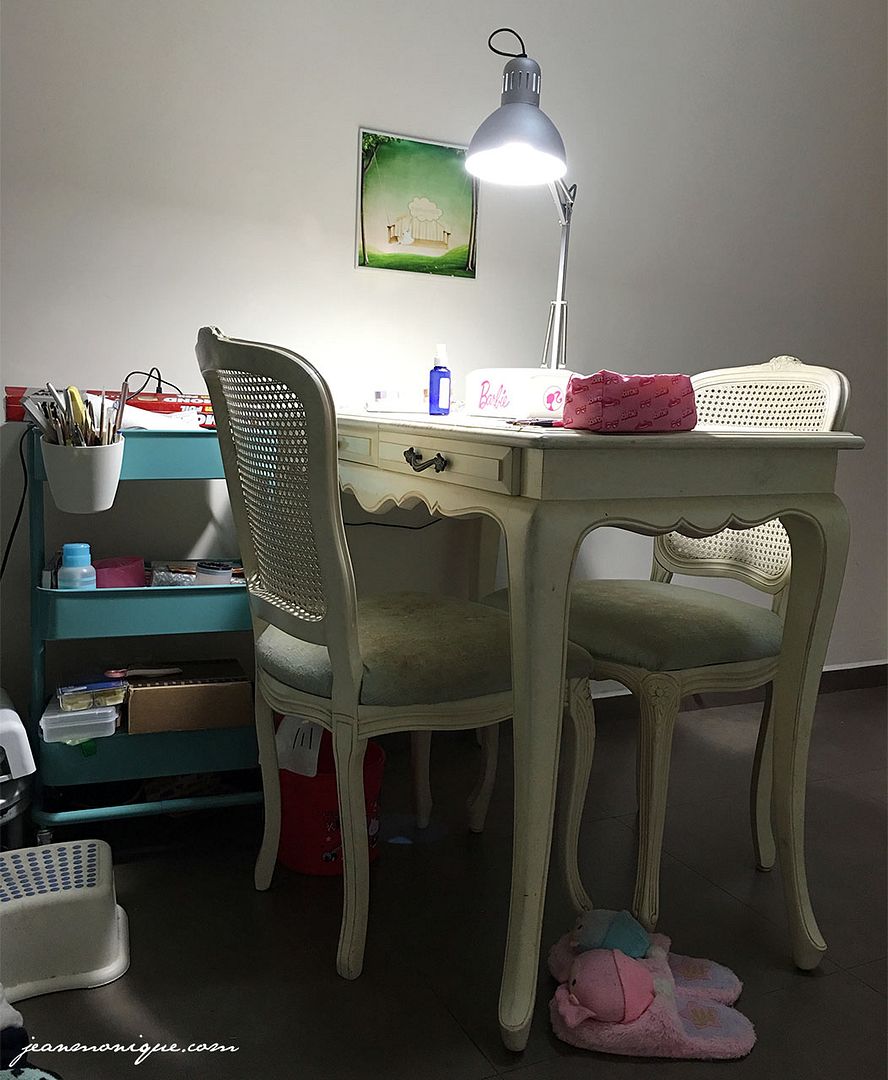 Setup for Manicure Sessions at the Little Nail Shop by Fangfang
She then applied the gel polish wherein each layer needs to be cured under UV lamp for 60 seconds. She finished in 1 hour and 45 minutes just as published! :))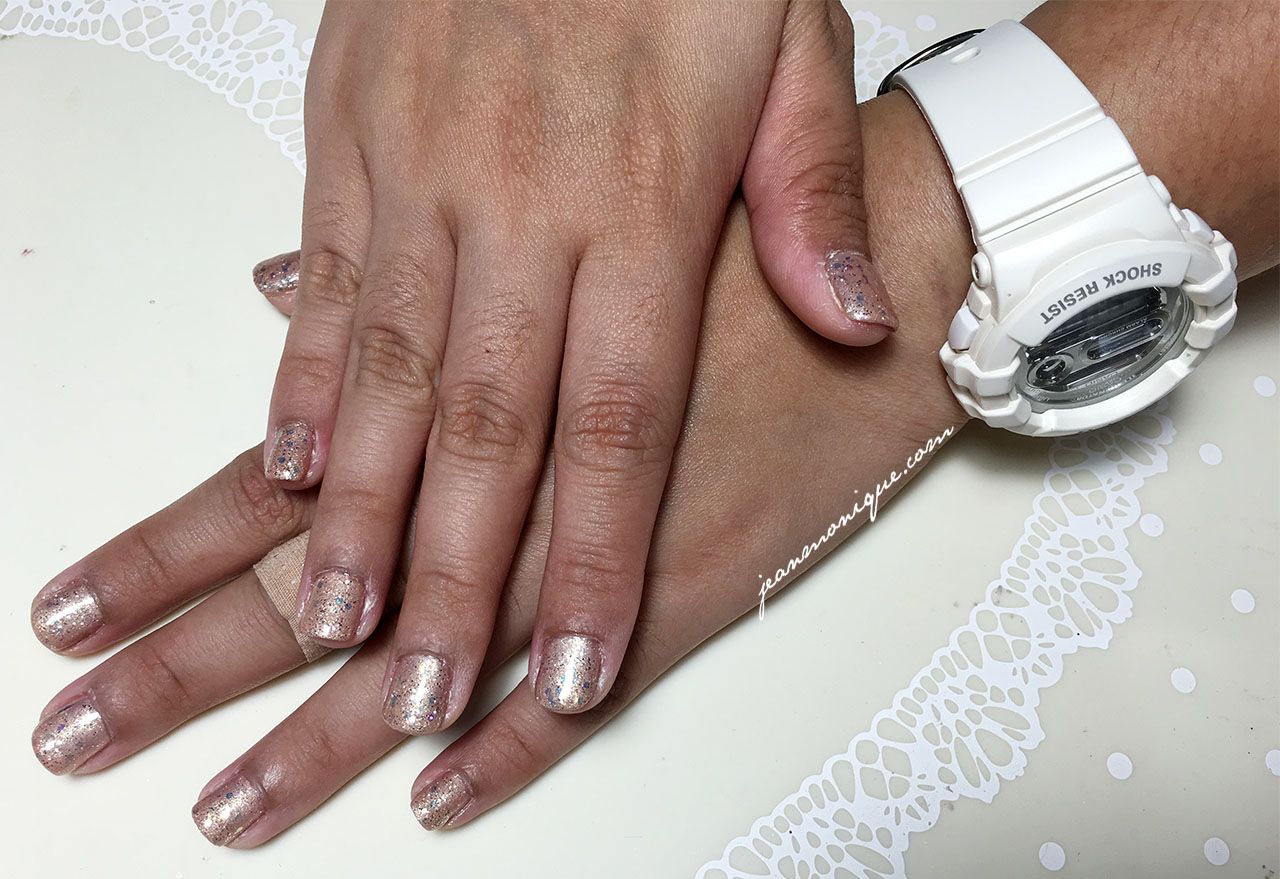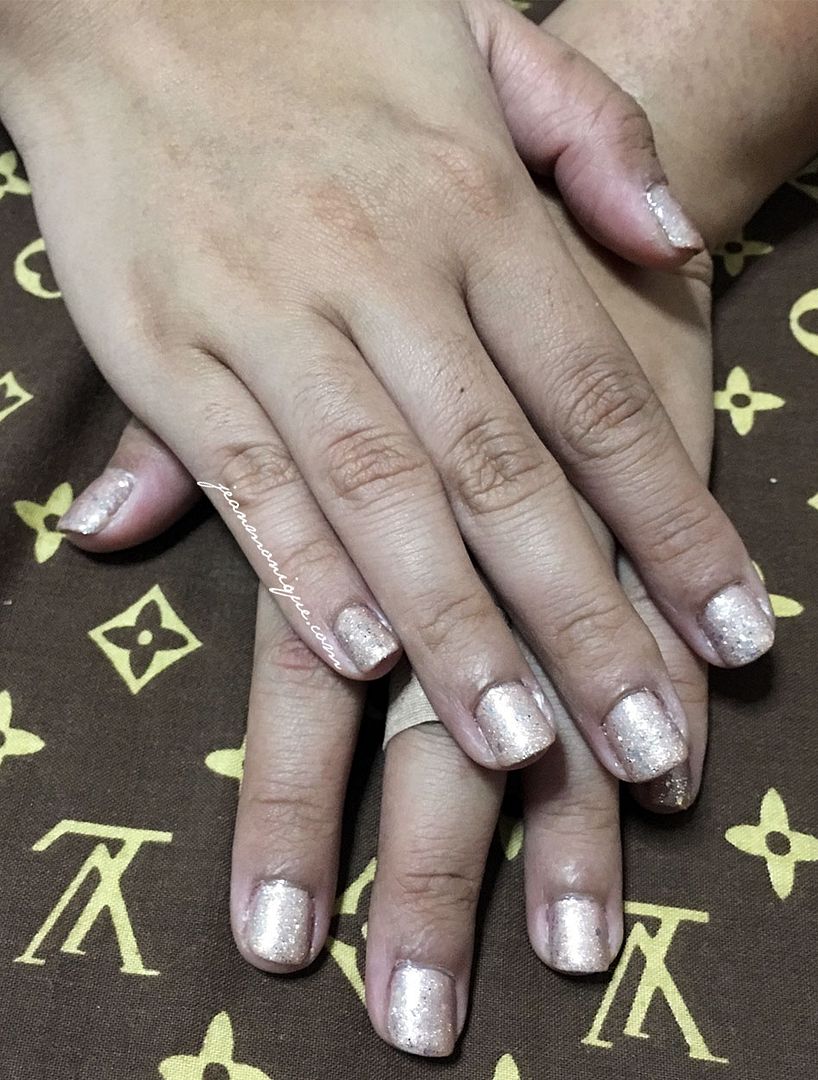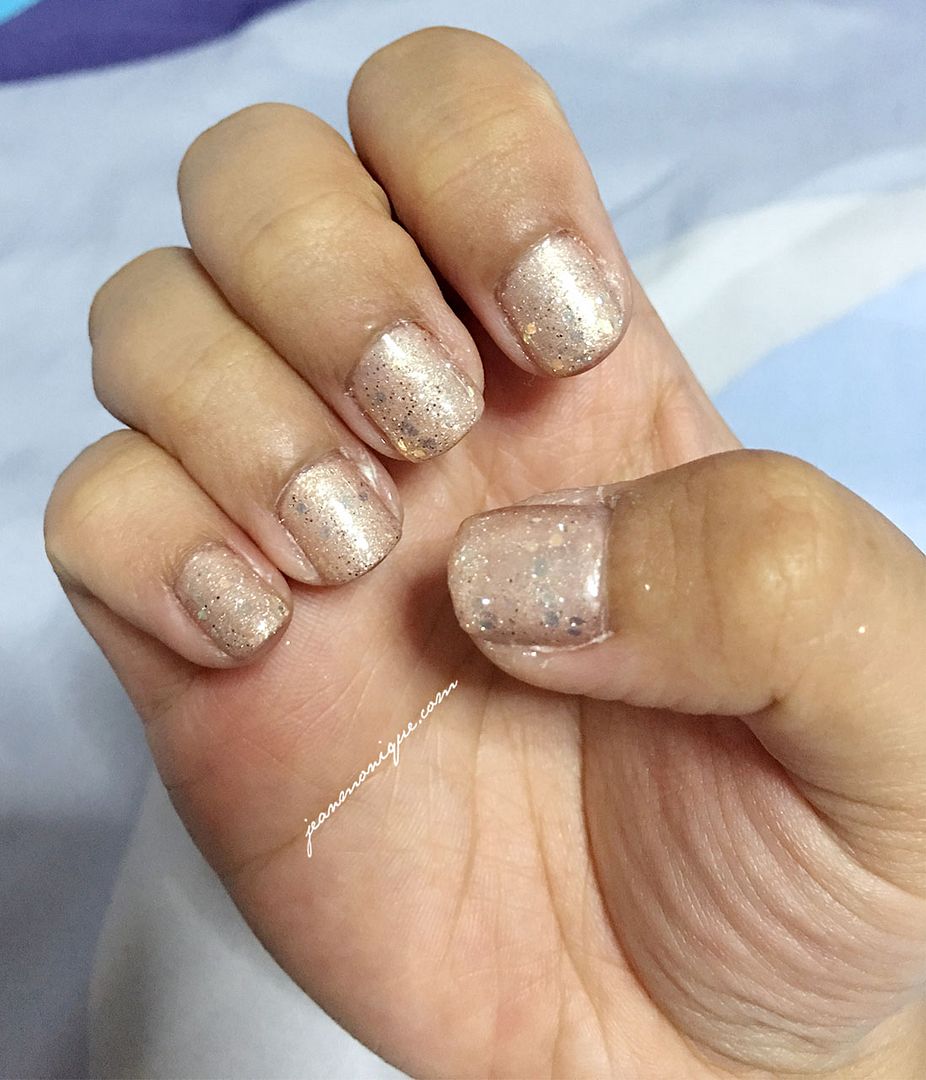 So beautiful right? 🙂
Thanks to Fangfang, I had a wonderful first time experience. She was very friendly and chatty. There wasn't any boring minute at all. I even had the chance to see her 4 cute little boys. <3 Fangfang is very professional and she's good at what she does. She even gave tips on how to take care of gelish nails and how to safely remove them. Soak-off is complimentary already… so I just have to visit again when it's time to remove the gelish. Then, she even gave me free cuticle oil. <3 Thanks for helping transform my ugly hands and feet to something I can proudly show off. :))
Evidently, I left the Little Nail Shop with a big smile on my face. 🙂
Here are some of the things I love about Vanitee:
Easy to Use: Just search, book, and go for the appointment. It also has a clean user interface that makes the app easy to navigate.
100% Happiness Guaranteed: If you're not satisfied with the service, they'll refund you the money.
Vanitee-verified Beauty Artists: All artists are background-checked and verified by the Vanitee team themselves.
Available in the App Store and Google Play
Cashless Transactions: Automatically deducts from your credit / debit card.
SMS Reminders: Never miss an appointment anymore.
I highly recommend using Vanitee when booking for your beauty needs. For CNY, Vanitee assures customers that all bookings made between 18 January and 14 February are instantly confirmed and guaranteed!
And in partnership with Vanitee, we bring you these amazing promos:
Make any booking on Vanitee by 14 February 2016 and get a FREE Beauty Kit from VanityTrove worth $30 when you use this promo code: JEANMONIQUECNY
Get a sure-win ang pao with any booking made during the period from now til 14 Feb
Win prizes from $30 Vanitee gift cards to VanityTrove boxes and many more!
What are you waiting for? Book for your desired beauty services now on Vanitee before it's too late!
Thanks a lot Aidan from Vanitee and Fangfang from the Little Nail Shop! <3