Bonjour Bella!
Ever heard of SK-II? It's one of the brands that I've been wanting to try since I arrived in Singapore. Recently, I have been given the opportunity to try two of their latest products!
Before I review these two products, allow me first to share with you something personal about my life.
Five years ago, my friends and I went to Singapore to present our undergraduate thesis during the Asian Conference on Clinical Pharmacy. I was able to talk to the local pharmacists and they shared how the pharmacy practice is like in Singapore. I wanted to work in Singapore then… but I didn't have any work experience. I haven't even taken the licensure exam yet.
After going back to the Philippines, I was filled with so much hope for the future of the pharmacy profession in the country. I was hoping that the pharmacy practice in the Philippines would be like the one in SG. Yes, like other pharmacy students or graduates, I was very idealistic.
Four years ago, I had a good and fulfilling job in the Philippines where I was in a position to touch thousands of lives and educate people on the value of health and generic medicines. I was able to take part in several programs that aim to improve the health of the Filipinos and the practice of pharmacy in the Philippines. When I wasn't working, I was teaching in review centers to help prepare pharmacy students to become future licensed pharmacists. In my spare time, I was doing volunteer work in communities to promote good health and to help citizens manage their medications. I was blessed to have wonderful colleagues and mentors who inspired me to continue serving for the people.
I was busy. I was doing a lot of work and I didn't have much time for my family. I was able to help provide for my family in my own little way but it just wasn't enough. All my siblings are still studying and in a few years, three of them would be in universities. I took on more work: online writing jobs, online shop, and more. But still, it wasn't enough. I needed more.
So two years ago, I decided that it was time for a change. It was hard to leave my country. It was especially hard to leave my family behind to search for greener pastures abroad.
I thought it would be easy… but it was actually very difficult to get a job here in Singapore. I don't have much in terms of work experience but I was really determined. I was very optimistic and I believed that I would achieve my goal if I work hard for it. It took me several tries and I faced a handful of rejections (from the Ministry of Manpower) before I finally got a job as a Pharmacy Technician in one of the hospitals here in Singapore.
On the day of my flight to Singapore, I had this heavy feeling in my chest. I was scared and I was sad. On the first few steps after the last group hug, I was trying to stop my tears from falling. But I realized that I had to be strong and courageous. Ginusto ko naman to eh. I knew that in a few months, I would be able to provide more for my family. I would be able to send my siblings to universities and help them achieve their dreams. At the same time, working overseas would help me become a better individual. I would be independent. I would be responsible for my own decisions. I would gain more pharmacy experience.
Thankfully, I had a good support system. Without my family and friends, I don't think I'd be able to survive particularly the first few months away from home.
Being overseas for more than two years has taught me a lot about life and I am thankful for that. I have a wonderful job and I am surrounded by amazing colleagues. Work is extremely challenging but seeing the smiles on my patients' faces brightens my day and boosts my energy. 🙂  I have made new friends and I am completely happy with everything that's going in my life right now.
Looking back, I knew I made the right choice. It was a BIG CHANGE… but it was a challenge that I willingly and gladly accepted.
One of the important things I have learned is that you have to DREAM BIG and you have to CONTINUOUSLY BELIEVE IN YOURSELF. There will be times that you will feel grief and disappointment, but just persevere for better things will surely come. You can be your own worst enemy but you can also be your best friend. Strive to be the latter. Just HAVE FAITH and KEEP GOING. 🙂
Just as in life, I also apply the same mantra when it comes to beauty and skincare. I had a severe bout of acne since I moved here. After tens of products and several months later, the persistent acne became a monthly occurrence lasting a week (PMS sucks). The appearance of new acne may have lessened but I am still plagued with acne scars. I also noticed that my skin has aged and looked more dull and tired. Dark circles under my eyes and fine lines especially around my forehead have begun to appear as well.
I am now in my late 20s and it's about time to start using anti-aging products. Which is why I'm so glad to be given the opportunity to experience the latest R.N.A. Power by SK-II!
SK-II recently introduced a new generation of anti-aging skincare with the R.N.A. (Radical New Age) Power, which is the latest innovation in anti-aging technology evolving from stempower technology.
The "power" ingredient in this new line is the revolutionary Pitera x R.N.A. Complex, which holistically targets the multi-controller of firmness. Thus, lengthwise firmness x crosswise firmness is achieved by rejuvenating skin cells and promoting structural protein synthesis in every cell found in every layer of the skin.
… lengthwise firmness results in an improved appearance of wrinkles and visible lines, while crosswise firmness results in less visible pores. – SK-II
The R.N.A. Power Radical New Age Essence is the first line of defense in treating aging skin problems as it specifically targets pore visibility and skin texture.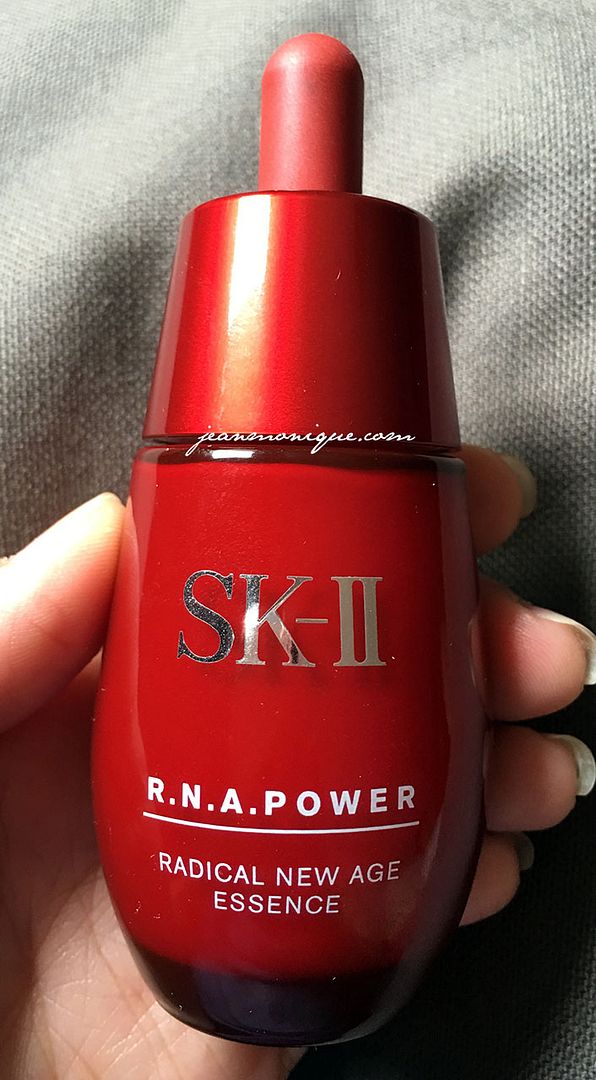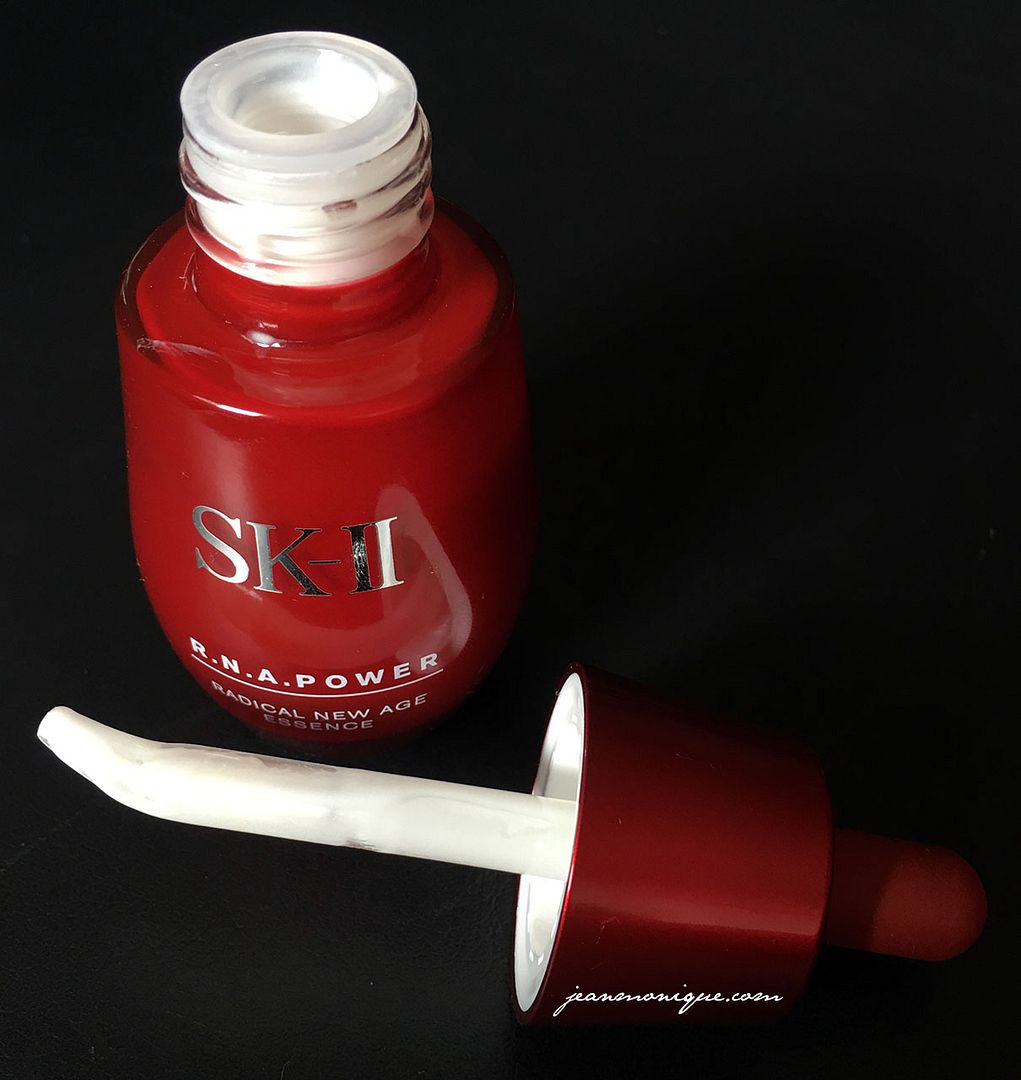 When it comes to skincare products, the packaging is quite important to me. It comes in a chic red glass bottle sealed with the SK-II sticker. It is equipped with a dropper for a more precise and hygienic retrieval of product for every application. The packaging seems quite sturdy. I brought this with me overseas and then back to Singapore and the product never leaked nor got broken even when I accidentally dropped the bag that contained this bottle.
The essence comes in a creamy milky texture that is a off-white in color. It is easy to apply and it is absorbed quickly by the skin.
To use, just squeeze 2 droppers onto the palm. Use the fingertips to dot on the forehead, cheeks, and chin. Then, spread using soft touch from the center towards the outside of the face.
Within a few minutes of applying the product, I felt that my skin has become bouncy and smoother. It claims to reduce the visibility of pores starting from day 1 but I only noticed that after a week of continuously using the essence. However, it does give you a fresh morning glow. I always wake up with plump and hydrated skin. 🙂
After continuously using the essence twice a day for 3 weeks. I noticed that my skin became incredibly smoother and my pores became less noticeable. My skin definitely looks more youthful and glowing. 🙂
The middle and rightmost photos have been taken just after cleansing and toning. The photo below shows a comparison of before and after applying the essence.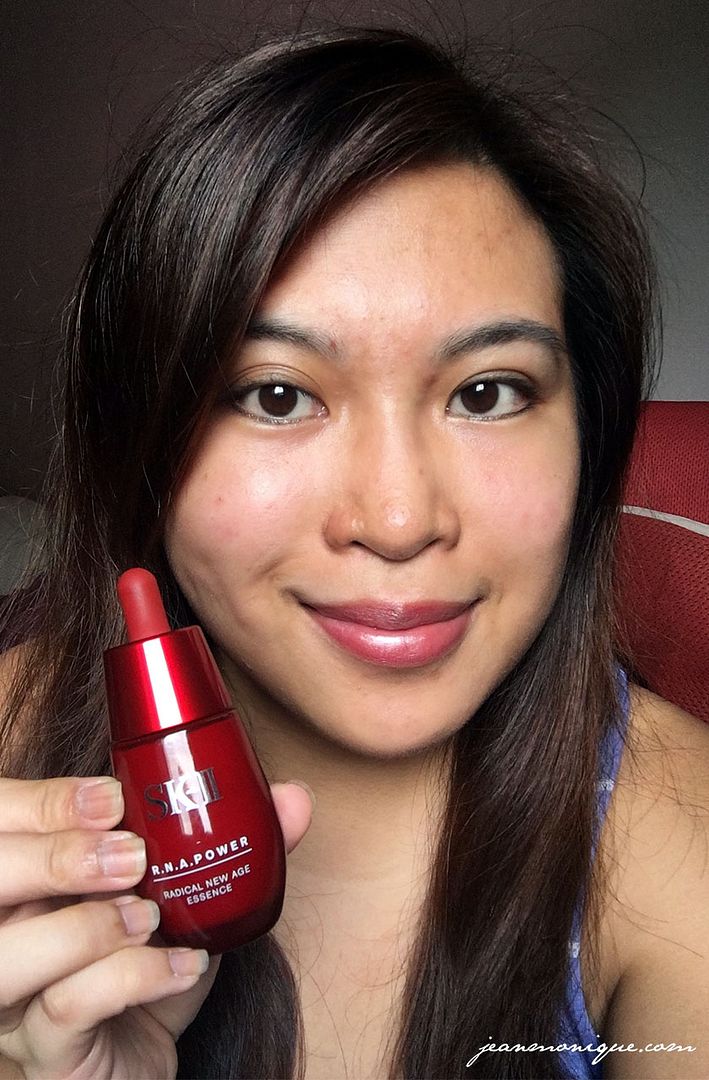 Because of this, I have become more confident in my own skin. I have started wearing less makeup to work. I even go bare-faced in my trips to town. 🙂
With the Radical New Age Complex technology, pores are less visible in just 1 day. In 10 days, all 10 signs of aging are improved, and the firmness you regain is greater than the firmness that you lose over 15 years. – SK-II
I've tried several products but nothing works like SK-II. It drastically improved my skin condition and discovering SK-II is like finding your one true love. <3 Truly, SK-II is the leading expert in anti-aging skincare science.
If you're a fan of the Stempower line, you will surely love the R.N.A. Power line.
I would recommend the SK-II R.N.A. Power line to all women who are in search of an anti-aging skincare product that definitely works. It's time to take control of our destiny and start to feel more confident in our own skin from every angle and for many years to come. Indeed, the power of destiny is now in our hands.
SK-II R.N.A. Power Radical New Age Essence is available at the following sizes and prices: 30mL – $156 | 50mL – $224 | 75mL – $308.
Thank you SK-II and Omy Blog Club for the opportunity to try the new SK-II R.N.A. Power Radical New Age Essence. <3
Click here to read my review of the SK-II R.N.A. Power Radical New Age Cream.
SK-II
Website | Facebook | Instagram | YouTube
Omy Blog Club
Website | Facebook | Twitter | Instagram