Bonjour Bella!
As you know, the Samurai Burger is back in McDonald's. On the 29th of October, they released a new variant called the Golden Samurai Burger.
I was invited by McDonald's Singapore thru Omy Blog Club to attend their preview tasting at McDonald's @ JEM. (I was super thrilled that the venue was just beside the hospital where I work.)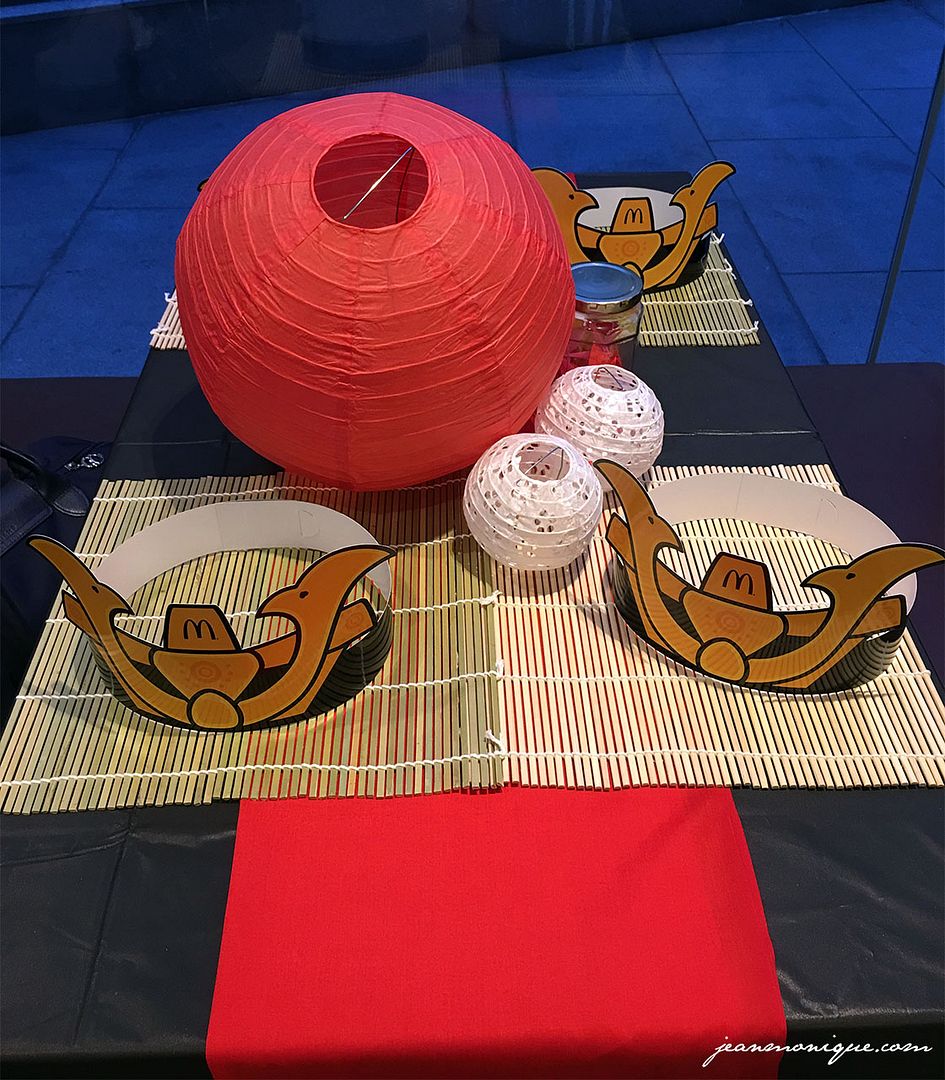 The theme is, guess what? Samurai! 😛
The party hats are so kawaii!
And there are cool samurai warriors roaming around.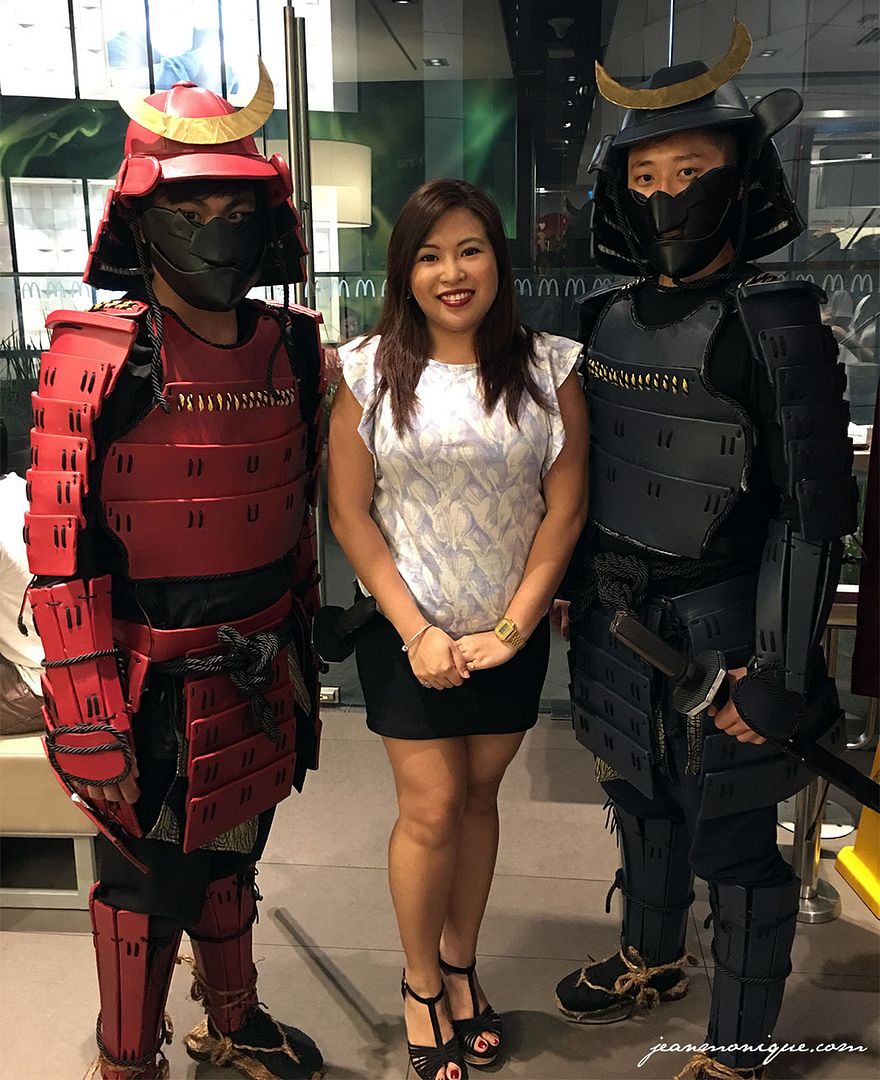 Moving on… what's new with this Golden Samurai Burger?
Well, it has a succulent and sweet grilled pineapple on top of the usual chicken and beef patties!
The Golden Chicken Samurai Burger features "grilled whole muscle chicken thighs slathered with smoky teriyaki sauce, topped with crunchy lettuce and made even sweeter with a juicy grilled pineapple. All tucked between two oat bran buns."
Would you look at that sweet pineapple and that tender juicy grilled chicken patty! Yummm.
The Golden Beef Samurai Burger features a "juicy teriyaki beef patty flanked by crunchy lettuce and sandwiched between two oat bran buns, and topped with a perfectly grilled pineapple."
Admittedly, I'm not a fan of pineapple being added in dishes… or pizza. But this one really surprised me… because I liked it. I love how sweet and juicy the pineapple is. Though the pineapple (and its flowing juices) made eating the samurai burger even messier, I would still choose the Golden Samurai Burger variant over the regular one at any day. And just like the regular samurai burger, I prefer the chicken version. 😛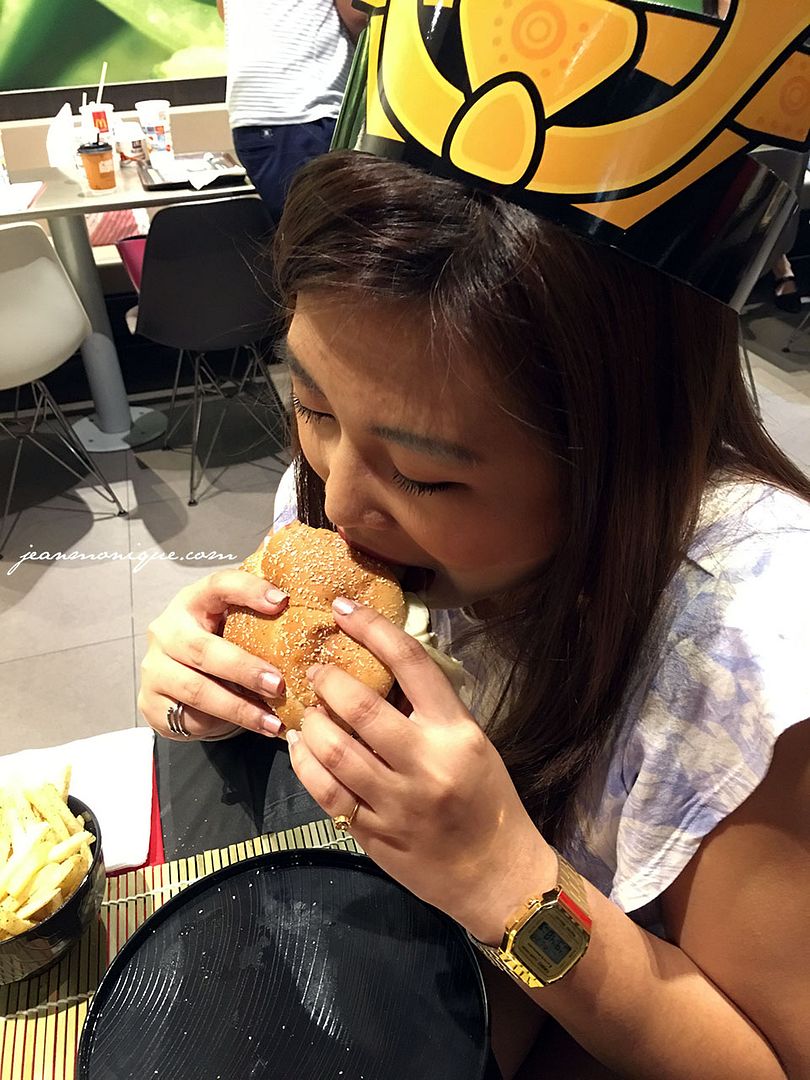 The Golden Samurai Burger is best eaten with a serving of Seaweed Shaker Fries.
Shake, shake, shake!
Ta-da!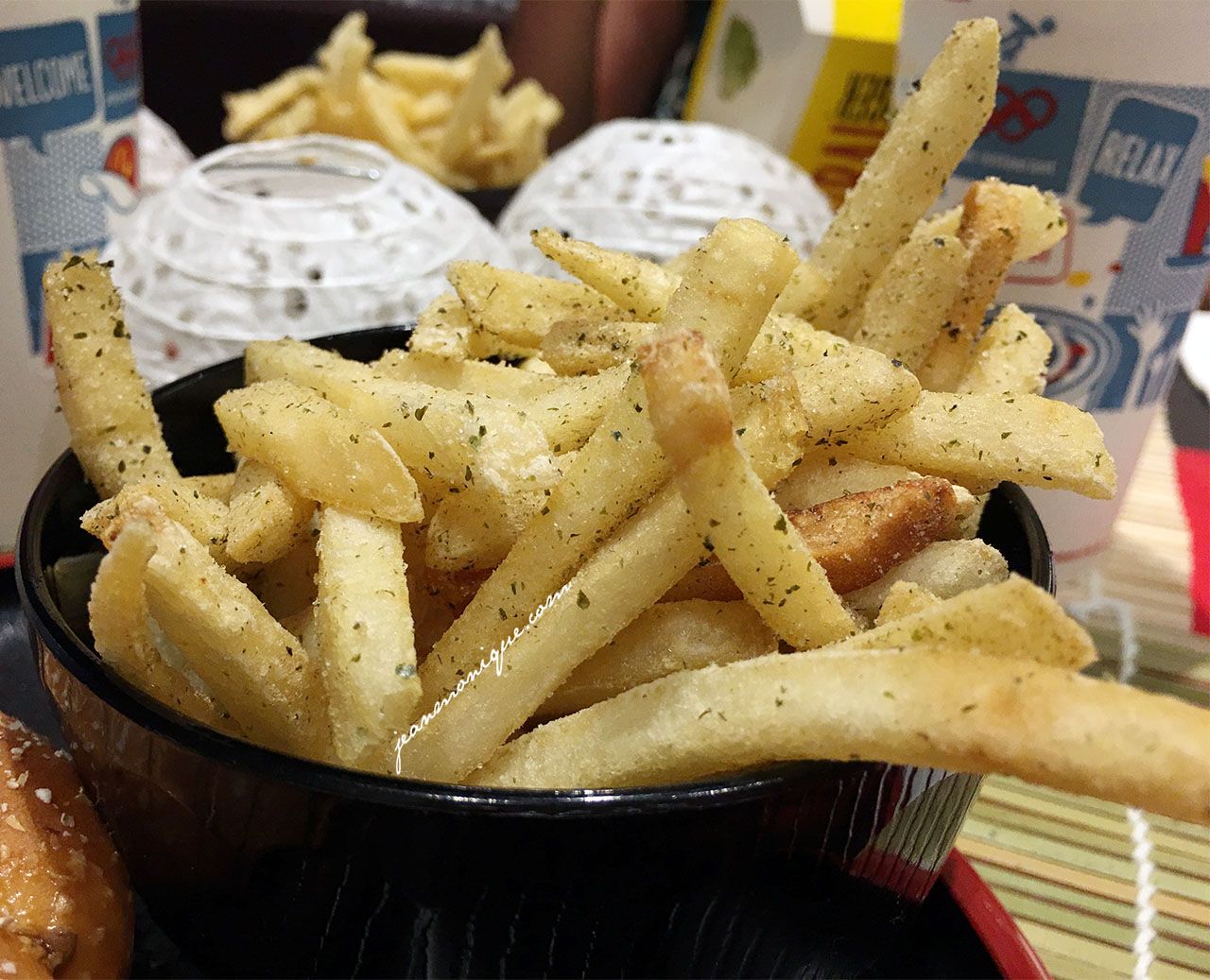 I really can't get enough of this. I love dipping this in garlic chili and also the curry sauce.
For dessert, we had the Mocha McFlurry. Can't rave enough about this delicious McFlurry!
Please make this a mainstay… pretty pretty please! <3
After enjoying the bountiful feast, we played a game called Taboo: McDonald's version. And our group won!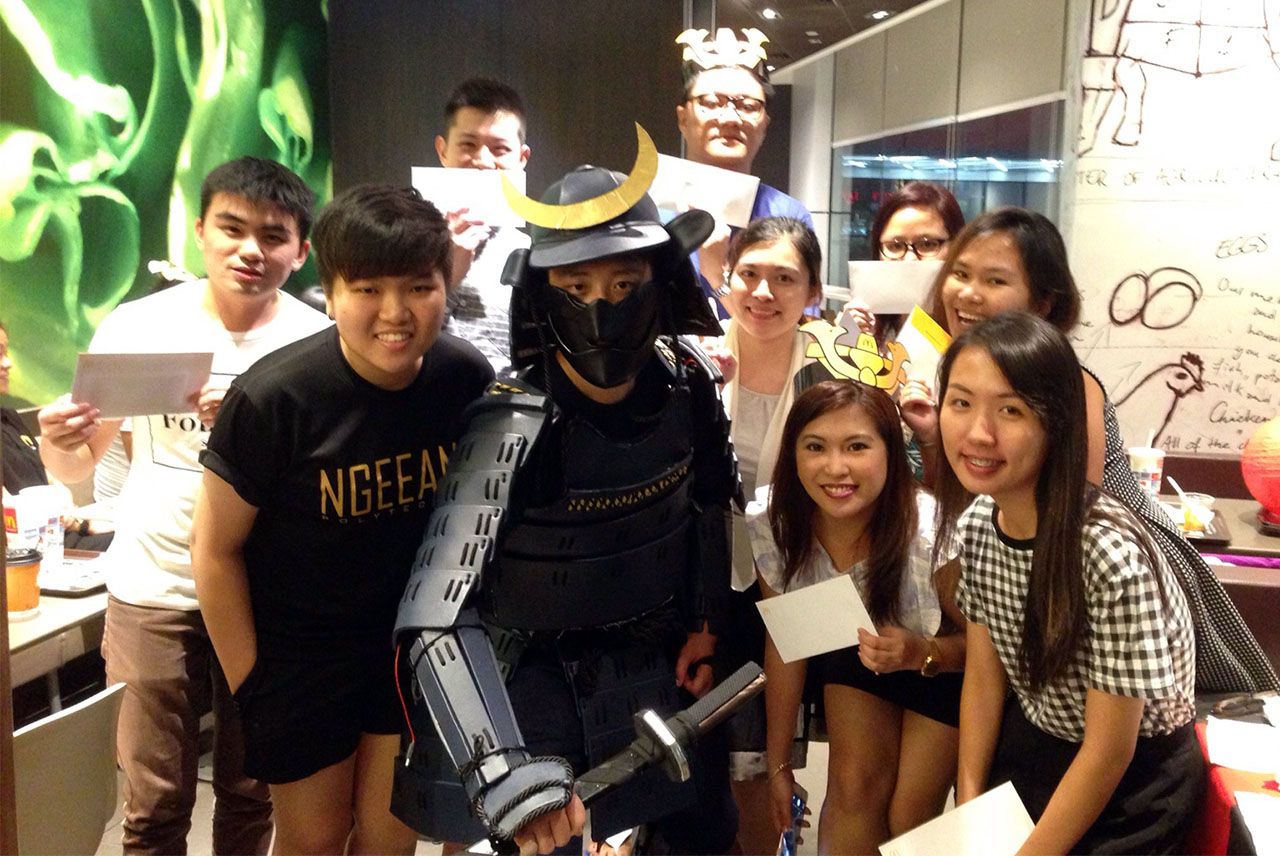 We were given gift certificates as a prize… and a chance to have a group photo op with our own samurai. Isn't that cool?
Thanks for the gifts. <3 Another opportunity for us to eat Golden Samurai Burgers and share it with our friends. 🙂
A party isn't complete without a photobooth, right? So here are some fun shots.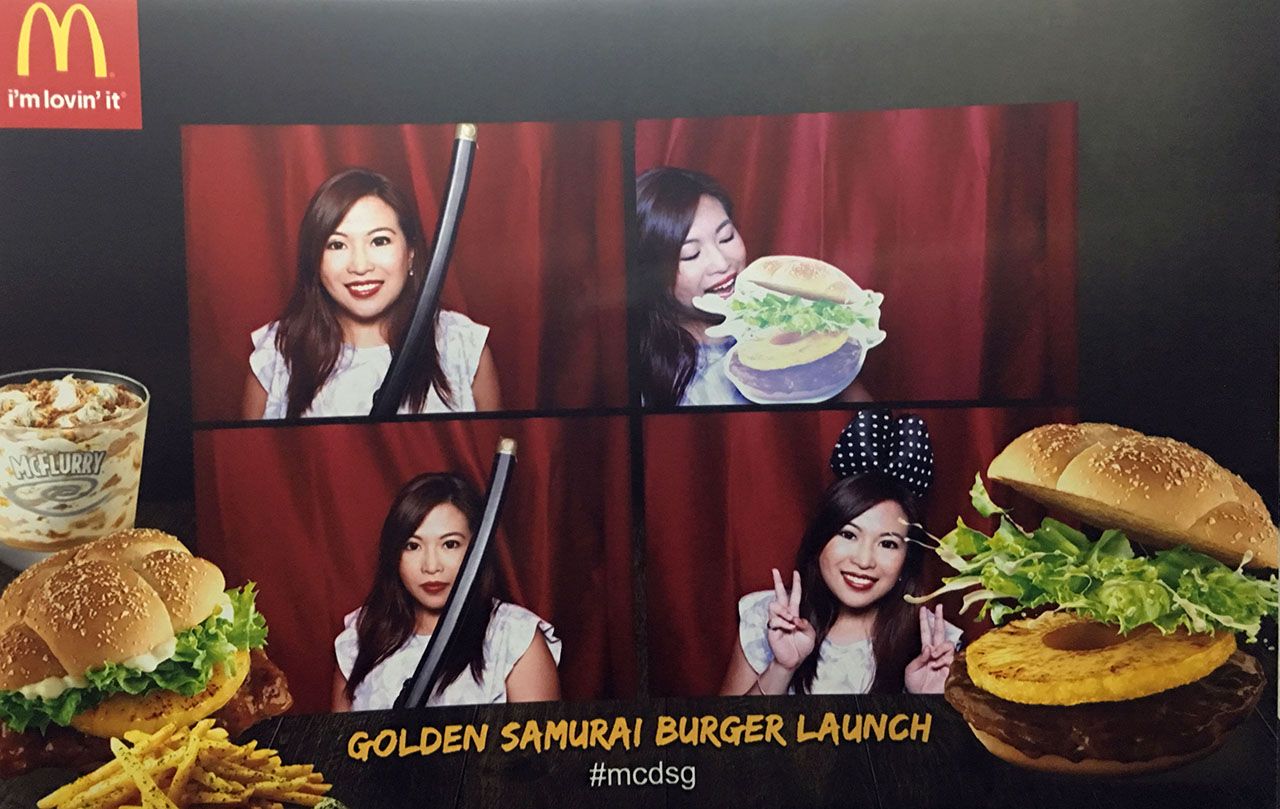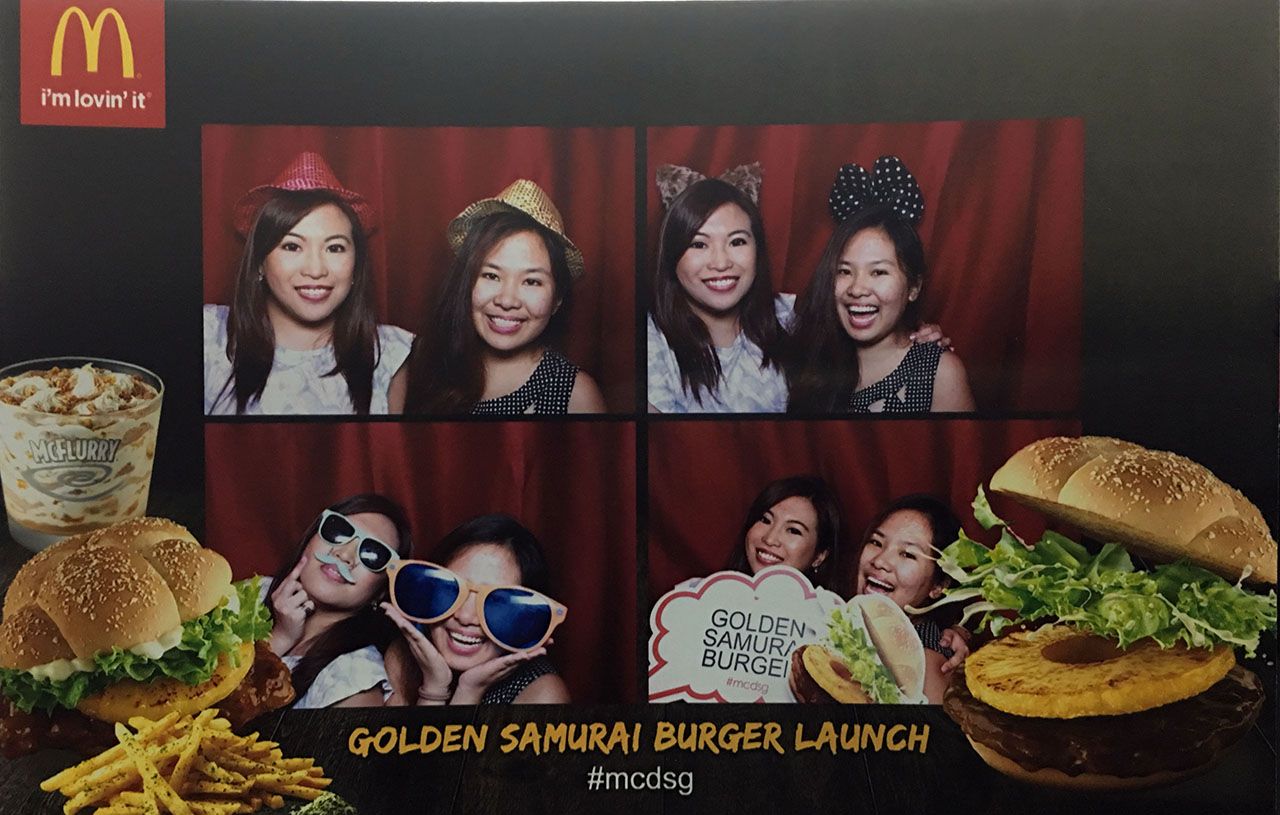 Thanks again McDonald's Singapore and Omy Blog Club for the invite. I love being one of the first to try out your special burgers. 🙂 And of course, it's a pleasure to be able to share it with friends and readers alike.
On another note, McDonald's Singapore is celebrating McHappy Day. From 1 to 15 November, McDonald's Singapore will be donating $1 from every purchase of a Strawberry Sundae in their restaurants to help raise $50,000 for the Ronald McDonald House Charities (RHMC) Singapore. Let's participate and help raise funds to bring love, hope, and courage to children and families supported by RHMC. Share your love and support for this initiative on your social media platforms with the hashtags #mchappydaysg and #lovehopecourage!
McDonald's Singapore
Website | Facebook | Instagram
Omy Blog Club
Website | Facebook | Twitter | Instagram