Bonjour Bella!
McDonald's Samurai Burger, considered the warrior of all burgers and one of my favorite specialty burgers in McDonald's, is back!
Omy Blog Club sent me some Be Our Guest cards so that I can try Chicken Samurai Burger, Beef Samurai Burger, Seaweed Shaker Fries, and Mocha McFlurry before they release the new variant of the Samurai Burger.
Each Samurai Burger features a juicy chicken or beef patty, dipped in tantalizing Teriyaki sauce, topped with creamy sauce and crisp lettuce, in between golden toasted buns. – McDonald's Singapore
Here's a closeup of the Beef Samurai Burger.
And here's the Chicken Samurai Burger.
The actual burgers do not really look as pretty as those in the posters but they taste so perfect! The quarter pound beef patty is delicious and flavorful and the chicken patty is tender and juicy. Both have been grilled to perfection and dipped in a generous amount of special teriyaki sauce. (Make sure you have a serviette or two with you as samurai burgers are a bit messy to eat.) The lettuce toppings are quite crunchy and the sesame buns are toasted nicely.
Between the two, I'm a fan of the Chicken Samurai Burger. 🙂 My friend and my sister are fans of the Beef Samurai Burger.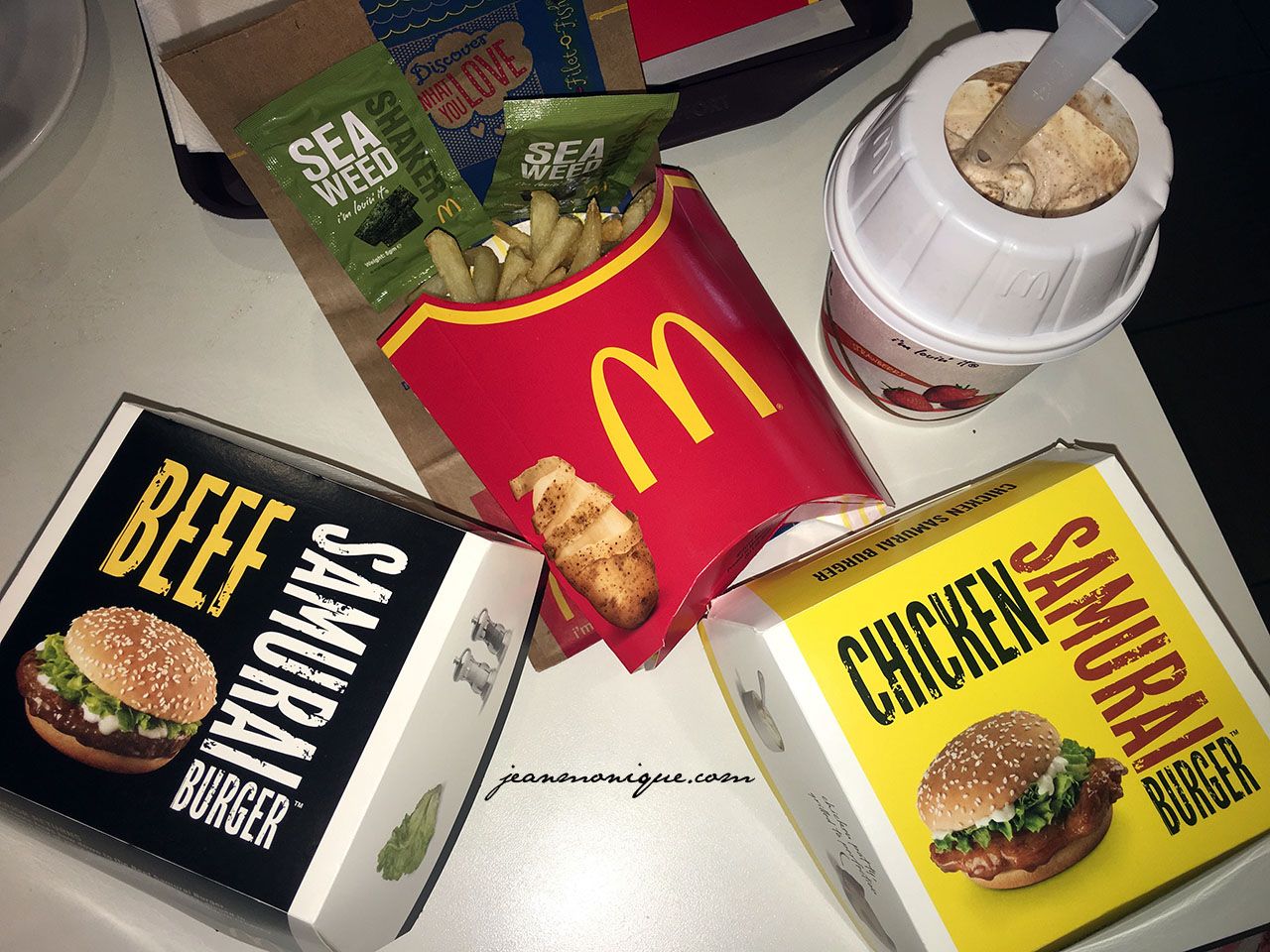 The Samurai Burgers are best paired with Seaweed Shaker Fries plus the all-new Mocha McFlurry with caramelized biscuits.
McDonald's fries are absolutely the best… and the seaweed flavor just made it even better. It has the typical seaweed flavor but it is not very salty as other seaweed snacks.
The Mocha McFlurry is now my favorite McFlurry flavor. I'm petitioning for McDonald's to make it a mainstay in their menu! Haha! It is a delicious blend of soft serve vanilla ice cream, coffee flavor, and crunchy butter cookies. It's quite reminiscent of Trader Joe's Speculoos cookie butter. Yum!
The Beef or Chicken Samurai Burger is available as an Extra Value Meal with French Fries (M), and a glass of Coca-Cola (S) from $7.50. If you want the Beef or Chicken Samurai Burger paired with  Seaweed Shaker Fries (L), and a glass of Green Tea (M), order the Samurai Special from $8.60. As usual, you can swap the fries to a corn cup at no extra charge. And if you want to eat healthier, you can change the side to a Garden Side Salad for a top up of $1.20. The Garden Side Salad is a toss of whole leaf lettuce, red and white cabbage, crunchy carrots, corn kernels and tomatoes, served with a delicious Japanese dressing.
Beef and Chicken Samurai Burgers, Seaweed Shaker Fries, and Mocha McFlurry are available at all McDonald's restaurants island-wide from 15 Oct while stocks last.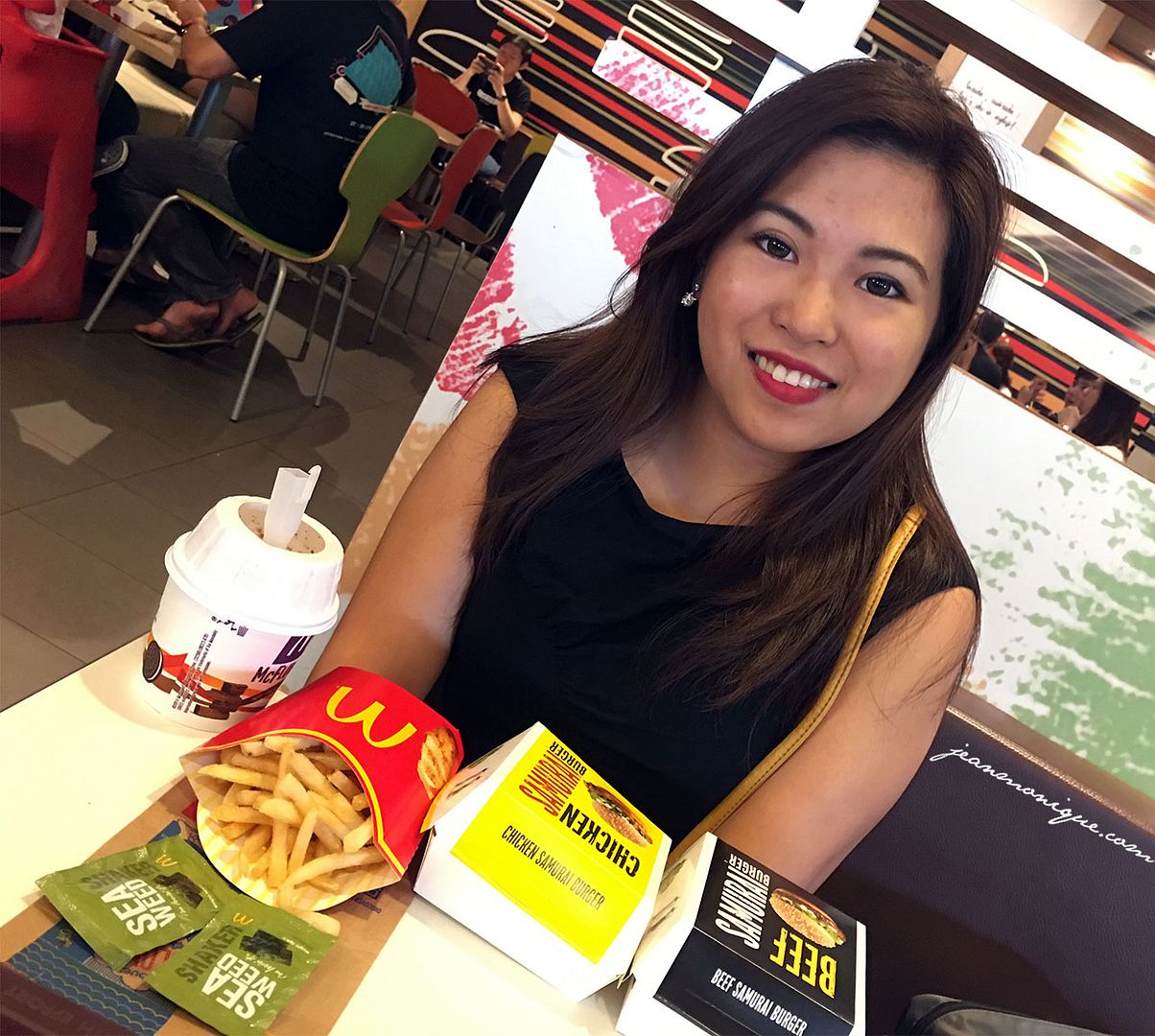 Thank you so much McDonald's and Omy Blog Club for the treat! <3 <3 <3
McDonald's Singapore
Website | Facebook | Instagram
Omy Blog Club
Website | Facebook | Twitter | Instagram