Bonjour Bella!
[Click here to read "Deluxe Pampering Session with Skinlux Aesthetic Center: Part 1 – Spa Tour"]
After going on a tour of Skinlux Aesthetic Center, it's time to try out their services and specialized treatments.
I was ushered into the consultation room which is a separate area with frosted glass windows for privacy. This is where I found two interesting pieces: model of a cross-section of the skin and a chart featuring common skin disorders.
Before going for any treatments, customers will undergo a skin consultation with a dermatologist. My dermatologist that day is Dra. Olive. 🙂 She checked my skin condition and recommended appropriate treatments for my face and body.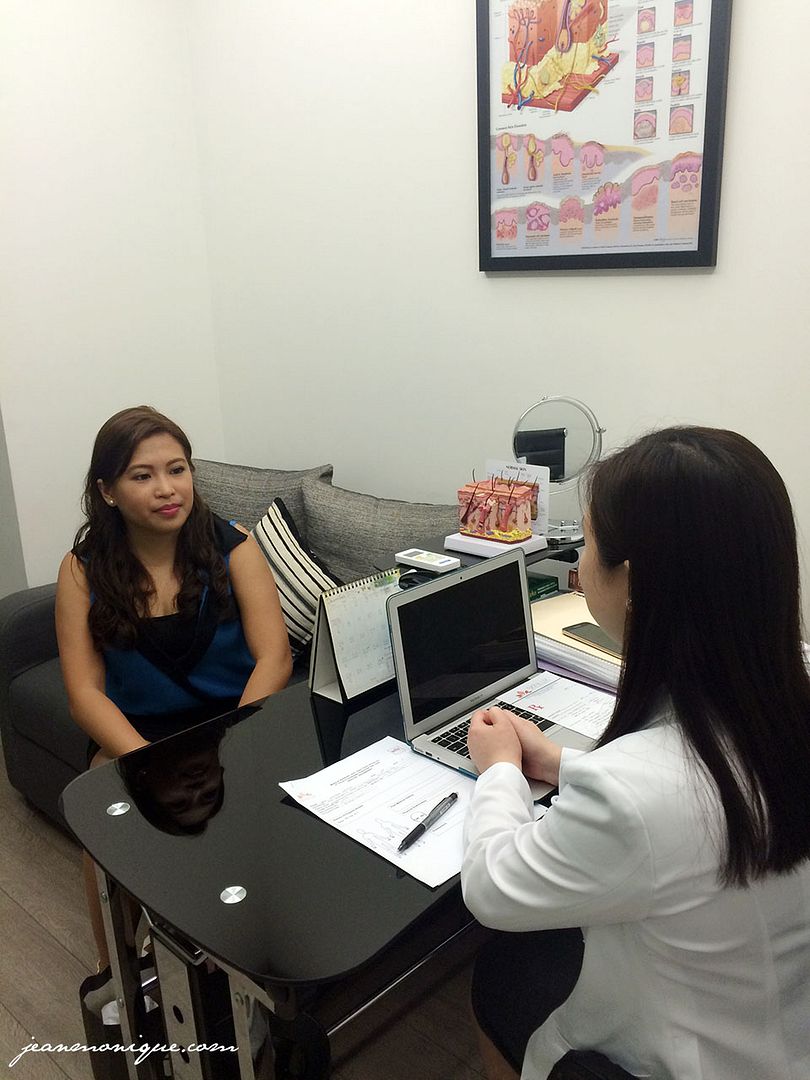 Yes, I'm listening intently to what she's saying. LOL! Dra. Olive is very and nice friendly. 🙂 She said that I have good skin, except for some dark spots which are actually acne scars. In all honestly, I had perfect skin when I was in the Philippines. My skin turned bad when I moved to Singapore. Since then, I've suffered from post-puberty acne and I hate it! 🙁
So based on her recommendations and considering my desired treatments, I'm going to try the following services / treatments: BUL' Mask Facial, Signature Massage, Exilis Elite Treatment, and Revlite Laser Treatment.
BUL'Mask Facial
This is a unique facial that starts with double cleansing (1. removal of makeup, 2. cleansing of face) and applying a toner. Then, a moisturizer is sprayed onto the face. After which, an exfoliating cream is applied. While drying, you'll experience a tightening effect on the skin. Aside from smoothing and brightening effects on the skin, it helps soften the comedones so they're easier to remove (no need for pricking!). A serum is then applied to prep the skin, followed by an oil-extract to hydrate the skin.
Then a Cellular-Matrix cream is applied which provides deep nourishment and helps minimize the appearance of wrinkles and fine lines, resulting in youthful, hydrated, and firm skin with a radiant complexion.
The highlight of this facial is the use of a specialized Nelly De Vuyst product, which is called BUL'Mask. It's a super-oxygenating mask which delivers a high dose of oxygen directly to the skin. Using this helps Nelly De Vuyst products to better penetrate the skin, increasing their efficacy and thus providing better results.
This mask creates a soft foam texture and can be used on all skin types. It is applied on the skin and allowed to stay on the skin for 20 minutes. After that, it's rinsed off then a toner is applied on the skin, followed by a moisturizer and a sunscreen.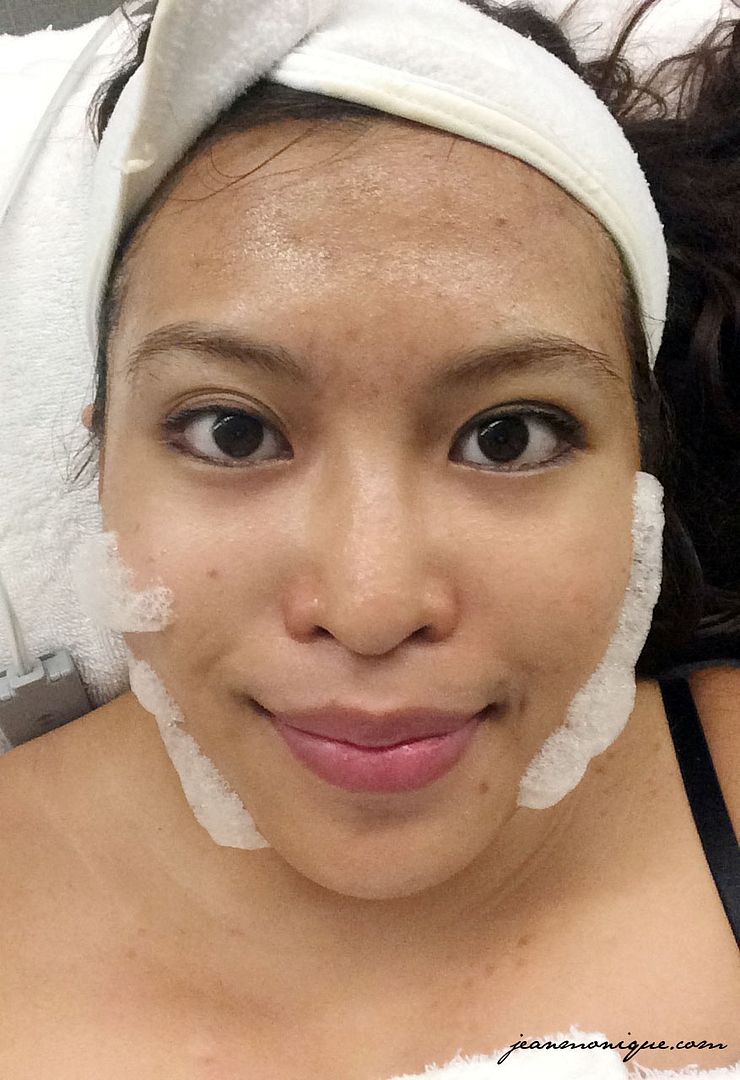 After the facial, I've noticed that my skin is smoother, softer, and brighter. I touched my face quite a few times marveling at its softness. Haha! To state the obvious, yes, I loved it! Can I have it done every week? 🙂
*Thanks to Karmie for doing my facial. 🙂 Great job!
Signature Massage
While I was having my facial, I was given a massage by Vanny. The massage was basically a combination of Swedish and Shiatsu massage and they used pure essential oils to help promote better circulation and relaxation.
It was a really relaxing massage which helped relieve my lower back and leg pain. (I deserve a good massage after falling in line for 10.5 hours at POEA just to get an OEC the previous day!) Doing it while undergoing a facial saves time, but if I have the luxury of time, I would prefer having a facial first and then a massage. 🙂
Exilis Elite Treatment
Exilis Elite is the most advanced technology used for non-invasive body contouring, skin tightening / firming, and facial rejuvenation. In my case, it will be used for body contouring and skin tightening in my tummy area.
Exilis Elite makes use of radio frequency (RF) technology to get deep into the skin. Thermal waves are used to heat and constrict the skin and reduce fat cells. The machine's dual energy speeds up the metabolic movement of fat cells causing them to shrink. At the same time, it improves the skin's elasticity and texture by stimulating and strengthening the collagen network.
Just a word of caution, this is not for those who cannot tolerate high temperatures. Exilis Elite produces heat… a lot of heat! (Some people say it's like a hot stone massage. I've never tried that so I cannot compare.) The skin's temperature is carefully and regularly monitored by the system's digital thermometer to ensure comfortable and safe treatment. Initially, the temperature is set to high and as time progresses, the temperature is eventually lowered. (It's normal to experience mild pain because of the heat. But if it becomes unbearable, inform your therapist immediately.)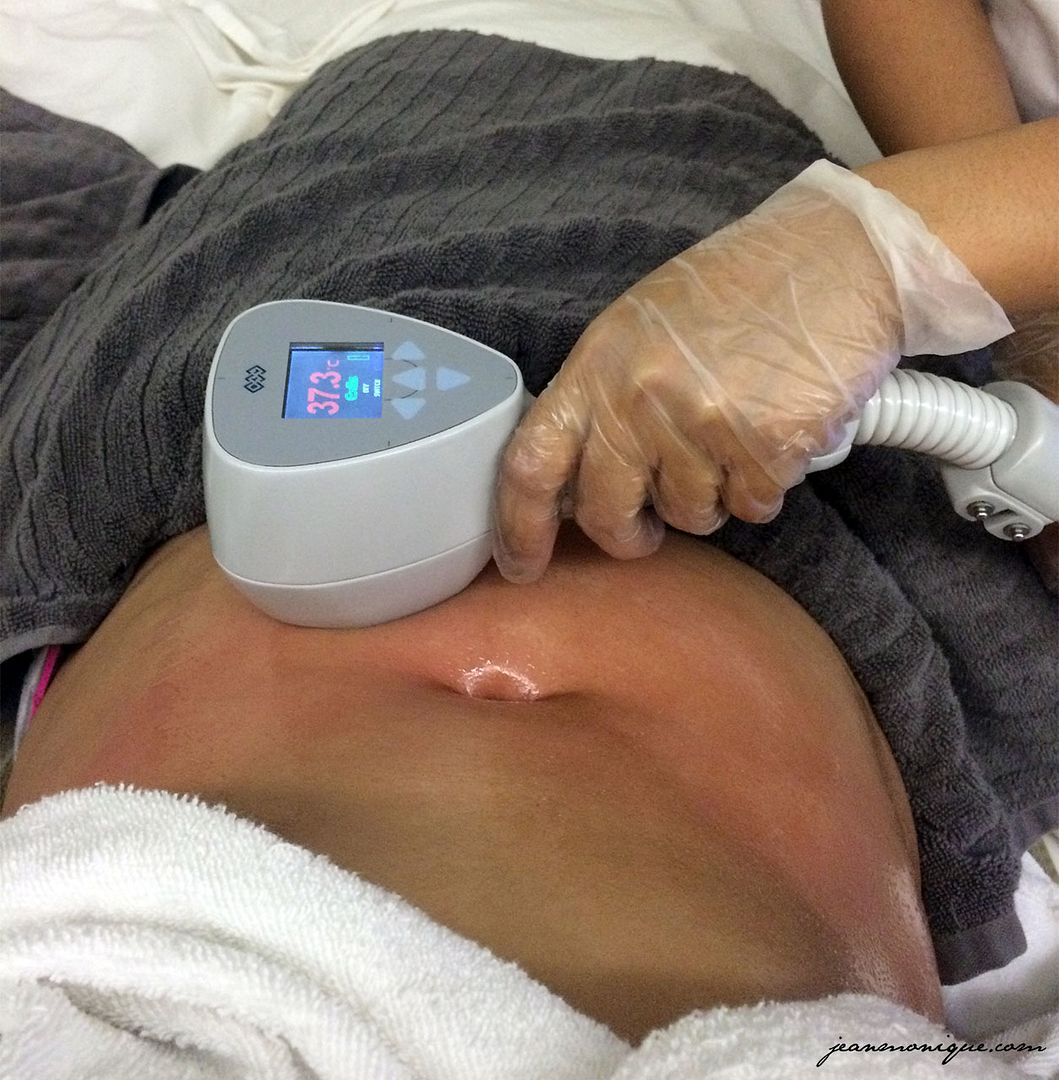 Evidently, my skin is not used to the heat. My skin got immediately red particularly on the parts where treatment was more focused.
With the kind of fat-laden tummy that I have, I am not expecting to have a 24-inch waistline. (That would be a miracle!) Immediately after the treatment, my tummy felt slimmer and the skin really felt tighter (you can also compare from the before and after photos posted above). I think that if I'm going to to this fortnightly, it would help remove stubborn fats and lose a few inches.
The good thing with this is that you don't need any anaesthesia or pain medications. Just like waxing or threading, there is so much pain felt initially. But after a few sessions, you'll get used to the pain. Unlike other invasive procedures (e.g. liposuction), there is no downtime. You can get back to your normal activities right after. And, it really works. Though of course, you need to undergo 4 to 6 sessions to see marked results.
RevLite Laser Treatment
I've heard of RevLite from so many celebrities worldwide that I got really curious about this treatment. Apparently, it has several uses. It can reduce wrinkles, repair sun-damaged skin, remove age and liver spots, freckles, and other brown birthmarks. It can also remove acne scars and reduce pore size!
The whole treatment process is quick and takes about 10 minutes. There is minimal discomfort to be expected. The feeling is similar to snapping a small rubber band on your face. Lol! For me, it's a bit painful on my face. But maybe if it's used on the underarms, the pain would be more tolerable.
Before starting the treatment, they will cover your eyes to prevent damage from using laser.
Then the treatment goes like this, a silver bullet-shaped device directs rapid, short pulses of light which penetrates the skin. There's a heat where the light hits the skin. This heat stimulates collagen growth resulting in reduction of fine lines and wrinkles. The light also shatters the pigment on the skin which aids in skin lightening and removal of dark spots.
During the treatment, a burning smell will permeate the air. Don't worry, it's not your skin but your facial hair! RevLite makes your facial hair fall and / or become white. It helped remove the hair on my upper lip (see my before and after photos to compare)!
Like the Exilis Elite, there's no recovery time needed. My face appeared red in some areas, particularly those that have many acne scars. However, the redness was gone in a few hours. I was also advised not to use any other topical creams for the next 3 days and to avoid sun exposure.
After the treatment, my face was smoother, brighter, and firmer. It also feels more refreshed and less oily. 🙂
So after going through a deluxe pampering session, I had a post-treatment consultation with Dra. Olive. She gave me some advice on how to take care of my skin (avoid sun exposure, apply sunblock regularly, stop pricking pimples) and a prescription on what Nelly De Vuyst products are suitable for my skin type. 🙂
I love their excellent services and treatments which they customize depending on the customer's needs. You can also feel that they care for you because they make sure that you're comfortable throughout all the treatments. I love how their therapists are trained in Singapore to bring back the techniques and good practices in beauty and skincare. I also love how you'd get a personalized skin consultation with a very friendly dermatologist.
This is indeed the best spa experience I've ever had. 🙂 Thank you Dra. Olive, Arcell, and the whole staff of Skinlux Aesthetic Center. I can't wait to go back to the Philippines to visit you again.
Skinlux Aesthetic Center
Location: Level 3 Promenade Greenhills Shopping Center, Ortigas Ave., Greenhills, San Juan, Metro Manila, Philippines
Operating Hours: 10:30am to 7:30pm (daily)
Contact Numbers: +63 2 6503109 (main), +63 925 8800601 (mobile)
Website | Facebook | Instagram