Bonjour Bella!
I know it's past Christmas season already… but I'd just like to share what's inside my December 2014 Bellabox themed "Ring in the Christmas Belles".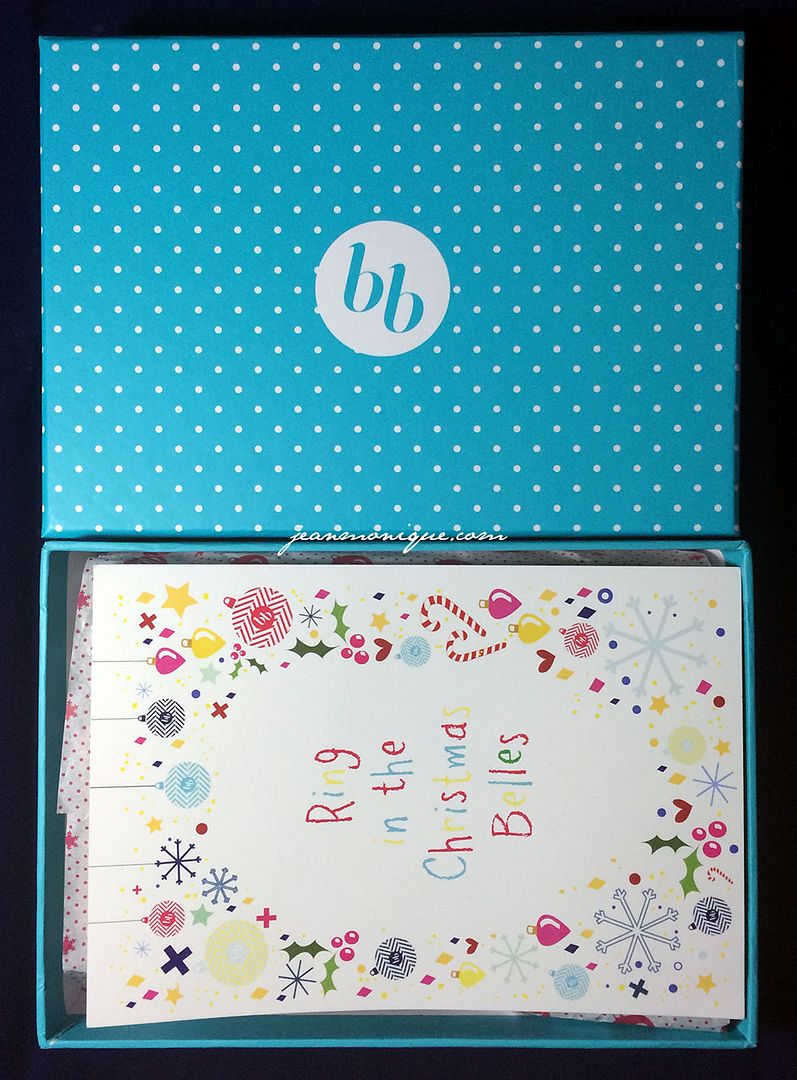 This month's Bellabox has a very lovely design on its info card. Tastefully designed, the colorful card is apt for a Bellabox gal who's looking forward to unique products this Christmas season.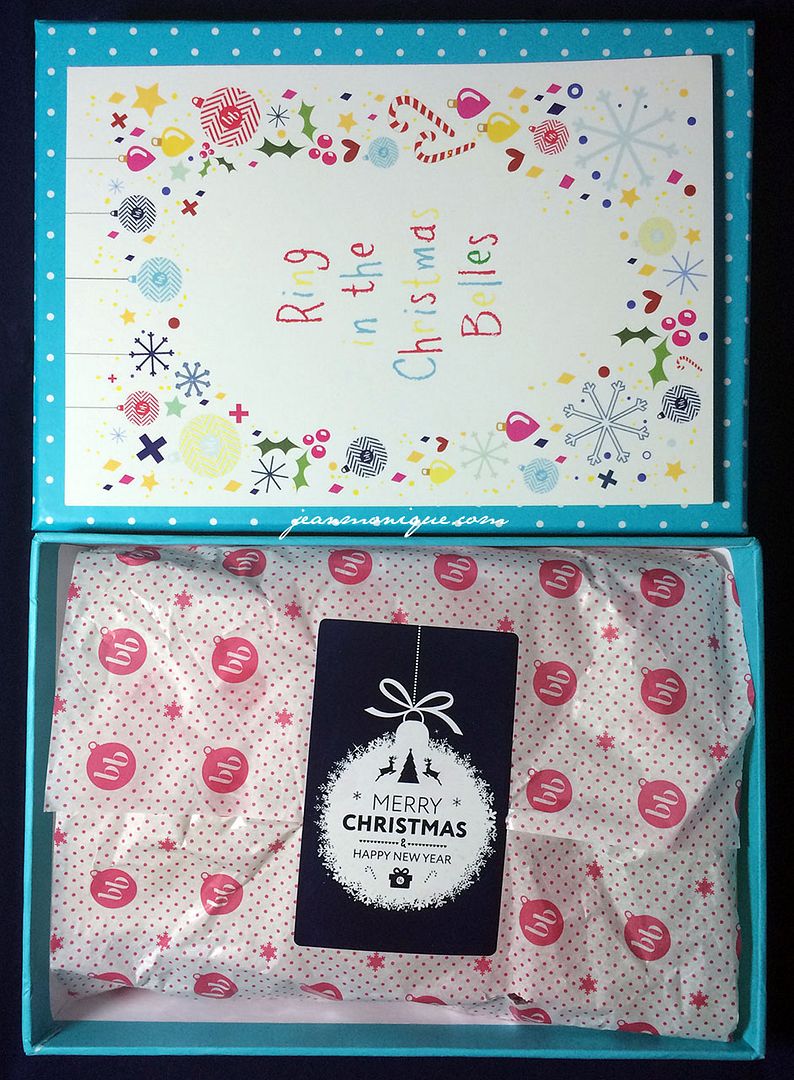 The wrapper and sticker rightfully matches the Christmas theme. 🙂 How I wish I had those wrappers and stickers in bulk so I could have wrapped my Christmas gifts using those. Haha!
Now let's see what's inside my Bellabox…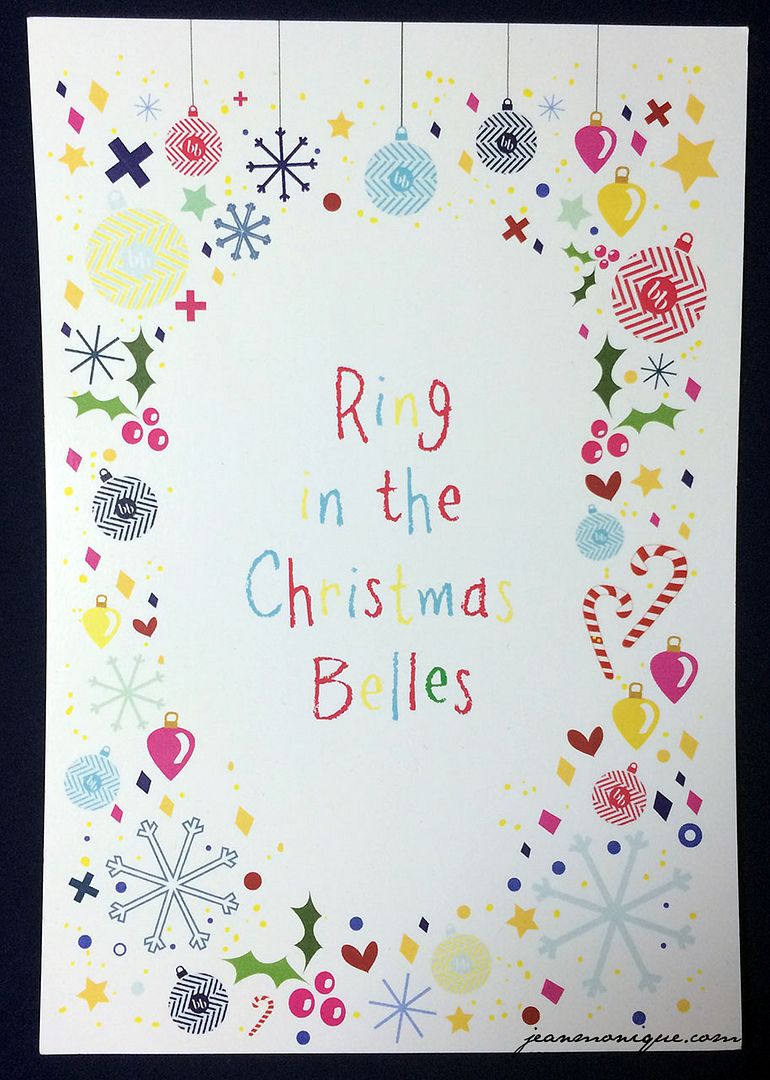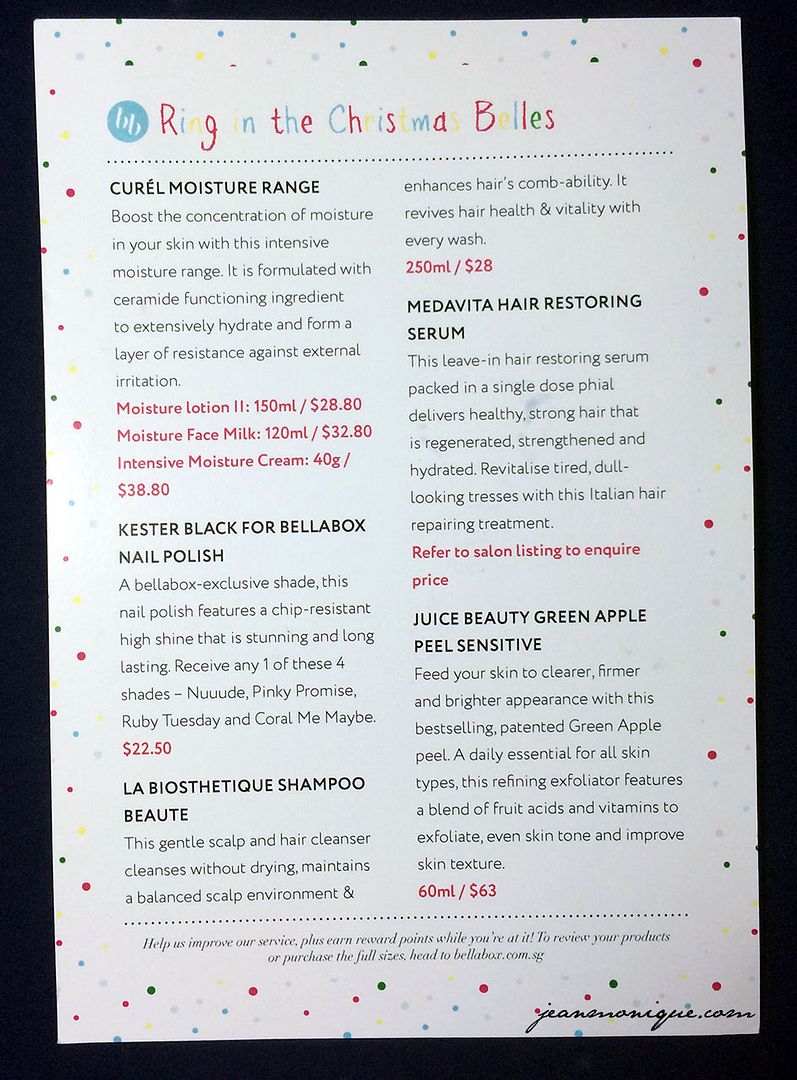 Basically, there are 5 items in this Bellabox and all of them are new for me. There's skincare, hair care, and nail polish! 🙂 Ooohhh… I really love the nail polish!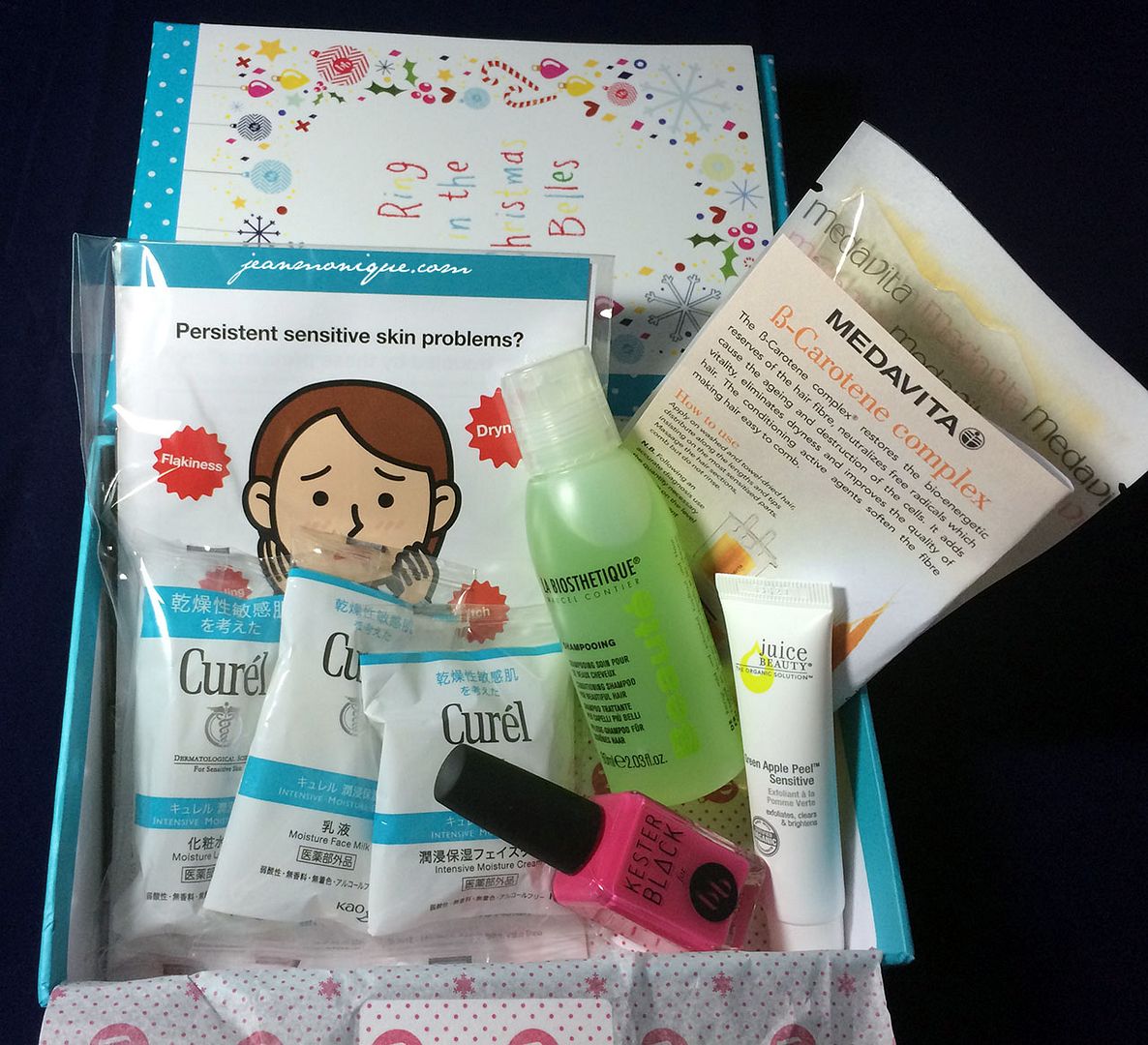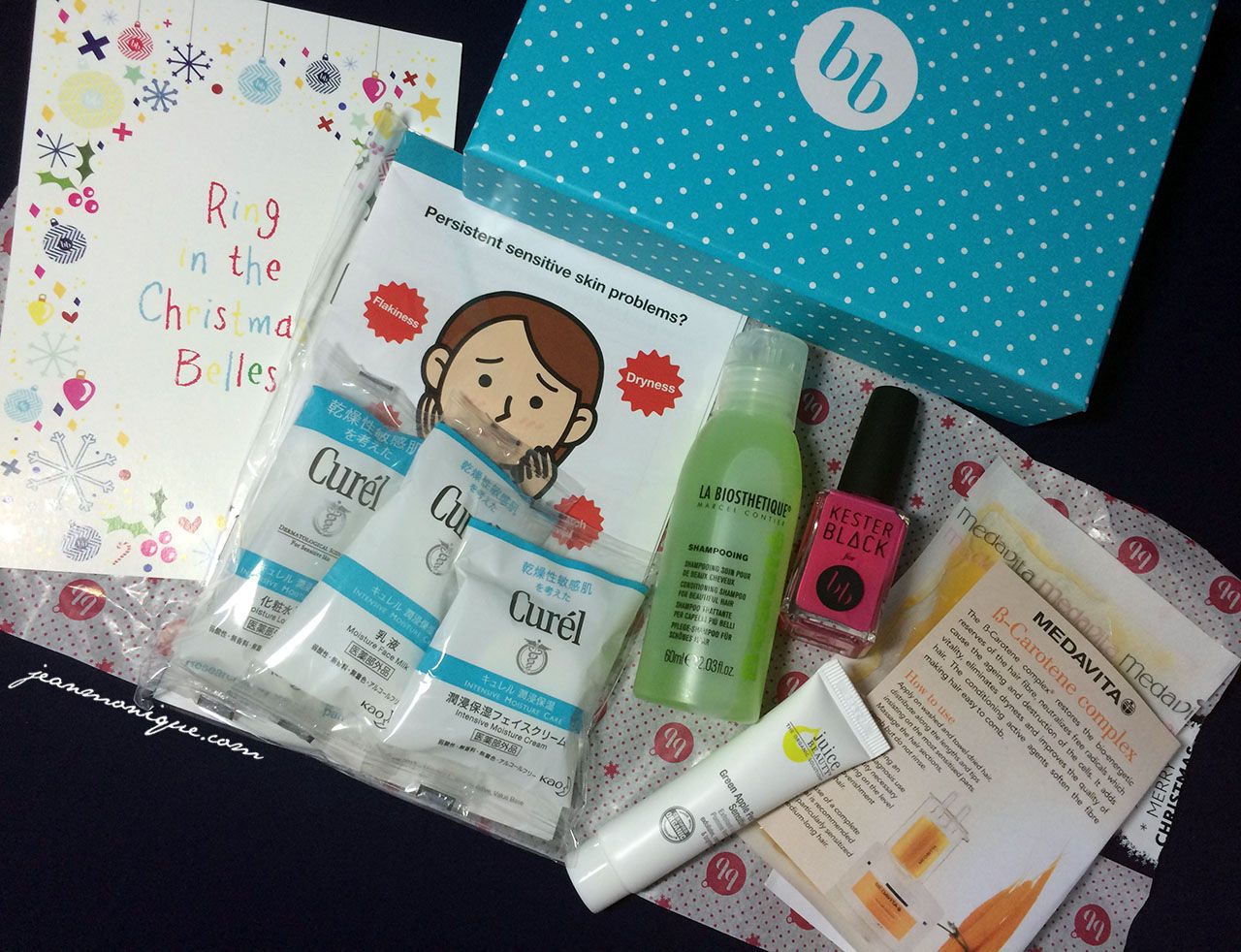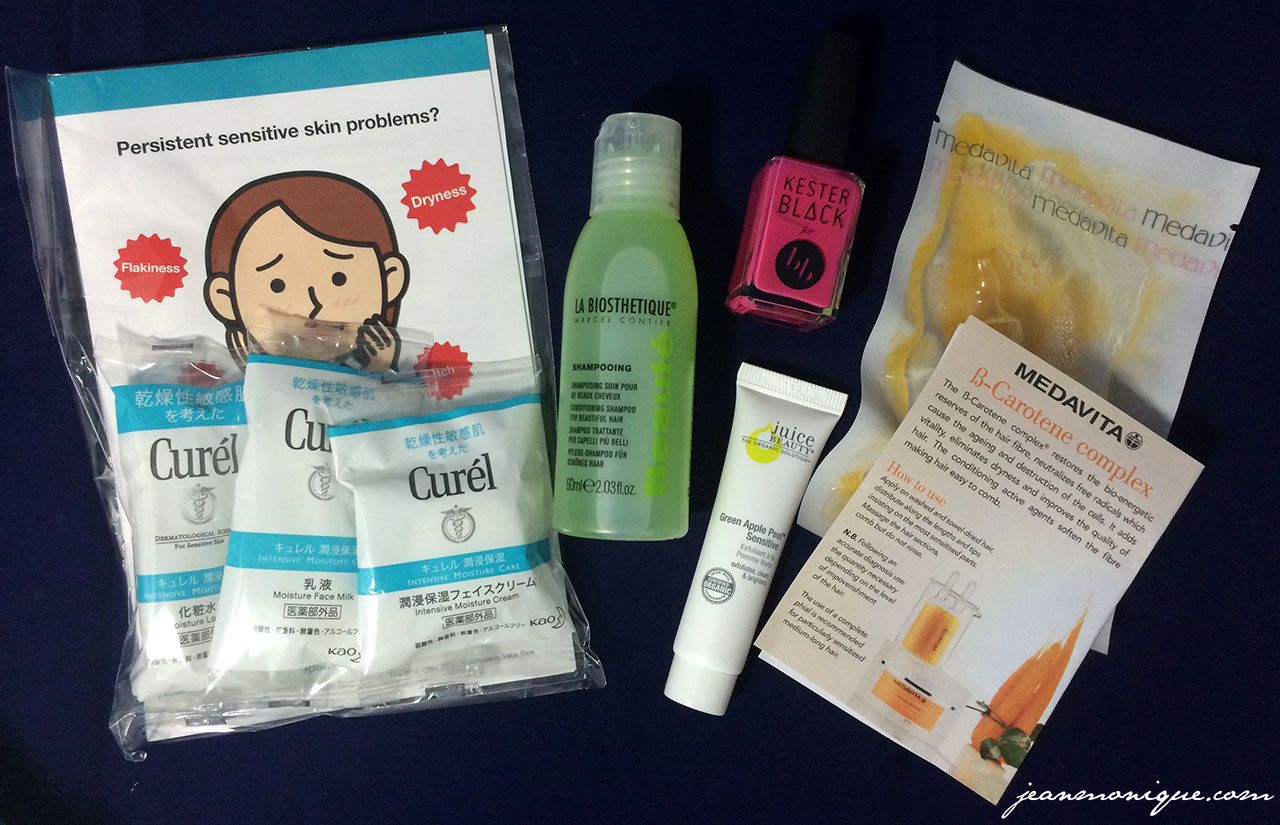 The Medavita ampoule got broken during shipping so the whole content spilled inside as you can see in the photo. 🙁 It was a good thing that the packaging is leak-proof!
Now, let's look into each product, yeah?
Curel Moisture Range
Boost the concentration of moisture in your skin with this intensive moisture range. It is formulated with ceramide functioning ingredient to extensively hydrate and form a layer of resistance against external irritation.
Price: Moisture Lotion II (150 mL – $28.80) | Moisture Face Milk (120 mL – $32.80) | Intensive Moisture Cream (40g | $38.80)
Thoughts: This is a moisturizing skincare set that looks promising. The whole set seems a little bit expensive though. That's why I'm really glad I can try first before buying the whole set.
Kester Black for Bellabox Nail Polish
A Bellabox-exclusive shade, this nail polish features chip-resistant high-shine that is stunning and long-lasting. Shades: Nuuude, Pinky Promise, Ruby Tuesday, and Coral Me Maybe
Price: $22.50
Thoughts: I think I got the Pinky Promise shade (there's no label on the bottle to refute me otherwise. haha!) Once I saw the hot pink color, I immediately tried it on my pinky nail. The nail polish glides on really smoothly and the color payoff in just one swipe is amazing! I love how it shines even without a top coat. Let's see how long this lasts without chipping, shall we?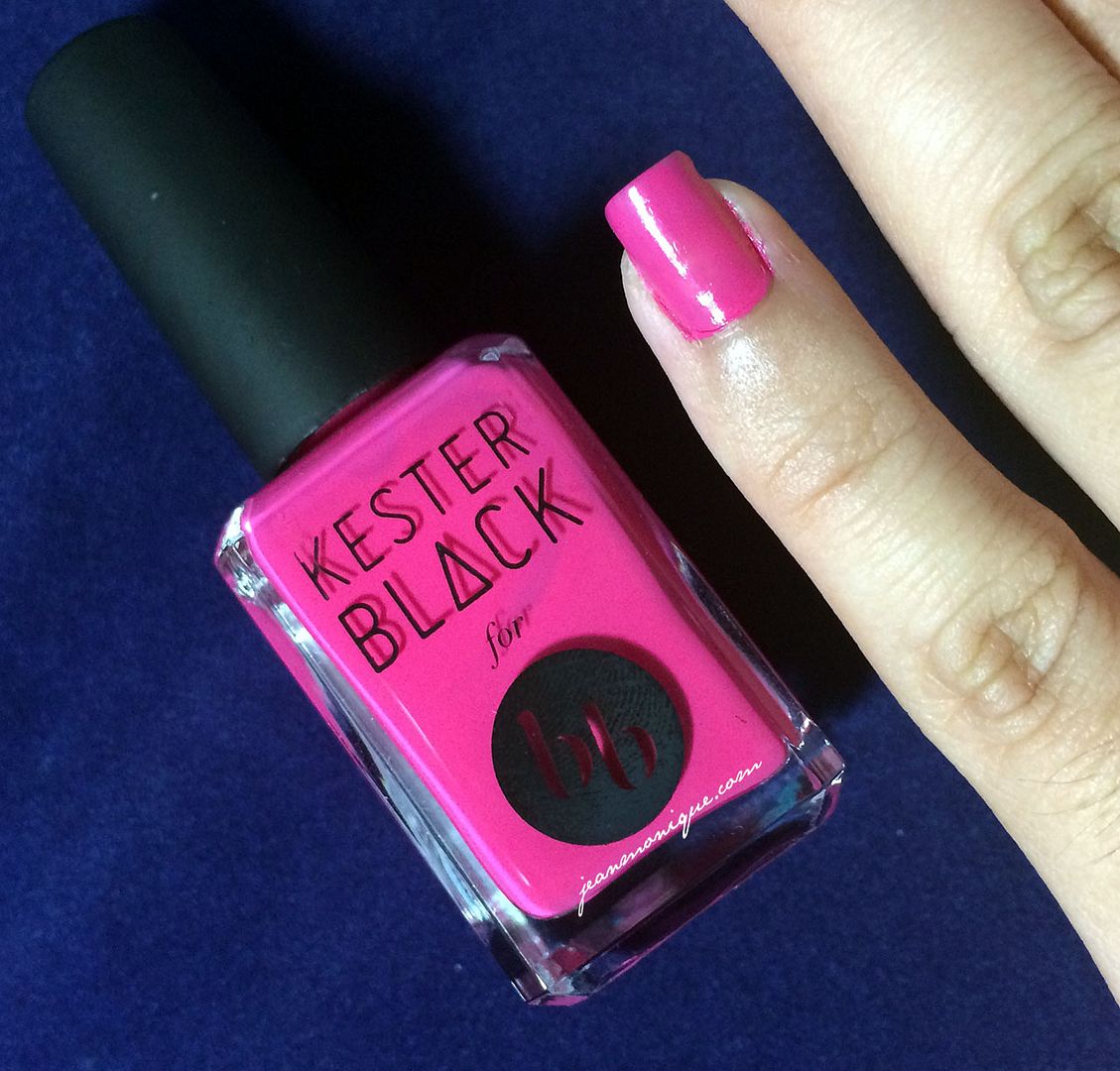 La Biosthetique Shampoo Beaute
This gentle scalp and hair cleanser cleanses without drying, maintains a balanced scalp environment and enhances hair's comb-ability. It revives hair health and vitality with every wash.
Price:250 mL – $28
Thoughts: It's hard to come across a shampoo that is gentle, non-drying, and smoothing all at the same time. I'm excited to see how it works for my oily scalp. I do hope that it wouldn't straighten my curls though.
Medavita Hair Restoring Serum
This leave-in hair restoring serum packed in a single dose phial delivers healthy, strong hair that is regenerated, strengthened and hydrated. Revitalize tired, dull-looking tresses with this Italian hair repairing treatment.
Price: Refer to salon listing to enquire price
Thoughts: Oh, this is one product I'm really excited to try as well. I rarely get to try hair serums in actual ampoules! But now that the ampoule is broken, I do hope I don't get injured when I get to use it. haha!
Juice Beauty Green Apple Peel Sensitive
Feed your skin to clearer, firmer, and brighter appearance with bestselling, patented Green Apple peel. A daily essential for all skin types, this refining exfoliator features a blend of fruit acids and vitamins to exfoliate, even skin tone and improve skin texture.
Price: 60 mL – $63
Thoughts: This green apple peel seems promising too. Based from the description, it's gentle enough to be used on a daily basis. Can't wait to get brighter and smoother skin after using this. 🙂
So that's everything that's inside my December 2014 Bellabox. Honestly, I was expecting more because it's Christmas season… but then, these are 5 new products that I would get to try so that makes me happy enough. 🙂 What was inside yours?
BellaBox Singapore
Website | Facebook | Twitter | Instagram