Bonjour Bella!
How's the start of your year so far? 🙂 I'm currently on night duty at work and my body is having a hard time adjusting to the schedule… so during my off days, I hibernate. Haha. So I'm very sorry for not posting anything lately.
I have a lot of new products to try and share with you… so let's start off with the Mirenesse 10 Collagen Cushion Compact Airbrush Liquid Powder.
If it's your first time to hear about the brand, Mirenesse is a fully Australian-owned company featuring cruelty-free products backed by 30 years' of pharmaceutical research. They pride themselves in combining the best of Mother Nature with clinically proven active ingredients to give the best possible results.
Mirenesse  10 Collagen Cushion Compact Airbrush Liquid Powder is makeup and skincare combined. It comes in a compact which makes use of liquid to powder technology. It effectively fills in fine lines and produces long-lasting buildable coverage. At the same time, it deeply moisturizes the skin and protects it from environmental pollutants. It is also long-wearing and humidity-resistant.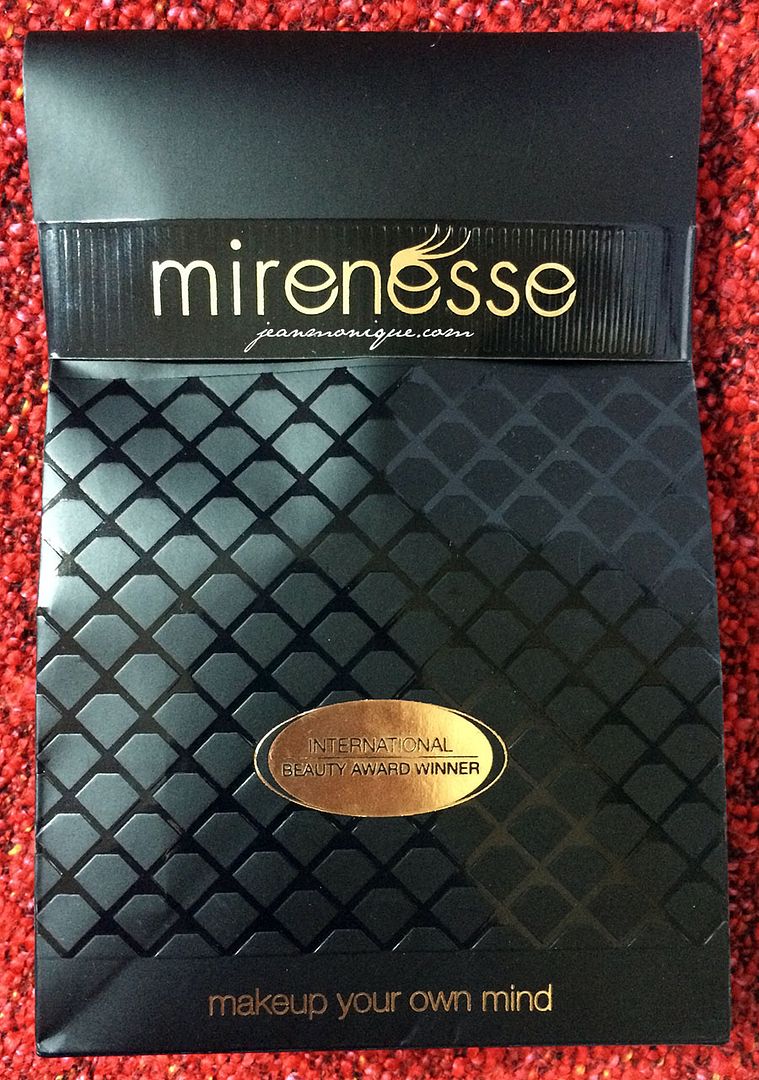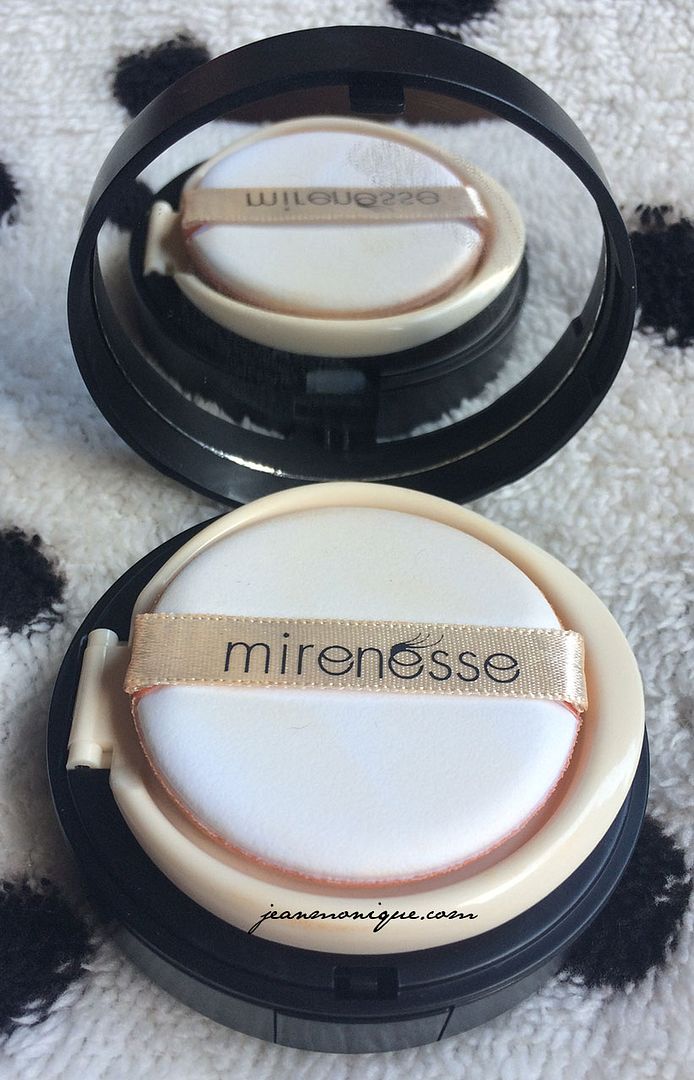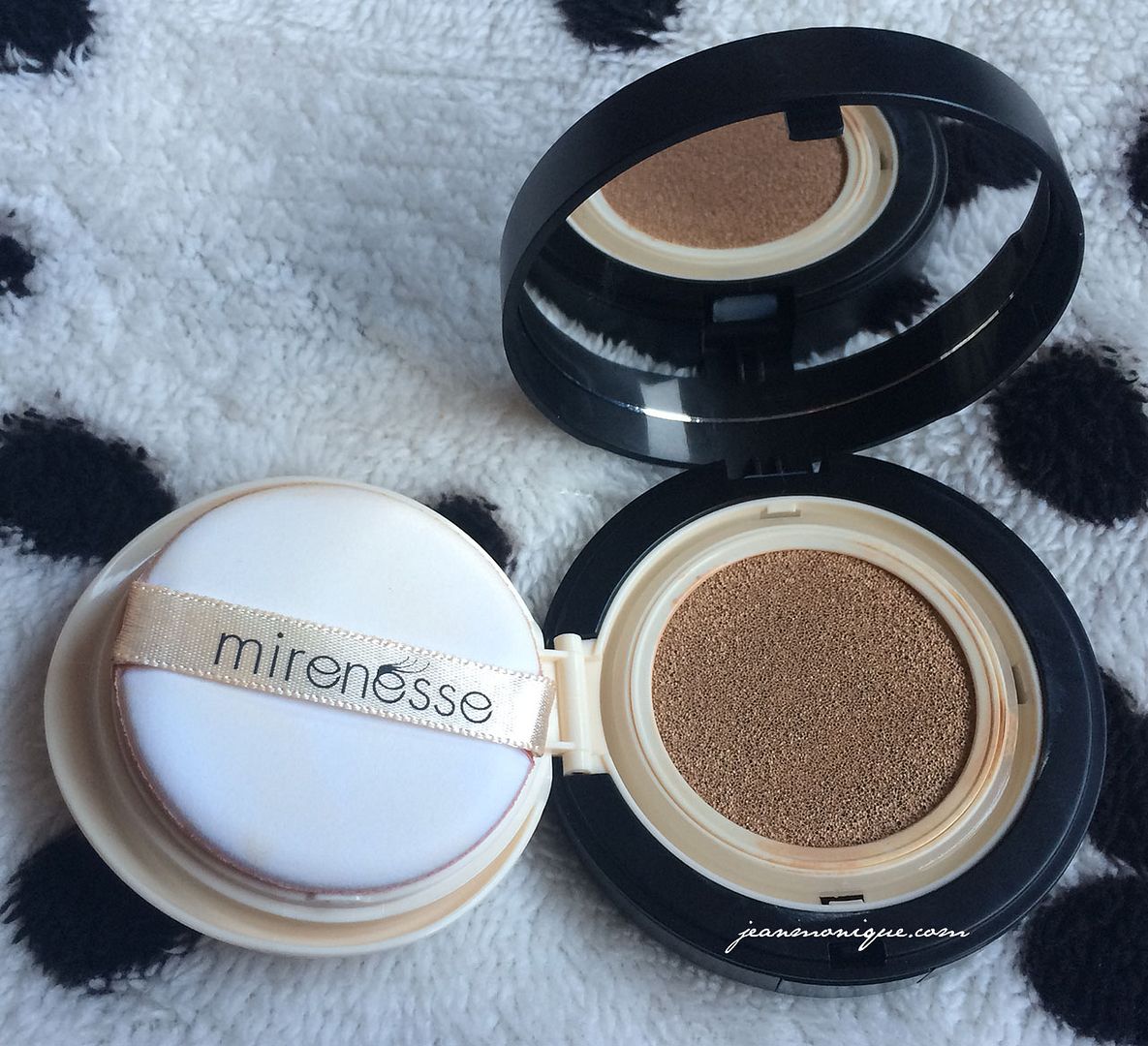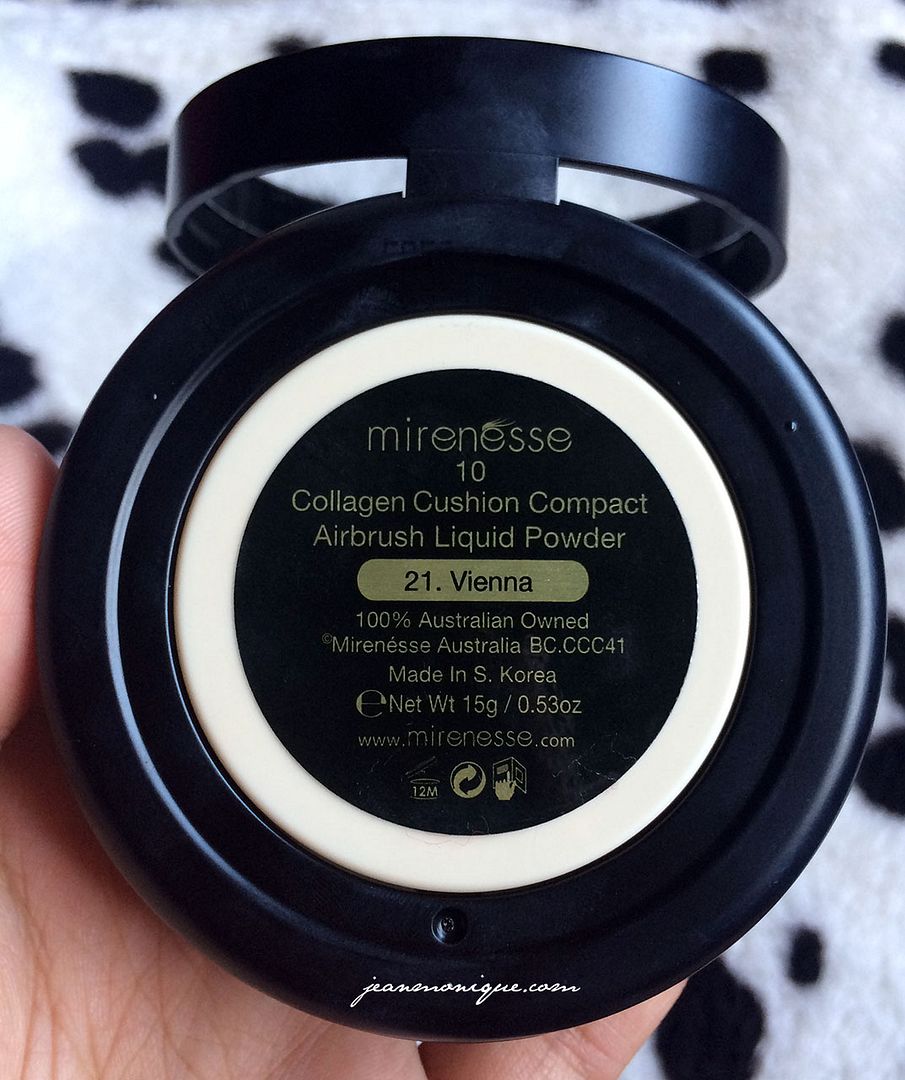 Mirenesse 10 Collagen Cushion Compact Airbrush Liquid Powder is applied on the face after serum, moisturizer, or primer. Press the puff applicator (found inside the compact) into the cushion to pick up a small amount of liquid, then press and apply to clean face one section at a time. Press the applicator onto skin repeatedly until whole face is covered with the product. This can be safely used around the eye area. If you need more coverage, just reapply another layer.
To prevent the product from drying out, keep the compact tightly closed when not in use.
When the puff no longer picks up any of the product, just open the compact, push the middle refill part out and replace with a new one.
What I love about Mirenesse 10 Collagen Cushion Compact Airbrush Liquid Powder:
Easy to apply, glides on smoothly

No need to use foundation brush, beauty blender, or fingertips. Just the puff is enough.

lightweight formula that gives great coverage with an airbrush effect

It effectively covers blemishes like acne, pimple marks, scars.

Skincare + makeup in one compact

It is injected with collagen-inducing tissue growth factor, which is an ideal wrinkle-repairing molecule. It is a promising substitute to collagen injections.

Smart Airless and refillable case

It locks the moisture and coolness inside. Even though you haven't used in months, the product won't dry up.

A little goes a long way

Thanks to the amazing non-absorbing Rubicell puff with up to 800,000 tiny pores in each puff.

matte finish with a slightly dewy glow
mineral sunscreen (SPF 25)

It already offers great sun protection so there is no need to use separate sunscreen.

portable compact

You can carry anywhere, use anytime, and touch-up when necessary.

no caking
hydrating and moisturizing

I find that my skin is more hydrated and moisturized after a few days of using the product.
What I don't like about Mirenesse 10 Collagen Cushion Compact Airbrush Liquid Powder:
Does not last very long

I've read several reviews saying this lasts the whole day for them. But sadly for me, it doesn't. It stays on for about 4 hours (if outside) to 6 hours (if inside aircon room) without using powder on top. If I add a layer of powder on top, it lasts for an hour more.

Price

It's a bit expensive for me. However, if you consider that it is free from parabens, alcohol, mineral oil, PG, SLS, Petrolatum, and synthetic fragrance, then it is worth it. Plus, it's not tested on animals.
Here's a guide on the different shades available: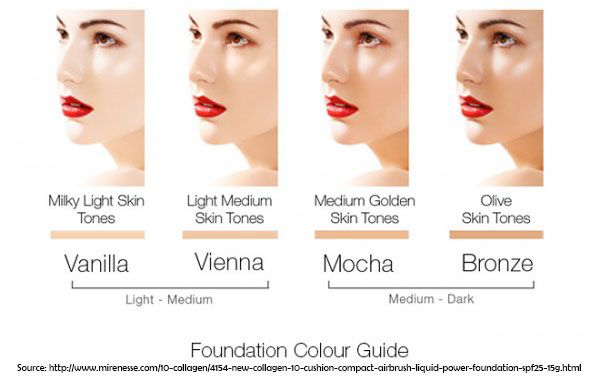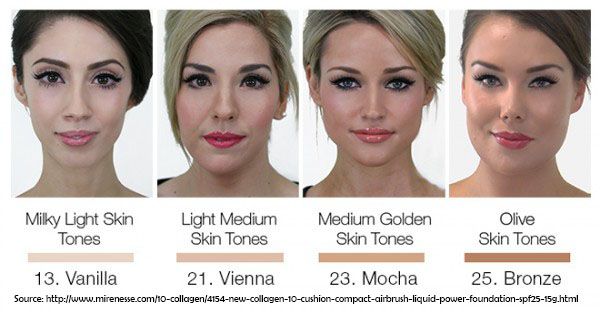 With 4 different shades to choose from (Vanilla, Vienna, Mocha, and Bronze), there is surely one shade that matches your skin tone.
This is me wearing the Vienna shade.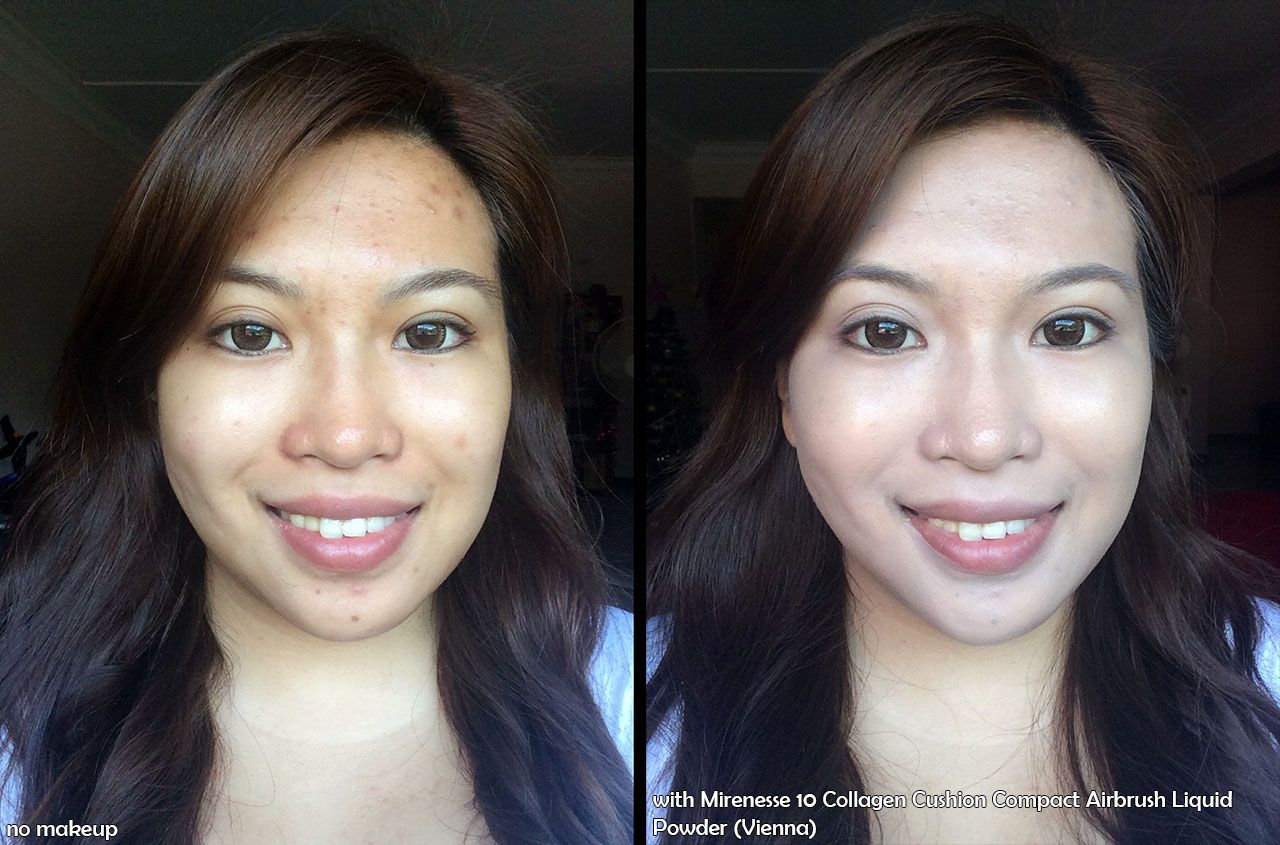 Yes, the shade is very light for me. I'm better off wearing Mocha or Bronze. But look at how effectively it covered up all my blemishes and how it has a matte finish yet managed to give me a dewy glow. So good, right? 🙂
Mirenesse 10 Collagen Cushion Compact Airbrush Liquid Powder (15g) is available at Luxola (http://www.luxola.com/sg/products/mirenesse-collagen-cushion-compact-airbrush-liquid-powder) for $80 (PHP 2,694).
For my readers, there's an exclusive deal for you at Luxola. Just enter the promo code BLX-SANCHEZ at checkout and get 15% off storewide on your first order. This code is valid until 28 February 2015 and applicable to all items except from the following non-discountable brands: Dercos by Vichy, Dr. Wu Clinical Skincare, Real Techniques, SkinCeuticals, Sigma Beauty, Vichy, ZOEVA, Origins, Sachajuan, Koh Gen Doh, Laneige.
Thanks Luxola for letting me try the Mirenesse 10 Collagen Cushion Compact Airbrush Liquid Powder. 🙂
Mirenesse
Shop at Luxola | Website | Facebook