Bonjour Bella!
In today's society, all of us are exposed to high levels of electromagnetic waves from the electronic gadgets (e.g. phones, tablets, laptops, etc.) and equipment (e.g. microwave, etc.) that we use daily. We are also continuously exposed to harmful UV radiation from the sun and other free radicals in the environment. In addition, we consume several processed foods including those derived from genetically-modified organisms. All of these create an imbalance within our body which result in long-term damaging effects on our health and overall well-being.
One of the ways to achieve optimum health and well-being is by eating the right kinds and amounts of foods (less sugars and fats, more fruits and vegetables). But because of poor diet, most of us are unable to get all the nutritional requirements that we need from the food that we eat. This makes us have a weak immune system, slow metabolism, fine lines, wrinkles, and dull skin, among others.
I've received samples of MU MIEUX Collagen from Sample Store to try out for 8 days. So now I'd like to share my thoughts on the product. 🙂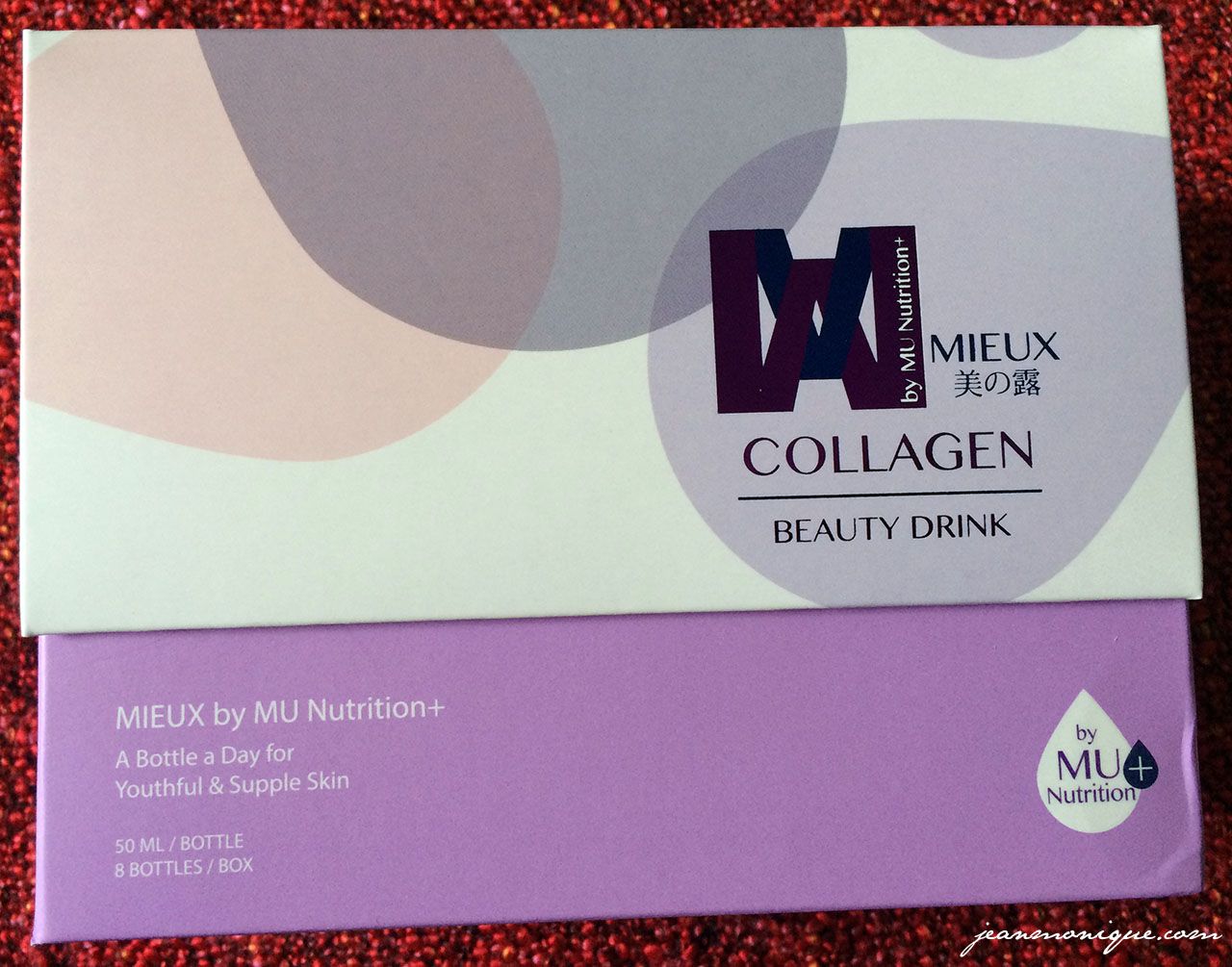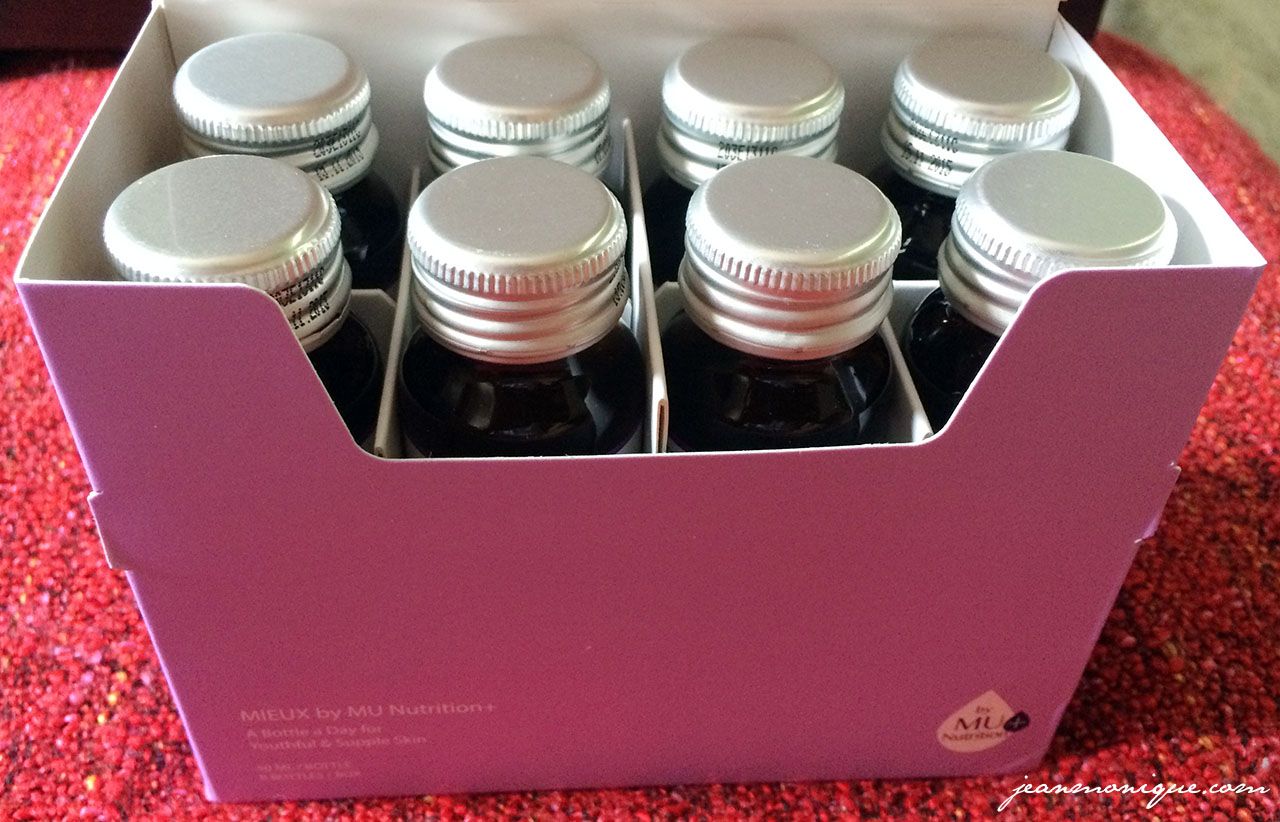 MU Nutrition+, a revolutionary new line of nutrition dietary supplements from MU, is designed to address premature ageing due to loss of collagen and key vitamins for skin and organs. Moreover, it provides the following benefits:
Improve body's detoxification abilities
Enhance gastrointestinal health by introducing beneficent bacteria (probiotics)
Improve overall metabolism and blood circulation
Block/displace excess fat, sugars and carbohydrates consumed through daily diet
Enhance overall organ functions
Increase energy levels and vitality
Improve immunity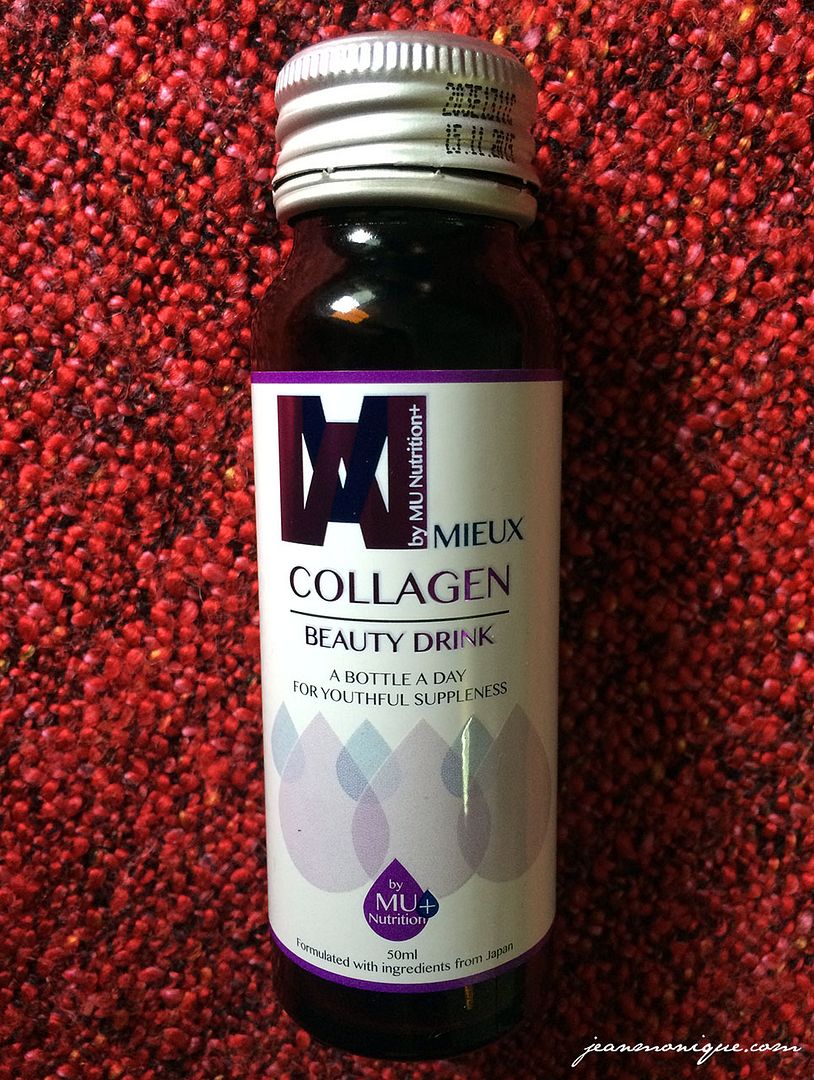 MU MIEUX Collagen, formulated with BHN (Marine) Collagen, enriched with Ceramide and Apple extract, is an amazing product from MU Nutrition+ that gives you youthful and supple skin by just drinking one bottle a day. Every bottle of MIEUX contains 3000mg BHN Collagen and 10mg Ceramide.
BHN (Marine) low molecular collagen is proven in laboratory tests to be best absorbed by the body. It also provides nourishment to our fibroblast cellular tissue and maintains skin's hydration level. It also helps in reducing wrinkles and lines.
Ceramide helps to lock in moisture in our skin by effectively rebuilding the skin's natural barrier to atmospheric hydration depletion.
Apple Polyphenol helps to combat photo-ageing by retaining moisture, preventing DNA damage and the deepening of wrinkles.
MU MIEUX Collagen also contains Co-Q10, and Vitamins C & E for enhanced skin hydration, elasticity, and luminosity. Malic Acid is also present which helps stimulate metabolism and increase energy production. It also contains Maltitol so it is useful for people with diabetes as it does not raise blood glucose or insulin levels.
How important is collagen? Collagen is essential in maintaining the structure and density of our skin. It approximately makes up 80% of young and healthy skin. As we reach mid-30s, our skin gradually loses the ability to regenerate naturally and produces less collagen. Around 35-55 years of age, collagen level drops to 40% resulting in the loss of firmness and formation of wrinkles.
To maintain skin's optimum collagen levels for youthful suppleness, just consume 1 bottle (50 mL) of MU MIEUX Collagen once a day before bedtime. It is best stored in the refrigerator as it tastes best when chilled. Don't forget to shake the bottle before drinking and make sure to drink all the contents.
When I drink the MU MIEUX Collagen, there are still a few remaining drops inside the bottle. So to make sure that I drink everything down to the last drop, I place a little cold water inside the bottle, shake it well, then drink.
Unlike other collagen products, this one does not have a fishy taste. In fact, it has a pleasant fruity taste, probably from the apple extract. That is one of the things that I love about this product. 🙂
I have used it continuously for 8 days and I can say that my skin has become more supple and radiant. As you can see in the photo below, even the pimple marks have become less visible. With continued use, you'll definitely achieve a more youthful skin with a healthy glow.
I have also noticed an increase in metabolism and my bowel movements are more regular now though I didn't have any weight loss.
As for increased immunity, during the time that I was drinking it, I was really healthy and energetic. But 2 days after I stopped drinking, I caught the flu while I was in the Philippines. 🙁 So I guess it really boosts your body's immune system.
As the old adage goes, "health is wealth." Thus, it is good to start investing in your health and well-being now.
To all my readers, I'd like to share an upcoming Sample Store Exclusive: Get ONE (1) box of MU MIEUX Collagen Beauty Drink at only $88 (U.P. $108) and get a BONUS complimentary Collagen Facial worth U.P. $145 per session for the first 100 readers. To redeem the promo, just quote my name, "JEAN MONIQUE", and "Sample Store Exclusive" when you call 1800 250 2001.. This promotion is valid from 1 February to 31 March 2015 at Mary Chia / Urban Homme outlets island-wide.
Thank you Sample Store for letting me try this product. 🙂