Bonjour Bella!
I first tried the Origins Gloomaway™ Grapefruit Body Souffle during the Luxola Party last November. It was pretty awesome and I loved it! 🙂 So imagine my excitement when Luxola told me that they're sending me the whole tub for review. Yippee!
If you're new to Origins, watch this video for an overview of the company and how they create their amazing, powerful, and earth-friendly products.
One of the best things about Origins? Their products are formulated with natural and certified organic ingredients and 100% natural essential oils AND WITHOUT parabens, phthalates, propylene glycol, mineral oil, PABA, perolatum, paraffin, DEA, and animal ingredients. Plus, they manufacture using a combination of renewable resources, wind energy, and earth-friendly practices. With every Origins product that you use, you're assured of the highest quality of ingredients from the very best of nature. 🙂
The term souffle in a skincare product is quite new to me since I've always associated it with food… particularly a hot chocolate souffle. 🙂
The product description of Origins Gloomaway™ Grapefruit Body Souffle is simple and straight to the point.
Let lively Grapefruit create a sense of optimism and contentment as your whole being is nurtured in silky-softness.
It's not just a simple moisturizer with a soft texture and creamy consistency. It makes you feel great and happy too!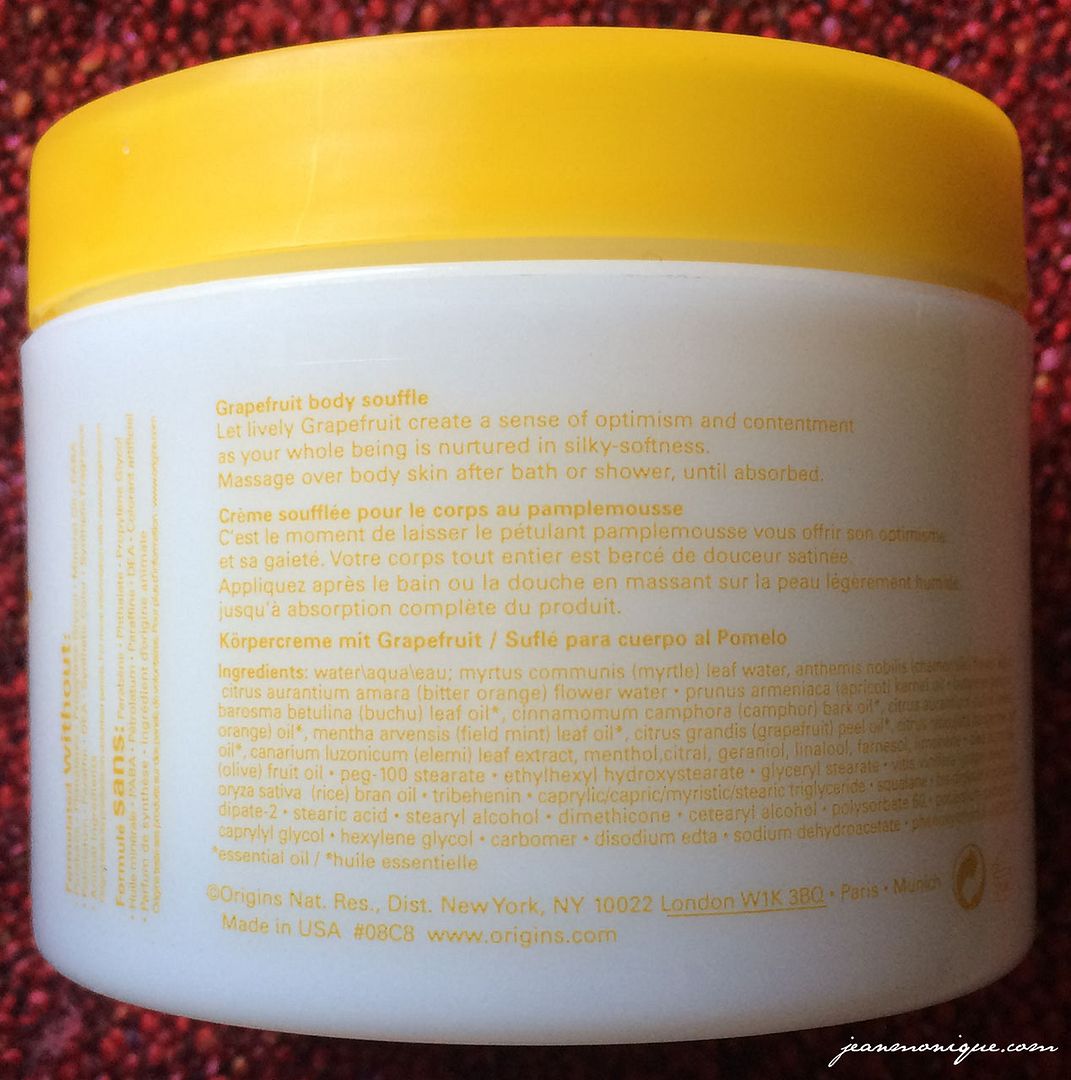 The product contains grapefruit and field mint, among other ingredients. And what I love about this is how it's formulated without parabens, sulfates, synthetic fragrances, synthetic dyes, petrochemicals, phthalates, GMOs, and triclosan. Bottom line: All natural ingredients and no harmful ones inside!
So I woke up early this Saturday morning to give it another go. This time, I used it all over my body after shower.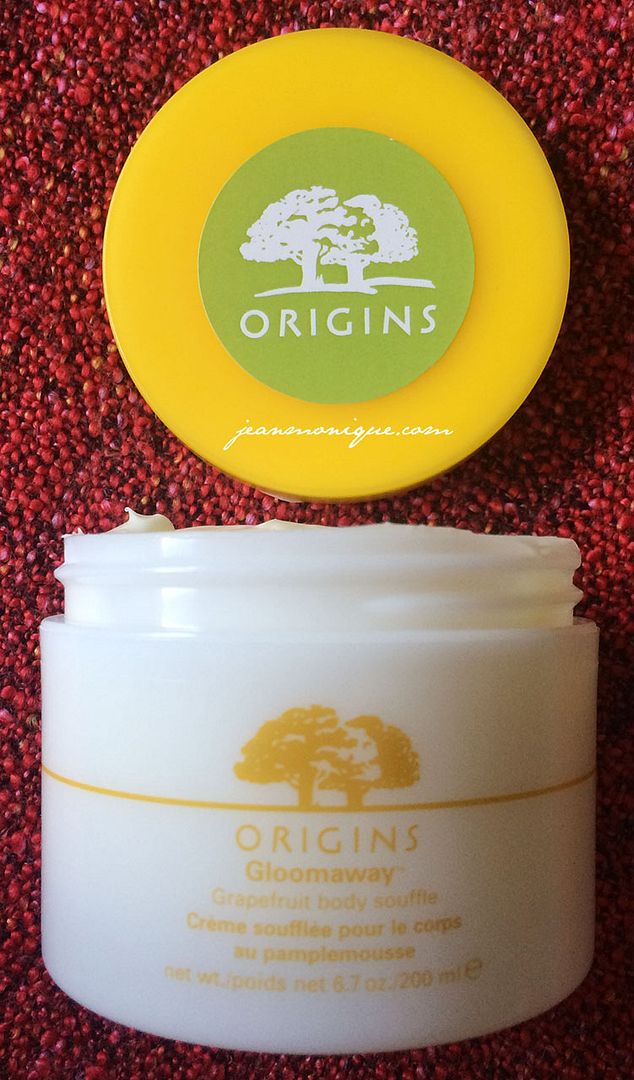 I love how the Origins Gloomaway™ Grapefruit Body Souffle is packaged without any frills. The product is simply placed in a large white tub with a yellow cap. Most bloggers would probably want another cover with a scoop… but for me, this is just right. Since I use this straight from the shower, my hands are definitely clean. 🙂 The tub is also very much full to the brim. It's also quite easy to see how much product you've got left.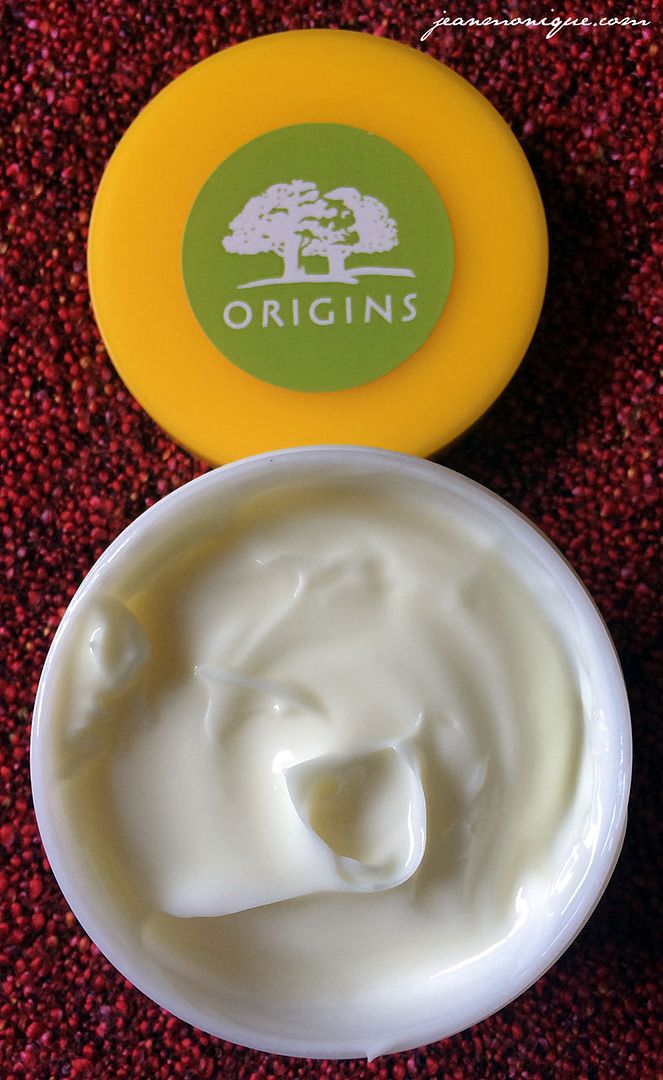 Upon opening the tub, the refreshing citrus scent of grapefruit immediately wafted through the air. I then proceeded to scoop out Origins Gloomaway™ Grapefruit Body Souffle and  slowly massaged onto my skin until the product was fully absorbed. The product indeed has a souffle-like consistency… it's thicker than a lotion, similar to cream, and lighter than a body butter. It is soft, creamy, and easily melts into the skin.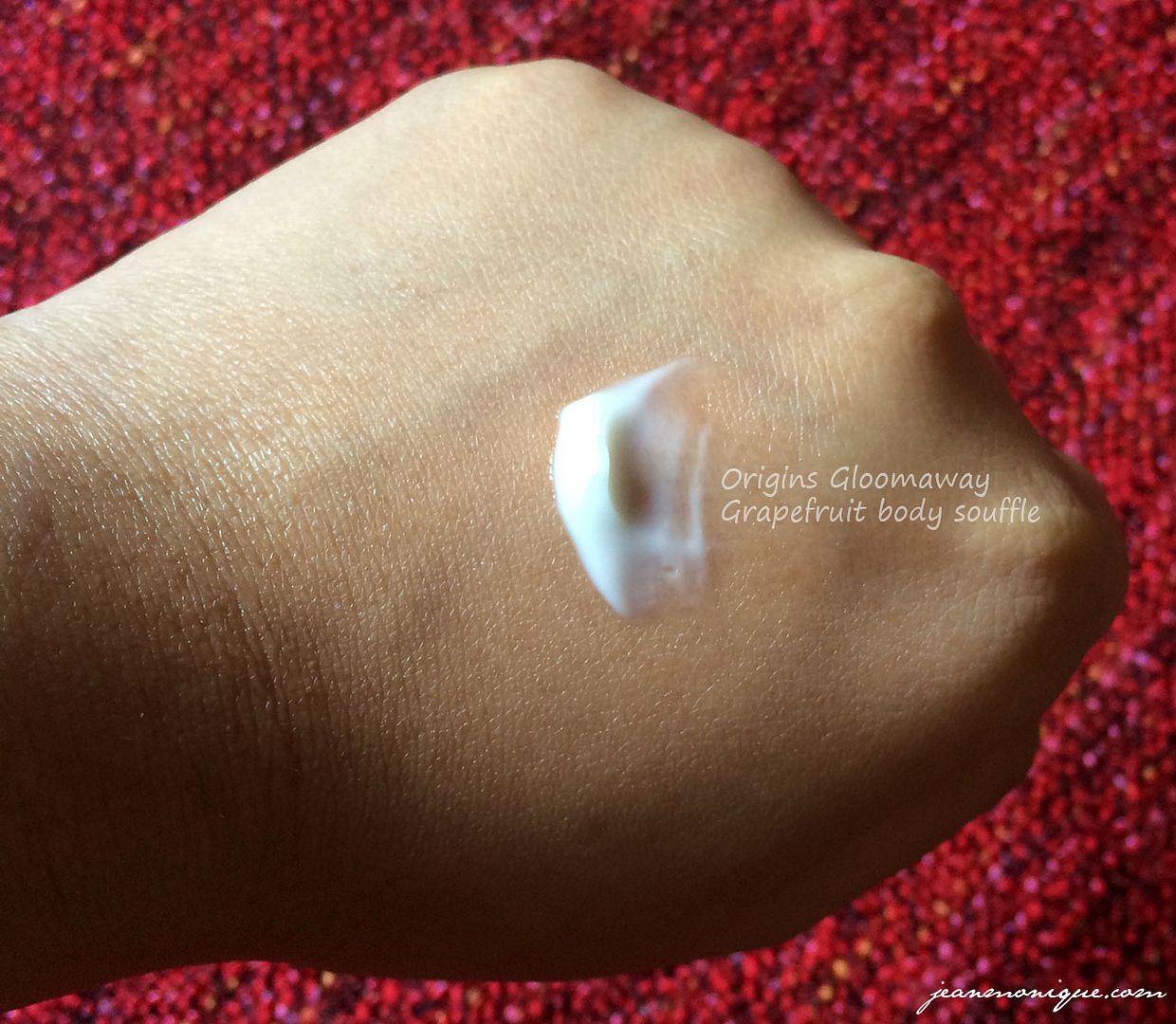 Using the Origins Gloomaway™ Grapefruit Body Souffle is like having ice cream for breakfast. It truly lifts the gloom away! The scent is refreshing and a perfect pick-me-upper. It has been 6 hours since I've applied the product and the grapefruit scent still lingers on my skin… and in my room. 🙂 I really love the delicious and invigorating smell of this product!
My skin feels completely moisturized and hydrated. On cold days, I usually use a body butter because of its very thick consistency. But this body souffle is a great alternative. It goes on smoothly and is easier to apply. The moisturizing effect is long-lasting too.
Some people don't like applying moisturizers because of the oily and sticky feeling you get after applying them. The Origins Gloomaway™ Grapefruit Body Souffle is easily absorbed and is not heavy, greasy, or sticky.
I love everything about this product. 🙂 Even with daily use, I can see that this product will last me 3 to 4 months. It's definitely worth a repurchase!
If you want to try this out for yourself, head on over to Luxola to purchase your own Origins Gloomaway™ Grapefruit Body Souffle. A 200 mL tub costs $64.
First time ordering at Luxola? Use the discount code BLX-JSANCHEZ to get 30% off till the end of December. (The code is not applicable to non-discountable brands such as: Dercos by Vichy, Dr. Wu Clinical Skincare, Real Techniques, SkinCeuticals, Sigma Beauty, Vichy, ZOEVA, Origins, and Sacha Juan.)
Thanks Luxola for letting me try this out! 🙂 Have a great weekend bellas!