Bonjour Bella!
You must have noticed how much weight I have gained ever since I moved to Singapore. I lost a lot of weight when I went on a diet from December to February… but then I gained them back due to lack of exercise and, well, eating a lot. Some Filipinos don't like Singaporean food… but I'm one of the few who loves the food here so much! Seriously, I can eat a bowl of noodles everyday! Aside from that, I cook really delicious food. Hahahaha! Kidding aside, it's really hard to control my eating habits especially when I enjoy eating.
To control my weight, I practice yoga at least 3 times a week, go for a run 3 to 4 times a month, play Just Dance or Dance Central on Xbox whenever I feel like it, and go for Shbam or Zumba whenever schedule permits. But I guess those aren't enough. These stubborn fats just wouldn't leave me alone! I need some help!
Last month, I received a box of Reduze PRO from Sample Store but I only started using it a week ago when I was ready to start a new diet. Otherwise, it would be counter-productive if I still eat so much while on detox right?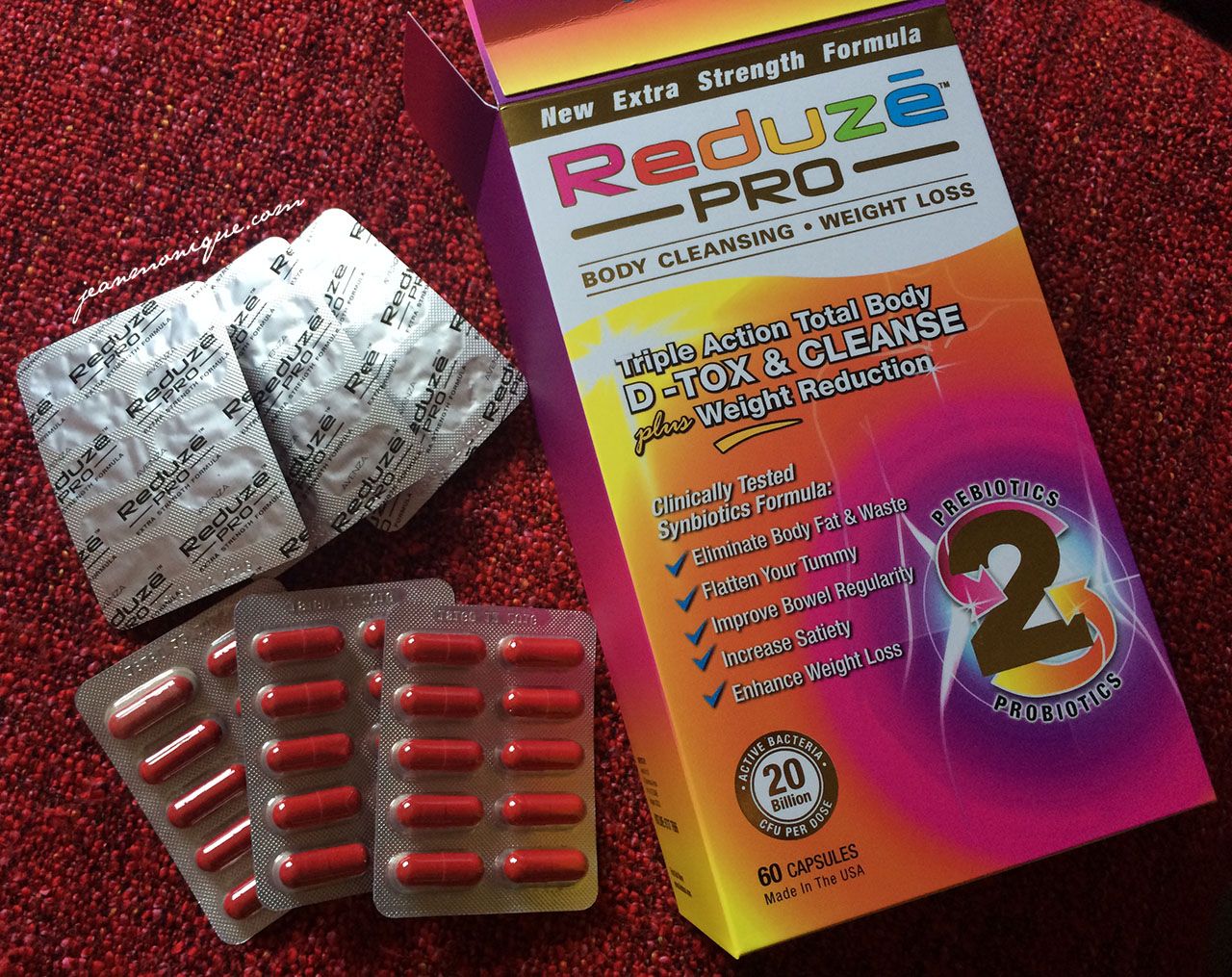 Reduze PRO is known to have a "Triple Action Total Body D-Tox & Cleanse plus Weight Reduction" effect to help in body cleansing and weight loss. It has a new synbiotic (IGB synbiotic complex plus a blend of prebiotics and probiotics) formula that is clinically proven to:
eliminate body fat and waste;
flatten the tummy;
improve bowel regularity;
increase satiety; and
enhance weight loss.
To aid in detox and weight loss, here's Reduze PRO's Triple Action Detox Formula:
Rebalance Gut Flora – With 20 billion live probiotics per dose, Reduze PRO helps increase the bacteria that causes weight loss and decrease the bacteria that causes weight gain.
Improve Digestive Function – It helps increase bowel frequency (up to 52%) to reduce accumulation of fats and toxins.
Sustainable Weight Loss – Increase fat metabolism and satiety (less 29% calorie intake).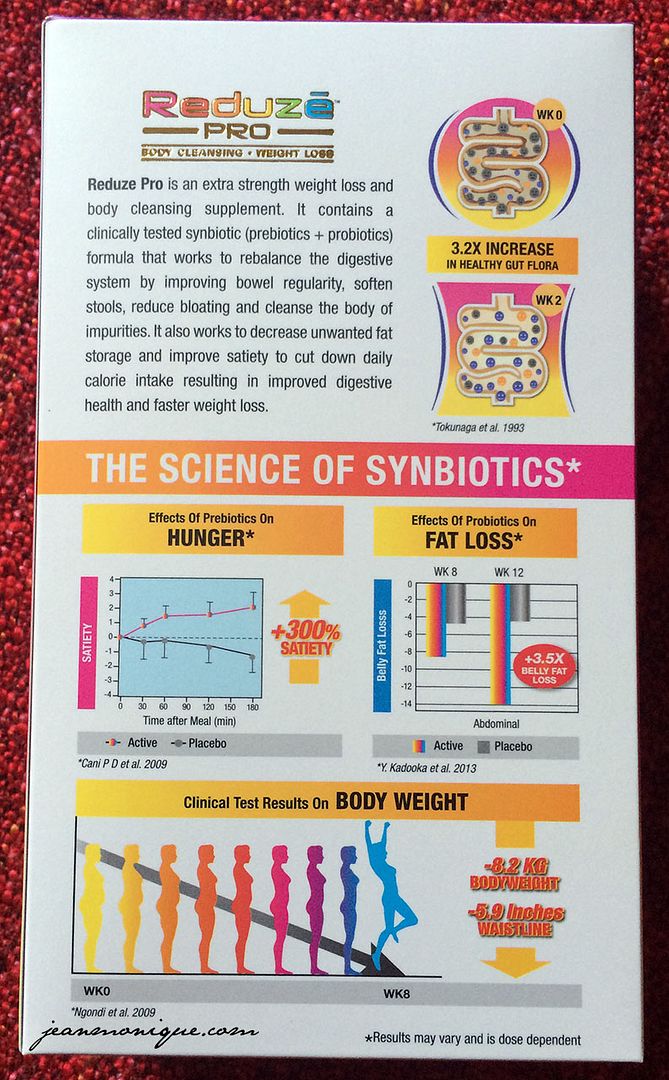 So you might be wondering what's the connection between bacteria in the gut to weight loss? Bacteria in the gut helps control energy intake, expenditure, and fat storage during the process of digestion. If the gut flora is not balanced, there would be an increase in appetite leading to increase in toxins and fat storage. It will also decrease metabolism, which then results to weight gain. The composition of the gut flora is affected by diet, lifestyle, and weight gain.
So yeah, we try to lose weight through diet, lifestyle change, and exercise, right? However, there are times when no matter how much we do all those, the excess kilos just would shed off. This is due to what we call as the rebound effect (weight gain > weight loss > weight gain), which results in weight loss resistance making it hard for us to loss weight through diet and exercise.
To break the weight gain cycle, detox and cleansing must be optimized to help achieve a sustainable weight loss. Based on a study (Tokunaga et al., 1993), there is a 3.2x increase in beneficial gut microflora after using Reduze PRO for 2 weeks. This has translated to decreased energy intake, increased digestive performance, and increased metabolism.
Reduze PRO is very easy to use. Just take 2 capsules once daily before food. For faster effect, you can take up to 3 capsules per day. This is what I've been doing for the past few days. When the desired effect has been achieved, just reduce the dosage back to 2 capsules daily.

On the first day of taking Reduze PRO, I immediately experienced more frequent bowel movement with softer stools. Few days after, I began to feel full even if I only ate small meals. Then, the feeling of satiety lasts the whole day even though I just eat salad for lunch. A study (Cani, P.D., et al., 2009) has shown that one would feel full longer for up to 6 hours after a meal. Which was true in my case… My lunch was at 1pm then I don't have to snack in between til I eat dinner at about 7 or 8pm. After a week, I lost 2 kg. 🙂 However, I don't see any tummy reduction. Which I guess is okay since I've used it for less than 2 weeks. Studies (Ngondi, et al., 1999 and Y. Kadooka, et al., 2013) have shown that a flatter tummy would be achieved during weeks 8 to 12. And that by the end of 8 weeks, one would have lost 8.2kg body weight (8x more weight loss) and 5.9 inches in waistline without diet or exercise. I've also noticed lesser appearance of pimples in just 1 week of use. 🙂
Of course, results vary per person and it's dose dependent. Still not bad, right? Not to worry too as this is safe for long-term use as it is made from all natural ingredients. Plus, it is made in the USA under Good Manufacturing Practices so safety and quality are assured.
What I also like is how the capsules are red in color (my favorite!) and they're very easy to swallow. Haha!
Reduze PRO costs $128 per box of 60 capsules and is available at Guardian, John Little, Metro, NTUC Fairprice, Robinson, Sasa, Unity and Watsons.
Now we've got a special treat for you, my dear reader. Just enter the code REDUZEPRO10 upon checkout to get $10 off with a minimum spend of $128 (1 box of Reduze Pro)! You must be logged in as a member of Rakuten to use the coupon code. The code must be entered in ALL CAPS and can only be used once per member. It cannot be used in conjuction with other discounts. This coupon is valid from 17 November to 31 December 2014.
Having problems using the code? Just follow this step by step guide:
Shop for Reduze PRO at Rakuten – http://www.rakuten.com.sg/shop/avenza/product/RD005/
Enter desired quantity and click "Add to Cart".
Review the order. If everything seems correct, click "Proceed to Checkout".
Provide shipping details.
At checkout, enter payment details. Under COUPON, fill in the Code No. as REDUZEPRO10 then click "Apply."
Finalize the order.
So, that's all for now. Do let me know how it worked for you. 🙂 Thanks Sample Store for letting me try this out. 🙂