Bonjour Bella!
I have been terribly busy this month… and there was a time when I was just so sad that I couldn't think properly, much more write. But I'm coping well. Thanks to my family and friends for all the love and support. Here's a virtual hug to all of you! *hugs to infinity and beyond*
One of the things I look forward to each month is my Bellabox. 🙂 I am always very excited to open each month's beauty box and see what they've picked out for me. For the past few months, their products have improved so much. In fact, I love each and every product they've sent me! I have nothing but good words to say about Bellabox. 🙂
Now, here I am sharing the unboxing of my November Bellabox themed "Insta-Glam."
When I first held the box, it felt very light. It wasn't even full to the brim as compared to the previous boxes. I was prepared to be disappointed.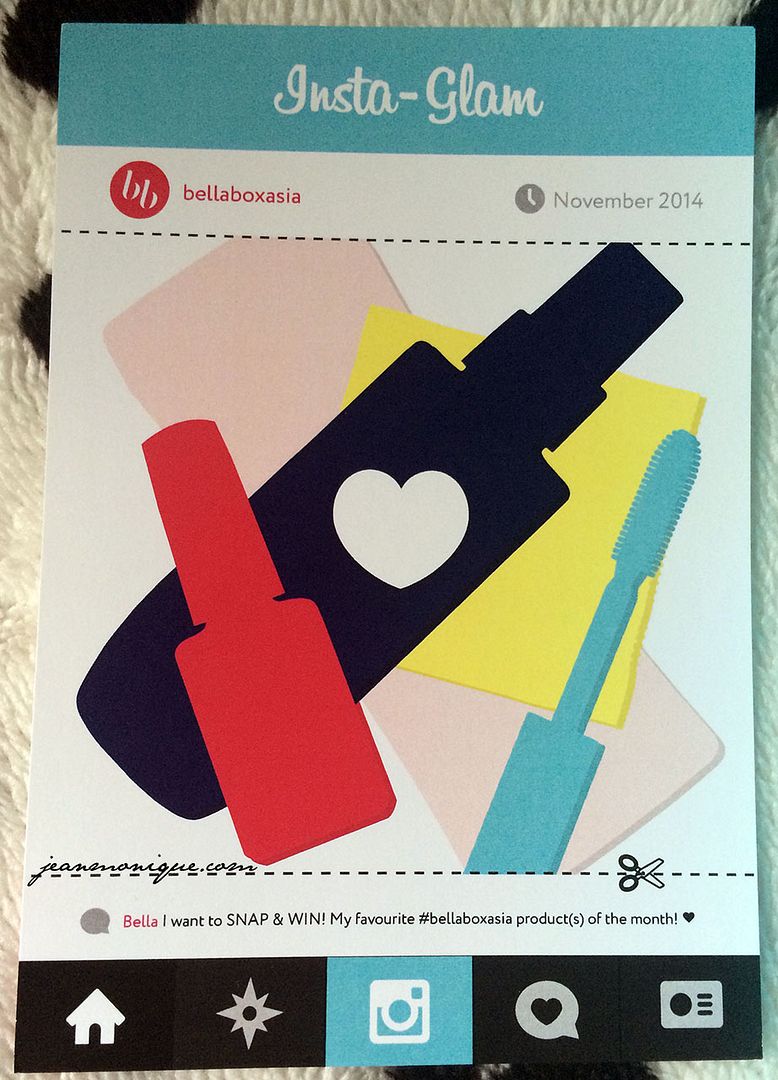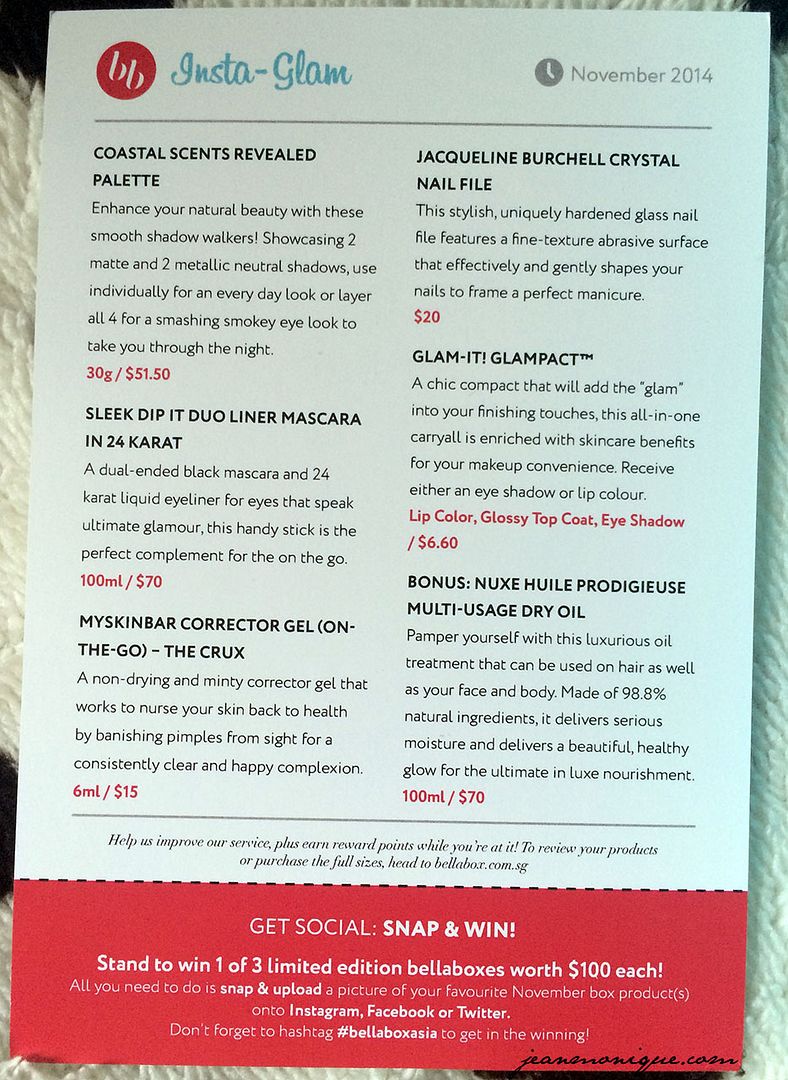 But when I saw the contents, a smile immediately formed on my face. 🙂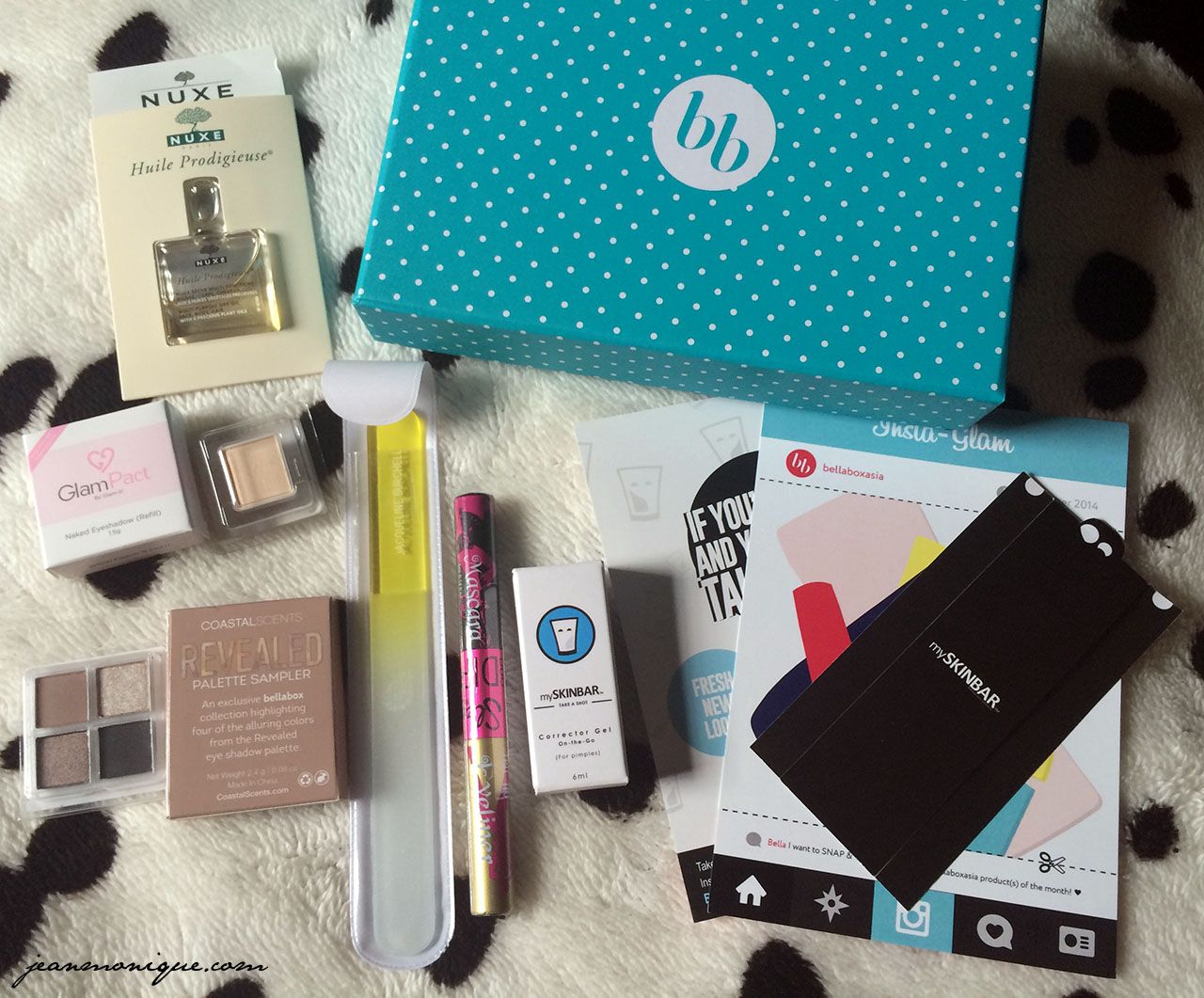 This month's Bellabox has a mix of makeup and skincare products but the highlights for me would be the eye shadows and the duo mascara liner!
Here's a list of all the products as well as my thoughts on each.
Coastal Scents Revealed Palette
Enhance your natural beauty with these smooth shadow walkers! Showcasing 2 matte and 2 metallic neutral shadows, use individually for an everyday look or layer all 4 for a smashing smokey eye look to take you through the night.
Price: 30 g – $51.50 (Sample: 2.4g ~ $4.10)
Thoughts: When I first saw this palette, I was already thinking of using it for a gorgeous smokey eye look. I love the colors inside since they are really perfect for day & night use. 🙂
Sleek Dip It Duo Liner Mascara in 24 Karat
A dual-ended black mascara and 24 karat liquid eyeliner for eyes that speak ultimate glamour, this handy stick is the perfect complement for the on the go.
Price: 4mL – $13.90
Thoughts: I've been planning to purchase a gold eyeliner for the past few weeks so I'm so thankful that I have this in my Bellabox. What's more, there's a mascara on the other end. Perfect for a mascara addict like me. Haha!
mySKINBAR Corrector Gel (On-the-Go) – The Crux
A non-drying and minty corrector gel that works to nurse your skin back to health by banishing pimples from sight for a consistently clear and happy complexion.
Price: 6mL – $15
Thoughts: What a fab way to remove pimples. I love the packaging and I love the scent! Will definitely start using this now to keep my skin clear and acne-free. 🙂
Jacqueline Burchell Crystal Nail File
This stylish, uniquely hardened glass nail file features a fine-texture abrasive surface that effectively and gently shapes your nails to frame a perfect manicure.
Price: $20
Thoughts: This is the most luxurious-looking nail file I've ever had. Haha! I just wish it came in pink. 😛 Nevertheless, this is a great addition to my nail care collection. 🙂
Glam-It! Glampact
A chic compact that will add the "glam" into your finishing touches, this all-in-one carryall is enriched with skincare benefits for your makeup convenience. Receive either an eyeshadow or lip colour.
Price: $6.60 (Lip Color, Glossy Top Coat, Eye Shadow)
Thoughts: I love the nude eye shadow inside. I've run out of this certain color of eye shadow, which I basically use as a base or highlighter. Now, I don't need to look for a replacement for the nearly finished eyeshadow. 🙂
Bonus: Nuxe Huile Prodigieuse Multi-Usage Dry Oil
Pamper yourself with this luxurious oil treatment that can be used on hair as well as your face and body. Made of 98.8% natural ingredients, it delivers serious moisture and delivers a beautiful, healthy glow for the ultimate in luxe nourishment.
Price: 100 mL – $70
Thoughts: I'm a fan of dry oils and I've never tried this before so this is really a great addition to my skincare collection too. 🙂 I know that Nuxe products are good so I have high expectations for this. Haha!
These are all the items inside my November Bellabox. All I can say that I love Bellabox! I feel like you really know me well since you're giving me such amazing products! 🙂
What's inside your November Bellabox?
BellaBox Singapore
Website | Facebook | Twitter | Instagram