Bonjour Bella!
I know it's a little bit late but let me share the unboxing of October 2014 Bellabox themed "Bday Blowout".
This box is a celebration of Bellabox's 3rd birthday and it has so much wonderful stuff in it!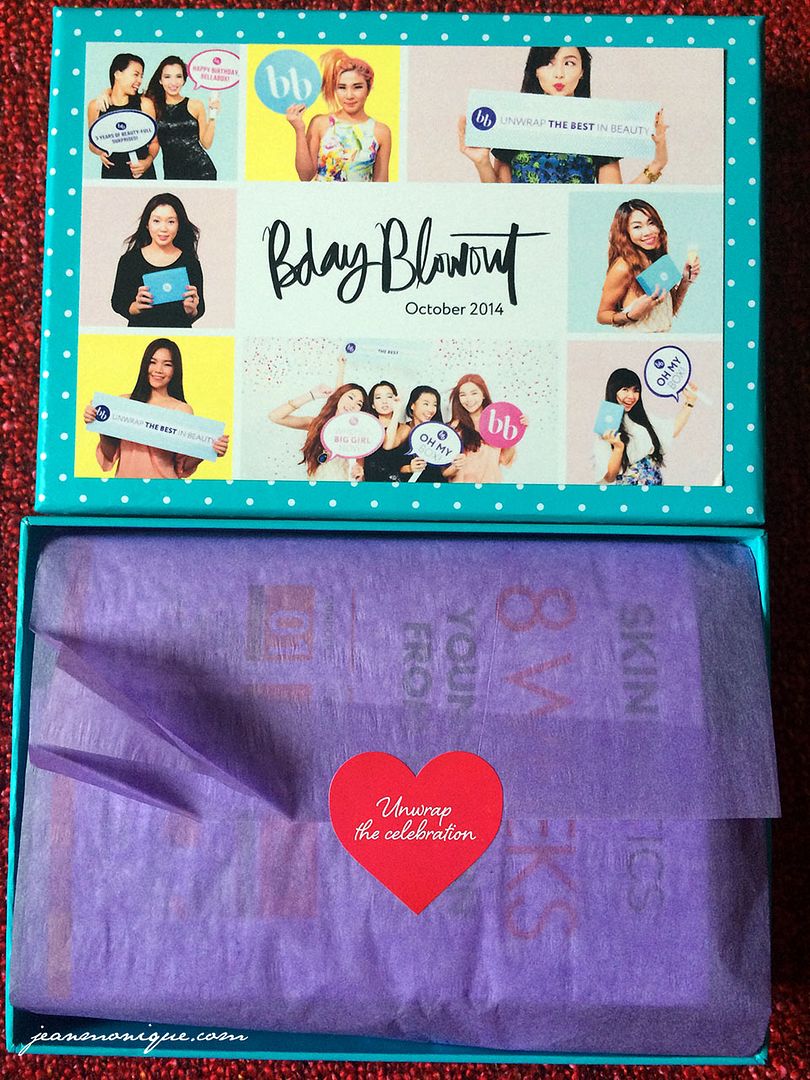 The faces of 8 local fashion and beauty influencers are featured on the box's info card.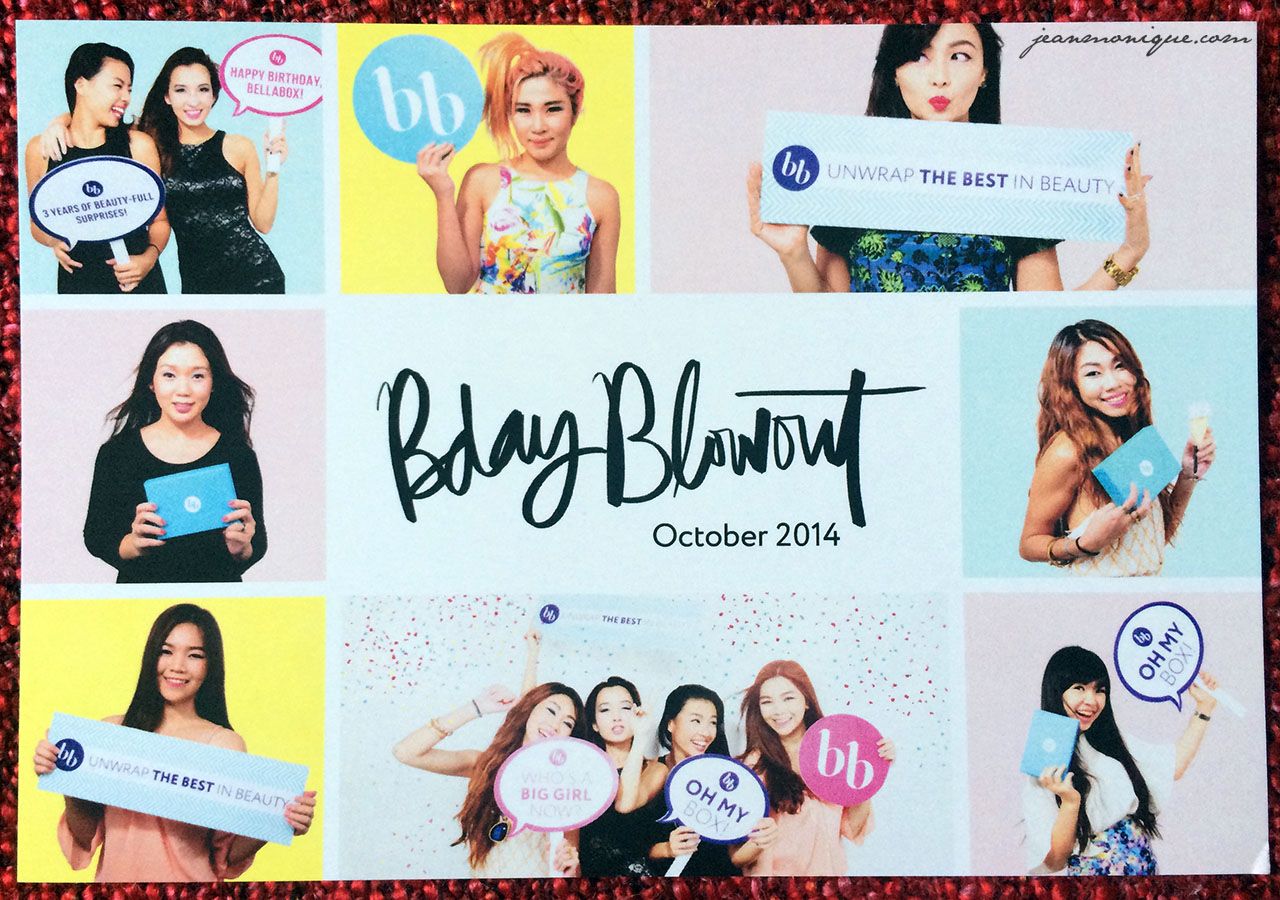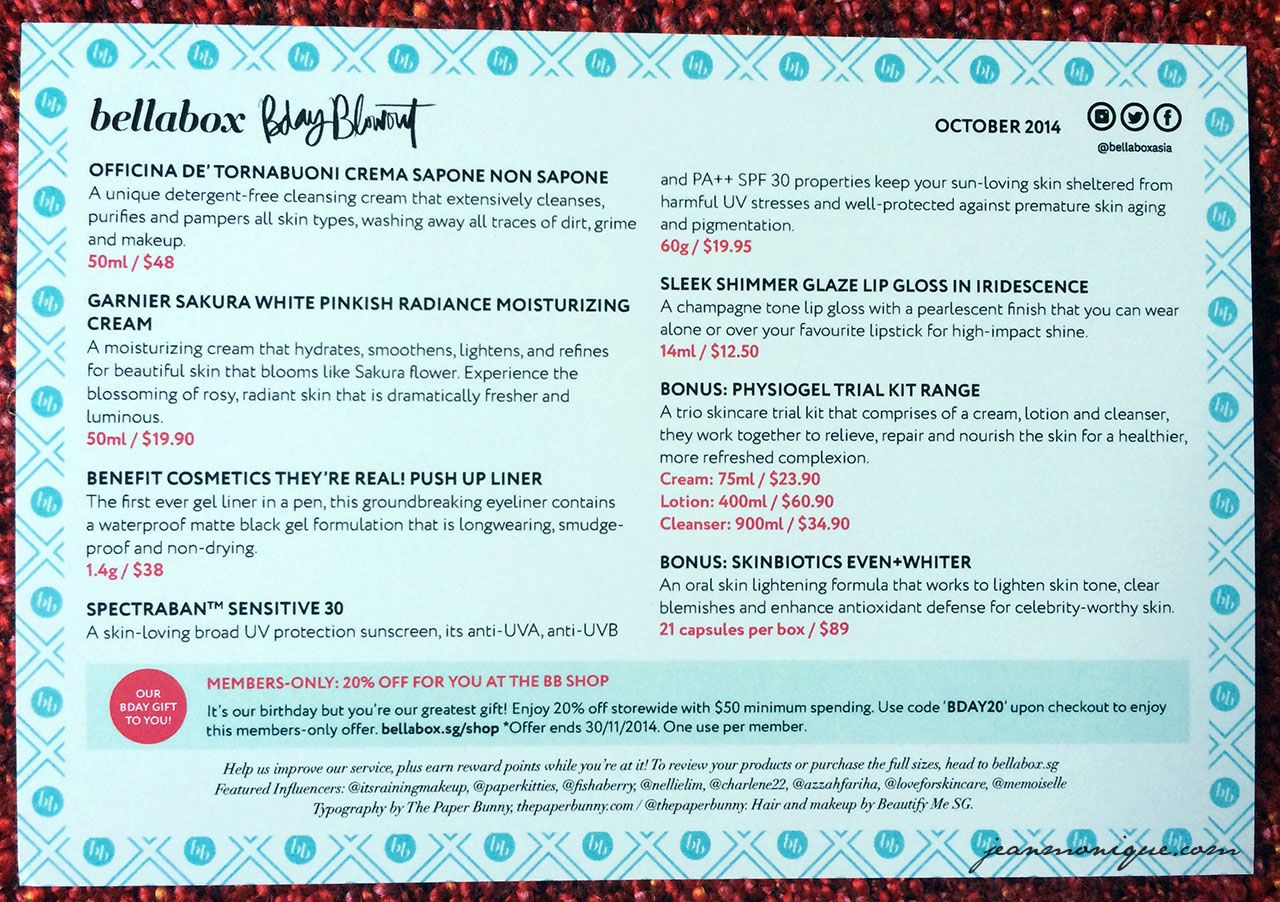 The box features a variety of makeup and skincare products. There are whitening products too! Lovely!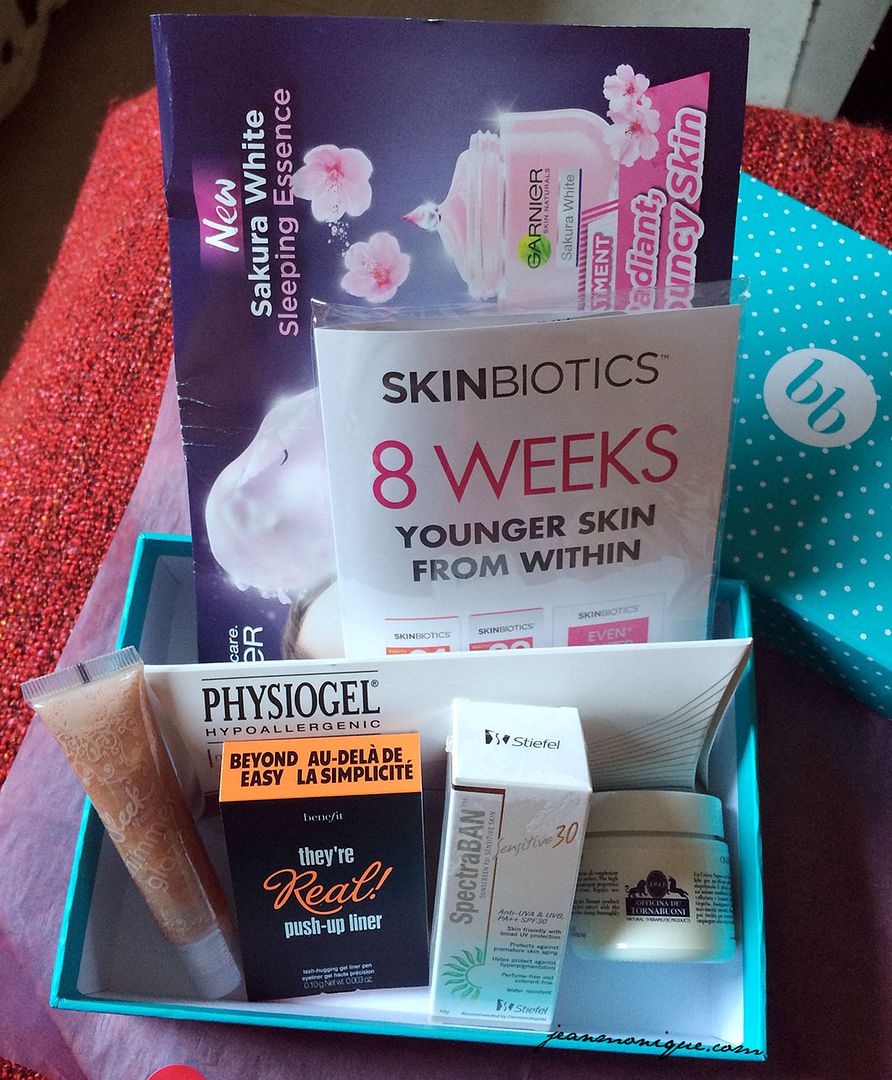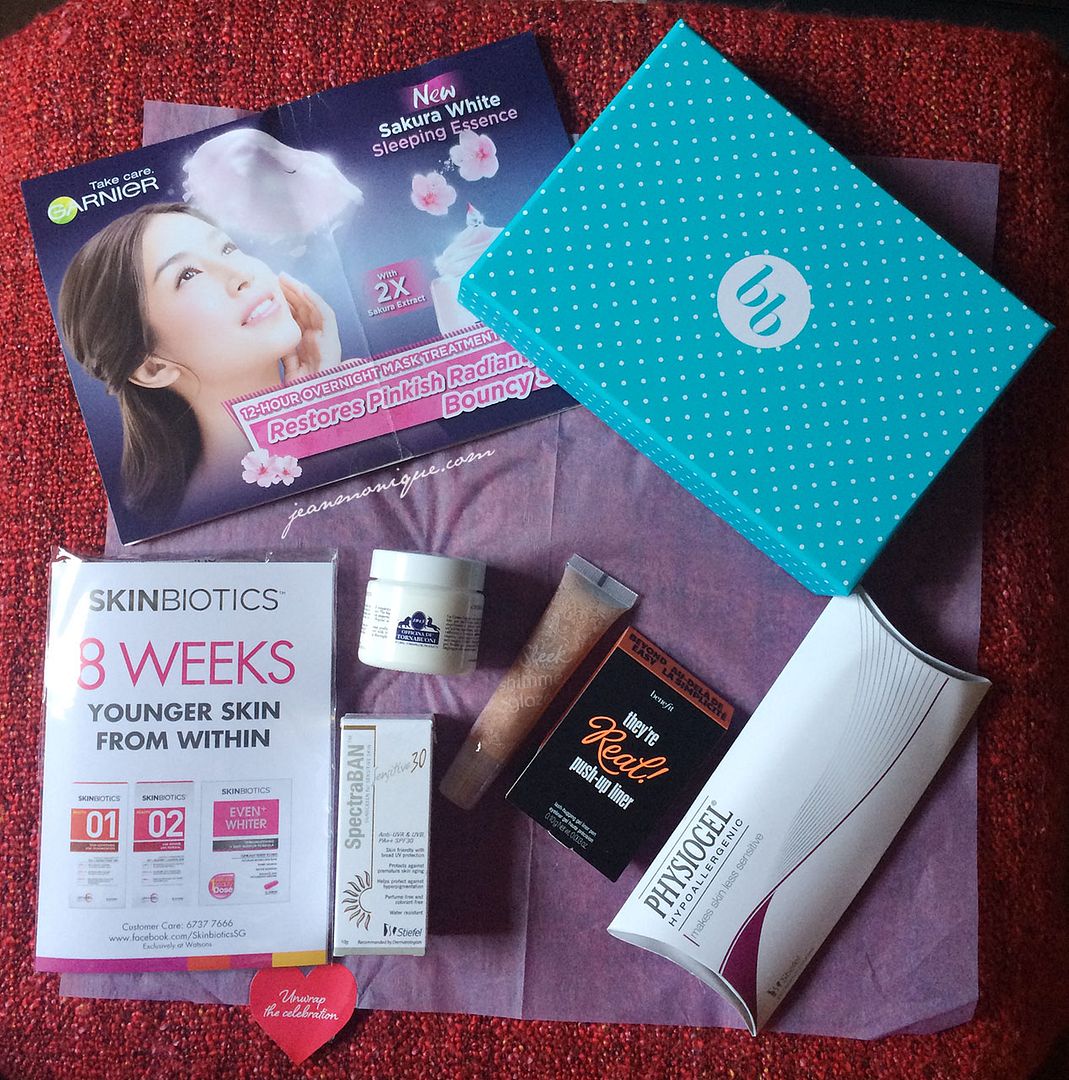 Officina De'Tornabuoni Crema Sapone non Sapone
A unique detergent-free cleansing cream that extensively cleanses, purifies and pampers all skin types, washing away all traces of dirt, grime, and makeup.
Price: 50 mL / $48
Thoughts: This is the first time I've heard of this product. But since I'm a fan on soap-free cleansers, I'd definitely give this a try. I love soap-free cleansers because they effectively do the job without drying up my skin.
Garnier Sakura White Pinkish Radiance Moisturizing Cream
A moisturizing cream that hydrates, smoothens, lightens, and refines for beautiful skin that blooms like Sakura flower. Experience the blossoming of rosy, radiant skin that is dramatically fresher and luminous.
Price: 50 mL / $19.90
Thoughts: Garnier products are really affordable and smell great. I've tried several of their products before and I usually finish the whole product up til the last drop. Haha! I'll be using up this product for sure. 🙂
Benefit Cosmetics They're Real! Push Up Liner
The first ever gel liner in a pen, this groundbreaking eyeliner contains a waterproof matte black gel formula that is longwearing, smudge-proof and non-drying.
Price: 1.4 g / $38
Thoughts: Another Benefit product. Great! I love eyeliners and they can be really hard to apply at times. This looks like something that ensures ease of application and lengthens staying power.
Spectraban Sensitive 30
A skin-loving broad UV protection sunscreen, its anti-UVA, anti-UVB and PA++ SPF 30 properties keep your sun-loving skin sheltered from harmful UV stresses and well-protected against premature skin aging and pigmentation.
Price: 60 g / $19.95
Thoughts: Everybody loves sunscreen. I can't get enough of it. Plus, I think this is very affordable too!
Sleek Shimmer Glaze Lip Gloss in Iridescence
A champagne tone lip gloss with a pearlescent finish that you can wear alone or over your favorite lipstick for high-impact shine.
Price: 14 mL / $12.50
Thoughts: I love this lip gloss. I usually put this on top of my regular lipstick to get a nice shine. 🙂 Definitely a keeper!
Bonus: Physiogel Trial Kit Range
A trio skincare trial kit that comprises of a cream, lotion and cleanser, they work together to relieve, repair and nourish the skin for a healthier, more refreshed complexion.
Price: Cream – 75 mL / $23.90 — Lotion – 400 mL / $60.90 — Cleanser: 900 mL / $34.90
Thoughts: I've been a fan of Physiogel for years. I've actually tried all of these products before and they're great. I'm still using them particularly on days when my skin feels extra dry. You'll never go wrong with Physiogel. 🙂
Bonus: Skinbiotics Even+Whiter
An oral skin lightening formulat that works to lighten skin tone, clear blemishes and enhance antioxidant defense for celebrity-worthy skin.
Price: 21 capsules per box / $89
Thoughts: I'm quite excited to try this product. I want to see how effective this is. 🙂
So these are the contents of last month's box. What a great box indeed right? Let me know what's inside your Bellabox. 🙂
BellaBox Singapore
Website | Facebook | Twitter | Instagram