Bonjour Bella!
My hair is naturally straight and I like growing it long–until my chest or waist. But whenever I do, the ends tend to get really dry resulting in split ends. So I thought that I have dry hair. But then I noticed that my scalp gets a little oily later in the day. So do I have dry or oily hair? It turns out that I have combination hair–oily at the scalp, dry at the ends!
With the kind of weather in Singapore, our hair tends to get really dry from the heat or oily from the humidity. Unfortunately, most of the products in the market are either for dry OR oily hair. So most of the time, I use products for dry hair which contain rich moisturizers. Little did I know that those tend to build-up on the scalp resulting in an uncomfortable, oily feeling by mid-day. And then I tried using clarifying products but those just made my hair more dry and frizzy. 🙁
As a solution to the hair problems of Singaporeans, Essential, a popular Japanese hair care brand, relaunched this October with brand new packaging, improved formula and a new variant! With the NEW Essential hair care range, there is now a range of products that caters to combination hair. So cool, right?
The NEW Essential hair care range is available in 4 different variants to suit all hair needs and types:
Nourishing Breakage Defense (orange)

– for weak & damaged hair

Moisturizing Frizz Free (pink)

– for dull & rough hair

Light Finish Volumizing (yellow)

– for limp & flat hair

Deep Cleansing Care (blue)

– for oily scalp & dry ends

(new)
With so many variants to choose from, how would you know which one is best for you? It's simple. Ask yourself these two questions and choose from the matrix below: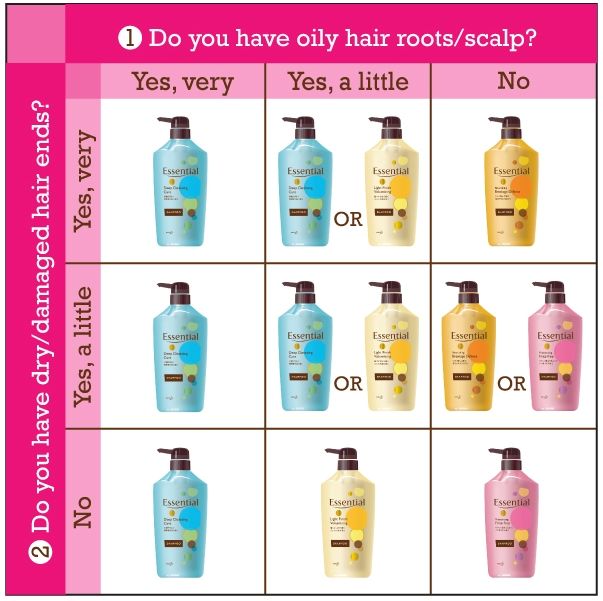 Mine is in the middle: a little dry / damaged at the hair ends and a little oily at the roots / scalp. Thus, I was given the Light Finish Volumizing Shampoo and Conditioner to try out.
All the products have been infused with Microfine All Smooth Essence and both the yellow and blue variants are formulated with the Smart Cuticle Care & Sebum Cleansing Technology. With this, the brand new hair care range promises to help us achieve smooth, healthy, and manageable hair.
The Microfine All Smooth Essence coats each hair strand evenly with a protective veil, delivering nutrients from roots to tips to repair damaged hair. Further, its uniform veil locks in moisture and repairs the dry, damaged hair ends without causing the hair roots to be sticky and heavy. On the other hand, the Smart Cuticle Care & Sebum Cleansing Technology helps achieve moisturized hair ends while maintaining a refreshed and breathable scalp. Thus, it's absolutely perfect for those with combination hair!
In order to review these products properly, I only used Essential hair care products for two weeks. The Essential Light Finish Volumizing Shampoo and Conditioner are used just like any other shampoo and conditioner. I'm sure you already know how to use them. Hehe. Just make sure to rinse thoroughly. Both products are suitable for daily use and you can use them together for optimum results.
The shampoo is pearly white in color and has a nice consistency. Not too runny nor too thick. It lathers well too. 🙂
The conditioner is also white in color but has a thicker texture.
These are the reasons why I love the Light Finish Volumizing Shampoo and Conditioner:
Scent: I love the mild fruity fragrance that lasts the whole day!
No More Tangles = Less Hair Fall: My hair usually tangles even after using conditioner. And this has resulted to weak and brittle hair resulting in hair loss. After using Essential products for a week, I've noticed that I've got no more tangles and thus, lesser hair fall! Love it!
Speedy Blow Dry: Because of the absence of tangles, water does not get trapped between tangles. Thus, blow-drying my hair is so much faster.
Smooth Hair: I can run my fingers smoothly through my hair–wet or dry. 🙂
Light Formula: The formula perfectly treated my oily scalp and moisturized my dry hair ends. Now, I've got the best of both worlds in one product!
Essential Moisturizing Frizz Free Treatment and Mask
The Essential hair care range wouldn't be complete without treatments and masks.
The improved treatment works its magic in just 30 seconds! It deeply moisturizes hair making it more manageable. This is perfect for busy gals who want fabulous hair without spending too much time on it.
The hair mask is a more intensive treatment for dry / damaged ends. It helps hair become softer, smoother, and more manageable.
So to choose which type of Treatment and Hair Mask is best for your hair type, just use the matrix below: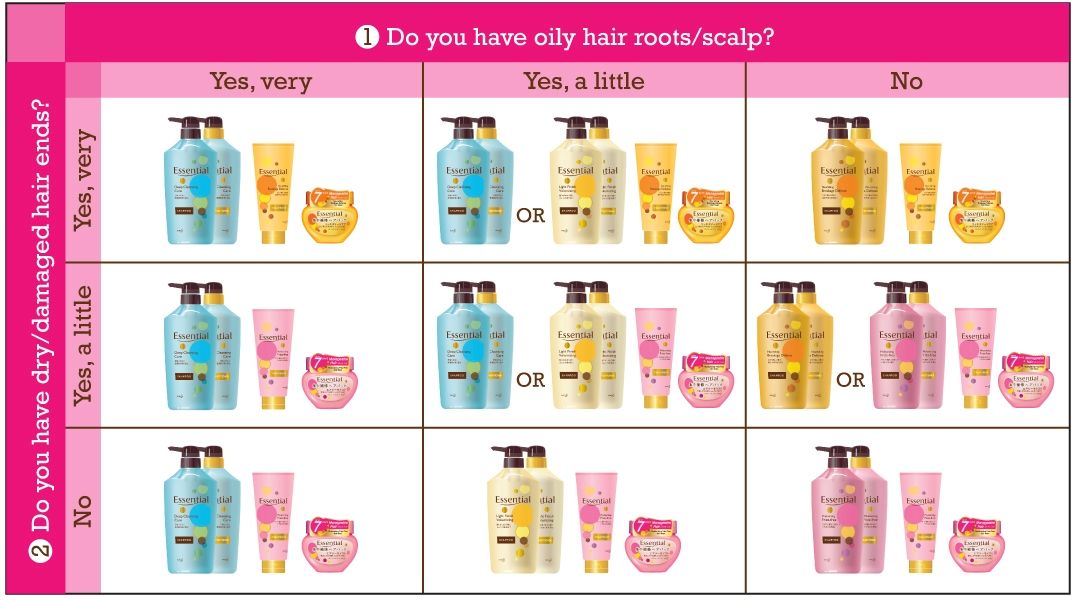 If you have very dry / damaged hair ends, use the Nourishing Breakage Defense (orange) variant. The rest can use the Moisturizing Frizz Free (pink) variant.
The Essential Moisturizing Frizz Free Treatment is also white in color and has a thicker texture compared to the conditioner. This product is used after shampooing. So just choose whether you want the conditioner or the treatment. Gently massage treatment onto hair and leave on for 30 seconds before rinsing off completely. This should be applied only on the hair ends. NEVER apply on scalp.
I love how this helped me manage my frizzy hair and it only needs 30 seconds to work! So to save time, I usually clean my face using the Clinique Sonic Cleansing Brush while I leave the product on my hair. Once the cleansing is done, then it's time to rinse off the treatment as well. 🙂
The Essential Moisturizing Frizz Free Hair Mask is yellow in color and has the thickest texture. Texture and consistency is similar to body butter.
This product is also used after shampooing. First, squeeze out all the excess water and then apply an appropriate amount evenly onto hair. Leave on for 3 to 10 minutes and rinse off thoroughly. If you leave it on for 3 minutes, the result would last for 3 days. If you leave it on for 10 minutes, then the result would last for 10 days.  Just take note that this should be applied on hair ends only. DO NOT apply on scalp.
I was only able to try this once during the weekend and I left it on for 3 minutes. It's true, it made my hair smooth and frizz-free for 3 days! 🙂 I love using hair treatments on the weekend since it's my "ME" time. Using this makes me feel like I'm going on a hair spa every week. Haha!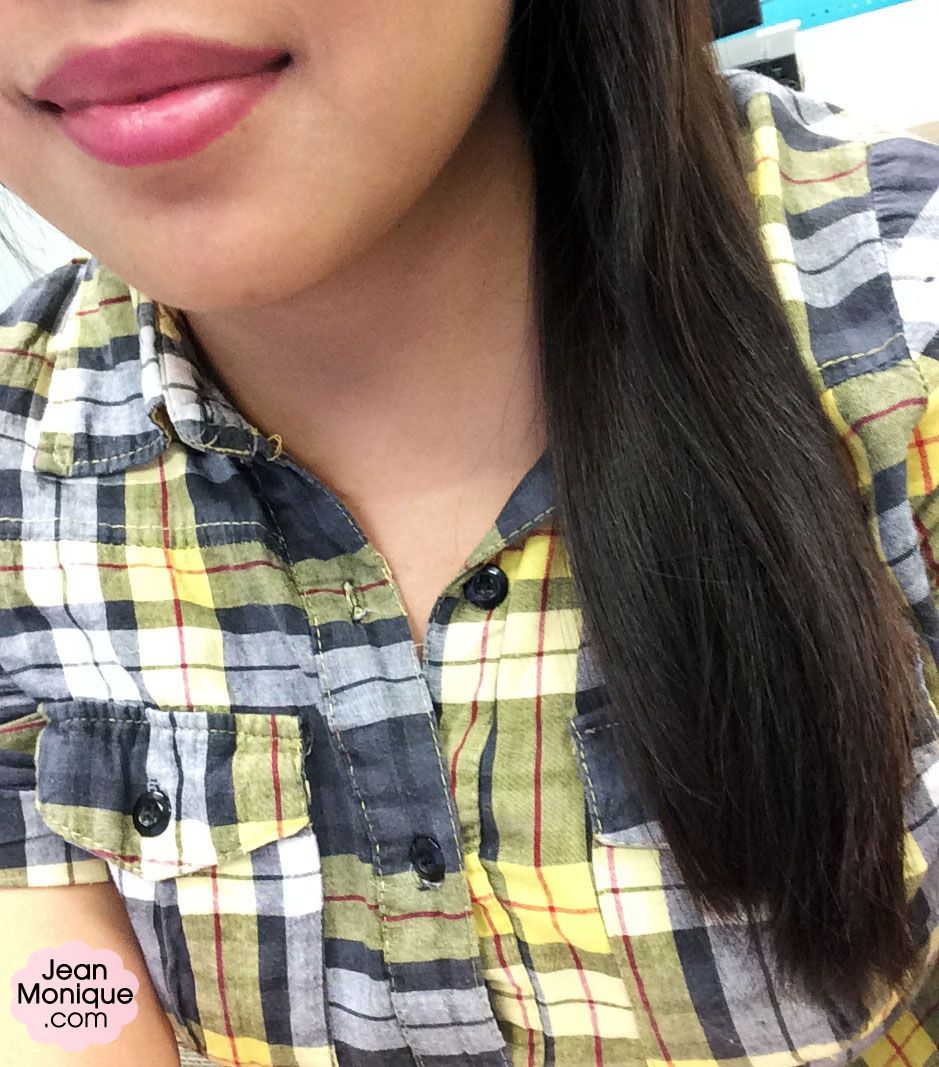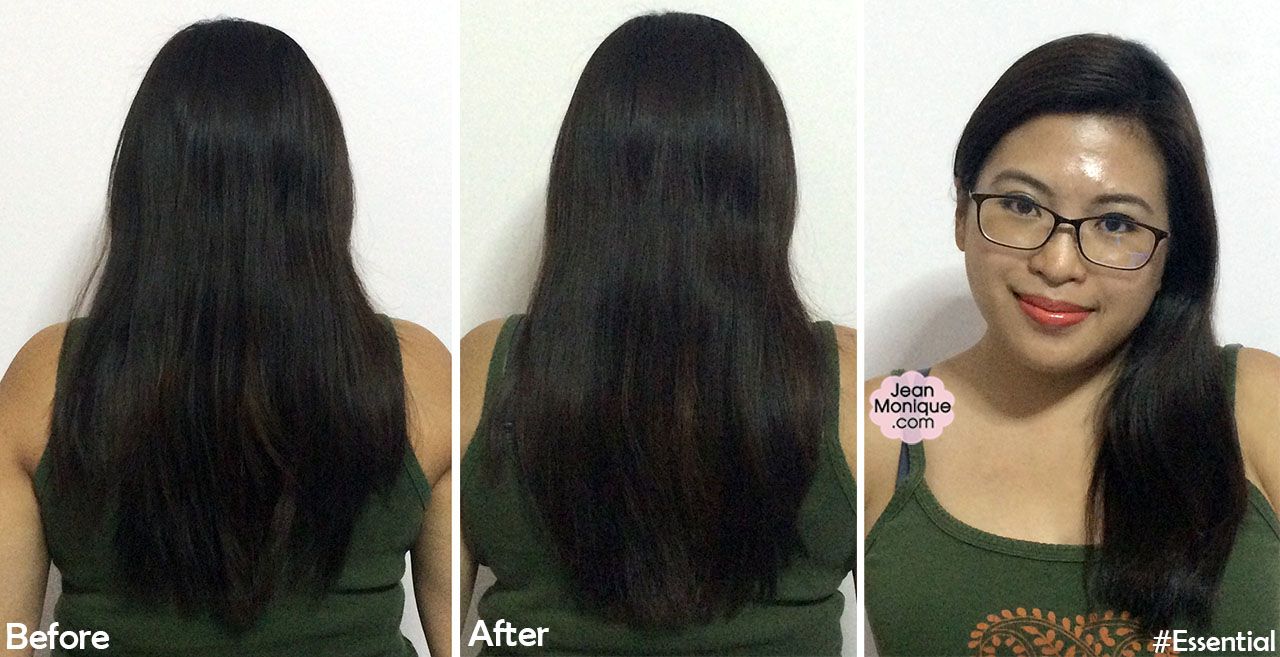 With the new and improved Essential range, you can easily achieve picture-perfect hair! It's time to switch to the NEW Essential. 🙂 Click here to claim your free samples of Light Finish Volumizing Shampoo & Conditioner.
The shampoo and conditioner are priced at $4.50 (200ml) and $11.50 (750ml). The hair masks are priced at $9.90. So affordable, right?
The new Essential haircare range is available from mid-September 2014 at leading supermarkets, hypermarkets, western pharmacies and personal care stores.
For more information, check out their website at www.essentialsg.com. Don't forget to like their Facebook page (fb.com/Essential.SG) and follow them on Instagram (@EssentialSingapore).
xoxo,
♥ Monique ♥