Bonjour Bella!
If you're already in your late 20s like me, I'm sure you're quite concerned about preventing and minimizing signs of aging. You might have noticed some fine lines and dark spots starting to appear on your face. In my early 20s, I've started applying sunblock and moisturizer daily. But I think I started too late since I was more exposed to the sun's harmful UV rays back when I was still studying. Now, I have visible fine lines across my forehead. -_-'
Aside from fine lines, I also have a few dark spots due to acne. These are the reasons why I'm am so into moisturizing, brightening, and anti-aging products even at a relatively young age.
About a month ago, I've received a bottle of ageLOC Gentle Cleanse & Tone, one of the products from the award-winning ageLOC range of Nu Skin. ageLOC is Nu Skin's premier brand for targeting the signs and sources of aging.
I got really very excited when I received this product. I love how it came with a face & hand towel and a headband. So thoughtful of them to give these. 🙂 The luxurious packaging is very attractive too. 🙂
ageLOC Gentle Cleanse & Tone is a gentle foaming cleanser that has a 2-in-1 function: cleansing and toning. This product is a guaranteed time saver. If you're someone who doesn't have a lot of time to use cleaner, toner, serum, moisturizer, eye cream, mask, etc., then this product is definitely for you!
It cleanses, purifies, replenishes, and hydrates skin while at the same time preparing it to optimally receive subsequent applications of advanced anti-aging ingredients.
The product has a pH of 5.5-6.0, thus it helps preserve skin's natural moisture by working within the skin's own natural healthy pH range (4.5-6.5). In addition, it's formulated using mild cleansing ingredients so it can be effectively used by people of all skin types.
"This dual-action formula helps maintain skin's natural healthy pH and delivers an infusion of ageLOC to the skin, targeting the sources of aging while leaving skin feeling refreshed and youthful." – Nu Skin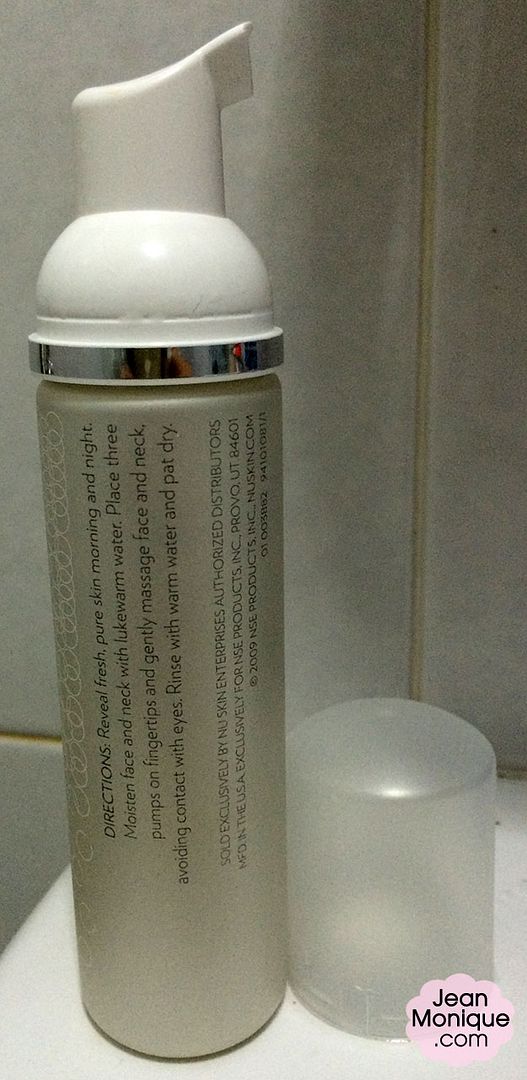 ageLOC Gentle Cleanse & Tone contains the following key ingredients:
ageLOC Proprietary Blend – targets the sources of aging to preserve the look of youth and reduce the appearance of aging
Betaine – retains water thus increasing skin hydration
Mild surfactants and glycerin – cleanses the skin while maintaining the skin's natural lipid barrier and adding moisture to the skin
INGREDIENTS: Water (Aqua), Glycerin, Cocamidopropyl Hydroxysultaine, Betaine, Sodium Methyl Cocoyl Taurate, Lauryl Methyl Gluceth-10 Hydroxypropyldimonium Chloride, Disodium Laureth Sulfosuccinate, Polysorbate 20, Narcissus Tazetta Bulb Extract, Schizandra Chinensis Fruit Extract, Citric Acid, Disodium EDTA, Fragrance (Parfum), Sodium Benzoate, Caprylyl Glycol, 1,2-Hexanediol.
ageLOC Gentle Cleanse & Tone is very easy to use. First, moisten face and neck with lukewarm water. (Tip: Don't use hot water. Hot water makes your skin dry and may cause breakouts or flare-ups.) Then place three pumps on your fingertips and gentle massage face and neck in a circular motion. Rinse with warm water and pat dry. (Tip: You can use cool water as a final rinse.) Make sure to avoid contact with the eyes. Do this morning and night.
Here are pictures of me using the product.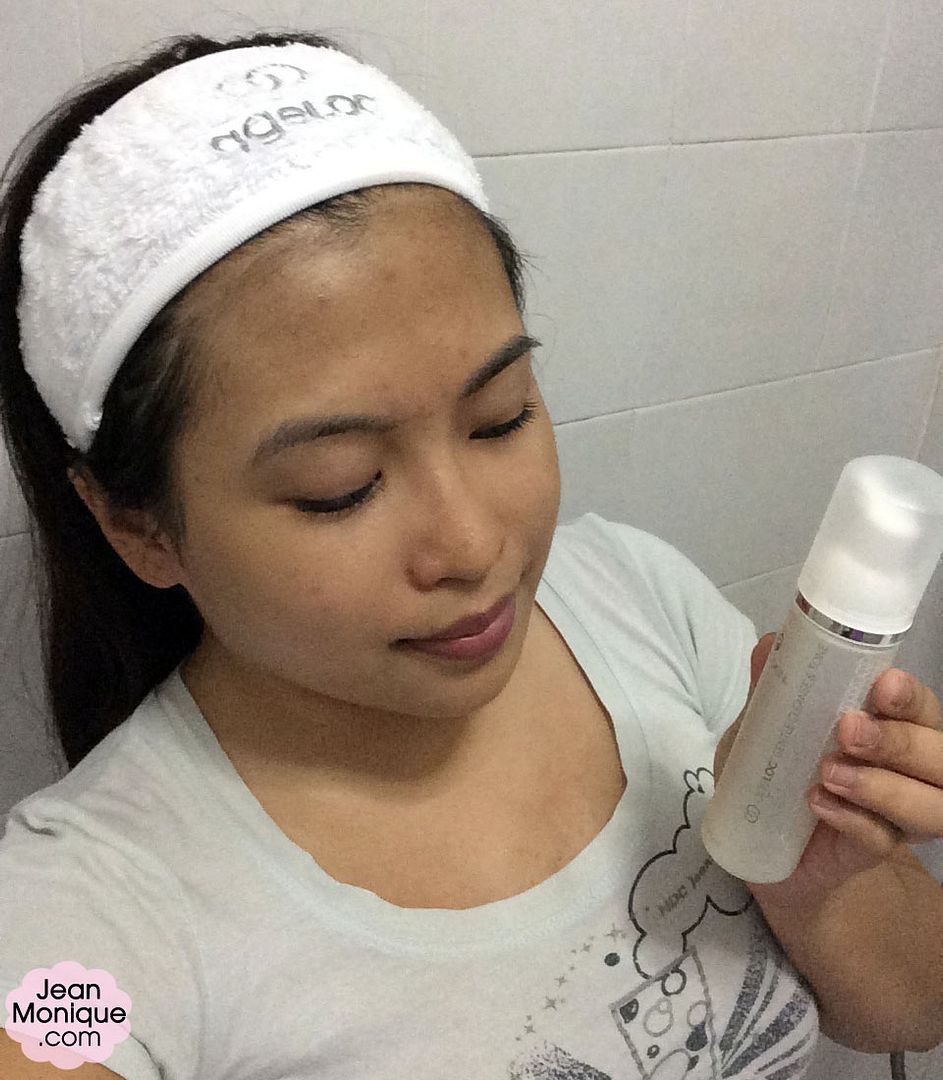 This product effectively removes makeup too. 🙂 However, it's my habit to use a separate makeup remover before any cleanser. Currently, I'm using Bifesta Cleansing Lotion.
The product has a mild flowery & fruity fragrance and it's very easy to use. I love how it doesn't make my skin dry and tight, unlike most cleansers. As for anti-aging effects, I haven't noticed any reduction in fine lines yet… but maybe I should use this together with other anti-aging products in the ageLOC range. I also love how it allows me to save a few minutes by combining cleansing and toning in one step. After weeks of using this, I never experienced any breakouts and it has helped me achieved clean and refreshed skin morning and night. 🙂
A bottle costs PHP 2,960.00 and it is good for 30 days (if used according to package instructions). This product is available exclusively from independent Nu Skin distributors. For further inquiries, you may contact Ren at (632) 6261927 or at +639272130460.
Nu Skin Philippines
Website | Facebook
xoxo,
♥ Monique ♥