Bonjour Bella!
Are you familiar with the saying, "Don't sleep with your makeup on"?
I know that sleeping with makeup on does horrible things to our skin. But sometimes I just feel so lazy. And if I'm so tired, I totally forget about it. 🙁
Before, I've been using a variety of cleansing foams and cleaning oils. Cleansing foams remove most makeup but not waterproof ones and they tend to make my skin dry. Cleansing oils effectively remove makeup including those that are waterproof. It also gives excellent hydration… however, I tend to get breakouts after using them.
In short, I haven't found the right makeup remover for me. That's why, I'm always on the lookout for products that would help me easily remove all my makeup, including waterproof ones, and keep my skin clear and hydrated.
Weeks ago, I received a bottle of Biore Micellar Cleansing Water from SampleStore.com.
Biore is hailed as the No. 1 Makeup Remover brand in Singapore and Japan. Just last month, they launched a new product which is an addition to their current makeup remover line of products. Biore Micellar Cleansing Water is a water-based makeup remover that has high cleansing power yet gentle enough to be used for all skin types.
Ingredients: Water (Aqua), Dipropylene Glycol, PEG-12 Laurate, Butylene Glycol, PEG/PPG/Polybutylene Glycol-8/5/3 Glycerin, PEG-8, PEG-6 Caprylic/Capric Glycerides, Sodium Citrate, Sodium Methyl Stearoyl Taurate, Citric Acid, Disodium EDTA, o-Cymen-5-ol, Camellia Sinensis Leaf Extract, Soluble Collagen, Hamamelis Virginiana (Witch Hazel) Leaf Extract, Phenoxyethanol, Methylparaben
It is made with Natural Mineral Water from the Japanese Alps for a gentle and soothing formula. Enhanced with Watery Micellar Technology, it is able to remove more traces of makeup in just 1 wipe, as compared to other makeup removers. The Watery Micellar Technology means that when the product is in contact with our skin, it forms micelles (spherical liquid crystals) that are effective in trapping small quantities of oil that are present in makeups. The micelles basically "dissolves and lifts" makeup and dirt off our faces.
It also contains Enriched Collagen and White Tea Extract for brighter, softer, and suppler skin. And it has an antibacterial formula that helps prevent pimples and breakouts, and minimizes pores for a clearer and more refined complexion. This product is free from oil, fragrance, alcohol, and colorants. It is hypoallergenic and non-comedogenic so it doesn't cause irritation and it doesn't clog pores. In addition, it is ophthalmologist-tested, which means it can be used safely around the eye area.
I though that all the product's claims are too good to be true. So I decided to give it a try and see if the product really delivers what it claims to do.
This product is very easy to use. Just pump an appropriate amount onto a cotton pad. Use the soaked cotton pad to gently wipe off makeup. There is no need to rinse after use. If you need to remove eye makeup (mascara and eyeliner), place the soaked cotton pad onto closed eyes and let it stay there for about 5 seconds before gently wiping off. Repeat until all traces of makeup are removed. Usually, I need about 2 pumps of the product to completely cleanse my face.
The following are pictures of me removing my makeup.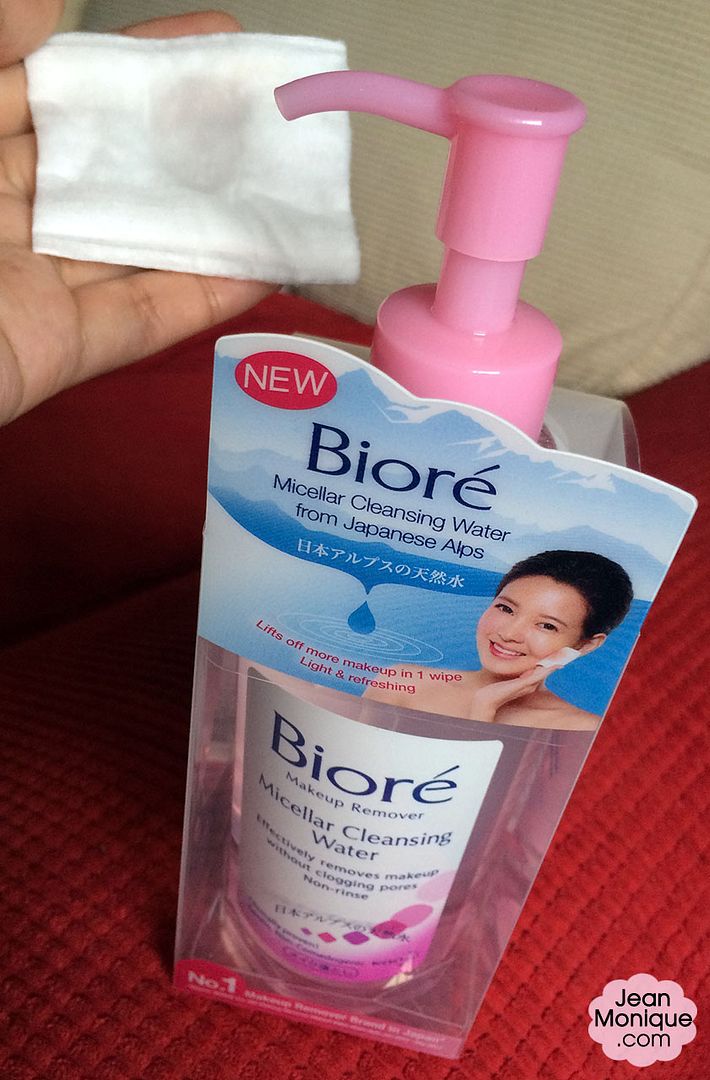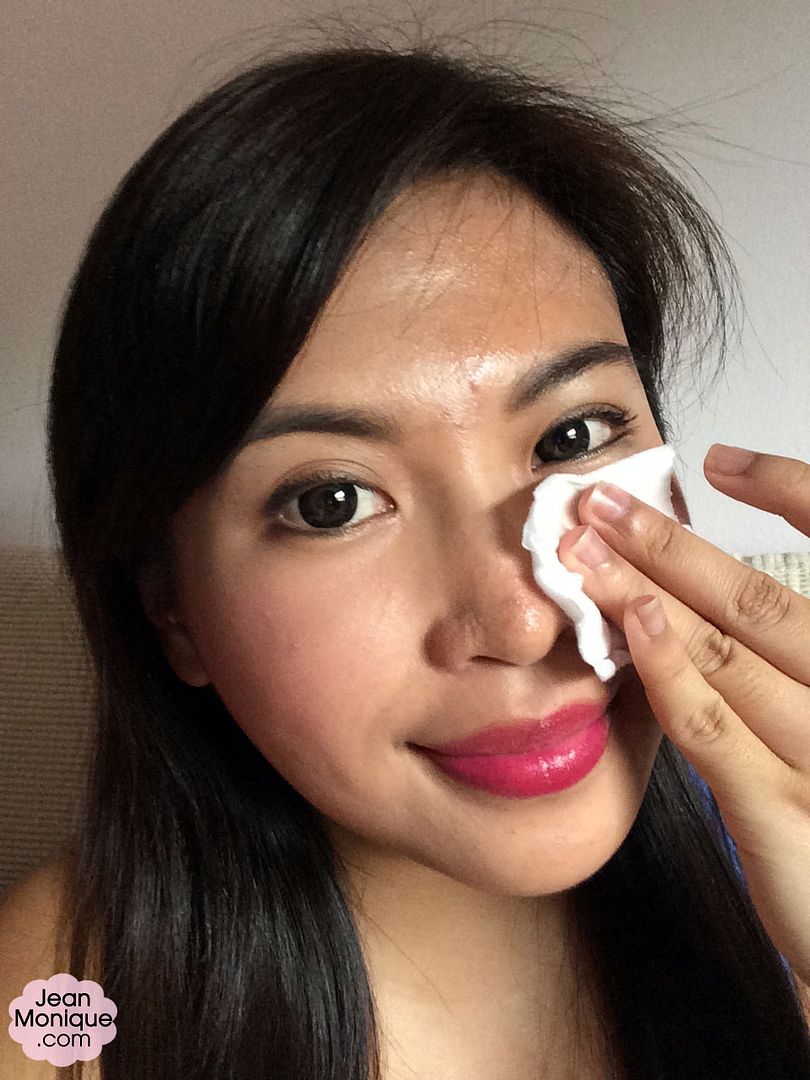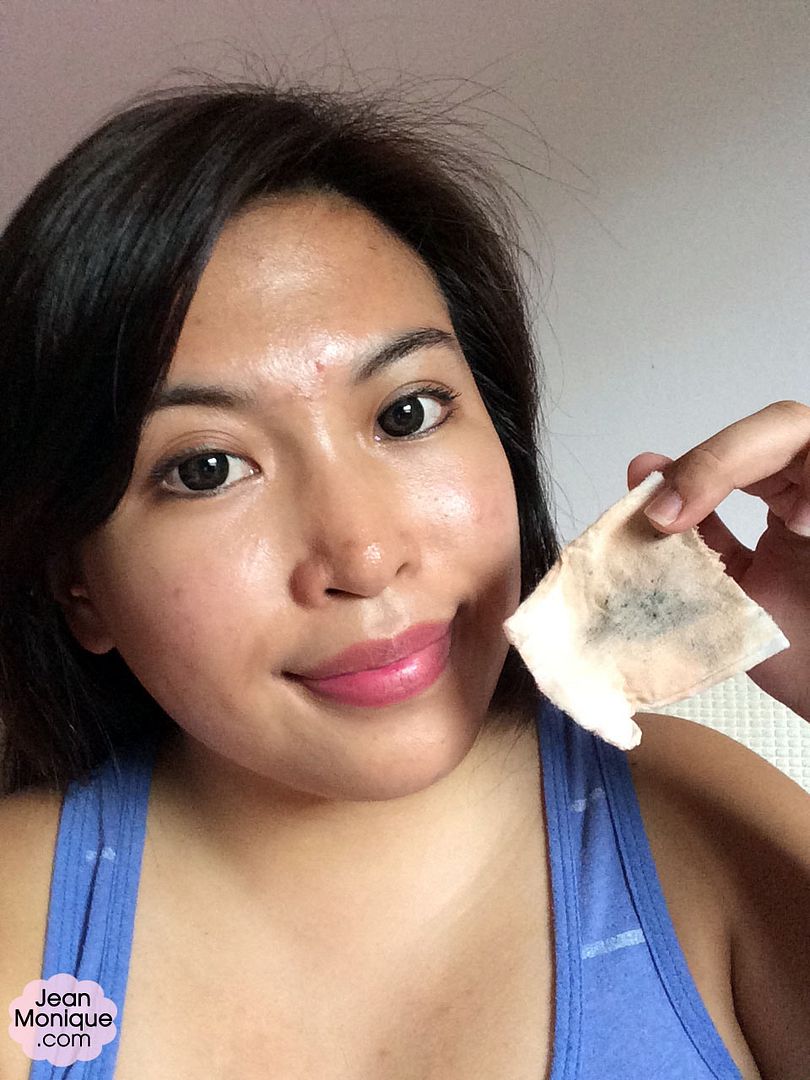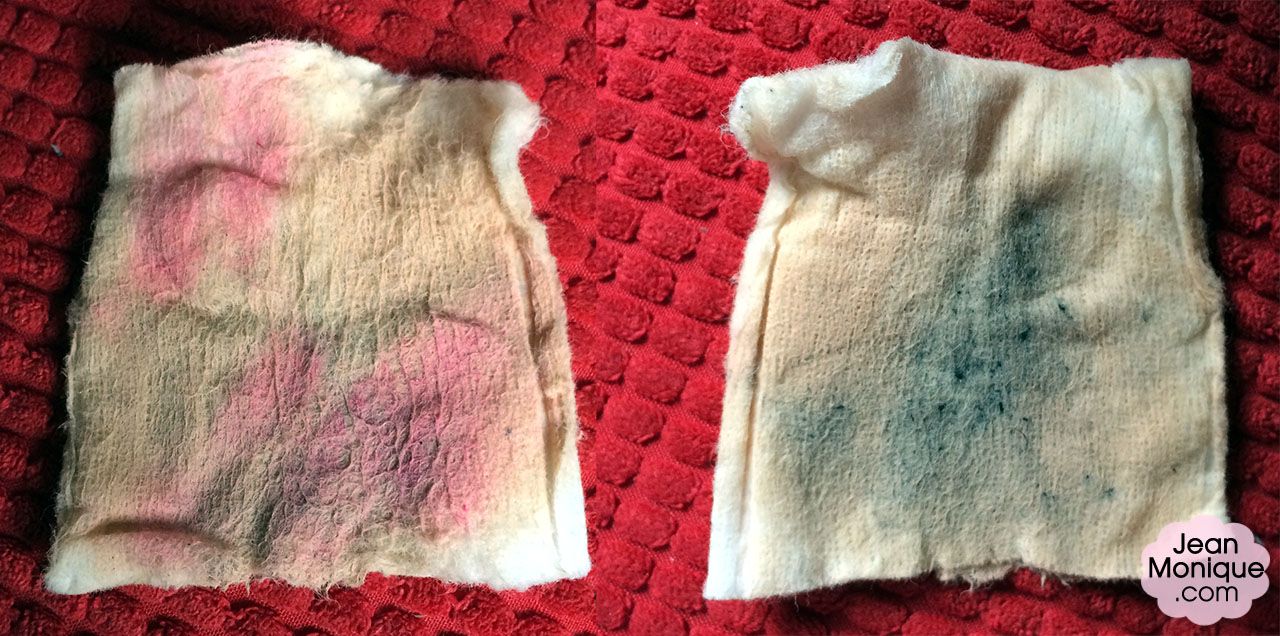 As you can see, it easily and effectively removed all traces of makeup. I like how it's very lightweight and refreshing to use. It doesn't make my skin feel sticky or oily as well. I love how it's easy and gentle to use even for those with sensitive skin like me. After using it for almost a week, I never had any breakouts. Hurray! What I love most is its "no rinse" feature. No need for extra steps to clean my face so I save time and money as well. 🙂
A 300 mL bottle costs $18.90 and it is available in all pharmacies, hypermarkets and supermarkets, and major department stores. This product is really very cheap and it works so well.
I highly recommend this to anyone looking for an affordable and easy way to remove makeup that is gentle to use for all skin types. 🙂
If you want to try this product, just head on to SampleStore.com to get your own free sample.
xoxo,
♥ Monique ♥