Bonjour Bella!
My days are spent mostly inside an air-conditioned room. Because of this, my skin tends to get really dry and rough. I'm drinking around 2 Liters of water per day but I find that it isn't enough to keep my skin well-hydrated.
Aside from that, my skin is also exposed to the hot Singapore weather every single day. Exposure to the sun makes my skin dry and itchy. Plus, it makes me have uneven skin tone. 🙁 My colleagues can testify to how my skin gets really red especially after being exposed to the sun.
These are the reasons why I'm always on the lookout for a good moisturizer that will help keep my skin become smooth, supple, and healthy.
Because of my constant search for the perfect moisturizer, I now have a shelf full of all types of moisturizers. I have creams and lotions for all parts of the body (from face to feet). I also have body oils and body butters. But among all of these, my current favorite is the NIVEA Body Intensive Moisture Serum with SPF 25. (This product actually reminds me so much of the Nivea Intensive Moisture Body Milk that I have been using back in 2012 up to 2013.)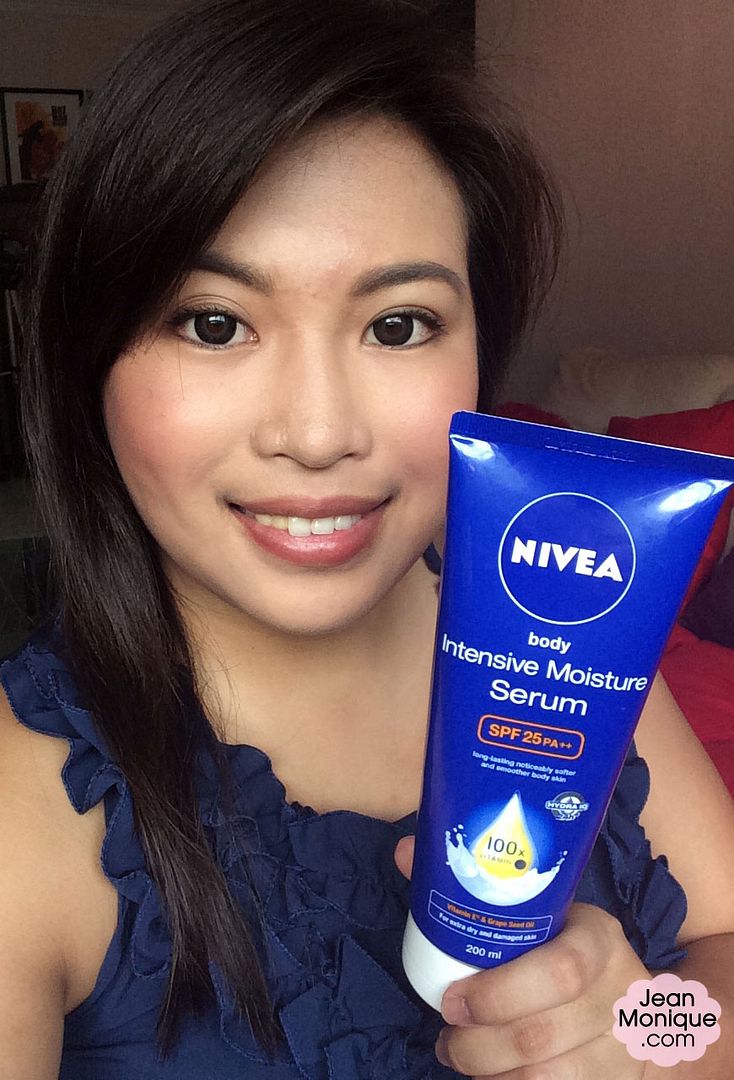 NIVEA Body Intensive Moisture Serum contains an impressive blend of 100X concentrated Vitamin E, Grape Seed Oil, Avocado Oil, hydra IQ technology, and SPF 25. This product claims to repair the 10 signs of dry and damaged skin within 24 hours. You'll know that you have dry and damaged skin if it is Flaky, Itchy, Uneven, Scratched, Rough, Cracked, Stressed, Dull, Peeling, and Tight. Apart from that, this product also offers protection from the sun due to its SPF.
Now, most of you probably have no idea what the ingredients are for so let me explain briefly.
100x concentrated Vitamin E and Grape Seed Oil – These are strong antioxidants that help protect your body from the damage brought about by exposure to UV rays and free radicals. These ingredients also help prevent your skin from losing moisture.
Avocado Oil – This oil is known for having emollient and hydrating properties. It is one of the oils that get quickly absorbed by the skin. It helps relieve dryness and itching as well as repair dry and damaged skin.
Hydra IQ – This works by increasing the number of water channels in the skin cells by 3 times enabling more water to be absorbed by the skin. As a result, skin retains more moisture.
SPF 25 and PA++ – UVA and UVB rays are the main causes of dry and damaged skin. That is why it is important to use sunscreen before going out to protect your skin from the harmful UV rays.
I love how this product is a moisturizer plus sunscreen in one. Before, I used to apply lotion and then wait 5 minutes before applying a layer of sunscreen all over my body. Now, I only need to use NIVEA Body Intensive Moisture Serum with SPF 25. Saves me a lot of time and money. Haha!
This product also smells really heavenly! ♥♥♥
Another thing that I love about this product is how it is non-sticky. Since it's a serum, it's lighter than lotion. Because it's lightweight, it gets absorbed by the skin pretty fast. And that results to a non-sticky feel. (I hate the sticky feeling that you usually get after using moisturizers, don't you?)
This product is very easy to use. Just apply generously all over the body after shower or as and when necessary to relieve the 10 signs of dry and damaged skin. Because it comes with SPF, better use this in the morning. 🙂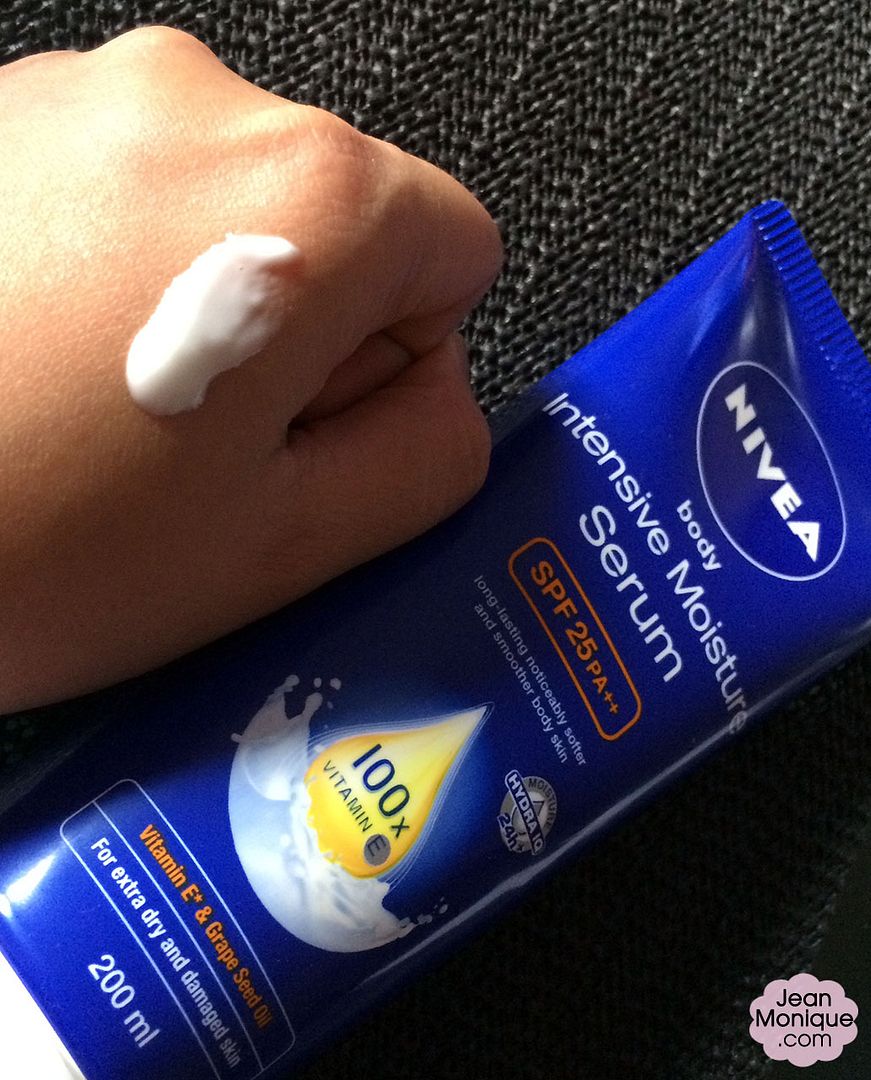 Ingredients: Aqua, Ethylhexyl Salicylate, C12-15 Alkyl Benzoate, Glycerin, Octocrylene, Butyl Methoxydibenzoylmethane, Cyclomethicone, Distarch Phosphate, Sodium Phenylbenzimidazole Sulfonate, Polygyerceryl-3 Methylglucose Distearate, Alcohol Denat., Cetyl Alcohol, Tocopheryl Acetate, Persea Gratissima Oil, Vitis Vinifera Seed Oil, Glyceryl Glucoside, Sodium Carbomer, Trisodium EDTA, Sodium Polyacrylate, Benzoic Acid, Methylisothiazolinone, Phenoxyethanol, Parfum.
A 200mL tube of NIVEA Body Intensive Moisture Serum costs $8.90. It is available in all leading personal care stores and supermarkets, including Watsons, Guardian, Cold Storage, NTUC Fairprice outlets, and other major retailers.
Do you want to give this product a try? Click here to get your FREE sample now on SampleStore.com. You'll get a 30 mL sample and an A5 brochure with a magnifying glass cut-out that you can use to join the Instagram contest.
Yes, there's an ongoing Instagram contest wherein you can get a chance to win $200 shopping vouchers AND NIVEA hampers worth $100!All you have to do is fill in the blank (in the magnifying glass cut-out) using one word that best describes what you think is the most noticeable skin benefit you got after using the NIVEA Body Intensive Moisture Serum. Then, pose with the prop and post it on Instagram with the following hashtags: #NIVEAsg and #IntensiveMoistureSerum. 2 Grand Prize winners will be handpicked by Sample Store editors, Holly Jean and Trixy, based on the submission that is most creative in their opinion. This contest is open until 30th September 2014 and winners will be announced on 1st October 2014.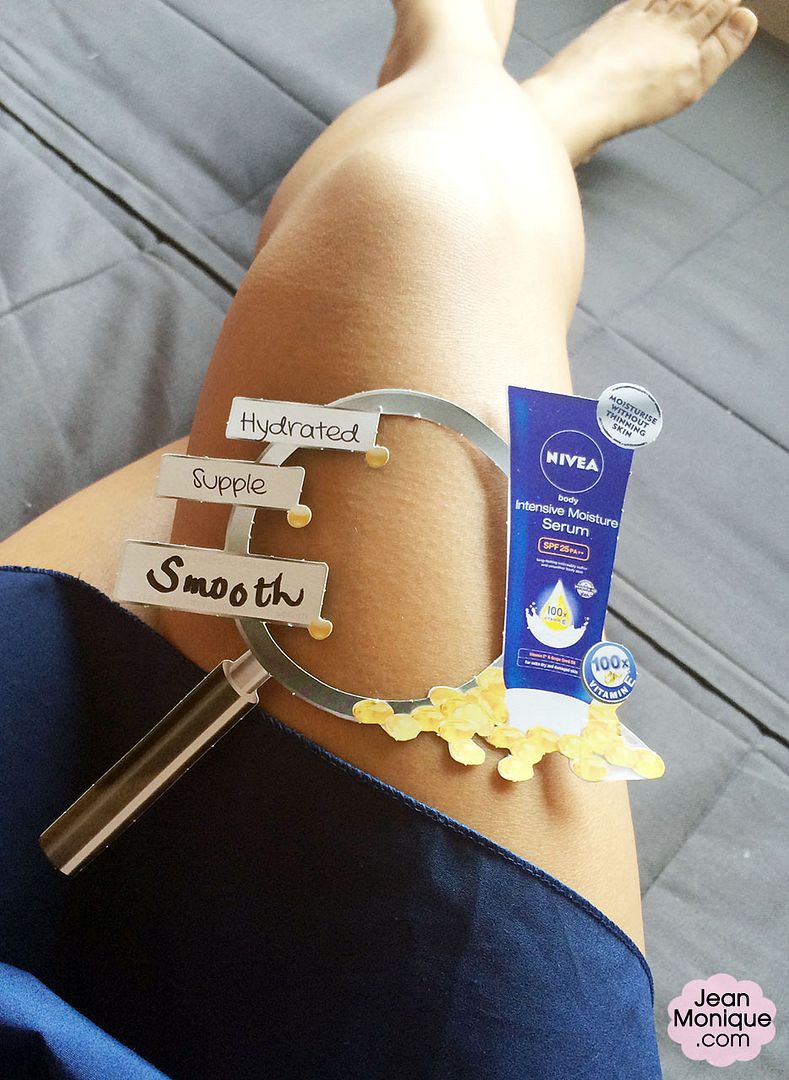 NIVEA Singapore
Website | Facebook
xoxo,
♥ Monique ♥