Bonjour Bella!
I've received something fabulous in my September Bellabox, which I just received this afternoon. 🙂 I'm so excited to share what's inside my Bellabox so I immediately grabbed my iPhone and took photos.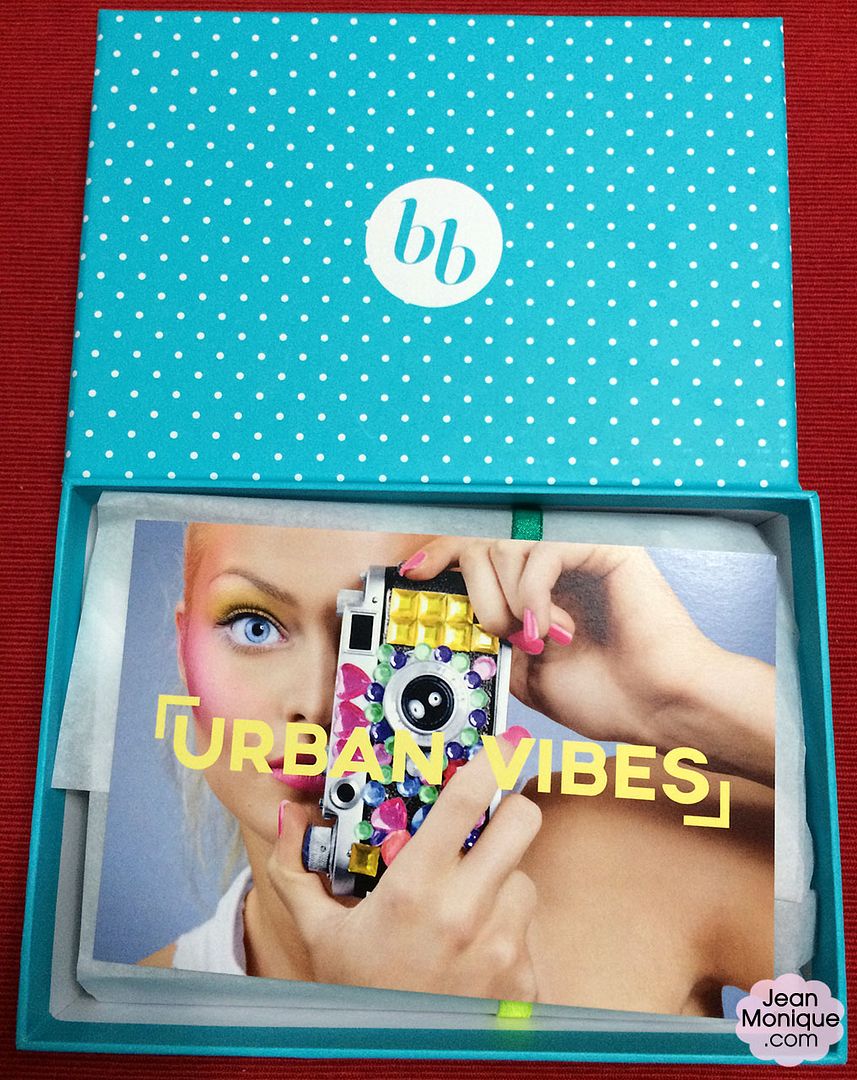 This month's theme is "Urban Vibes". The word "urban" makes me think of people living in a fast-paced world who want everything instant. People who want to have the latest–whether in technology, fashion, or beauty. With that in mind, I got the feeling that I'll be getting  products from NEW brands. Or at least, those that I've never heard of.
So let's start the unboxing.
I love the multicolored ribbon. It matches the card, too. 🙂
The box doesn't look so packed this time. And seeing what's inside, I already know that my hunch was right. These are all NEW to me!
Let's take a look at the card to check out the contents.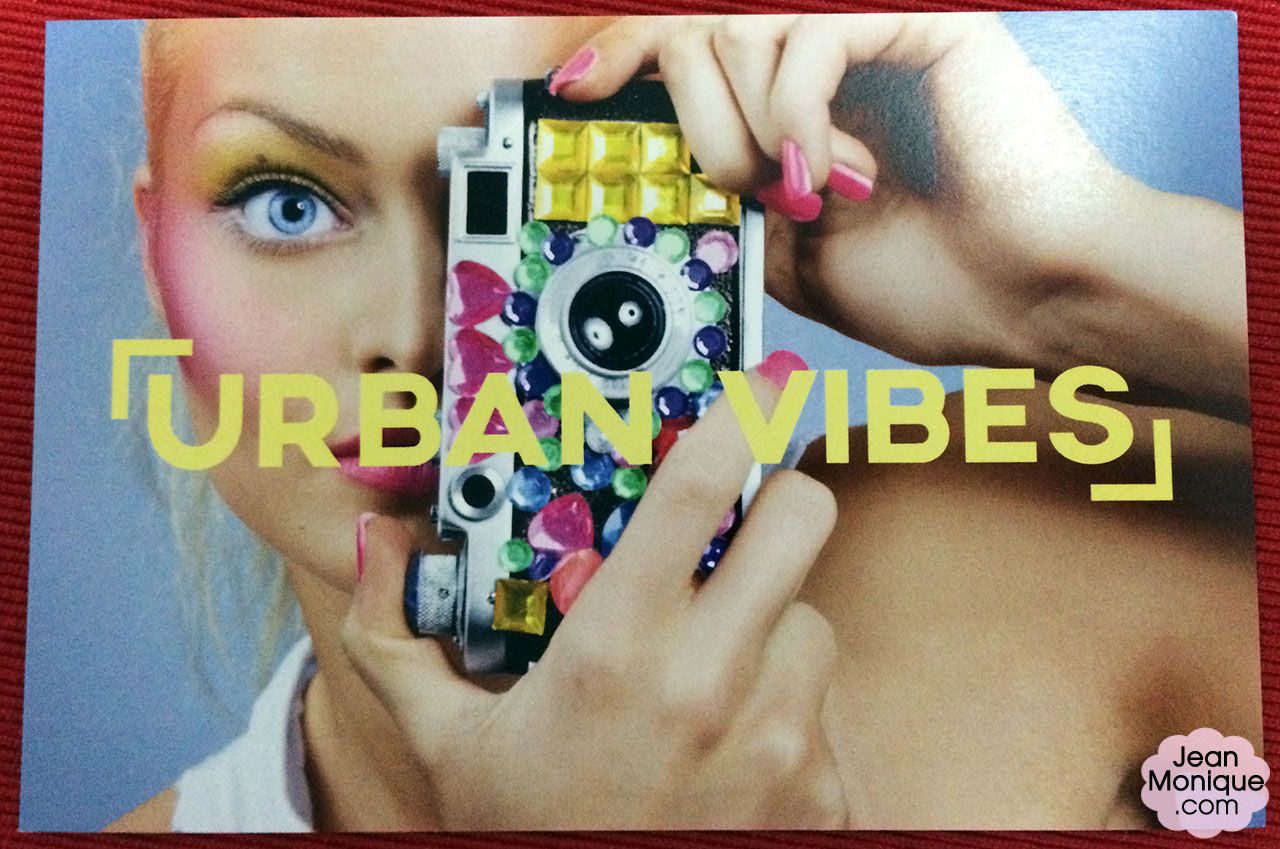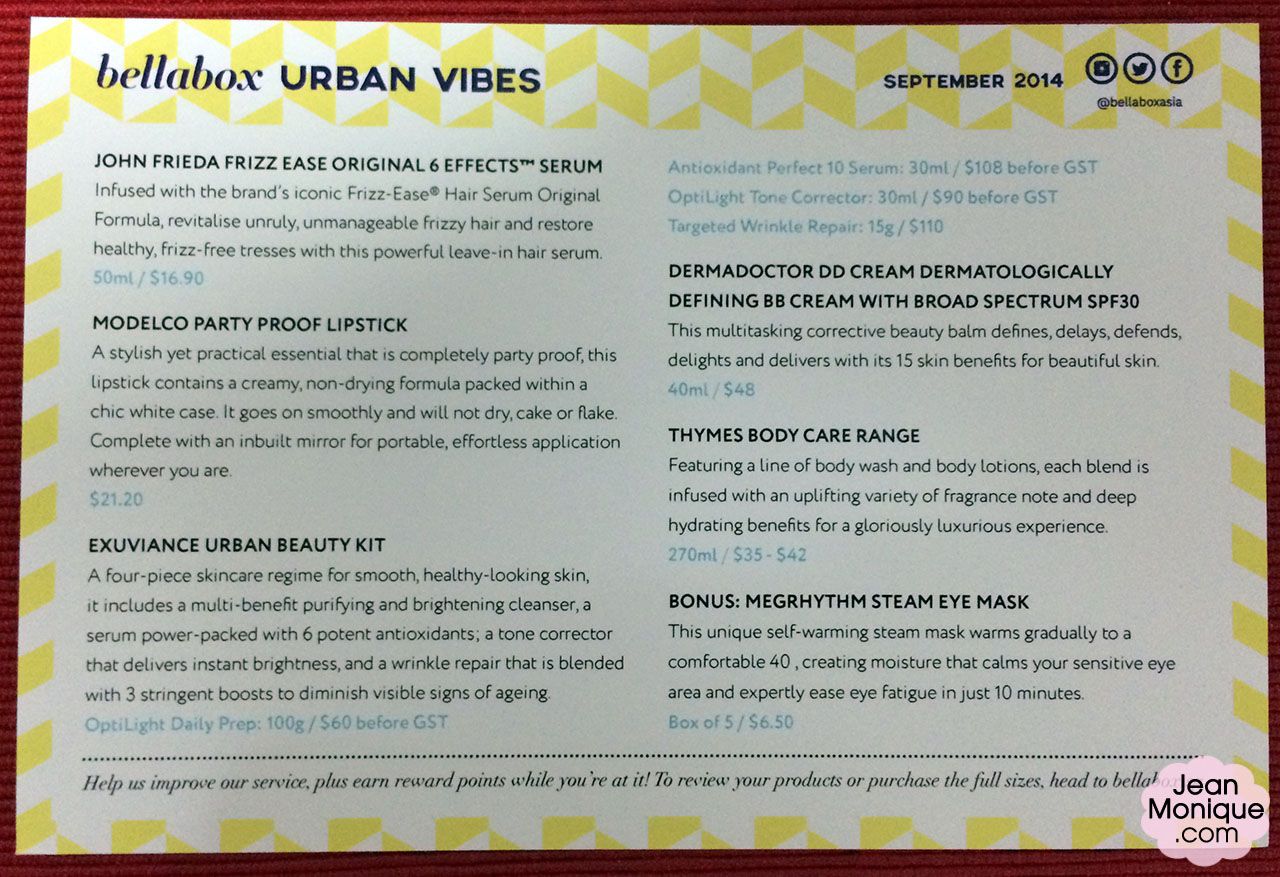 This is an interesting mix. There's one for the hair, eye, lips, face, and body. This is a good mix of makeup and skincare products.
And now here are pictures of all the products inside.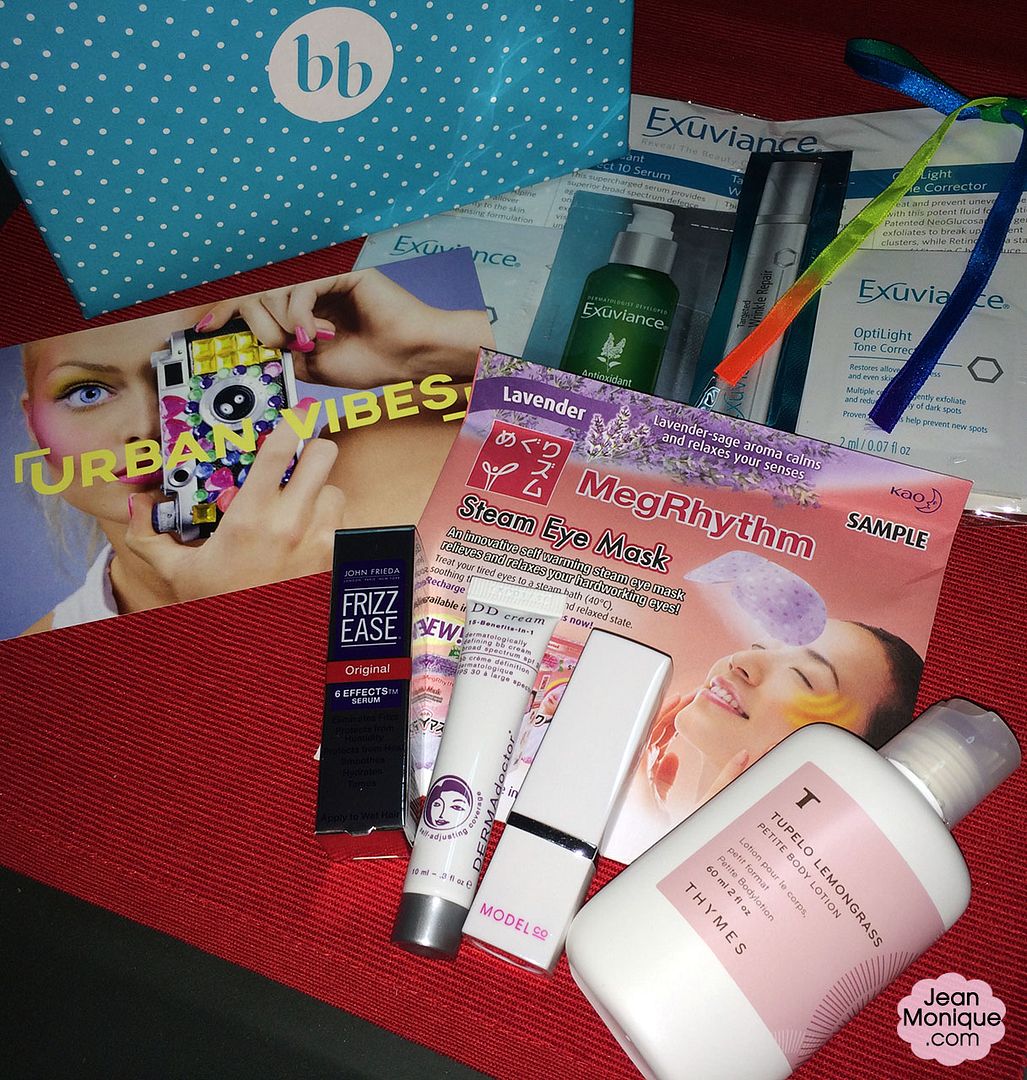 Now, let's go through the products, yeah?
John Frieda Frizz Ease Original 6 Effects Serum
Infused with the brand's iconic Frizz-Ease Hair Serum Original Formula, revitalise unruly, unmanageable frizzy hair and restore healthy, frizz-free tresses with this powerful leave-in hair serum.
Price: 50 mL – $16.90
Thoughts: I wasn't a fan of hair products years ago. But ever since I got exposed to several hair products through Bellabox, I realized how I actually love trying out new things for my hair as well. Thus, I'm excited to try this and see how it compares to my other hair serums or hair oils.
ModelCo Party Proof Lipstick
A stylish yet practical essential that is completely party proof, this lipstick contains a creamy, non-drying formula packed within a chic white case. It goes on smoothly and will not dry, cake or flake. Complete with an inbuilt mirror for portable, effortable application wherever you are.
Price: $21.20
Thoughts: This is my favorite product in this box! I got mine in the shade of Stiletto. I love how it really glides smoothly on my lips. Color payoff is really good too. And I love the creamy texture. Here's a photo of me wearing the lipstick.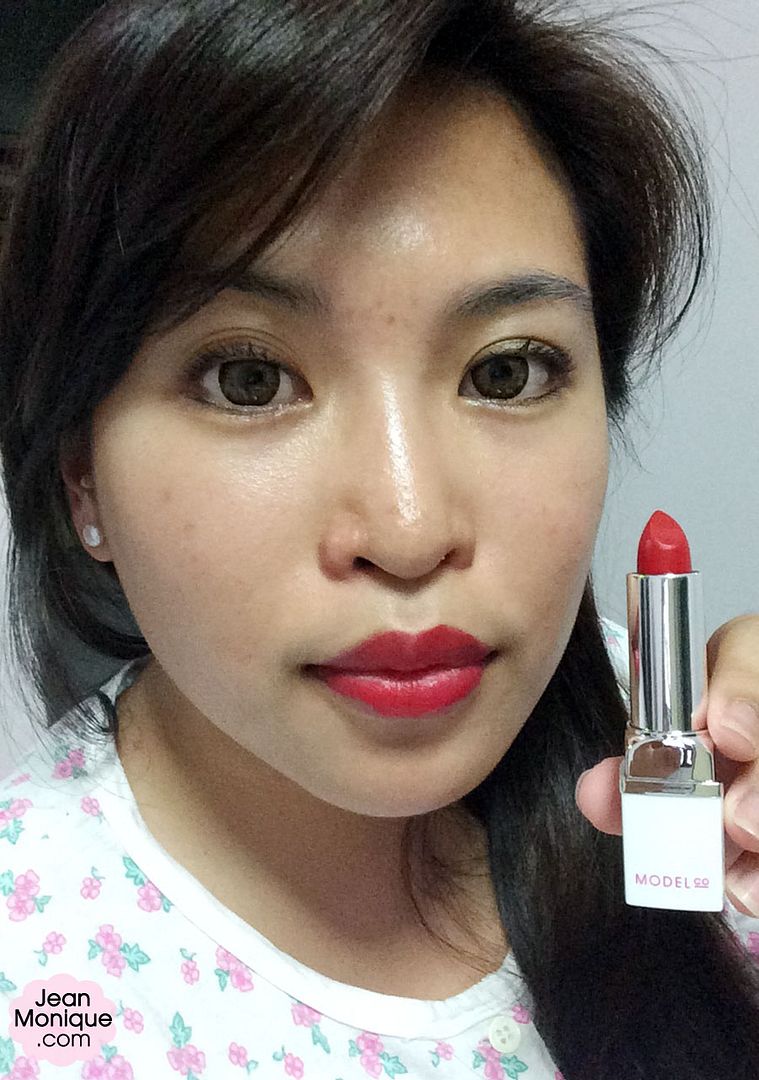 I was in my sleepwear and planning to sleep already. However, I got curious as to what's inside my Bellabox. Haha. So that's me when I first applied the lipstick. 5 hours later, the color has faded a bit but there's no drying or flaking. Amazing! I can see myself using this in the next few weeks. 🙂
Exuviance Urban Beauty Kit
A four-piece skincare regime for smooth, healthy-looking skin, it includes a multi-benefit purifying and brightening cleanser, a serum power-packed with 6 potent antioxidants, a tone corrector that delivers instant brightness, and a wrinkle repair that is blended with 3 stringent boosts to diminish visible signs of aging.
Price:
OptiLight Daily Prep – 100g – $60 before GST
Antioxidant Perfect 10 Serum – 30mL – $108 before GST
OptiLight Tone Corrector – 30mL – $90 before GST
Targeted Wrinkle Repair – 15g – $110
Thoughts: Wow! Exuviance products are expensive! I'm still in the middle of trying out a new skincare routine so I wouldn't be able try it this month. The products inside look interesting though. I'll share my thoughts again after I've tried this set.
DERMAdoctor DD Cream Dermatologically Defining BB Cream with Broad Spectrum SPF30
This multitasking corrective beauty balm defines, delays, defends, delights, and delivers with its 15 skin benefits for beautiful skin.
Price: 40 mL – $48
Thoughts: DD cream? I really cannot keep up anymore! Oh wait, it's actually a BB cream. The DD probably stands for the name of the brand. Silly me! Anyway, I've tried this today as well. This BB cream is lightweight and non-greasy. It doesn't give a grayish cast on the skin unlike other BB creams. I've yet to evaluate the 15 skin benefits though and see if it really delivers as promised.
Thymes Body Care Range
Featuring a line of body wash and body lotions, each blend is infused with an uplifting variety of fragrance note and deep hydrating benefits for a gloriously luxurious experience.
Price: 270 mL – $35 – $42
Thoughts: I got the Tupelo Limegrass Body Lotion. I'm usually not a fan of the lemongrass scent. But I love how the product's scent isn't so strong. It gives off a nice and fresh smell that lingers. I can see myself using this daily for the next few weeks as well. 🙂
Bonus: Megryhythm Steam Eye Mask
This unique self-warming steam mask warms gradually to a comfortable 40, creating moisture that calms your sensitive eye area and expertly ease eye fatigue in just 10 minutes.
Price: Box of 5 – $6.50
Thoughts: Oh, I definitely need this! Being in front of a computer for the most part of the day, my eyes usually feel tired and dry at the end of the day. I can't wait to try this tomorrow!
So that's what's inside my September Bellabox. 🙂 I really love all the items I got. I can see myself using all these products. Thank you Bellabox for listening to our heart's desires. :))
Have you got your September Bellabox already? Do share your unboxing photos or videos too. 🙂
BellaBox Singapore
Website | Facebook | Twitter | Instagram
xoxo,
♥ Monique ♥