Bonjour Bella!
Being exposed to pollution, chemical additives, and stress, I often feel tired and weak. In an effort to relieve stress, I tend to overeat. Because of all these things, I often have constipation. 🙁 Toxins build up and clog some vital parts of my body. In the end, I get easily tired, look haggard, and easily fall sick.
I realized that its time to do some detox.
Two weeks ago, I started a detox program using Activa Well-Being Detox. I know most of you have never heard of this brand before. Honestly, I only got to know about Activa last April when it was included in the April 2014 Bellabox.
Last month, I met Jade from Activa who enthusiastically introduced the brand and its whole line of products to me. Since we share the same health philosophies and since I got really intrigued with their range of products, I decided to try their other products as well.
I've tried their Well-Being Detox, Well-Being Articular, and Well-Being Hair. I've noticed wondrous effects from all three products. But for now, I will be focusing on Well-Being Detox.
Well-Being Detox is part of the Activa Well-Being range of natural dietary supplements, which is based on a new concept of Phytovitality. It is made by Laboratories Activa, a Paris-company that has been in the dietary supplement industry for over 20 years.
According to Activa,
Ëach Well-Being complex is designed to stimulate and reinforce "vitality"in a specific area of your body without upsetting the delicate physiological balances elsewhere.
One of their product features is their patented herbal intestinal absorption delivery system using micro granules, which provides a simple, safe, and holistic approach to health.
Among all the health supplements in the world, what makes Activa unique?
It uses 100% natural active ingredients, no colorants, no GMOs.
Each product contains a blend of 4 to 5 plants in it.
The active ingredients used for each product have synergy. They have been optimized and combined to maximize efficacy.
It is biocompatible, which means that it is not harmful to living tissue in the body. It respects the organism and doesn't disturb its natural physiology.
It stimulates and reinforces vitality in a specific zone of the body to restore the body's natural balance.
It has phytogranules which protect the active ingredients from being degraded by stomach acid and masks the taste or smell of the ingredients.
It has controlled release of active ingredients which can be immediate, extended, or delayed.
It has no side effects and it is guaranteed safe (even for children).
The clear capsules are made from tilapia fish. However, they are hypoallergenic and can even be taken by those who are allergic to fish. Moreover, all products are Kosher & Halal certified.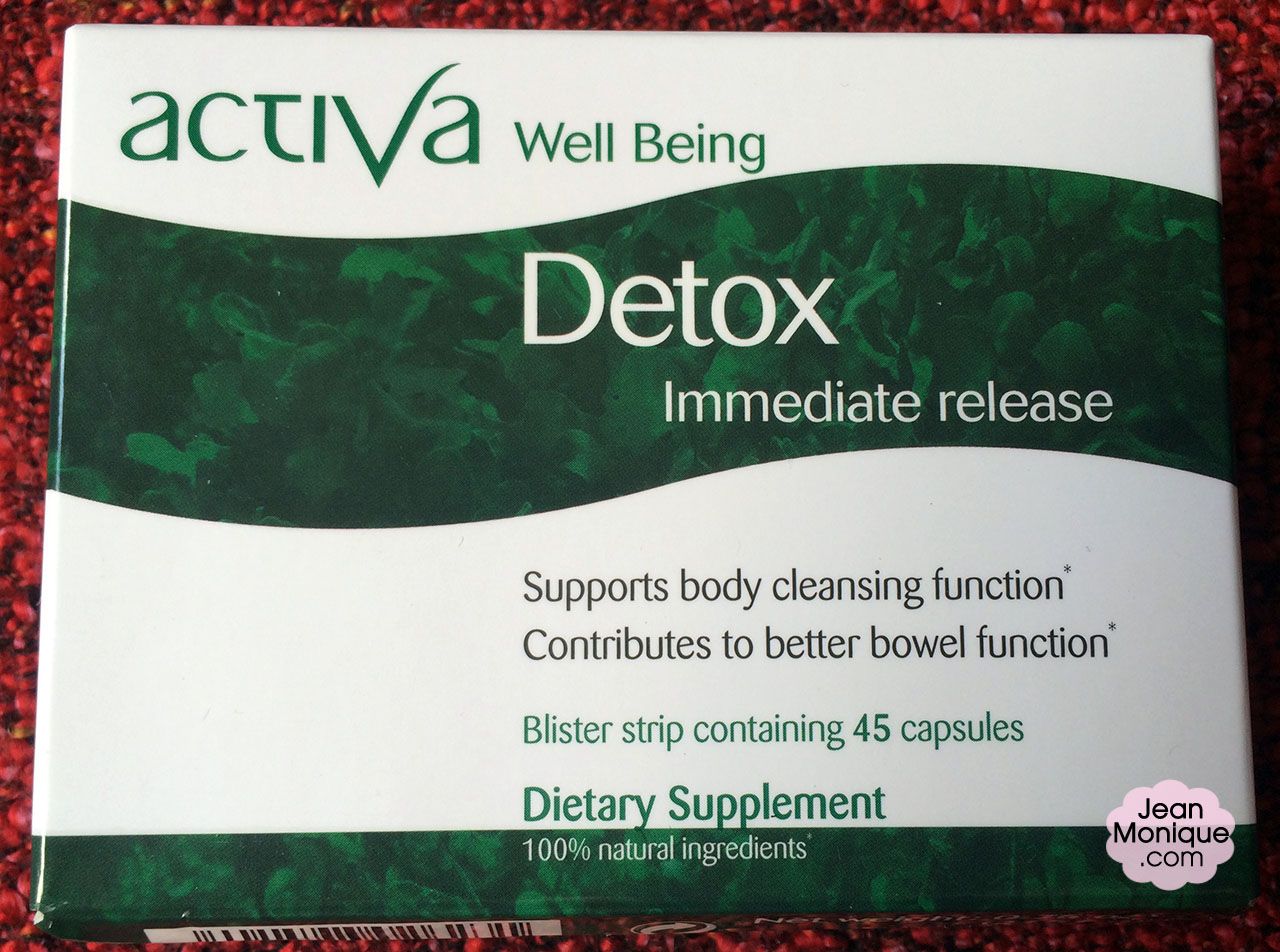 Taking Activa Well-Being Detox is a great way to detox. It contains Fucus, Kelp alginic acid, Lithothamnion, and Ascophyllum to help purge, purify, and energize.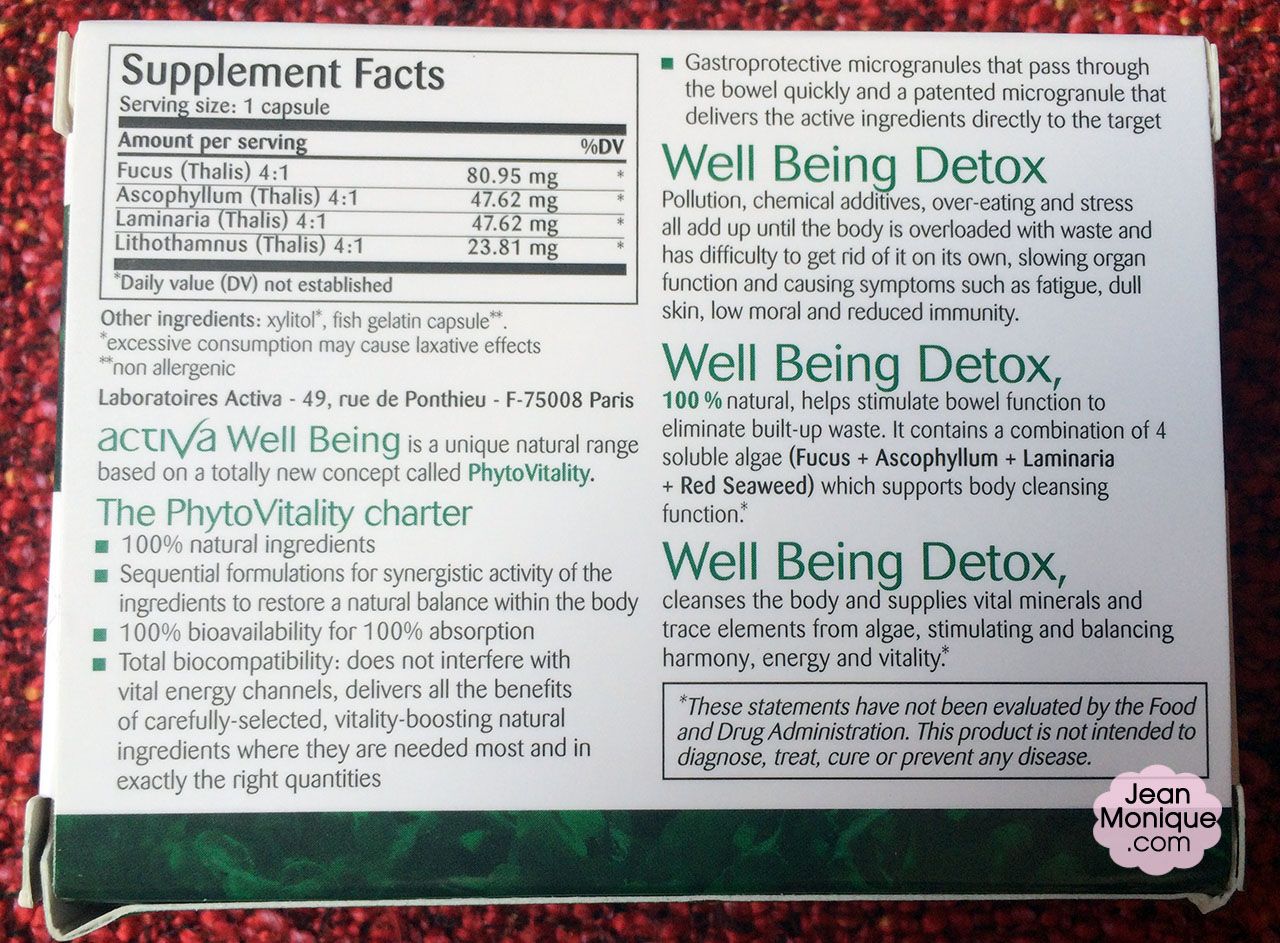 Fucus promotes healthy bowel movement. Kelp alginic acid promotes elimination of harmful residues in the body. Lithothamnion is responsible for maintaining a stable and ideal pH balance in the stomach for better digestion and elimination of waste products. Ascophyllum promotes oxygenation and strengthening of tissues.
In effect, here's what it does to your body:
Promotes elimination of accumulated toxins
Purifies and revitalizes the body
Helps the body overcome the effects of seasonal changes
Helps the body to overcome extreme tiredness and overindulgence
The capsules are immediate-release, which means that 100% of the active ingredients are released progressively within the hour after intake.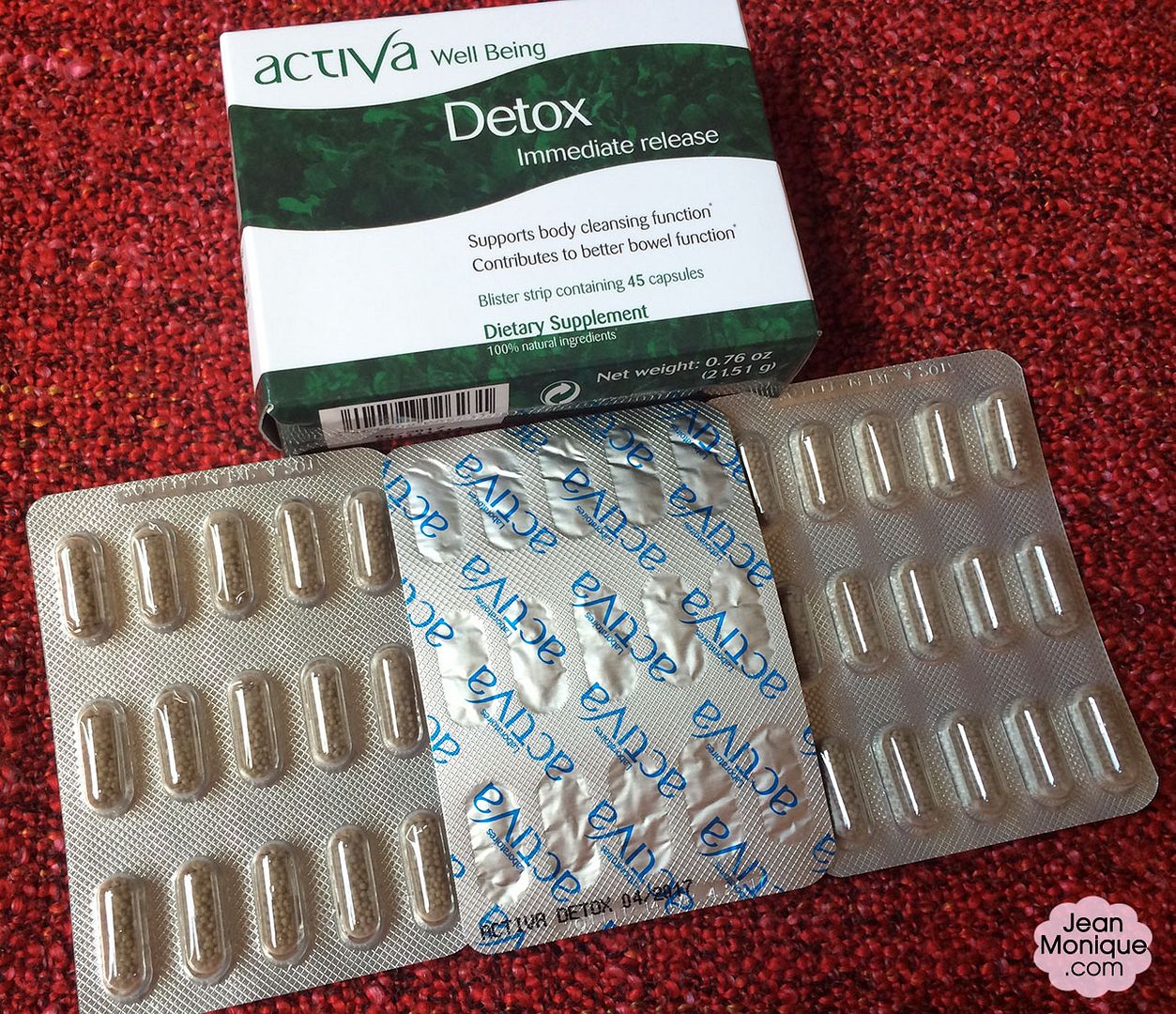 It is suggested to take one capsule in the morning and evening with a large glass of water. FYI, the capsules may be opened before being taken. This is helpful for those who have problems swallowing.
Just a tip: since water helps clear toxins from the body, it is important to drink at least 2 liters of water per day.
Activa Well-Being Detox is very effective. I love how it takes effect immediately after taking the capsule. Within an hour from taking one capsule, I already feel the urge to go to the toilet. I've been using it for 2 weeks now and It has helped me normalize my bowel movement. Plus, it also helped me lose 2 kilos in the process.
I also love how it is made from 100% natural ingredients,  how it doesn't irritate my stomach, and how it doesn't have any weird "medicine" taste. 🙂
One more thing that I love about this products is its affordability. A box of 45 capsules costs $38. That's about 84 cents per capsule.
The only thing that I don't like is how I need to take 2 capsules per day. I have this tendency to forget taking it at night. Other than that, I totally dig this product!
So if you want to give Activa Well-Being Detox a try, you can purchase it online at Your Vitality Store.
xoxo,
♥ Monique ♥