Bonjour Bella!
Are you looking for an easy and fun way to hydrate and revitalize your skin while you sleep?
I'd like to introduce Bio-essence Aqua Droplet Sleeping Beauty Mask.
My night ritual involves removing all traces of makeup, cleansing the skin, and applying moisturizer. Having combination skin, I prefer lightweight moisturizers to hydrate my skin. I rarely use masks because I find them very troublesome to use. So when I found out about this sleeping beauty mask from Bio-essence, I immediately wanted to try it. Thankfully, SampleStore.com sent me this wonderful product!
This product is part of the Bio-essence Hydra Tri-Action range which offers 3x hydration power and at the same times promises to hydrate, nourish, and protect our skin.
What's so special about this product is its unique formulation. It is enriched with 2 types of Hyaluronic Acid to replenish and lock in moisture, providing skin with non-stop hydration.
Power Nano Hyaluronic Acid: Having an average nano molecular size of 15-25 nm, it absorbs quickly and easily into the skin resulting in instantly hydrated and moisturized skin. It also offers superior moisture retention capability.
Hyaluronic Acid: This forms a large water-locked network to effectively lock in moisture,
keeping the skin moist and soft.
It also has Cranberry Extract to moisturize skin for a radiant smooth complexion. With the help of Bio Energy Fluid, skin's texture is further nourished and refined. And because the Cranberry Extract is rich in anti-oxidants, skin is protected against harmful free-radicals and from environment and UV damage.
Now, some of you might be wondering, why all this talk about skin hydration? Is it really necessary to use a moisturizer? YES. Cleansing the skin, especially with harsh soaps and cleansers, strips it of its natural moisture leaving skin dry and tight. Over time, this leads to dull and dry skin. Thus, using a moisturizer such as the Bio-essence Aqua Droplet Sleeping Beauty Mask will brighten dull and tired skin, refine enlarged pores, moisturize dry and rough skin, and regulate oil and moisture level.
Oh and before I forget, there is one more cool thing about this product: its breakthrough Bio Aqua Crystal technology. Because of this technology, a protective shield forms over the hydrating ingredients to prevent moisture loss before application. Then upon application, this shield breaks away and big aqua droplets are formed. These big aqua droplets are actually made up of superior hydrating ingredients in small molecular sizes which ensure that moisture and nutrients are easily delivered to the deepest layers of skin. And at the same time, a protective emollient film remains on the skin to lock in moisture for non-stop hydration.
Now, let me share my thoughts on the product.
Packaging:
I love how the product's packaging is true to its theme. It is enclosed in a blue green box and the bottle itself is in a nice iridescent green blue.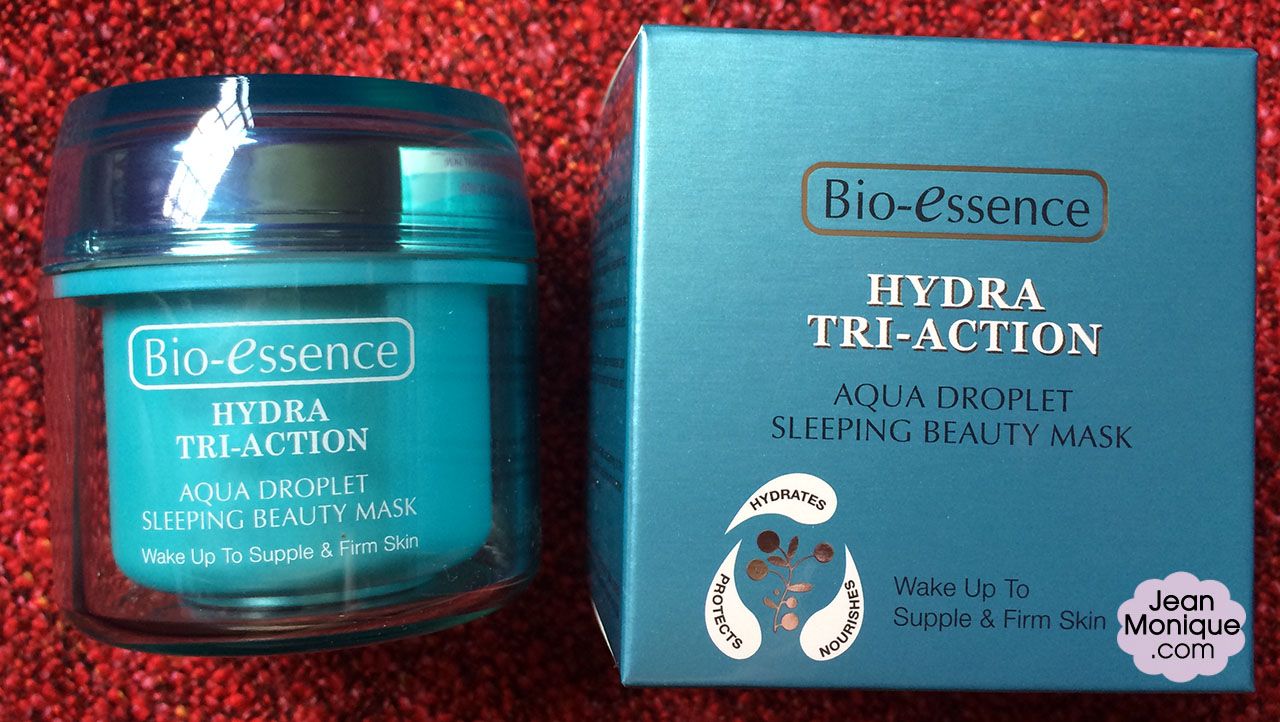 Scent:
It has a very nice fruity scent that makes me feel like I"m drinking fruit shake while on the beach. Translation = beach paradise!
Appearance and Consistency:
The product itself is a white semi-opaque gel. It is easy to spread, rapidly absorbed, non-sticky, and non-greasy.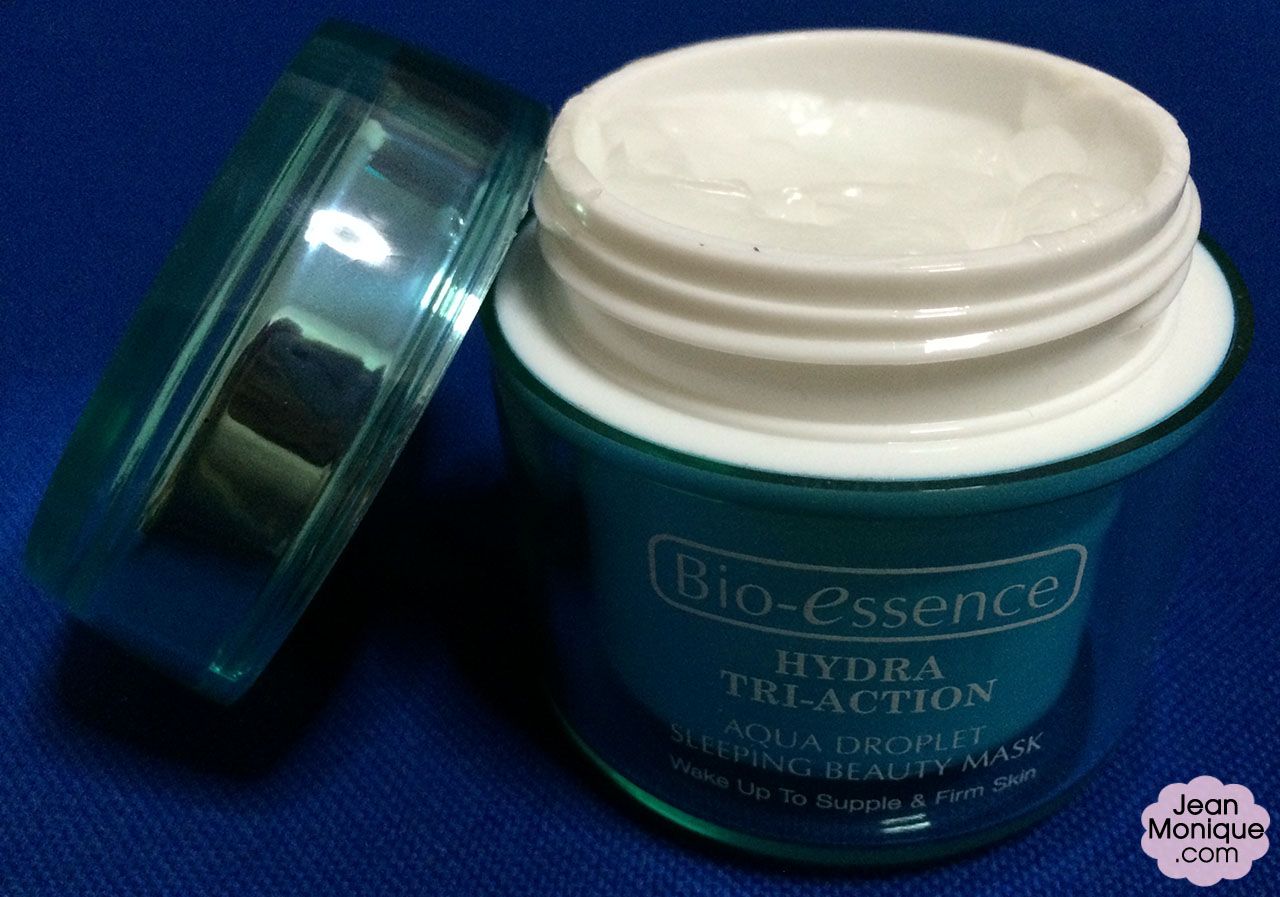 Price:
An 80g jar costs $33.90. A bit expensive but you can use it for a very long time. Also, it's still less expensive than the Laneige Water Sleeping Pack_Ex and works just as well (or even better!).
How to Use:
The Bio-essence Aqua Droplet Sleeping Beauty Mask is very easy to use.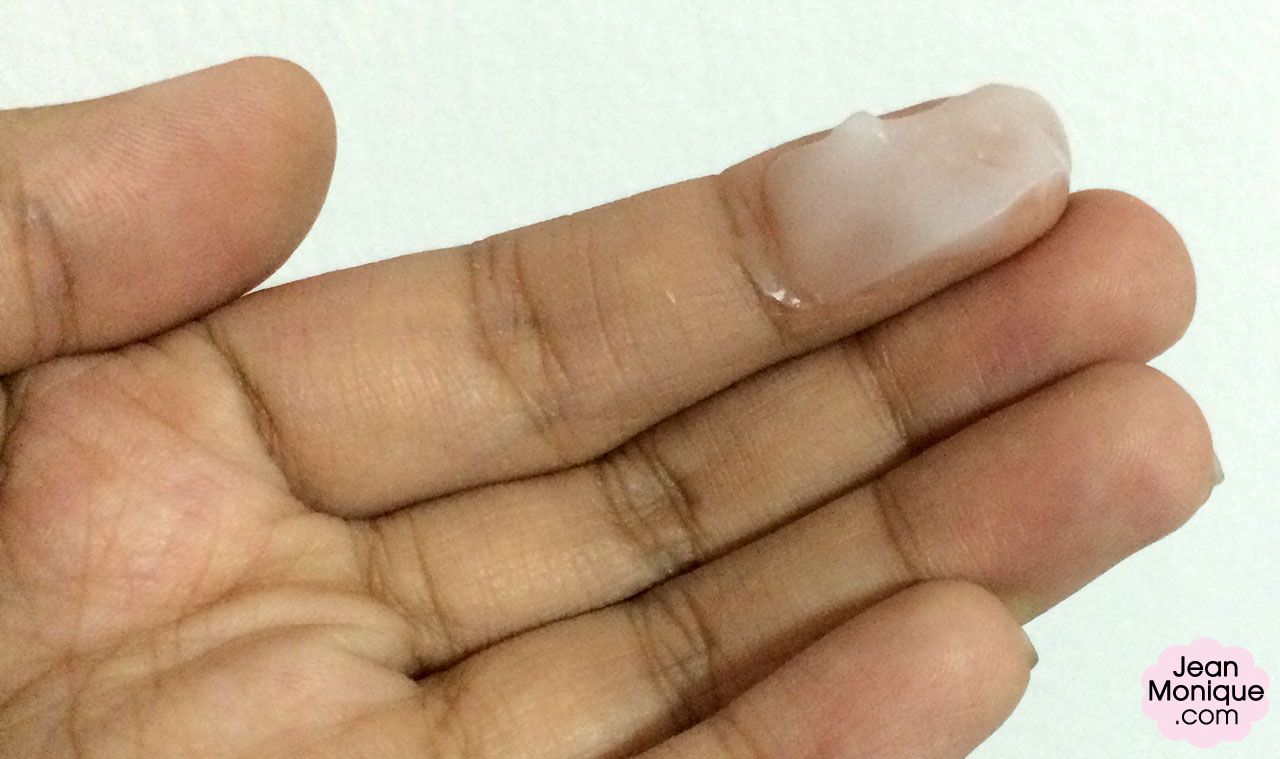 Just scoop out the product and apply in dots over the face.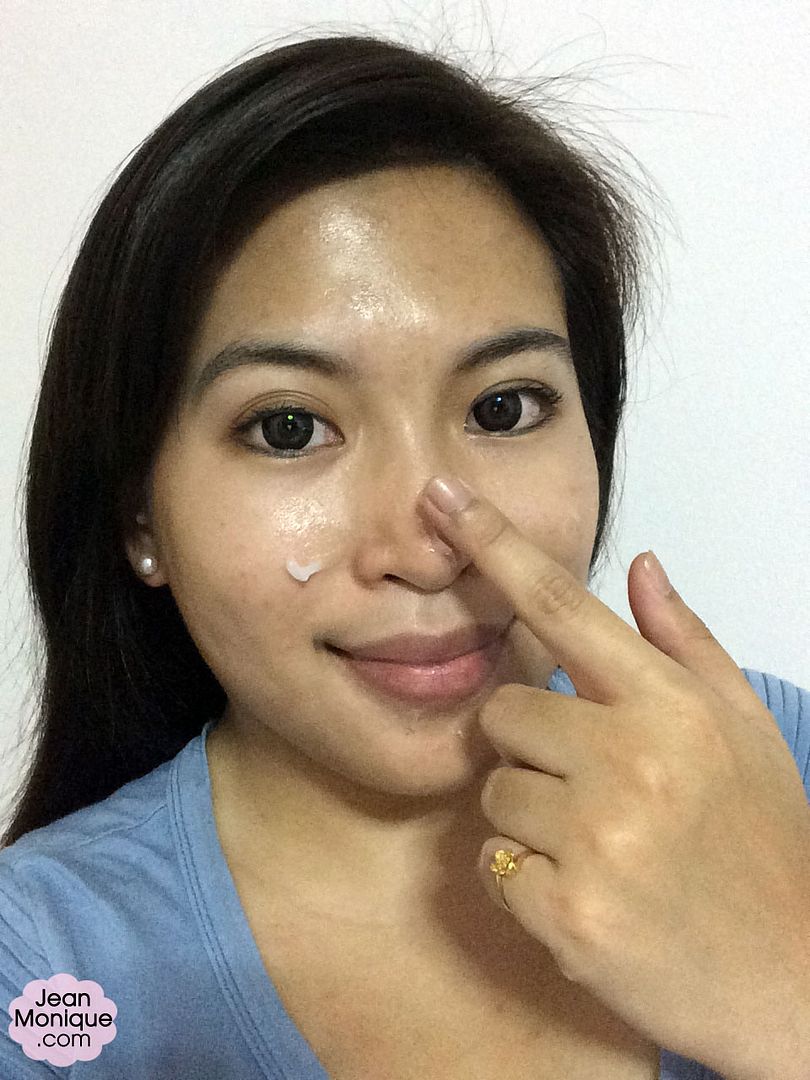 Massage the product gently in a circular motion. After 3 seconds, you will see aqua droplets starting to form. The hydrating ingredients magically transform into big aqua droplets which are rapidly absorbed to constantly replenish and lock in moisture. Gently pat until the sleeping beauty mask is absorbed into the skin.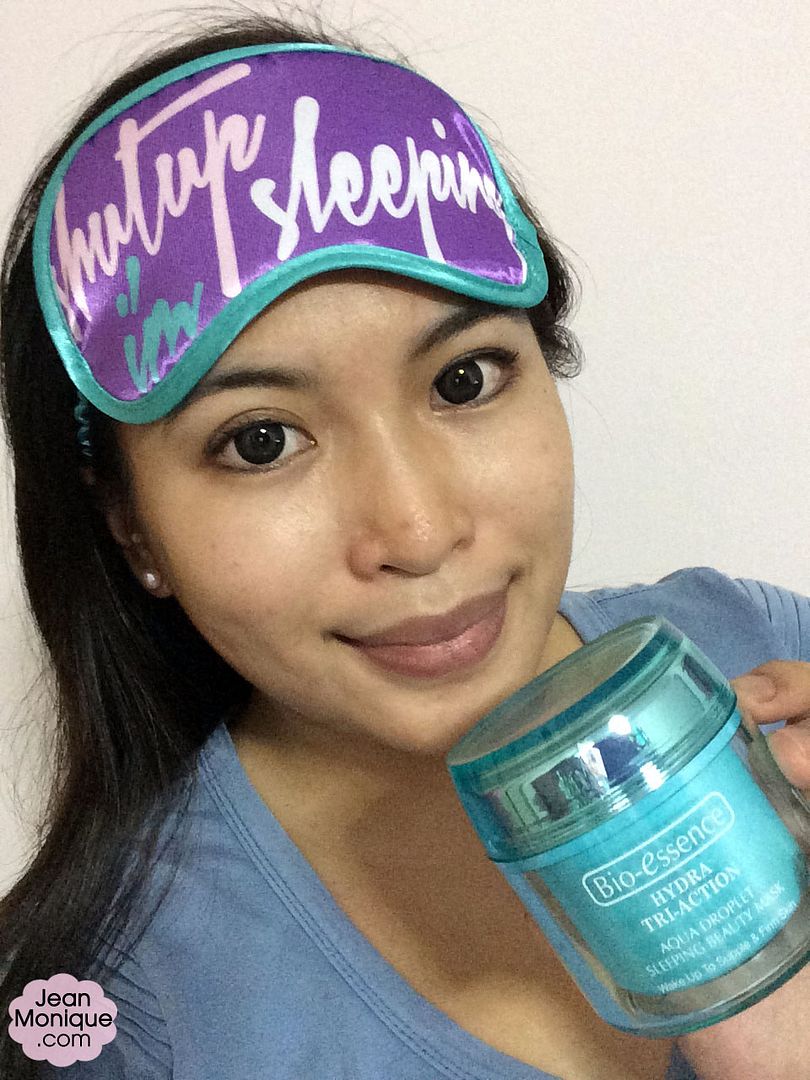 If you want to use this as a daily moisturizer, just apply a thin layer in the morning. But if you want a more intensive treatment, apply a thicker layer as a sleeping mask. Two products in one. So cool, right?
Here's a demo of the big aqua droplets in action: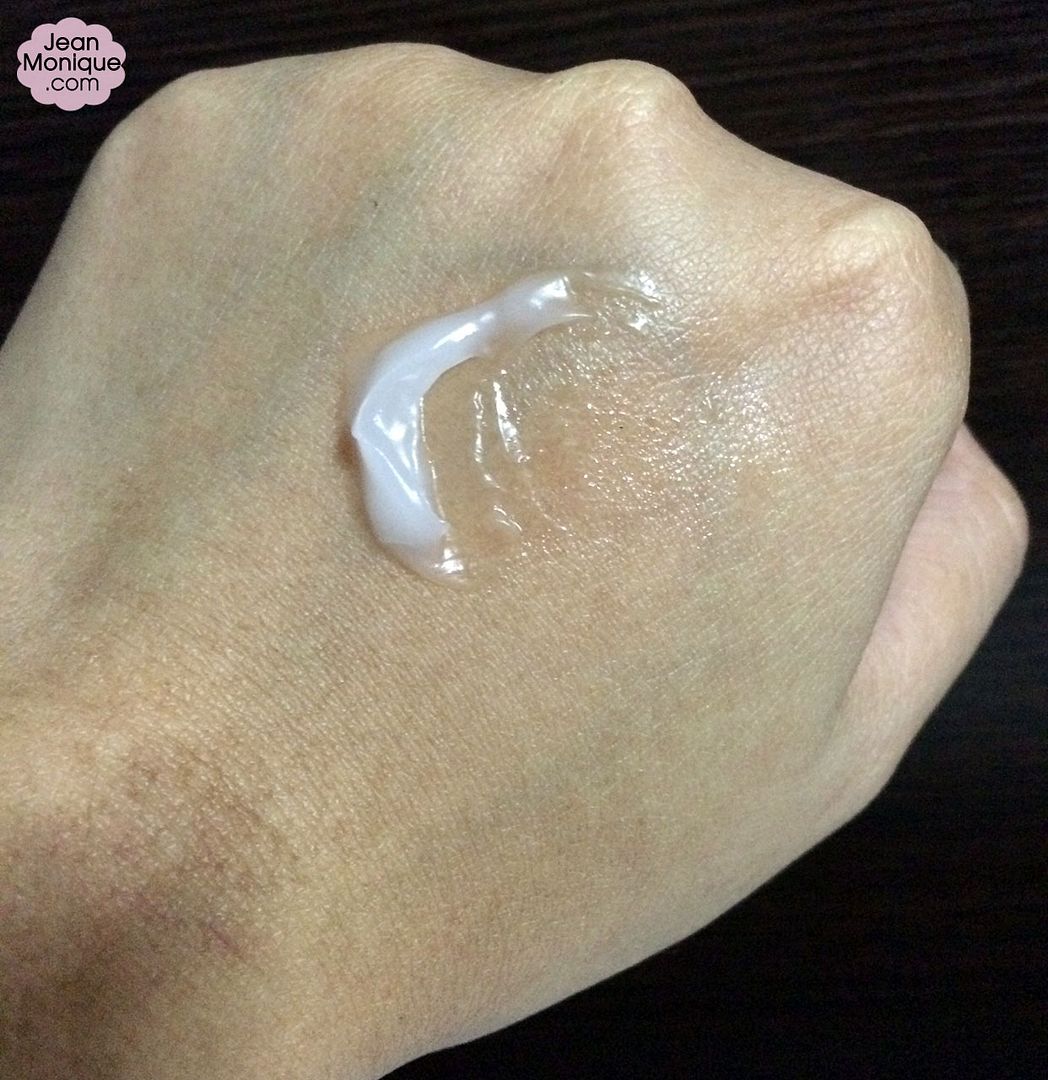 After 3 seconds, water droplets will form.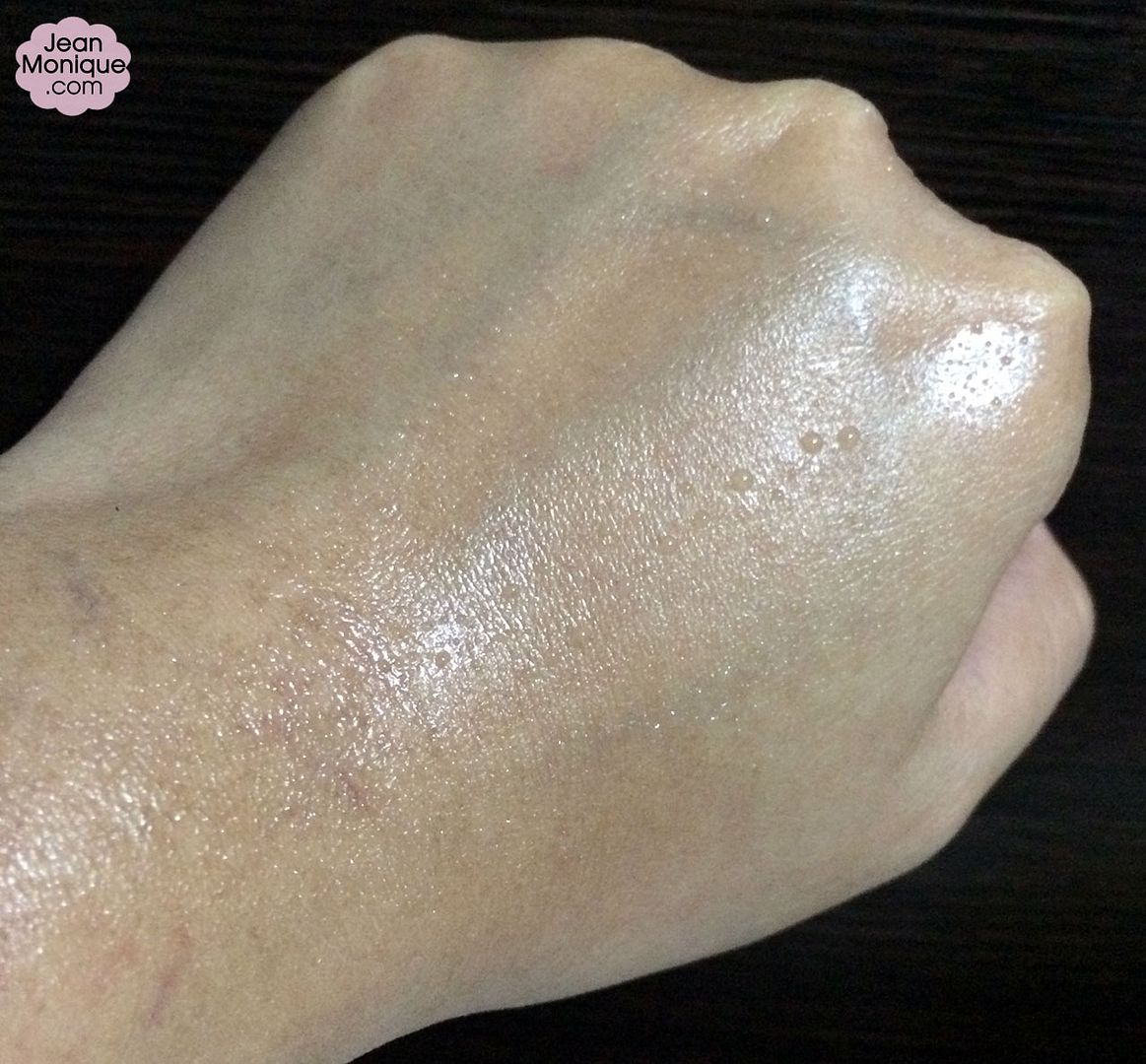 And see the difference between moisturized and dry skin.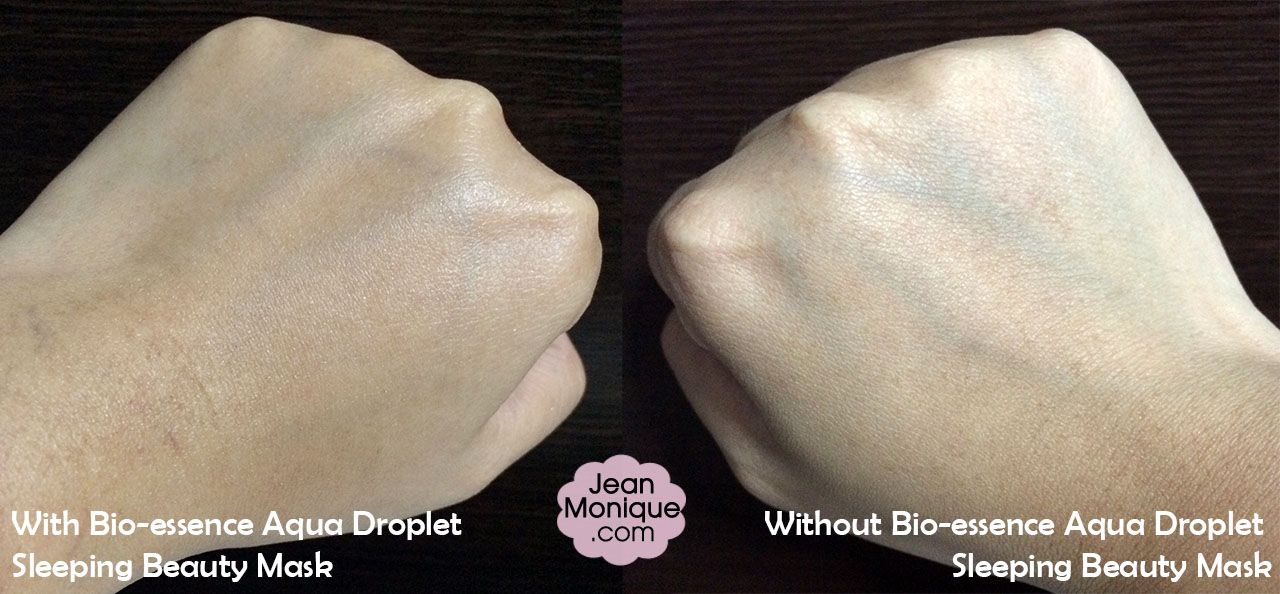 Left hand is moisturized and looks firm and supple. Right hand is dry and looks dull. There are also a lot of visible fine lines. (Imagine this is your face… Eek!)
And now it's time to weigh the pros and cons.
Pros:
The product does what it claims. It replenishes my skin's moisture level and nourishes and repairs my skin while I sleep. Thus, I wake up with my skin feeling firm, supple, and refreshed.
Love how it smells and feels on my skin.
It is lightweight, non-greasy, and non-sticky.
Easy and fun to use. Just apply before going to sleep and leave it on til next morning. Love the water droplets that form after massaging onto skin, too. 🙂
Cons:
It's a bit expensive.
I can't think of anything else!
So will I buy this product again? YES!!!
Now, you're probably excited to try this product too. Thus, I have great news for you!
Bio-essence will be having a street sampling on 6th of September 2014 (Saturday) from 2pm to 6pm outside Mandarin Gallery. Do drop by find out your skin's hydration level, get freebies, and enjoy attractive discounts!
And if you want to redeem free samples, just LIKE their Facebook Page here: http://www.facebook.com/bioessence.sg.
Bio-Essence
Website | Facebook
xoxo,
♥ Monique ♥
P.S. To those of you who are interested, here's a list of ingredients:
Water, Butylene Glycol, Cyclopentasiloxane, Dimethicone, Dimethicone/PEG-10/15 Crosspolymer, Dimethicone/Vinyl Dimethicone Crosspolymer, Glyceryl Polyacrylate, Sodium Chloride, 1,2-Hexanediol, Betaine, Methylpropanediol, Allantoin, Sodium Hyaluronate, Hyaluronic Acid, Vaccinium macrocarpon (Cranberry) Seed Oil, Fragrance, Sodium Oxide, Calcium Oxide, Magnesium Oxide, Methylisothiazolinone