Bonjour Bella!
My housemates and I are currently busy packing our things because we're moving soon! And then I just saw this huge bag of products I've emptied out and haven't reviewed yet. So I'm just gonna start reviewing them one by one. 🙂
Have you ever heard of Made by David Organics? I actually wrote a Made by David Organics: Shopper's Guide last year.
For today, I'm gonna review the Made by David Organics Happy Hair Honey Deep Conditioner.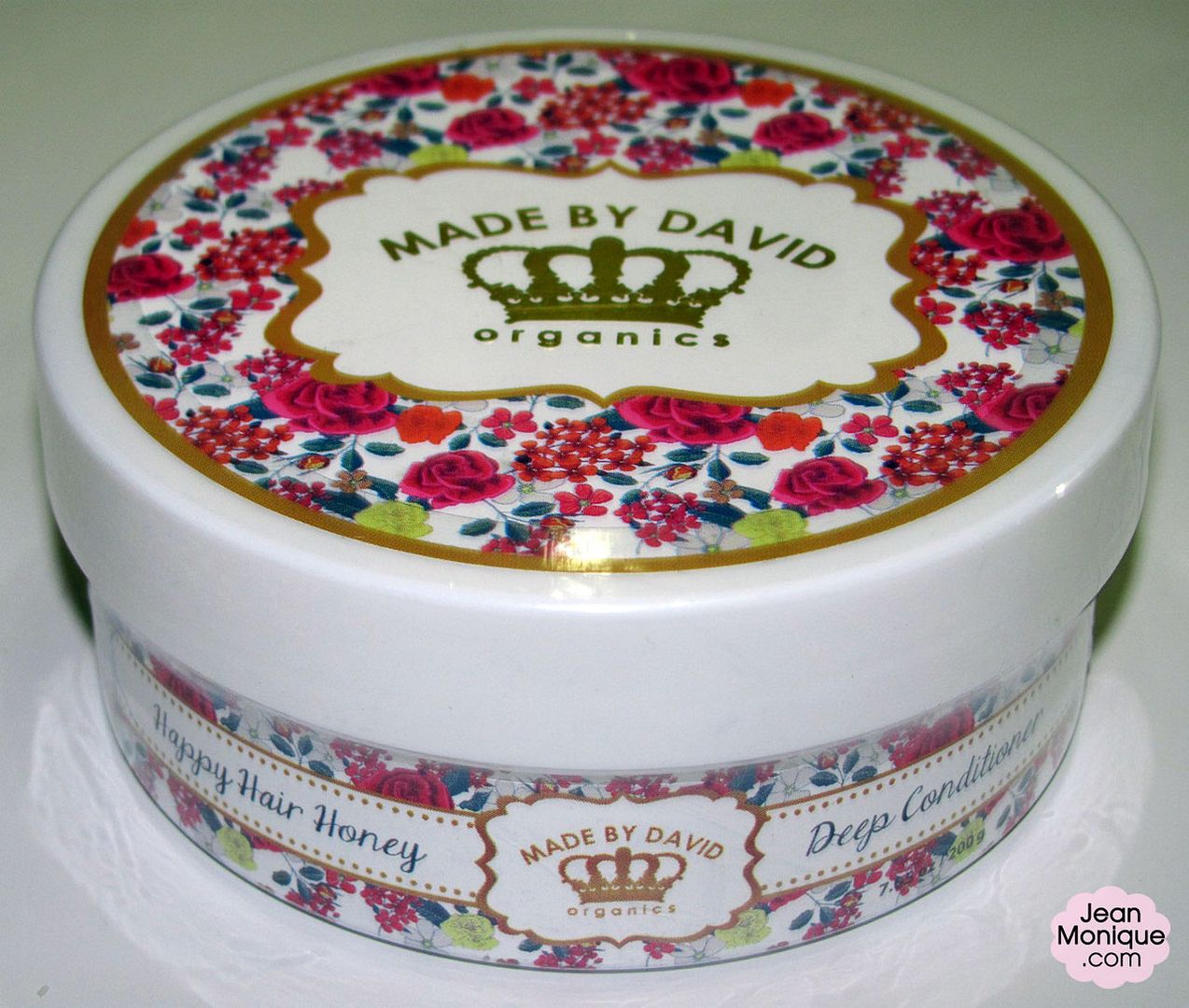 Product Description: Give your hair some TLC with our deeply nourishing Happy Hair Honey! Lovingly formulated to pamper and soothe tired, thirsty, damaged hair, our Happy Hair Honey will leave you feeling refreshed and bee-yoo-tiful with gorgeously hydrated and bouncy locks!

Directions: Apply after shampooing. Massage a generous amount of product onto ends of hair and work remaining product upwards. Leave on hair for 3-5 minutes. Rinse thoroughly with warm water. Seal hair with a blast of cold water.

Ingredients: Deionized Water, Cetyl Stearyl Alcohol, Propanediol, Cetrimonium Chloridde, Cetyl Alcohol, Ceteareth 20, Stearamidopropyl Diamine, Sweet Almond Oil, Maltooligosyl Glucoside, Hydrogenated Startch Hydrolysate, Hexapeptide-11 and Betaine and Hexylene Glycol and Camellia Sinensis Leaf Extract and Pyrus Malus (Apple) Fruit Extract and Citrus Limonum (Lemon) Fruit Extract and Saccharum Officinarum (Sugar Cane) Extract, Creatine, Shea Butter, Vanilla Essential Oil and Potassium Sorbate

Size: 200mL

Price: 365.75
This product is especially made for deep conditioning hair treatments. On weekends, I pamper myself and this was a part of my weekly beauty regimen. It is recommended to use this once or twice a week to give your hair some lovin'. With all the pollution combined with the sun's harmful rays and other chemicals that we place on our hair, it becomes dull, limp, and frail. To give life back to our crowning glory, apply Happy Hair Honey on hair after rinsing shampoo, leave on for 3 to 5 minutes, then rinse.
Here are the things that I love about this product:
Packaging: The product is beautifully and creatively packaged. It looks so nice in my bathroom. I really love their designs!
Smell: I love its powdery scent that stays on for a long time after you've used it.
Effectiveness: The Happy Hair Honey Deep Conditioner really works! My hair is naturally straight. And the thing with having straight hair is that it may sometimes appear limp and dry. I use this once or twice a week to refresh my dull and frizzy hair. It works really great and gives me gorgeously beautiful hair!
Size and Price: If you use this product 2-3 times a week, this would probably last you 3-4 months. Not bad, right? This is actually the most expensive product in their line but, given the results it delivers, it is totally worth it!
And here are the things that I don't love about it:
Consistency: It has a bit of a runny consistency. For a deep conditioner, I'd prefer a more viscous yet easily spreadable one.
Shelf-Life and Stability: The product expires within 1 year from the date of manufacturing and it turns yellowish after about 6 months from when you first opened it. I understand that the short expiry is probably due to lack of artificial preservatives. But for someone who has a lot of products to use, I would prefer products with at least 2-3 years shelf-life.
So after using up all the product, will I still repurchase? Yes, definitely. The product has value for money and it deserves a spot in your weekly hair regimen!
Have you ever used this product before? Let me know what you think. 🙂
Made by David Organics
Website | Facebook | Twitter | Instagram
Locations: SM North EDSA Annex (Kiosk 316 beside Kashieca and Bench Body), Echo Store Serendra, and Echo Store Podium
xoxo,
♥ Monique ♥