Bonjour Bella!
I have always been enamored of Paris. My first name and even my blog name is French. I speak French, too! 🙂 These are just some of the reasons why I was so excited to receive my Paris-themed July Bellabox.
As Stephanie from Bellabox said, "Paris represents so many beautiful things to people – a picturesque, romantic city with rich and diverse cultures… tasty food and wine experience… and last but not least, gorgeous and classy women."
Yes, and this is why the Paris-themed box has 3 of the things that will make you classy, sexy, mysterious, and still look natural like a Parisienne: lipstick, hair products, and fragrance.
Are you ready to know what's inside by July Bellabox? Let's do this unboxing!
And then here are some cute French Macarons stickers:
So cute, right? 🙂 And finally, everything that's inside the box: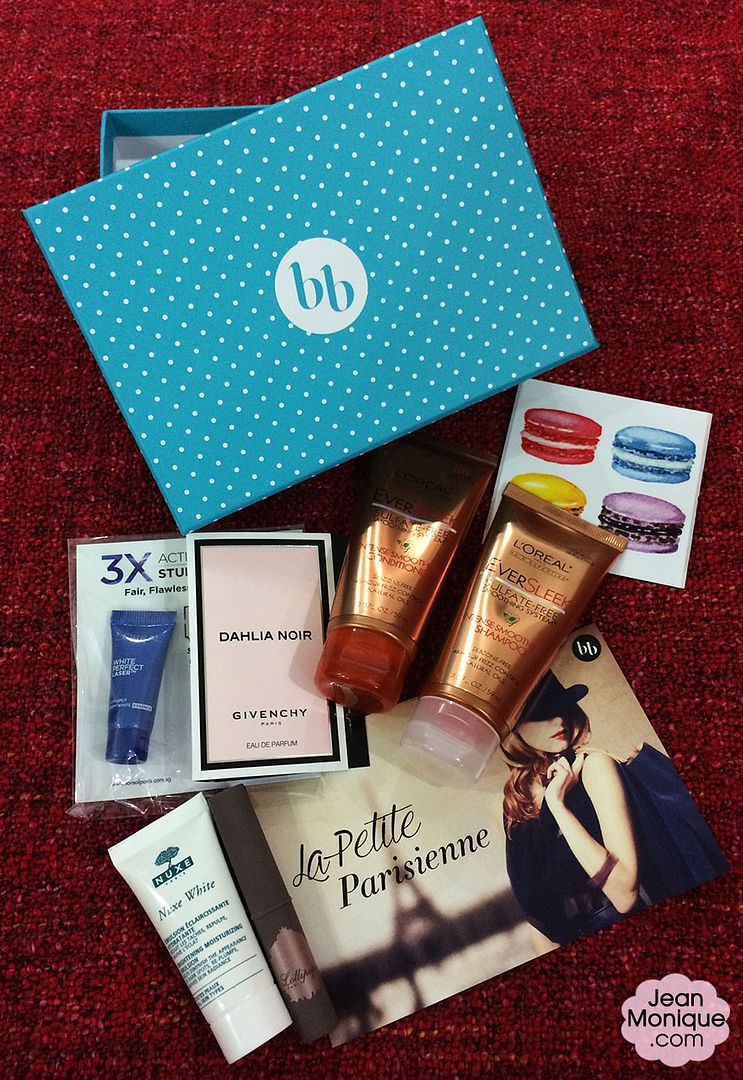 So here are the products in more detail:
Lollipops Glossy Lipstick in Fatal Cocktail
An ultra-nourishing lipstick with a shiny, shimmery finish, its coral shade will transform your lips into an alluring cocktail concoction that is deliciously glossy. It is paraben, preservative, and lanolin-free.
Price: $27
Nuxe White Brightening Moisturizing Emulsion
A rejuvenating emulsion that brightens and moisturizes the skin, it contains a power-packed rice powder ingredient that absorbs excess sebum and mattifies skin without clogging pores for a fresh, refined complexion.
Price: $65 for 50mL
Givency Dahlia Noir EDP
Concocted with pink pepper, mandarin, cedrat, rose, peach, cedarwood, sandalwood, vanilla and amber, this structured yet delicate scent fully embraces the brand's identity of a woman's enthralling elegance.
Price: $175 for 75mL
L'Oreal Paris Hair Expertise EverSleek Shampoo & Conditioner
Get ready for seriously sleek, seriously smooth hair, without the harshness of drying chemicals. 100% free of drying sulfates and harsh parabens, Hair Expertise EverSleek is infused with natural oils and flower extracts to give you a wonderfully sensorial hair care experience and undeniably beautiful hair with frizz control for up to 48 hours!
Price: $14.90 for 250mL
L'Oreal Paris White Perfect Laser Anti-Spot Derm White Essence
An anti-spot treatment for visibly even, brighter, hydrated skin in 4 weeks. This triple-action essence makes use of breakthrough Derm White technology to fade, shrink, and reduce stubborn spots, revealing beautiful, radiant skin.
Price: $39.90 for 30mL
Lipstick. Whitening & Moisturizing Products. Fragrance. Hair Products. That basically sums up the contents. In all honesty, I was initially disappointed with the box. I felt like there were too few items all were sample-sizes except for the lipstick. I just wish there would be more full-sized products in each Bellabox.
As for the products inside, I definitely love all of them. I'm excited to try the lipstick and the perfume. I'm glad Bellabox now listens to what I want and need. 🙂
So that's all for now. What did you get inside your July Bellabox?
BellaBox Singapore
Website | Facebook | Twitter | Instagram
xoxo,
♥ Monique ♥