Bonjour Bella!
I've been swimming very often lately and this has resulted in me getting several shades darker. I am honestly proud of my morena skin tone and I do not use whitening products often. It's just that when I get too tanned, my skin looks dull and terrible. Why can't I get beautiful and glowing tanned skin? 🙁
In an effort to go back to my original skin color in a faster manner, I decided to use whitening products this time. And since I've been seeing a lot of Royale products in my Facebook News Feed (c/o some friends who are distributors), I decided to try it out and see what the hype is all about. So I checked out Carousell whether there are some sellers here in Singapore. Thankfully, I was able to find someone who's selling at a reasonable price. She was even kind enough to meet me even though she stays in the north and I stay in the south of Singapore. 🙂
I bought 3 products from her: Royale Beauty L-GlutaPOWER Anti-Ageing Facial Soap ($8.70 ~ PHP 305), Royale Beauty Kojic Papaya Soap ($7.35 ~ PHP 260), and Royale Beauty GlutaPOWER Lightening Lotion ($17.05 ~ PHP 600). These products are damn expensive so these better work!
I have tried all 3 products at the same time and I will be reviewing each of them, one by one. So today, I'd like to share my thoughts on Royale Beauty L-GlutaPOWER Anti-Ageing Facial Soap and show the results after 15 days of continuous usage.
Royale Beauty L-GlutaPOWER Anti-Ageing Facial Soap
Before I share my thoughts on the product, I'd like to introduce the product to you first.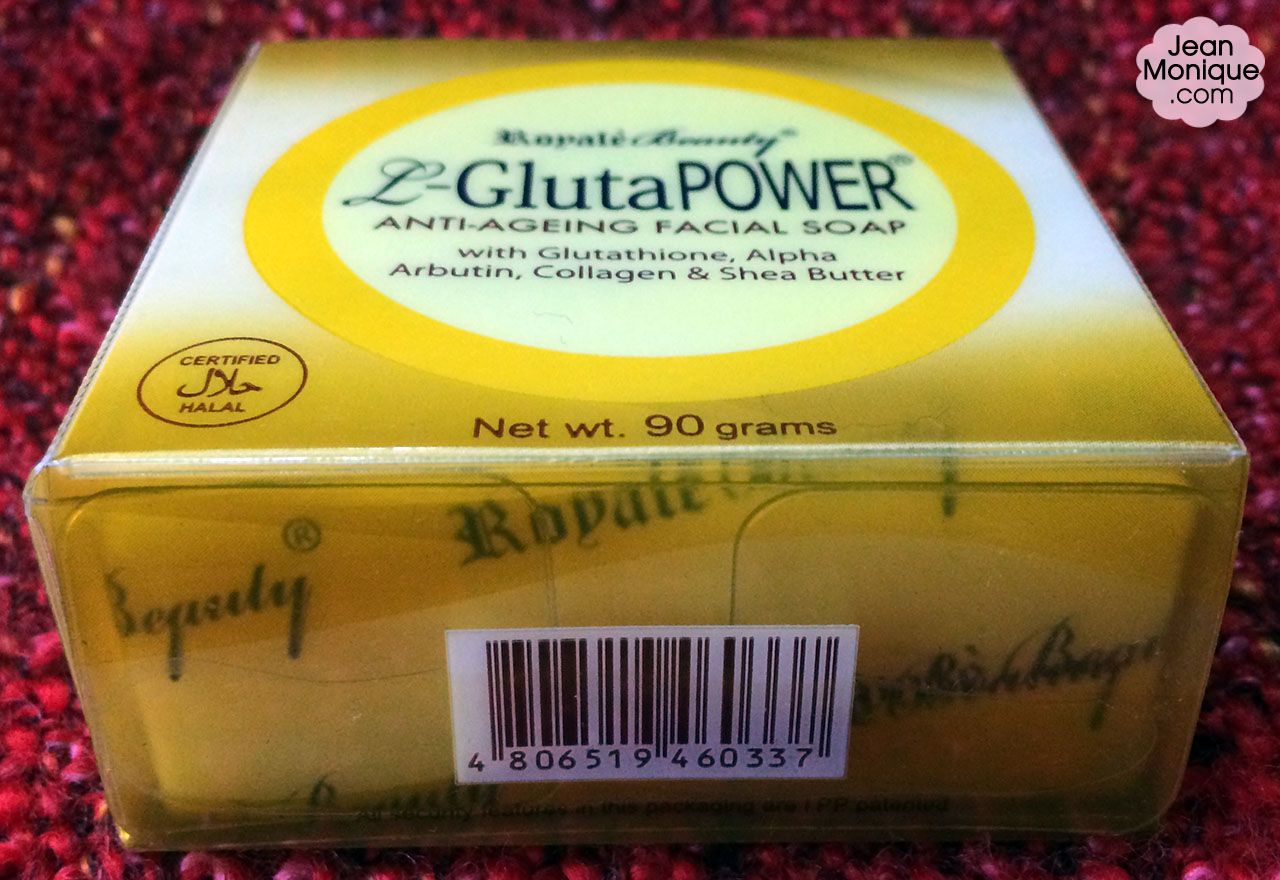 Royale Beauty L-GlutaPOWER Anti-Ageing Facial Soap contains Glutathione, Alpha Arbutin, Collagen, and Shea Butter.
Product Description:
Promotes young skin. This premium facial soap contains Glutathione and Alpha Arbutin that even out skin tone and reduce appearance of dark spots. it has Collagen that plumps skin cells to make it firm looking and Shea Butter that nourishes and moisturizes the skin to keep it smooth and soft. The unique blend of these ingredients will keep your skin radiant and younger looking.
How to Use:
Lather soap and massage onto your face. Rinse well.
Ingredients:
Coconut Oil, Palm Oil, Coconut Diethanolamide, Water, Sodium Hydroxide, Shea Butter, Silicon Dioxide, Collagen, Titanium Dioxide, Glutathione, Alpha Arbutin, Perfume
Net weight: 90 grams
Exclusively Manufactured for and Distributed by Royale Business Club International, Inc.
Made in the Philippines
Certified Halal
Price: $8.70 ~ PHP 305
Thoughts
Packaging: I love how the product was packaged in a nice and sturdy plastic box, instead of the usual paper carton being used by other soaps. Because of this, you don't have to worry about the box being destroyed when wet. It's also sturdy so it does not get damaged easily and it also protects the product inside from being broken or out of shape. It has a lot of information printed on it complete with batch number, manufacturing date, and expiry date. The soap inside is also carefully wrapped in plastic. Both the box and the soap are easy to open because of the "Pull to Open" tab.
Appearance: The soap is yellow and comes in a square shape.
Smell: The soap has a nice scent that is not overpowering.
Usage: I use this on the face and neck daily. Whenever I'm using this, I lather it well, massage onto face, and leave the product on for 2-3 minutes before rinsing well. I love how a little goes a long way with this soap because it lathers really well.
I love using this soap on my face because it cleanses really well and leaves my skin feeling smooth and supple. After rinsing, my skin feels tight, which is a sign of drying. Make sure to use a moisturizer after each use.
The only downside to this is the stinging sensation I feel whenever I leave the product on my face for a few minutes before rinsing.
Results
Today is my 15th day of using the soap. 🙂 I tried to capture all photos under the same lighting conditions. I also have absolutely no makeup in any of these pictures save for a lip balm. So yeah, this is me bare-faced. As you can see, there is a remarkable whitening of skin tone. My skin also looks glowing and appears brighter. The soap also helped even out my skin tone. My skin also feels soft and smooth. Yey!
I am definitely pleased with the results. In just 15 days of continued use, my face is notably fairer and brighter. 🙂
So will I repurchase this? Maybe. I still think the product is too expensive for a bar of soap for regular daily use. Plus, I still have a lot of facial cleansers to use and finish. Therefore, I will only repurchase this if I really need a fast and effective way of whitening my skin. 🙂
By the way, you can buy this product from any Royale distributor.
If you're in SG, you may contact Jan Dataro at carousell.co/janmcniel.
Have you ever tried this product before? Let me know your thoughts on this. 🙂
xoxo,
♥ Monique ♥