Bonjour Bella!
Thank you so much for all your love, encouragement, and support! I am now a member of the Avon Makeup Council, along with other gorgeous beauty bloggers! ♥
We couldn't have done it without all your help… YOU made our dream come true! Thus, Mai of Basta Igat, Sikat! and I would like to thank all of you by giving away our favorites from Avon's latest makeup collection!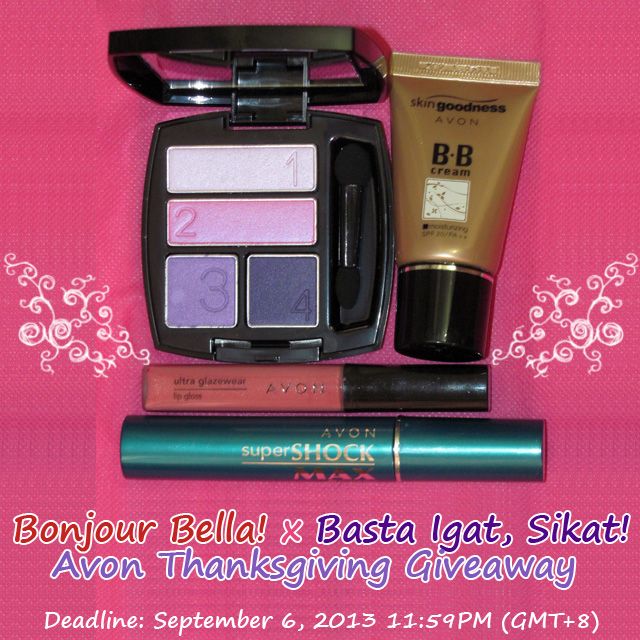 Are you excited? Just continue reading.
One lucky reader gets to win the following fabulous items:
WE LOVE THE BB CREAM because… it is easy to apply, it gives a sheer and matte finish, it covers imperfections, it looks natural, it works perfectly as a primer, and it smells so good!
WE LOVE THE EYE SHADOW because… it is very pigmented (even when used dry), the color that you see is the color that shows when applied (what you see is what you get), it wears all day, it is easy to blend, and it is perfect when you you want a brilliant pop of color!
WE LOVE THE MASCARA because… it adds volume and length, it curls the lashes even without an eyelash curler, it is waterproof yet easy to remove, and it makes our eyes look sooo beautiful!
WE LOVE THE LIP GLOSS because… the shade is great for any skin tone, it gives shine yet it is not sticky, and it moisturizes the lips as well!
Those are just some of the reasons why we love these products from AVON. ♥
To join this giveaway just do the tasks in the Giveaway Tools app below. When you have done all the MANDATORY tasks, OPTIONAL tasks will appear. More tasks done, more chances of winning!  🙂
This contest is open to all readers in the Philippines aged 13 and above. If you are abroad, you can still join this giveaway if you have a mailing address in the Philippines. Deadline for entries is on September 6, 2013 at 11:59PM (GMT+8). The lucky winner will be randomly chosen using the Giveaway Tools app and will be double checked for validity. The winner will be formally announced on September 7, 2013 and will be posted on our blogs and various social media sites. Within 48 hours after notification, the winner must send an email (use contact form) containing her name, shipping address, and contact number. If the winner fails to email me within the allotted time, we will draw another winner.
Good luck everyone and thank you for joining!
xoxo,
♥ Monique ♥