Bonjour Bella!
This is a long overdue review. Been super busy lately due to so many things happening in my life right now. Sometimes, I just feel really overwhelmed with the amount of work that I need to accomplish. But then, I just pray to God that He will guide me through all these. 🙂
– – –
Please vote for me and help me become a part of Avon's Makeup Council: http://avon4.me/MakeupCouncilVote Look for my name "JEAN" and click VOTE! Thanks!
– – –
Anyway, here's a review of one of the most amazing scrubs and lotions that I have ever tried! If you're a regular reader of my blog, you'll know how much I am into skincare products. So I was really thrilled to get my hands on these babies!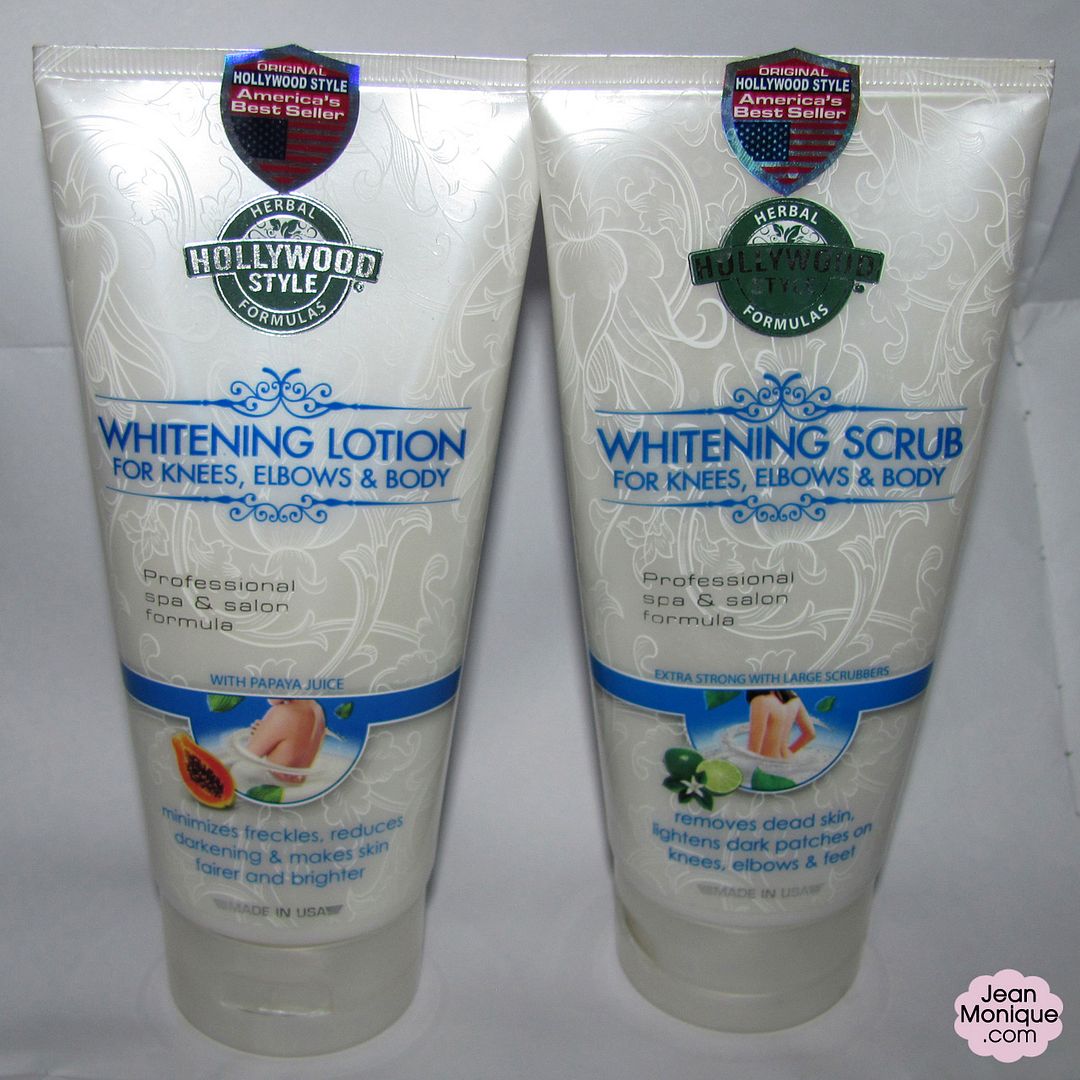 These products are from the Hollywood Style Whitening line, manufactured by the Valley of the Sun Labs in the USA. All the Hollywood Style products:
use natural ingredients
have high quality formulas designed for exceedingly good and long-lasting benefits
are the result of scientific research
are used by professionals – hair stylists, artists, aestheticians, beauticians, dermatologists, beauty parlors, spas, and fitness clubs
are priced competitively
Appearance:
The product looks really elegant and beautiful in its pearly white packaging. It comes in a tube with the opening at the bottom making the product easy to squeeze out because all the contents are collected at bottom. The packaging is also very hygienic because the product stays free from bacteria as compared to those in jars, where the product is exposed to air and your fingers. Also before you open it, there is an aluminum foil sticker on the mouth and this ensures that the product is really sealed and has never been opened.
I also love how they have complete information about the product including usage, list of ingredients, manufacturing and expiry dates, and more. I really appreciate  manufacturers who label their products properly because I love reading labels (out loud while in the bathroom using various accents. LOL!) Kidding aside, labels are really useful to help consumers choose the right products for them and to learn more about the products they are about to purchase and use.
Let's now move on to the products:
Whitening Scrub (Knees, Elbows, Body)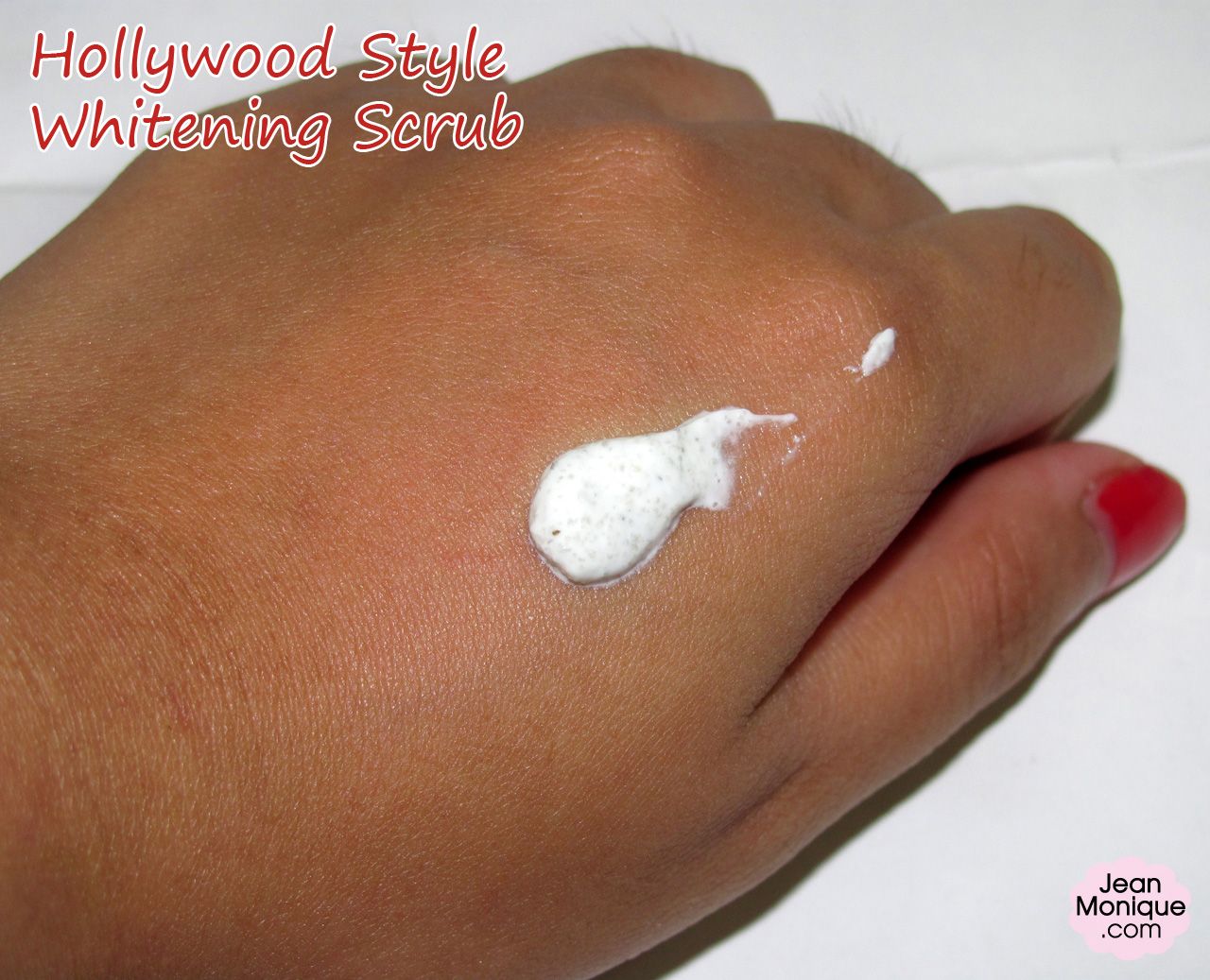 extra strong with large scrubbers
removes dead skin, lightens dark patches on knees, elbows, and feet
100% veggie ingredients
Description:
This scrub is especially made with extra scrubbers for maximum exfoliating, scrubbing and buffing effects to remove thick, tough, stubborn dark patches, and dead skin around neck, knees, elbows, feet and other body parts that need more work. It is made with high strength bleaching extracts to brighten and whiten dull, darkened skin and other tough-to-lighten spots. Almost everyone has a problem with ingrown hair somewhere in their body that results in small bumps on skin. This scrub us gritty that it will help remove that stubborn skin and unclog pores. With regular use skin will become cleaner, brighter, softer and smoother.
Directions:
Pour a liberal amount in your palms and gently scrub in a slow and gentle circular motion, taking extra time on areas that have thick, tough skin. Rinse well and follow with whitening lotion. Use scrub at least twice a week to get pristine glowing and smoother skin. Great to use while in the shower.
Review:
The product smells really good with its slight minty scent. I apply this on dry skin while in the shower and rub it on my whole body, particularly on the following areas: elbows, knees, feet, underarms, bikini line, and under the butt. I particularly love the large scrubbers because they work so well in removing rough spots and ingrown hair. All rough spots are now gone! This product made my skin so smooth afterwards–like a baby's! 🙂 I use this twice a week and I have been using it for 2 weeks now. My skin is really glowing and has become fairer. Using this has become my favorite part of my skincare regimen. I take so long in the shower because of this. Feel na feel ko yung scrub. Haha! My sisters and my mom are also using these now because they have seen a remarkable difference and "felt" the smoothness of my skin after using this scrub. 🙂 Now I know why this scrub is being used in spas and by professionals: it smells good, it's affordable, it works well, it makes skin whiter, and it leaves skin feeling very smooth!
Net Content: 150 mL
Price: 200 pesos
Whitening Lotion (Knees, Elbows, Body)
with papaya juice
minimizes freckles, reduces darkening and makes skin fairer and brighter
100% veggie ingredients
Description:
This extra strength lotion is especially made for body parts that are darker than the rest of the body and need extra care. It is made with high concentrations of bleaching actives, such as papaya, Arbutin, and glycolic acid to brighten and whiten skin around neck, knees, elbows, feet and other darker parts. Use daily all over body to achieve a glowing, radiant, soft and beautiful look.
Directions:
Apply as needed, using additional lotion on areas that require extra attention. For best results, use daily.
Review:
The product contains a lot of whitening ingredients! There's papaya, arbutin, and glycolic acid. What's more to ask right? The lotion smells really good too… something like peppermint. And since I'm obsessed with having moisturized skin, I'm really very particular with moisturizers like lotions. The formula is thick and creamy and I love how this lotion keeps my skin moisturized the whole day. No need to reapply within the day. Amazing! I love this lotion so much! I just wish this product has SPF so that I can use this alone, without having to use a separate sunblock. Nevertheless, this really worked great with the scrub. When used together, they made my skin feel so smooth and moisturized 24/7.
Net Content: 150 mL
Price: 200 pesos
After trying out these 2 products and having achieved great results, I wish I have a lifetime supply of these. Haha! Kidding aside, I would definitely buy after my free samples run out! 🙂
Other products in their line:
Whitening Face Wash (150mL)
A brighter and fairer complexion begins with daily cleansing using an effective cleanser. Their whitening face wash is a high-strength formula made with a blend of all natural plant extracts such as citrus fruits to wash away impurities and deep clean pores, bleaching actives, such as papaya and Arbutin to brighten dark parts age spots and freckles. With regular daily use a clearer, brighter and more luminous complexion will be achieved.
I want to try this! I think I need a whitening face wash because I noticed that my face is a bit darker compared to my body. 🙁
Whitening Peel Off Mask (150mL)
A Whitening Peel Off Mask is an extra strength formula made with mulberries (well-known for skin brightening properties), Licorice (great for bleaching dark spots), an Arbutin (long used for skin discoloration problems). This potent formula helps dissolve dead cells and absorbs debris and impurities, uncovering newer, healthier-looking skin. With regular use complexion will be whiter, brighter and fairer.
I want to try this too! I'm a fan of peel-off face masks which I use as part of my weekly beauty treat.
Hollywood Style products can be bought at the following stores: Watsons, Landmark, Shopwise, Pioneer Center, Sta Lucia, Cash & Carry, Ever Commonwealth, Gaisano Metro, and Makati Supermarket.
Hollywood Style
Website | Facebook
xoxo,
♥ Monique ♥
This is a sponsored post. Click here to read the blog's Disclosure Policy.